For those that aren't history buffs, history tends to be synonymous with boring topics no one cares about. People who are dead and seemingly unimportant in the modern world can't always hold our focus. But what if we mixed history with hentai? Check out these 5 historically-based hentai that might make you more interested in people and events from the past.
5. Samurai Hormone the Animation

Episodes: 1
Aired: October 2014
Shizume is a disgraced ninja of the Fuuma clan who has failed in her mission of retrieving a sacred scroll from its handsome protector, Horimon Juurou. And she's not the only after Horimon! The son of the master Horimon slew in order to acquire the scroll is hot on his heels in search of vengeance. Set in the times of ninjas and samurai, this anime paints a sexier picture of rivaling factions with a bloody history.
---
4. Secret Journey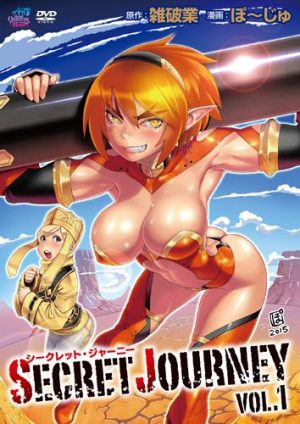 Episodes: 2
Aired: January 2016 – April 2016
If you're familiar with the Chinese story "Journey to the West", you'll have a good grasp on what the story is about. In this version, the Monkey King (known in this anime as Goku) is a female and is a sex maniac. Knowing the unruly and selfish nature of Goku in the original work, it's not hard to see him/her in this different light. The young monk still has to try to reign in Goku's bad habits, they're just more sexual in nature. This may seem a bit of a stretch from history, but the monk known as Sanzou in the anime and Tang Sanzang in the Chinese classic is actually based on a real monk who traveled to India for sacred Buddhist texts.
---
3. Fuurinkanzan

Episodes: 1
Aired: August 2013
If you love the clothing and violence of feudal war, you might want to check out Fuurinkanzan! Now, if you don't like rape and incest, definitely do not… But this anime clearly has influence from Japan's Warring States Period. The evil Lord Yoshinori likes nothing more than forcing himself on young, beautiful girls that want nothing to do with him, including his daughter. Manahime-sama wishes to oppose his armies and halt his reign of terror but must use any means at her disposal if she hopes to be victorious.
---
2. Koi Maguwai (Koimaguwai)

Episodes: 1
Aired: December 2014
Ginko, secretly an ayakashi or spirit that feeds on the essence of humans, hides her non-human nature as a courtesan in a red-light district. The human who took care of her in her fox form before she left became a traveling peddler just to find her again. Not wanting to risk his safety but being unable to control her feelings for him, Ginko calls out to Yuujiro for one last night together. The setting really transports you to an old-timey city with beautiful call-girls in elegant kimonos. With fox spirits being such prominent features in old Japanese tales, Ginko's character also takes you back in time as well as her tragic love.
---
1. Shikkoku no Shaga

Episodes: 2+
Aired: February 2017 - ongoing
Ushiwaka is a young boy that must escape from assassins sent by the Taira Clan despite being unable to defend himself. Luckily for him, a Tengu named Shaga takes an interest in the boy for his bravery/stupidity in the face of insurmountable odds. After being told that good deeds will win her God's favor, she's more determined than ever to not only help Ushiwaka reach safety but also help him grow as a person. While the various man-eating monsters might not be so historically accurate, Ushiwaka was a real person who had to flee the Taira clan to avoid being executed like his father, Minamoto-no-Yoshitomo. His journey to avenge his father is a famous, tragic story that's enough to catch your attention even without all the sexy scenes between monsters and humans.
---
Final Thoughts
While at first it may not seem that sex and history go hand in hand, when you consider how many wars were started due to lust, it starts to make sense. There's also a bit of mystery and romance when we think of times gone by and secret trysts. For those of us that already love history, adding some sexual excitement is just icing on the cake. If you have other suggestions for hentai with historical settings, let us know in the comments!