También puedes leer este artículo en:Español
As you can probably guess from the title, Futari Ecchi is well, an ecchi! But it's more than your average cliché display of softcore sex and questionable storyline. Instead, Futari Ecchi focuses not just on the sex, but on the relationship between newlyweds, Makoto and Yura. As newlyweds, sex is still a new, mysterious, and sometimes difficult part of their new lives together, and Futari Ecchi highlights the ups and downs of learning together in a light-hearted manner.
While many ecchi anime have a school setting for a backdrop, Futari Ecchi focuses more on a mature relationship between adults, while not lacking in the comedy department, either. For those of you that are looking for something more similar to this more niche genre, or perhaps are a bit older or even a newlywed yourself, here are 6 Anime Like Futari Ecchi for you to check out! We've done the dirty work for you of finding a few more seinen, but still ecchi, titles.
Similar Anime to Futari Ecchi / Similar Anime to Step Up Love Story
Similar Anime to Futari Ecchi
1. 30-sai no Hoken Taiiku (A Thirty-year Old's Health and Physical Education) (2011)

Episodes: 12
Aired: Apr. 2011 – Jun. 2011
As the title suggests, 30-sai no Hoken Taiiku focuses on the story of a 30 year old man; a 30 year old virgin, to be exact. But before your mind immediately writes this off as being the same as the Hollywood film 40 Year Old Virgin, remember something very important – this is anime! So while it's still a comedy, prepare yourself for fun, chibi art work, colourful displays, and fast-paced humour as two brother "Gods of Love" help Hayao Imagawa on his quest to finally have sex at age 30.
What's an ecchi without a girl though? So enter Natsu Andou, a 30 year old librarian, and also conveniently (or inconveniently), a virgin. But don't worry; she also has two "Gods of Love" to help her along the way, though these two are sisters of course!
Much like Futari Ecchi, the two main characters' lack of sexual experience is treated in a light-hearted manner and a more mature setting than a typical high school adventure due to the character's age and place in life, (i.e. having careers, their own homes, and very different experiences from life by the age of 30).
A Thirty-year Old's Health and Physical Education 1st PV
---
2. Peeping Life: Shinkon-chan Kansai ni Irasshai (Peeping Life: Welcome to Kansai, Newlyweds!) (2014)

Episodes: 1
Aired: Mar. 214
Peeping Life: Shinkon-chan Kansai ni Irasshai is part of a larger series of typically one episode anime, all of which are meant to look into the daily life of normal Japanese people. At only one short episode long, Shinkon-chan is an easy, short, funny watch that makes a great accompaniment to your dinner. It gives a glimpse into the life of a newlywed couple who have just moved to Kansai, and the entire episode has the unique perspective of only taking place with the two having a chat in their living room on the sofa. Don't expect a lot of action, but you can expect to have a few laughs from their conversation.
Like Futari Ecchi, Shinkon-chan focuses on the interactions between a newlywed couple and the more mature relationship and dialogue that that entails. The two may not agree on everything, and have a few small arguments, but in the end, their relationship is still strong. If it's more the depiction of a new relationship that interests you from Futari Ecchi, especially a more realistic depiction but still in a light-hearted manner, then try out Peeping Life: Shinkon-chan Kansai ni Irasshai! It won't take you long and is sure to make you smile.
---
3. Mangaka-san to Assistant-san to The Animation (The Comic Artist and his Assistants) (2014)

Episodes: 12
Aired:
Aired:
Mangaka-san to Assistant-san to takes us in a new direction from the previously mentioned titles in our comparisons, but has its similarities with Futari Ecchi all the same. The story revolves around Yuuki Aito, a young manga-ka with a serious fetish for women's undergarments, which happens to be the main subject of all of his manga. Meanwhile, Sahato Ashisu, Yuuki's perhaps unfortunate assistant, is a more grounded and serious character, and she is left to deal with Yuuki's, sometimes, outrageous antics and panty obsession.
While it doesn't have any newlyweds or much of a heartfelt relationship, what Mangaka-san to Assistant-san does have in common is their depictions of characters with inexperience in an actual relationship, and the awkwardness that can ensue from that. Yuuki and Sahato may not be married or even dating, but because of Yuuki's inexperience with real women paired with his interest set, he uses his female assistant to try to learn more about sex and women.
The result is a hilarious interaction between the characters that is vicariously awkward to be sure, but very amusing to watch. The dynamics of the relationship itself may be different from Futari Ecchi, but the humorous depiction of struggling to learn about one another and about sex is the same – not to mention some good ecchi sequences as well!
TV anime "The Comic Artist and Assistants and the" 2nd PV
---
Any Anime Like Futari Ecchi?
4. Virgin Night (2001)

Episodes: 1
Aired: Jun. 2001
Back to a focus on one shot anime and we bring you Virgin Night! Don't let this anime's slightly older release date put you off immediately, it's an old gem. At around 30 minutes long, it's an easy watch and a quick fix to get another story with similar themes to Futari Ecchi. You might already have a few ideas of what this anime is about based from the title, and you are probably not far from the truth. Virgin Night is the story of Yuzuru and Azumi, and their first time taking their relationship to the next level.
Like Makoto and Yura in Futari Ecchi, Yuzuru and Azumi have a long established and serious relationship. So finally taking the step towards having sex is a serious development for them, and there is a lot of meaning and feelings behind it rather than just lust or the backstory of a one-night stand. Specifically, Virgin Night and Futari Ecchi both highlight the first time experience between two lovers, and how it goes – both the ups, and the downs. If you loved the more mature and adult relationship in Futari Ecchi but were left wanting something a bit more intense on screen, check out Virgin Night. It's a hentai, not just an ecchi, so it might be just what you're looking for!
---
5. Kibun Kibun (2003)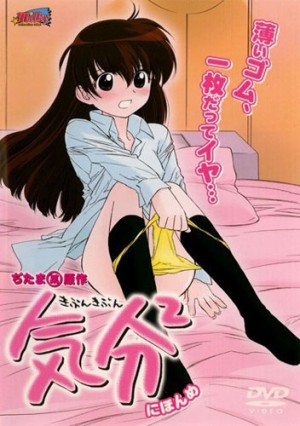 Episodes: 2
Aired: Feb. 2003 – May 2003
Another older, but still great anime to check out if you loved Futari Ecchi is Kibun Kibun! Even the animation itself has aged very well. Like our previous entry Virgin Night, Kibun Kibun is a hentai, not an ecchi, so if you're still looking for more, this is another anime to check out. Kibun Kibun is definitely a comedy, and shows the short story of an everyday couple's relationship and life together with both the good times, and the more difficult times. Nami and Kenji's relationship is fun and fresh, and while exaggerated in some ways, it remains believable for a young couple.
Kibun Kibun has the same colourful, upbeat, and happy-go-lucky feel that Futari Ecchi has when watching it. You can't help but smile as you see the relationship between Nami and Kenji unfold on the screen, and even when their inexperience sometimes makes situations awkward or borderline uncomfortable, the situation is always remedied with feel-good humour. Thus, the awkwardness and learning, and even the disagreements, that take place between the characters is treated in the same light as Futari Ecchi, where rather than dwelling on the bad, it quickly shifts back to being very positive with some well-placed, fast comedy. If you're looking for a feel-good hentai about a positive relationship, Kibun Kibun is a great follow-up to Futari Ecchi!
---
6. Nana to Kaoru (Nana and Kaoru) (2011)

Episodes: 1
Aired: March 2011
Finally, our last entry in our list of similar anime to Futari Ecchi is Nana to Kaoru. Originally a one-shot OVA and a manga, the popularity of this story has even seen it made into a live action film. Nana to Kaoru is about Kaoru, a boy with a fetish for S&M, and his childhood friend Nana, who ends up unexpectedly becoming interested in it as well. What starts out as an accident that is the result of Nana's curiosity in Kaoru's S&M equipment develops into a give and take relationship between the two characters. Together, they come to terms with what gives both of them pleasure sexually.
Nana to Kaoru has a central theme of exploration. While Kaoru has always known what he was interested in, Nana is only beginning to come to terms with what she likes, and doing so by learning with Kaoru. Together, they explore the very different sexual world of S&M as friends and as lovers, learning what they like and don't like along the way as well as more about one another. It may be done in a different way, but the theme of learning and exploring together is the same as Futari Ecchi. In the end, the characters' relationships and knowledge about what they want sexually are both strengthened and deepened through experimentation together, so if that is what is intriguing to you in Futari Ecchi, try out the short ecchi Nana to Kaoru!
---
Conclusion
It's hard to finish Futari Ecchi without a warm and fuzzy feeling inside of you, and a smile on your face at having been able to watch a little bit of Makoto and Yura's new life together. Their relationship is strengthened through learning about sex together, and the comedy is not lost or at all overshadowed by the shenanigans that ensue – rather, it is highlighted by them! So if you find yourself looking for more ecchi or hentai that involves more mature relationships, newlyweds and first times, or sexual exploration and relationship building, then please check out some of the awesome anime and OVAs listed above!
If there are any other anime similar to Futari Ecchi that you think we have missed, please leave a comment below with your recommendations!
---