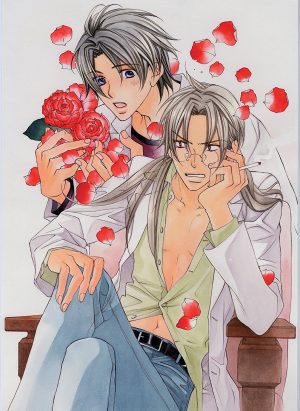 Sometimes love strikes you when you're busy doing something else, and when you less expected it. Souichi Tatsumi is busy with his research at university, and he is one homophobic fellow. Yet, he finds himself involved in a strange relationship with his kouhai (junior), Tetsuhiro Morinaga, who is sweet as honey and beautiful... and a man. This amazing story, that was born as a manga from Hinako Takanaga, gained a lot of popularity in the boys love universe. Gags that make viewers crack up, non-conventional love relationships and boy-on-boy action are the strong points in this story. If you like a seme – the one who takes action in bed – very willing to accept the bad character of the person he loves, well, this is the list meant for you. Read on to discover other six anime that can give you the same good vibes as Koisuru Boukun!
Similar Anime to Koisuru Boukun / Similar Anime to The Tyrant Falls In Love
1. Love Stage!!

Episodes: 10
Aired: July 2014 – September 2014
Izumi Sena is a boy who was born in a family full of stars. His brother sings in a popular rock band, and his parents are famous in the showbiz because of their skill as actors. Yet, Izumi just wants to keep on living his geek life, full of manga and anime, and his dream is to become a manga artist. When he is forced to enter the showbiz and pretend to be a girl, that's the moment when the fated meeting with Ryoma Ichijou happens. Ryoma, not knowing that Izumi is actually a boy, falls in love with him! And problems arise!
Love Stage!! is a rare gem in the boys love universe. It has the right amount of comedic gags that give the viewers a pleasant feeling from the start. That's what it shares with Koisuru Boukun, for starters. Aside from this, we can find in both these shows a seme who is very willing to win their boy over. As for the Morinaga and Ryoma counterpart, both Tatsumi and Izumi can't accept the fact that they may fall in love with someone of their same gender. It's a great challenge for Morinaga and Ryoma, as they will have to struggle and have the patience to deal with two short-tempered guys. Love will triumph in the end, but in the meanwhile enjoy the ride!
Love Stage!! Trailer:
---
2. Okane ga Nai (No money!)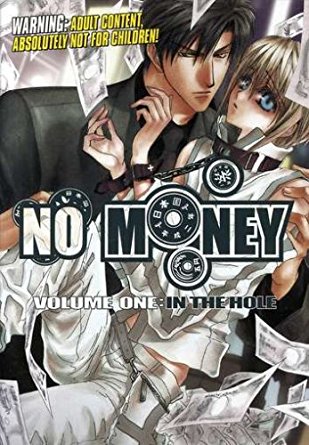 Episodes: 4
Aired: February 2007 – December 2007
Yukiya Ayase is a kindhearted university student whose life turn for the worse when his only relative – his cousin – decides to sell him in exchange for a huge amount of money that he needs to pay his debts. While he thinks everything is lost, Ayase is rescued by Somuku Kanou, a loan shark who decides to buy him. Apparently, Kanou knows Ayase, and it seems like in the past, Ayase did something to save Kanou. Yet, Ayase can't remember who Kanou is. Since Kanou craves Ayase's presence, he demands that Ayase will pay his debt by selling his body to him. Of course poor Ayase is unwilling to do so, but if it's for his cousin's sake and for his life's sake... There's nothing else to do.
This show has a more dramatic tone than Koisuru Boukun, yet it shares with it some similarities. For starters, both the seme – Morinaga and Kanou – think the world of their beloved ones and both of them will go to an out of the reach extent for them: Morinaga will accept to be badmouthed by Tatsumi and his homophobic side on daily basis, while Kanou will spend 1.2 billion yen just to save Ayase. Their counterparts share some other traits as well, for example both of them won't accept their seme. Tatsumi is like a devil, constantly and deliberately will shout how much he hates Morinaga and being loved by Morinaga; Ayase is less fussy, but still he won't accept Kanou's conditions right away. So here, too, we find two seme who have to struggle and win their beloved ones over!
---
3. Junjou Romantica

Episodes: 12
Aired: April 2008 – June 2008
Misaki Takahashi is a high school student who just wants to pass the entrance university exams. A famous author – Akihiko Usami – and his brother's best friend offers Misaki his help. Some circumstances bring the two of them to live together, and that's when Misaki discovers that Usami is an author, yes, but he writes very naughty things. Somewhere else, in Tokyo, Nowaki Kusama and Hiroki Kamijou struggle on daily basis, one to become a doctor and the other one to overcome a failed love. At the same time, Shinobu Takatsuki, a rich high school student, discovers that his sister's ex-husband is his fated person. These three love stories intertwine in this amazing boys love anime that was born as a manga first, from Shungiku Nakamura's wise pen.
Junjou Romantica and Koisuru Boukun have a lot in common. For starters, in both these shows we can find a comedic trait that eases the tension that the plot sometimes have. Morinaga and Usami are two very pushy seme; Morinaga knows how Tatsumi is homophobic, yet he finds the courage to impose, and so does Usami. With determination, both of them will find a way to reach their beloved ones' hearts. Even Tatsumi and Misaki have a lot in common, as they can't seem to accept very well their being gay. Morinaga and Tatsumi share similarities with Nowaki and Hiroki as well, as both Morinaga and Nowaki are younger than their counterparts, and yet they manage to be way more honest. It's not a stretch to say that you will enjoy Junjou Romantica for sure, if you enjoyed Koisuru Boukun!
---
Any Anime Like The Tyrant Falls In Love / Any Anime Like Koisuru Boukun ?
4. Tight-rope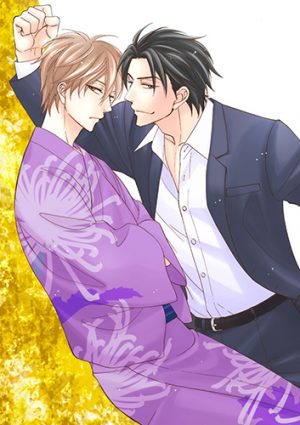 Episodes: 2
Aired: May 2012 – June 2012
Ryunosuke Oohara, being the heir of the fourth boss of a yakuza clan, will have to succeed his father someday. Even though he is a troublemaker, and seems to lose it as soon as someone tries to talk to him, he is a kindhearted boy with just one dream: to quit yakuza and marry Naoki Satoya, his childhood friend. Yet, Naoki can't accept the fact that Ryunosuke is willing to throw away his duties for something as futile as love. That's how this sweet struggle meant to make Naoki speak the truth from the bottom of his heart begins!
For those who are into manga as well, you all know that this story was born as a manga from Natsume Isaku. Natsume Isaku and Hinako Takanaga are famous in the boys love genre for the sweetness and the lighthearted moments they are able to depict. Well, in their anime version, both Koisuru Boukun and Tight-rope keep their warm feeling and good vibes. We find in both of them two protagonists that are on the polar opposites: Tatsumi and Ryunosuke are hot-tempered and very quick to lose their patience; Morinaga and Naoki are quiet and usually act as mediator for their counterparts. Once again, we find here the "cat and mouse" game theme, as both Tatsumi and Naoki keep running away, not accepting to be loved. Tatsumi can't accept to be gay, because he hates gay people, while Naoki wants Ryunosuke to fulfill his duties. Both these shows are soothing and can warm your hearts up! You'll love Tight-rope just how you loved Koisuru Boukun.
---
5. Seitokaichou ni Chuukoku (Hey, Class President!)

Episodes: 2
Aired: November 2009 – April 2010
This sweet story revolves around Yuuzo Kokusai. Kokusai is a timid, cowardly and yet attractive student council president. Kokusai is naive, and unable to speak for himself when, for example, some old man gropes him in the train... Seeing the situation, Yasuhiro Chiga, who was newly appointed as the Vice President, decides to act as a bodyguard and to protect the oblivious Kokusai. Yet, a strong feeling begins to bloom within his heart, and he just can't believe how it is possible to be so attracted to someone of his same genre, above all when Kokusai is so simple and naive.
Both Koisuru Boukun and Seitokaichou ni Chuukoku are very similar. First of it all, visually speaking, the art style is similar and both protagonists look alike. In both these shows we can find the senpai – kouhai relationship, where both the kouhai take the role of the seme. Tatsumi and Kokusai are loved by their juniors, and even though they are very different in their character, both of them go with the flow when it comes to some boy-on-boy action (even if they are a bit fussy). In both these show we can find some comedic part, and a good amount of heart-warming scenes. The characters in both shows will find a way to face themselves, and eventually resolve their own feelings. If you found Koisuru Boukun just too good that you crave for more, Seitokaichou ni Cuukoku can be your next step!
---
6. Sekaiichi Hatsukoi (World's Greatest First Love)

Episodes: 12
Aired: April 2011 – June 2011
Masamune Takano, editor-in-chief of the Emerald department at Marukawa meets Ritsu Onodera, who was his first love during high school days. Takano is subtle and doesn't reveal that he has recognizes Onodera right away. Kisa Shouta is an editor working under Takano, and he thinks he can't fall in love if the other party isn't beautiful. Problems arise when he meets Kou Yukina, who is pretty on the outside, but even prettier on the inside. Yoshiyuki Hatori is the editor in charge of Chiaki Yoshino, who is his childhood friend and towards whom he has secret romantic feelings. Once again, from Shungiku Nakamura's wise pen, here we have an unforgettable show revolving around three couples and their own troubles!
Koisuru Boukun and Sekaiichi Hatsukoi are both boys love shows that gives a lot of nice vibes and a lot of comedic moments. Tatsumi is very short-tempered and he seems unable to deal with Morinaga, who claims to love him. This happens in Sekaiichi Hatsukoi as well. Onodera is short-tempered and doesn't want to accept Takano's feelings. Moreover, both Tatsumi and Onodera can't bring themselves to accept the fact that they may be gay (even though Onodera had a taste of it in his high school days, but totally deleted his "bad" experience). As for Morinaga, he shares a lot of similarities with Kou Yukina. He is bright, kind and thinks the world of Tatsumi, exactly like Yukina is totally head over heels for Kisa. What's more, both Morinaga and Yukina are younger than their counterparts, and take the role of the seme. They both have to struggle to convey their feelings and to be, eventually, accepted. If you liked the way Tatsumi and Morinaga interacted, and the path their relationship took, imagine Sekaiichi Hatsukoi as a ten time longer Koisuru Boukun. It's not a stretch to say this; you are bound to like Sekaiichi Hatsukoi.
Sekaiichi Hatsukoi Trailer
---
Final Thoughts
With Sekaiichi Hatsukoi, our list came to an end. We tried hard to put in it the shows that are the closest to Koisuru Boukun. For those who love Koisuru Boukun, the shows enlisted here share with it all what you liked the most. For starters, their genre – boys love; a comedic part that softens everything and make you crack up; a lot of love between two hotties (and a lot of other hotties); and last, but not least, some good boy-on-boy action, which is – let's be honest – what you were craving for when you decided to approach this genre. Well, what do you think? Do you agree with this list? We hope you enjoyed this journey and, like always, please remember to share your thoughts in the comments below!
---