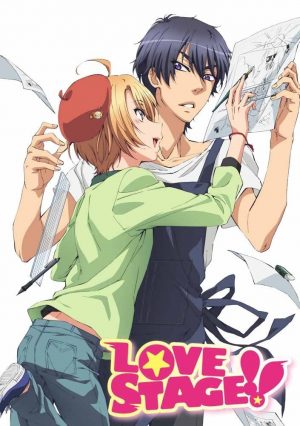 How could anyone forget Love Stage!!? It is, after all, a great anime that was done amazingly well in its genre. Love Stage!! was written by Eiki Eiki and was Illustrated by Taishi Zao. The story revolves around our cute otaku, Sena Izumi, and his personal relationships with the people around him, particularly, the famous actor Ichijou, Ryouma.
What is so good about this show is that we get to see an excellent BL anime that mostly breaks away from the basics of the genre. The show develops wonderfully and the execution is just perfect! We get to see the sparkling world of the entertainment industry, and let's not forget how we otakus relate so much to Izumi's love for anime and manga. If you want some shows similar to Love Stage!! then these selected titles might be to your liking. All of our listed anime can surely give you that sweet, funny feeling that Love Stage!! gave.
We now present to you 6 anime like Love Stage!! Enjoy!
Similar Anime to Love Stage!!
1. Skip Beat!

Episodes: 25
Aired: Oct. 2008 - Mar. 2009
Mogami Kyoko has always been Fuwa Shoutarou's number one fan until Sho suddenly casts aside Kyoko now that he is famous. Feeling betrayed, Kyoko decides to enter the world of showbiz to defeat Sho and prove to him that he made the wrong choice by throwing her away. But showbiz isn't as easy as she expected, as her thirst for revenge is stronger than wanting to be the number one idol. Luckily, she is given another chance to shine after being assigned to the Love Me section.
Even though Skip Beat and Love Stage!! are from different genres, Skip Beat delivers the same humor that Love Stage!! has with both shows focusing more on the entertainment industry. Ren and Kyoko's relationship also somewhat mimics that of Ryouma and Izumi. Both couples meet at a very young age and were once again reunited after several years. The couples do have a very rocky beginning but throughout the whole process, feelings begin to develop and they become each other's strength and inspiration.
The similarity doesn't end with just that; Kyouko and Izumi are indeed beginners in the entertainment industry, nonetheless, they show great talent once they are focused on what they are doing. The same goes for Ren and Ryouma, as both men have already established their name in the entertainment industry and what keeps them going is the special stone charm that they received back when they were younger.
Skip Beat! Trailer
---
2. Buddy Go!

Episodes: 3
Aired: Apr. 2016 - Apr. 2016
Shizuku Ishiai has always been passionate about dancing. However she has one drawback, she is too shy to express herself to other people. The solution? To dress up as a boy using the alias "Ai". She posts her dancing routines as "Ai" in "Smile Douga" and has proclaimed that Hayate, the dancing prince, is her ultimate rival. In a twist of fate, she was called to form a male idol unit with Hayate!
Buddy Go mirrors Love Stage!! because it also revolves around the entertainment industry with romance and comedy mixed in. Much like Izumi who can perfectly crossdress as a girl, Ishiai executes this amazingly as well by being "Ai". The only difference is that Ishiai is more secretive about it, as it involves her career; while Izumi, on the other hand, doesn't really care about it as he is more concerned about the unfortunate little accident that happened when he was little. And partly because he's too busy aspiring to become a mangaka. In addition to that, they are very passionate about what they like and really do try hard to achieve their dreams.
There is also a time of hesitation in Hayate when he found out the truth behind his partner's identity and gender, just like how Ryouma hesitated for a bit when he learned that Izumi was, in fact, a boy. Nonetheless, both Hayate and Ryouma settle their feelings and still choose to love and support the other person despite the circumstances. The episodes are few and it is only 3mins short so it is highly recommended to run to the manga version of it after watching the anime.
Buddy Go! Trailer
---
3. Gravitation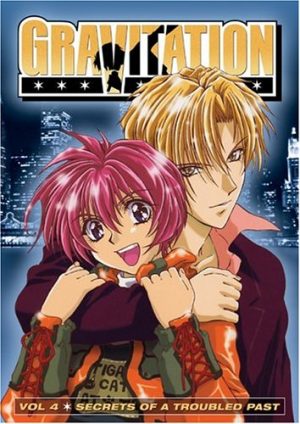 Episodes: 13
Aired: Oct. 2000 - Jan. 2001
Shindou Shuuichi and his band "Bad Luck" got a lucky break when they landed a major recording label! But that also means that he has to make new songs, and it isn't going well as he is currently lacking inspiration. While at the park on a certain evening, Shuuichi's written lyrics were blown away by the wind and were caught by none other than the famous novelist, Eiri Yuki. The novelist insulted Shuuichi's lyrics and regarded them as garbage. Offended by his remark, Shuuichi finally got his motivation and inspiration back but he can not forget his encounter with the handsome novelist.
Again, this show revolves around the entertainment industry and has a lot of comedy in it, though this has more drama than our two previews selections. Yuki and Shuuichi didn't hit it off well in the beginning, much like Ryouma and Izumi. Both couples would mostly bicker around each other, but after some time as the series progresses, both couples begin to fall for one another and grow together individually as characters.
Gravitation Opening
---
Any Anime Like Love Stage!! ?
4. Junjou Romantica

Episodes: 12
Aired: Apr. 2008 - Jun. 2008
Junjo Romantica showcases 3 couples named Romantica, Egoist, and Terrorist. Romantica is the main couple of the series that features the love between Usami and Misaki. Misaki Takahashi is a high school student that aims to enter a well-known school. He meets Usami Akihiko and suddenly learns that the man is deeply in love with his older brother. Unfortunately for Usami, his brother is about to get married and the only one who can stay beside Usami during his hard time is him alone. After being comforted by Takahiro's little brother, Usami takes Misaki in his apartment to help his friend and to get closer to the boy.
Junjou Romantica has the same basic elements as Love Stage!!. Both are shounen-ai anime and have a lot of cute and funny moments in them. Though he is less seen in the series, Takahiro, Misaki's brother, has a brother complex like Shougo but to a much lesser degree. Not only that, Akihito managed to lean on Misaki after his unrequited love with his friend, Takahiro, like how Rei managed to lean on Shougo after his unrequited love with Shougo and Izumi's father, Seiya. Overall, the atmosphere you felt while watching Love Stage!! will definitively be here in Junjo Romantica so give it a go while you're at it!
Junjo Romantica Trailer
---
5. Sekaiichi Hatsukoi

Episodes: 12
Aired: Apr. 2011-Jun. 2011
From the same mangaka as Junjou Romantica comes its spin-off, Sekaiichi Hatsukoi. Like Junjou Romantica, Sekaiichi Hatsukoi also features 4 couples (If you are going to include Yokozawa Takafumi no Baai) that are named Nostalgia, Domestica, Erotica, and Trifecta. Nostalgia is the main couple of the series that tells the story of Takano and Ritsu.
Wanting to escape the jealousy of his colleagues, Onodera Ritsu decides to transfer to Marukawa Shoten to prove to them that he is indeed a hard worker and not just riding his father's coattails. Expecting to be assigned to the literature department, he was unluckily assigned to the shoujo manga division. To his surprise, his boss, Masamune Takano and his first love back in high school are one and the same! Now, his workplace is even more complicated than before.
Takano and Ritsu are once again reunited just like our lovely couple from Love Stage!! You could say that both of their reunions were awkward as Ryouma had to learn that Izumi was a guy after his hearty confession, while Ritsu had to face the reality that his current boss is his former lover. The two couples may not start off that well, but both Takano and Ryouma will do anything to be beside their respective partners.
Izumi and Ritsu are also pushed to do something that they first didn't like but managed to love it in the end. With Izumi, he is forced to go into showbiz when he clearly states that he wants to be a mangaka, while Ritsu is forced to become an editor for shoujo manga when he wants to be an editor for literary novels. Both anime also tackles a little bit about how manga is made, though that is not really the main focus of the whole show.
Sekaiichi Hatsukoi Trailer
---
6. Gakuen Heaven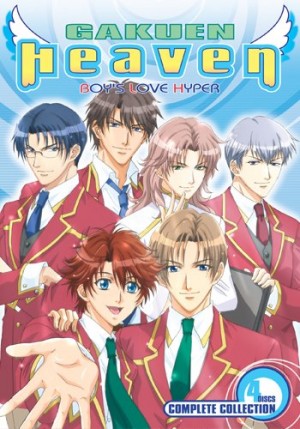 Episodes: 13
Aired: Apr. 2006-Jun. 2006
Itou Keita was shocked when he received a letter from Bell Liberty Academy aka BL Academy that he was admitted to the famous school. According to his knowledge, BL Academy only accepts talented and skilled students in their institution and for all he knows, he is not. He doesn't have any redeeming qualities except maybe his extreme good luck. Now at the academy, he meets different well-known students and forms a strong bond with them, however, unlike the others, he feels strongly different with his first friend and dorm neighbor, Kazuki Endou.
Gakuen Heaven may not have the same plot as Love Stage!!, still, this show does have a fair share of sweet and hilarious moments like Love Stage!! has. Kazuki and Keita met at a very young age like Ryouma and Izumi. Both couples also begin first as "friends" but at the end of the series, they become more than that. The same as Ryouma, who fell in love at first sight with Izumi, Kazuki immediately liked Keita during their first meeting. Both Ryouma and Kazuki use Izumi and Keita as their source of inspiration to be better in what they do. Kazuki is also very protective and gentle with Keita all throughout the show, just like Ryouma is to Izumi, though this is more shown in a comedic way in Love Stage!!. There is no available trailer for Gakuen Heaven but don't let it stop you from putting this show in your watch list. If you have watched this anime and you thirsty for more, then you can also play the game as it has more content than the anime.
---
With Gakuen Heaven ending our list, we hereby conclude this article. Love Stage!! is indeed a good anime that is filled with fun and laughter. We assure you that this list will offer that and more! Do you know any other anime, besides the mentioned above, that are like Love Stage!!? What do you think of the list and what did you decide to watch? Just leave any comments regarding what you think about this article! Till next time again! Bye! Now signing off~~~
---