Imagine being on a deserted island after a plane crash. Imagine being stuck there trying to survive. Doesn't necessarily sound very appealing, does it? But imagine you're the only boy and the other survivors with you are 15 very beautiful women! Oh yeah, and you're the star of a hentai. Sounds a bit better, doesn't it? That's the basic story of 15 Bishoujo Hyouryuuki, the tale of Kazuma and his harem of 15 girls stranded on a deserted island. Lucky for Kazuma his camera survived the plane crash, and even more lucky for him the girls love to pose for it. And sexy poses is just the beginning!
So if 15 Bishoujo Hyouryuuki has left you wanting more action on the beach, hot scenes with scantily clad girls, and sexy poses for a camera, well, look no further! Our list of 6 Hentai Anime like 15 Bishoujo Hyouryuuki is bound to have at least one, if not a few, more anime for you try. They all have at least one thing in common with the original hentai, and some have many things in common. So if you're looking for your next hentai to enjoy, you've come to the right place. Check out one - or a few! - of these great titles.
Similar Anime to 15 Bishoujo Hyouryuuki / Similar Anime to The Story of 15 Beautiful Girls Adrift
1. Boy Meets Harem the Animation

Episodes: 1
Aired: Oct. 2014
Boy Meets Harem the Animation starts off with some bad luck indeed - a plane crash on a school trip! Naoki is lucky enough to survive, along with his teacher, a flight attendant, and two of his most popular classmates. Now the five of them are stuck on a deserted island alone trying to survive. And Naoki has a serious crush on all of them! Who wouldn't? They're all beautiful of course. So what is a boy to do when he's all alone on a tropical island with five beautiful women? Well Naoki is about to take the plunge....
Boy Meets Harem the Animation and 15 Bishoujo Hyouryuuki have the same premise; a group of girls and one boy find themselves stuck on a deserted island together. And the pressure of that kind of situation along with the isolation from the rest of society results in intimate relationships between characters that may never have shared such things together in another setting. If the idea of your own harem of beautiful girls all to yourself on a beautiful tropical island is what drew you to 15 Bishoujo Hyouryuuki in the first place well, good news! Boy Meets Harem the Animation has even more for you! The harem may be much smaller but the girls are no less attractive. You can head off to the deserted island one more time with Boy Meets Harem the Animation!
---
2. Photokano

Episodes: 13
Aired: Apr. 2013 – Jun. 2013
Photokano is the story of Kazuya, an otherwise unassuming high school boy with an interest in photography. When he first receives his new camera as a gift, he is only interested in it because of how it's made and how well it can take pictures. The more he uses it, however, the more he comes to realise the camera has more power than he could have ever expected. Or maybe it's just his boyish charms that suddenly results in loads of girls at his school wanting to do sexy poses for him to capture? Either way, Kazuya finds himself on a wild ride full of plenty of beautiful girls, and sexy memories.
Photokano is first and foremost a harem story, featuring Kazuya with multiple girls. The way it is delivered, however, is that he can date more than one without them ever being angry, or even be together at the same time. Every few episode the "route" that Kazuya takes resets, giving the viewer a chance to enjoy a wide variety of girls! It's not the same harem style as 15 Bishoujo Hyouryuki, but you still get to enjoy lots of different character types. And did we mention there isn't just one, but multiple fan-service driven beach episode?
So if you're looking for more fun in the sun, Photokano delivers. And of course, the idea of taking sexy photos of. beautiful girls is a main theme in both anime! So for plenty more beautiful girls and lots of fan-service photo shoots after you finish 15 Bishoujo Hyouryuuki, check out Photokano next!
---
3. Bi-chiku Beach: Nangoku Nyuujoku Satsueikai

Episodes: 1
Aired: May 2011
Live un Veil is a newly formed, popular idol group in Bi-chiku Beach: Nangoku Nyuujoku Satsueikai. It consists of three girls named Nagisa, Nanami, and Kaede. The group announced that they are going to hold a contest for a fan to join them on a special trip to the beach. Ryou is an eager fan who applies, and lucky for him, he wins! On top of the ticket to join the girls on their trip, he also receives some sexy ladies' swimwear, a camera, and a mysterious note. According to the note, taking pictures of the girls with the camera will turn them on. Sounds like it's going to be quite an interesting vacation!
15 Bishoujo Hyouryuuki is set on a deserted island, and that tropical beach setting is back in Bi-chiku Beach: Nangoku Nyuujoku Satsueikai. Thus you can expect plenty of bikini shots and fun in the sand and water in both of these hentai. For a bikini loving fan, this makes Bi-chiku Beach a great follow-up show. And of course, Ryou isn't enjoying his time with just one girl, but with three! And though Ryou doesn't have the girls at his mercy because they are trapped with him, he still is able to control their libido with the special camera. So a small harem of beautiful, busty girls who are scantily clad, all being shared by one guy with quite a bit of power? It's another hentai with a camera at the beach being important to the plot! Sounds like the perfect hentai for anyone who enjoyed the setting and feeling of 15 Bishoujo Hyouryuuki!
---
Any Anime Like The Story of 15 Beautiful Girls Adrift / Any Anime Like 15 Bishoujo Hyouryuuki ?
4. Honoo no Haramase Doukyuusei

Episodes: 2
Aired: Dec. 2008 – Jun. 2009
Kazuya seems to be at the end of his luck in Honoo no Haramase Doukyuusei when his parents announce they are moving abroad for work, and that he must move into the dormitories at his high school. However, when it turns out there no room in the boys' dormitory, Kazuya's luck turns around as he is given a room in the girls' one. Unable to avoid the temptation, Kazuya peeks into the nurse's office on the day of the girls' physical exam - and finds himself absolutely enamoured by their breasts. In that moment, Kazuya decides to make it his goal to conquer their breasts - and the rest of their bodies as well!
Like 15 Bishoujo Hyouryuuki, Honoo no Haramase Doukyuusei is a harem hentai with one leading male character and plenty of girls to go around. While Kazuya isn't necessarily stuck with only girls the way Kazuma is, living in the girls' dormitory means he spends most of his time predominantly surrounded by them all the same. And he's still the only guy! And just like Kazuma, he takes advantage of his situation to pursue not just one girl, but as many as possible. That leads to plenty of harem-style romance and sex of course!
So if what you liked in 15 Bishoujo Hyouryuuki is mainly the harem aspect, with one boy having a lot of girls to himself, you're sure to like Honoo no Haramase Doukyuusei as well. And if you also like a bit of yuri, well, you've definitely come to the right place.
---
5. Resort BOIN

Episodes: 3
Aired: Dec. 2007 – Apr. 2009
Resort BOIN takes place at, you guessed it, a tropical resort! Leading male Daisuke Ichijou has gone to the resort to work for the summer. He could never have anticipated just how many beautiful girls would be waiting for him there - and all fighting to have a piece of him for themselves! Daisuke spends his summer quite the lucky guy surrounded by all these women but in the end can he choose just one out of the six girls trying to win his heart? And wait, no one told him the resort's jungles were full of man-eating plants! It's definitely going to be a summer to remember for Daisuke.
Resort BOIN is another harem at the beach hentai to keep you satisfied after 15 Bishoujo Hyouryuuki! It features six beautiful girls clad in their beachwear and all after one very lucky guy. They may not be trapped at the resort but they are all staying for the whole summer, and still manage to get into plenty of sticky - and sexy - situations together. With all six girls trying to win him over at the same time, Daisuke can basically do what he wants with them due to the position of control that gives him. It's not hardcore, but it is hot. So if you like your beach harems, well, Resort BOIN should be your next stop!
---
6. Rescue Me!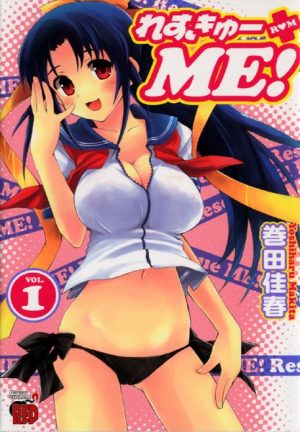 Episodes: 1
Aired: Jun. 2013
Masayuki Mizutani seems like an ordinary high school boy in Rescue Me! living an ordinary life. What most people don't know about him is that his classmate Sayaka actually lives with him. And she's far from an average housemate. Actually, she acts as his maid! An extremely intrusive one with no respect for boundaries and privacy at that. Her constant intrusions into Masayuki's daily life end up in a lot of intimate situations, whether he wants them or not. But how does Masayuki really feel about his personal maid? And that doesn't even mention all the other girls that are after him for one reason for another….
Like all the anime on our list so far, Rescue Me! is a harem anime with one male lead and a group of women that are constantly around him. But that wouldn't be enough to make it on our list of 6 Hentai Anime like 15 Bishoujo Hyouryuuki alone! Of course, there are beach scenes! And sexy ones at that. Plus the girls in Masayuki's harem all fit into various anime girl archetypes, giving a variety of girls for him (and the viewer, of course) to pick from and enjoy. Plus he spends most of the episode trying to play "innocent," much like Kazuma pretends to do as well.
Be warned, Rescue Me! is only borderline hentai, so it doesn't have any actual sex. But if what you like about 15 Bishoujo Hyouryuuki is more the girls' types and the beach scenes, then Rescue Me! is a quick one episode fix that you might like as well!
---
Final Thoughts
Is that enough beach babes and harems to keep you satisfied? Of course, it's always hard to follow up on a really great hentai like 15 Bishoujo Hyouryuuki especially with 15 beautiful girls as the main subjects but maybe you might find a new favourite from our list! Whether you like deserted islands, bikini bodies, or sexy poses before the camera, at least one of these anime should help to fill the void! And you never know what you might find.
What's your favourite part of 15 Bishoujo Hyouryuuki? Have you seen any of the other recommendations on our list? Can you think of another recommendation you think we might have missed and would be even better? We'd love to hear your thoughts so please drop us a comment below!