Hentai is on the rise here at Honey's Anime and with that, we've expanded our hentai content immensely, so it only makes sense to cover some of the most popular hentai. In this particular case, Eroge! H mo Game mo Kaihatsu Zanmai doesn't need any introduction, as it's well-regarded in the hentai community and rightfully so. It's superb visuals, seductive characters, above average story and erotic situations, it's no wonder it was selected for this article.
Eroge! H mo Game mo Kaihatsu Zanmai spawned six episodes that averaged one episode release a year from 2011-2016. The recommendations that you can expect from this list come in the way of heavy-hitting harems, sexual acts between co-workers and some exotic locations, featuring some top-notch animation. It's now time to deliver to you six hentai series that share similar characteristics to Eroge! H mo Game mo Kaihatsu Zanmai.
Similar Anime to Eroge! H mo Game mo Kaihatsu Zanmai
1. Yume Kui: Tsurumiku Shiki Game Seisaku

Episodes: 2
Aired: Jul. 2011 – Sep. 2011
An imaginative hentai producing company is looking for that push that will elevate their products to another level. The sisters, Yumi and Rumi Kuzuha are looking for any sort of assistance and feedback necessary for them to elevate their careers as artists. These young upstarts are on the right track to getting their new adult game sponsored by the advertising firm known as the Souma Agency. They sent a representative from the agency, Itsuki Kanzaka to oversee Yumi and Rumi's progress. With the right motivation in place, the staff starts to get overly involved and begin to blur the line between fiction and reality.
It's not hard to see that Yume Kui: Tsurumiku Shiki Game Seisaku draws many parallels to Eroge! H mo Game mo Kaihatsu Zanmai. The synopsis alone supports that statement, but let's break it down so everybody gets a better understanding as to why this anime was selected.
It all starts with the main premise of the story between both anime. Both of them feature studios that specialize in eroge. The stories involve a large cast, comprised mostly of females who are the workhorses of their respected series. The harem elements are played out to an overall stimulating experience. Moreover, these two comparable anime also have the staff overworked to the point where they're literally using their own sexual advances as reference material to improve their work. They need experience after all. The last thing we'd like to mention is that these two series market their eroge in a way that leads to staff members being penetrated in a public place for the sake of sales.
---
2. Ero Manga! H mo Manga mo Step-up♪

Episodes: 2
Aired: Dec. 2015 – Jan. 2016
It's now time to focus on an anime that's based on the erotic game by Clock Up. Ero Manga! H mo Manga mo Step-up♪ is a story about a young man named Kazuya Okazaki who has always had an affinity for ero manga. After completing high school, destiny seemed to call his name, as he found a Members Wanted notice on a signboard. With a strong knowledge of ero manga, Kazuya was tasked with the job of revitalizing an ero manga producing company. It's then that the company seizes the opportunity to have a healthy and steamy working relationship with Kazuya.
The first thing that should be addressed immediately when it comes to Ero Manga! H mo Manga mo Step-up♪ and Eroge! H mo Game mo Kaihatsu Zanmai is how similar they are in terms of animation and art style. The reasoning for that is because they're both from the same hentai studio, Collaboration Works. Right off the bat, both of these series deliver an identical aesthetic that's pleasing on the eyes.
As with our previous selection, this series also happens to share a nearly identical plot. The only minor difference is that one is for the creation of an ero manga, while the other is for an eroge. Each hentai shares another likeness, such as having the cast feel the need to experience their work first-hand in order to get a better grasp of their creations. If we had to choose just one series that closely mirrors Eroge! H mo Game mo Kaihatsu Zanmai, it would have to be this selection.
---
3. Ero Manga Mitai na Koi Shiyo

Episodes: 2
Aired: Jun. 2008 – Sep. 2008
Ero Manga Mitai na Koi Shiyo features 4 short stories, in a two part series based on the manga by Yasui Riosuke. The theme of this series is love. The first episode comes together when two childhood friends reenact some of the filthy poses and positions from a certain ero manga, while the second half focuses on a runaway mistress who finds comfort at her former servant's house. Episode two showcases what happens when a brother and sister are left alone for the day and the second half deals with another brother and sister combination, this time the older sister comes up with an indecent proposal.
When creating this article, one of the first series that came to mind was Ero Manga Mitai na Koi Shiyo. Not only did the name jump out at us, but the concept of the first half of episode one was more than enough to warrant similarities, even if it is just that one part. Despite only featuring the ero manga story in the first half of episode one, it focused on enough that helped us form parallels between this and Eroge! H mo Game mo Kaihatsu Zanmai.
For starters, they both offer motivated workers who are striving to become the best at their craft. The only problem is, they need a little bit of physical experience. That's where the sexual intercourse comes into play. Each of these series has a male artist who has a female or females use their bodies to form and craft a better understanding of their work. In addition to that, both of these hentai add humor to the mix in order to not overstimulate the viewers.
---
Any Anime Like Eroge! H mo Game mo Kaihatsu Zanmai ?
4. Mankitsu Happening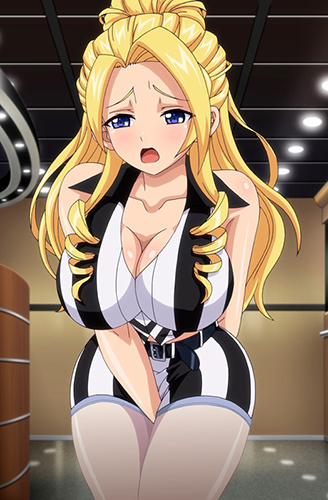 Episodes: 4
Aired: Mar. 2015 – Aug. 2015
After several unsuccessful jobs, Keiichi finally lands a job working under his best friend Rei, who serves as the manager of a manga café. In addition to that, Keiichi also found out that his cute childhood friend Kururu, happens to be a regular customer there. The problem Keiichi is now faced with is the likelihood that he will not be able to restrain himself from the pleasures of being around those lovely females.
For some, this may not seem like the optimal pick when comparing it to Eroge! H mo Game mo Kaihatsu Zanmai, but we feel there's enough to warrant such a selection. The first similarity that you will notice when watching Mankitsu Happening is how similar it looks visually. That's because it's yet another release from Collaboration Works. There's something to be said when you feel comfortable with a certain art style and animation. It can certainly evoke feelings of joy and trigger similar emotions that you've felt from watching Eroge! H mo Game mo Kaihatsu Zanmai.
The next comparable element between these two series is, of course, the harem that's shared between the male and his co-workers and customers. Speaking of males and his coworkers, this brings us to our next parallel. Not long after getting hired, Keiichi finds himself fornicating with his coworkers, Rei and Kururu. In the same vein, Tomoya ends up experimenting with his female co-workers, which eventually leads to sexual encounters. Between the visuals, the harem theme and the sexual acts with their co-workers, it's easy to see why these series are comparable.
---
5. Resort Boin

Episodes: 3
Aired: Dec. 2007 – Apr. 2009
The title of this next selection is pretty straight-forward. Resort Boin is about a student named Daisuke Ichijou who's sent down to a southern island during spring break in order to assist with his grandmother's resort. As you can imagine this resort is chock-full of beautiful girls. What Daisuke was not expecting was to have a handful of girls desire him. Six girls will be in complete competition for Daisuke's attention. Nothing is off limits, even Maya, Daisuke's cousin watches in the distance with a keen eye.
Our next selection Resort Boin isn't from Collaboration Works and it precedes Eroge! H mo Game mo Kaihatsu Zanmai, but there are a few noticeable inclusions for both series that really make them feel similar on numerous levels. The most glaring similarity is, of course, the strong harem theme. Both hentai feature at least six different desirable females for the males to 'deal' with. That's an abundance of stimulation for most hentai enthusiasts! If you're into females competing over one guy sexually, then you're in luck, as both have various h-scenes where girls directly demand Tomoya and Daisuke to pick one girl.
The next comparable elements between these series are how some of these scenes are put together. For one, there are some notable settings that are explored in both series, such as, the beach and hot springs. If that doesn't do it for you, then how about the bondage sequences that includes blonde females being dominated by the male of the story. Finally, the last parallel comes with the fact that most of the action between these males and females also share the distinction of being co-workers. Whether it's an eroge studio or a beach resort, there's plenty of eroticisms to go around.
---
6. Tsugou no Yoi Sexfriend?

Episodes: 4
Aired: Nov. 2012 – Jan. 2015
This next choice tells a daring, harem fantasy that I'm sure many males wouldn't mind finding themselves in. We're talking about a story that revolves around Yuu Arahama, who's sleeping with five girls. He refers to them all as sex friends, nothing more, and nothing less. Yuu has commitment issues, so naturally, he turns down a wedding proposal from Misako. One night after admitting to Misako that she isn't the only one he is sleeping around with; she demands they all meet up to settle the issue once and for all.
We want to present you with a piece from the hentai studio Collaboration Works, which features a harem and scenes that take place at the beach and hot springs. If you're asking yourself why we just described Eroge! H mo Game mo Kaihatsu Zanmai, it's because of our next pick, Tsugou no Yoi Sexfriend? also, utilizes these same elements in its four episode series. Both of these series are visually striking and received top-notch animation. The harem is prevalent in that Yuu has five lusty females fighting for his affection, while Tomoya has a plethora of female talent to work with.
The aforementioned scenes that take place in both series at the beach and hot springs are definite winners, as they both bring a fan-favorite anime trope and successfully deliver an erotic experience. The last comparable situation we'd like to touch up on is the sequences that feature bondage. While both of these hentai don't prominently feature bondage h-scenes, there are enough from both to warrant similarities, especially given the fact that both showcase blonde females in their bondage scenes.
---
Final Thoughts
After making it through this article you should now have a list of hentai that shares some stimulating parallels between Eroge! H mo Game mo Kaihatsu Zanmai. If you haven't watched any of these recommendations we suggest you get to it. We're certain that if you liked Eroge! H mo Game mo Kaihatsu Zanmai you won't be disappointed with these choices.
Now we ask the readers, what did you think of this list? Are there other hentai that wasn't mentioned that closely resembles Eroge! H mo Game mo Kaihatsu Zanmai? Be sure to let your voice be heard in the comments section below! We look forward to discussing that with you.