Fault!! is a harem hentai with a high school setting. The lucky leading male is named Shuichi, and he is a member of the tennis club. Everything seems to be going well at the club until Shuichi is injured in an accident! Luckily, one of the other members of the club named Ai is there to take good care of him - but when his little sister Mio gets jealous, the truth of her feelings for him start to come out. Except she's not his real sister by blood so that makes their relationship incest without being INCEST. But we did say this is a harem hentai so Mio is not the only girl Shuichi is sleeping with - add in other team members, and a teacher who masturbates to the very thought of him and you have Fault!!.
Because it is a harem hentai, Fault!! has the usual aspects that go along with that - sex with multiple girls, group sex scenes, and many relationships overlapping one another. But it has some things that make it special too! One huge highlight in Fault!! is that the sex in it is all written consensually. The characters want to do it, and still can have some fun with kinks and toys and group sex - and that can be hard to find in hentai! It also features relationships between classmates, siblings, and a teacher so there's something for everyone. And it's all at a school club which is a cool backstory! When we picked our hentai for 6 Hentai Anime like Fault!!, we tried to find ones that had at least one, but preferably, a few of these things as well. So get ready for some follow-up hentai similar to Fault!!.
Similar Anime to Fault!!
1. Gakuen Shimai

Episodes: 2
Aired: Aug. 2008 – Nov. 2008
Sousuke Kurokawa is an average high school boy with a crush on a girl way out of his league in Gakuen Shimai. That girl is Arisa Nanase, one of the most popular girls in school alongside her sister Mika. Sousuke knows he doesn't stand a chance with either of them until fate steps in and changes his life in a totally unexpected way. It turns out that all three of them are siblings! And once the truth comes out and their parents get back together, Sousuke, Arisa, and Mika find themselves living in the same house. Looks like Sousuke will have to change a few of his personal habits (like masturbating)...or will he? What new kinds of chances will he have now that he lives with his recently discovered sisters?
Gakuen Shimai and Fault!! are both harem hentai with multiple girls and one boy. And in both stories, the relationship involves incest. While in Fault!! the siblings are not blood-related, the idea of brother and sister together is still a strong theme. Meanwhile, in Gakuen Shimai, they ARE blood siblings - but they weren't actually raised as brother and sisters. It makes both of these hentai have a lighter incest theme rather than an intense one that might be off-putting for some people. So if you enjoyed the light incest and harem style sex in Fault!!, you'll probably like it in Gakuen Shimai as well. Plus they both involve the school tennis club, believe it or not, giving these two hentai another unexpected similarity.
---
2. Sora no Iro, Mizu no Iro (Colour of Sky, Colour of Water)

Episodes: 2
Aired: Jul. 2006 – Jun. 2008
Hajime Saisho is quite the catch in Sora no Iro, Mizu no Iro. So much so in fact that even though Asa and Natsume both have crushes on him, they decide it's better to share him and both win than for one of them to get nothing. However, at the end of the summer, Hajime will be leaving! So their romance with him has a time limit. That means that Asa and Natsume have to make the most of their time with Hajime, and they do just that throughout the hentai. After all, sharing someone as wonderful as him equally is much better than never getting to experience him at all.
Sora no Iro, Mizu no Iro is a harem hentai with two girls and one boy, similar to Fault!!. In both hentai, the characters are of high school age as well if you like watching a school romance. Both hentai feature similar sexual set ups, with both one-on-one and group sex scenes that highlight the best parts about watching a harem hentai. And both stories feature a romance that is consensual and sex scenes that follow that theme - if you're looking for rape or other less consensual situations, look elsewhere. But if you liked the more romantic story that still has the fun of involving more than just one couple in Fault!!, you can find the same kind of story in Sora no Iro, Mizu no Iro. Finally, both hentai are by the same artist – Tony Taka! So you can expect a similar art style as well.
---
3. Reunion

Episodes: 2
Aired: Jun. 2011 – Sep. 2011
Yuji is about to have the most unforgettable summer holiday ever in Reunion. The first girl he encounters is Saki, and he falls in love with her. The two date for a while, but suddenly Saki disappears without any explanation! And then Yuji encounters another girl being chased by a group of men through the rain. He begrudgingly helps her escape, and the two hide in an empty old building. Both are soaked from the rain though and turn to body heat to warm them up. But Yuji's story still isn't over as he eventually returns to school at the end of the summer....and runs into the same two girls!
Reunion is yet another harem hentai with two girls and one boy, already putting it in the same genre as Fault!!. Fault!! features the main character, a student, having sex with both fellow classmates and an interested teacher as well - and so does Reunion. One of the girls turns out to indeed be one of Yuji's classmates, but the other one is a young, new teacher at the school! If you like hentai in a school setting, and like the dynamic between more classmates and student/teacher relationships, well Reunion has both to follow Fault!!. Both also have a main character that finds romance unexpectedly - and even more surprisingly, with more than one girl. Neither Yuji nor Shuichi are particularly sexed crazed or aggressive men, and yet they find themselves sleeping with multiple women all the same!
---
Any Anime Like Fault!! ?
4. Ojousama☆Yomeiri Kousou!

Episodes: 2
Aired: Oct. 2012 – Nov. 2012
Ojousama☆Yomeiri Kousou! is the story of Mamoru Amakawa, a transfer student beginning the year at his new school. He becomes particularly popular with two girls, both of whom he unexpectedly receives letters from. The first is the daughter of a gang leader who controls part of the city named Sakura. The second letter is from a no-less suspicious person; Ageha, the daughter of the local mafia leader. Both of these dangerous girls have fallen for Mamoru, but is it worth playing the game with them when they have such powerful fathers? The girls are determined to get his attention in any way they can, but what will happen to Mamoru himself?
Ojousama☆Yomeiri Kousou! is a harem hentai with a high school setting. The two girls are competing to have Mamoru's attention for themselves, much like Mio and Ai complete for Shuichi's affections in Fault!!. Ojousama☆Yomeiri Kousou! doesn't have the incest or student/teacher element, but it does have similar sex scenes to Fault!! on top of the classmate romance aspect. The sex is consensual and fun to watch, and things get pretty steamy with such dangerous girls involved and so determined to win over the main character. You can expect a few kinks and added fun to keep things exciting just like Fault!!. If you're looking for another high school harem with jealous girls and fun sex, check out Ojousama☆Yomeiri Kousou! next!
---
5. Aki-Sora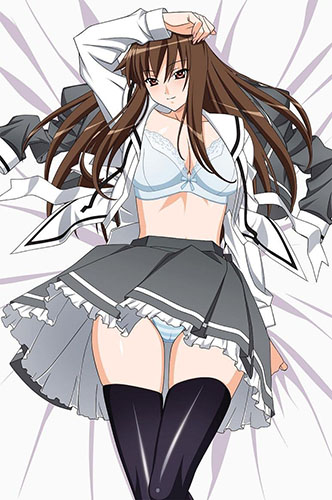 Episodes: 1
Aired: Dec. 2009
Aki and Sora have always had a close sibling relationship in Aki-Sora. But Sora holds a secret; his feelings for his older sister go beyond just family love. He wants to have a romantic relationship with her! Of course, he has to keep his true feelings a secret, even from his twin sister Nami. Unknowing of Sora's feelings, Nami has been trying to set him up with her best friend. But Sora only has feelings for Aki! Aki had her own dark, lustful secrets as well though to add more drama and confusion into the mix. So who will reciprocate whose feelings in the end of all this pandemonium?
Aki-Sora is a unique harem hentai with relationships that are all over the place. Like Fault!!, it revolves around one boy and a lot of different girls. Sora has a few different options for lovers, including Nami's friend and of course his sister Aki. This means there is both incest and non-incest feelings happening in the same story, much like Fault!!, and a question of who the leading male is going to end up with in the end. Will he choose the relationship which society deems as appropriate, or will he follow his taboo feelings and stay with his sister? How will it affect the relationships within the family and with his friends? If you liked those sort of plot questions in Fault!!, you're sure to like them in Aki-Sora, too!
---
6. Fukubiki! Triangle: Miharu After (Lucky Draw Triangle ~Miharu After~)

Episodes: 2
Aired: Apr. 2010 – Jan. 2011
In Fukubiki! Triangle: Miharu After, Miharu and Ushio, are in a happy relationship with plenty of sex every day. Everything seems to be going really well until a horrible accident lands Miharu in the hospital. Ushio waits diligently by her side along with her sister, Futaba, waiting for her to awaken again. But when she finally does, Miharu isn't the same person Ushio remembers. She's got a bad attitude and a cruel temper, and worst of all, she has no memory of Ushio! Futaba reveals that this is how Miharu actually was before she met Ushio! Of course, Ushio doesn't know what to do with his girlfriend, but in the meantime...could he be falling for her sister??
Fukubiki! Triangle: Miharu After is our last harem hentai like Fault!!. It features one boy and his dilemma between two girls - one being his girlfriend, and the other her sister. While it doesn't have incest per say, jealousy within the family is still a key element when Ushio has to pick between two sisters. Though maybe he could happily have both of them...that certainly adds a nice harem element to the sex scenes! Plus again, like Fault!!, most of the sex is consensual and free of rape elements that prevail in a lot of hentai. So if you like the hot sex scenes without the rape, jealous girls, competition, and harems in Fault!!, check them out again in Fukubiki! Triangle: Miharu After.
---
Final Thoughts
Consensual sex can be a hard element to find in hentai, especially when it's occurring not as a side point but as the main theme of the sex scenes. And when you also want to see harems of girls after one lucky guy, it's even harder to find! Add in incest (whether by blood or just social ties), school girls, and even some student/teacher action and you've got a really unique mix. Of course, we are describing Fault!!, but there are a few other hentai that have a lot of these same elements! So if you're looking for fun and sexy harems without all the rape, check out these six hentai anime like Fault!!.
Have you seen any of these hentai? What kind of sex do you prefer to see in your hentai? Are there some other choices you think would have been better? Whatever your opinion, drop us a comment below. We would love to hear from you!
---