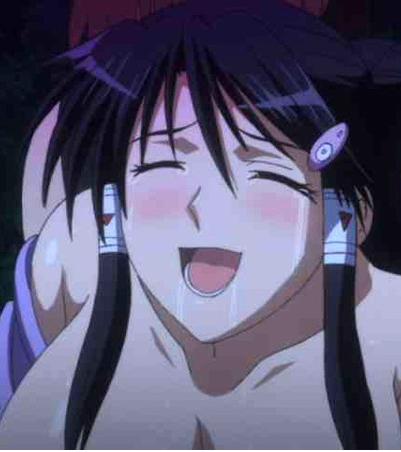 HHH Triple Ecchi is an anime all about cute girls, who are more than willing to get down and dirty. The 4 episode series runs through three different stories featuring an exciting cast of heroines. In the first and last episode, you follow an honor student who has honed in on one of her classmates for stress relief.
Takashima Shigure is a young girl who enjoys masturbating in the classroom, and it just so happens that one of her classmates was watching. Instead of being mad though she unzips his pants and treats her mouth to his dick. After forcing him to ejaculate in her mouth, she begins to psyche herself up to finally throw away her virginity. Of course, her first time wouldn't be complete without riding the protagonist and making him cum inside of her!
Creampies and virgins are a major theme through HHH Triple Ecchi. If you've already indulged yourself in the pregnancy inducing creampies of this hentai, then you're probably looking for another series with the same light-hearted comedy scenes and good old fashioned love making situations. Below we have some of our best recommendations for anime like HHH Triple Ecchi. Get your heart ready, because these willing cuties are here to steal it!
Similar Hentai Anime to HHH Triple Ecchi
1. Renai Fuyou Gakuha The Animation

Episodes: 1
Aired: Jun 27, 2014
Renai Fuyo is made by Pink Pineapple and has a similar premise to HHH Triple Ecchi. Renai Fuyou stars two classmates who have lots of fantastic sex. Fujishima is our young heroine who is more than happy to become submissive to her classmate. Following his command, the pair escape from class to fulfill some of their primal desires. The couple even gets a third girl to join in the fun by the end of the OVA!
In the first few minutes of the anime, the couple find themselves going to the
"nurses office." They don't quite make it as Fujishuma ends up stripping in the middle of the hallway. Chiyomaru, of course, disciplines her for being a lousy president and begins to check her pussy for wetness. Upon discovering she's actually drenched he instructs her to bend over against the window and apologize to her class for being a slut. She spreads her pussy, allowing Chiyomaru easy access inside. The pair soon move their sexcapades to the staircase where another girl catches them in the act while Fujishuma's pussy is in full view.
In the second half of the OVA Chiyomaru instructs Fujishuma to show her bare breasts to the girl that caught them. She then goes on to play with herself until she cums in front of everyone. The episode finishes off with the couple having sex with the new girl. This is, of course, all while they have an audience.
---
2. Do S na Seitokaichou-sama ga M Note ni Shihai Saremashita.

Episodes: 4
Aired: January 26, 2018 - September 28, 2018
Seitokaichou-sama is made by PoRo and has plenty of similar themes to HHH Triple Ecchi. Seitokaichou-sama has a few more fantasy elements as the protagonist Souta finds a book called the M note. This book can help his wildest fantasies about the council president come true. Of course, this doesn't stop with her as Souta has a few more beauties on the list to shove his dick into.
The first scene has Souta using the notebook to make Shino strip down in front of him and beg to be tied up. Souta jumps at the opportunity and then puts the woman face down on the floor so that he can smack her ass repeatedly. Shino's pussy soon becomes dripping wet from the spanking. Of course, Souta pulls his dick out to make sure she gets adequately satisfied. He even makes sure to creampie her to celebrate her first time.
By the third episode, Souta is switching in between the heroines with ease. He even has his first crush Maina climb onto the teacher's desk for him. Of course, he decides to put his dick right inside her. After spending some time on the desk, he moves Maina over to the window and thrusts into her while spreading her legs. As she gets more excited by the possibility of being seen, Souta finishes things up by cumming inside of her.
---
3. Hyoudou Ibuki: Kanpeki Ibuki Kaichou ga Kousoku Do M!? na Wake

Episodes: 2
Aired: Jul 31, 2015 - May 27, 2016
PoRo brings us another upstanding lady in Hyoudou Ibuki. Ibuki is the upstanding president, who is secretly getting it on with another member of the council. As it turns out, Ibuki is perverted to the core and loves nothing more than having sex in strange places. When a new teacher comes into the mix, the couple runs into some all new problems. Better yet she's still a virgin, how will the couple handle their latest friend, with sex, of course!
The first scene plays out after a meeting, Ibuki accidentally flashed her panties where Hiroto could see. Ibuki's error leads her to getting pounded doggy style against the window and then later inside of a locker. In episode to the couple even end up fooling around on the train. Hiroto just can't help getting hard when pressed up against her ass and puts his hand up her shirt. Before long his dick is inside of her and Ibuki's cumming while surrounded by passengers.
By the second episode, Hiroto is even getting it on with their teacher. She invites Hiroto to the classroom after school and then reveals her huge breasts to him while Ibuki watches through the door. Of course, she soon ends up with a cock in her mouth before Hiroto takes her virginity doggy style on top of a few desks.
---
Any Anime Like HHH Triple Ecchi?
4. Kakushi Dere

Episodes: 3
Aired: April 19, 2013 - November 29, 2013
Pashmina makes a wonderful tale of lust in Kakushi Dere. Nonoka has fallen in love with one of her friends older brothers. She even writes him a love note hoping he will accept her feelings. He ends up not reading the letter prompting Nonoka to pay him a visit. She's here to show him just how much she doesn't like him. All three episodes of this hentai feature different couples in various situations.
The first scene opens up with Nonoka naked and passionately masturbating on a bed. This, of course, in front of our hero of the story. He soon becomes fed up with Nonoka's antics and begins to rub his dick between her lips. After getting her wet enough, she asks him to stick it in, which he happily does. He starts pounding her from behind on his bed before flipping her over to suck on her boobs. He finishes off by making sure she's filled with his cum.
In the second episode, we get a step-sister named Misaki who secretly wants to be pounded. After being caught masturbating by her stepbrother, she begins putting on a show for him. She exposes her tits and begins to rub them. This immediately gets the brother worked up, and he takes over for Misaki. He even makes sure to play with her pussy some while she's standing up. Before long his dick is in between her tits, and she's licking it with each thrust.
---
5. Otome Dori

Episodes: 2
Aired: May 25, 2012 - September 28, 2012
Otome Dori is a sad tale of betrayal by Mary Jane. Kazuki is in love with his childhood friend, Otome. He plans to marry her when they are over and makes sure to keep their relationship close. He hasn't yet made a romantic move towards Otomi and is devastated to find out that she's been whoring herself out to guys after school. This is all thanks to a mysterious DVD he finds in his mailbox.
The first episode is littered with scenes of Otome being violated by men while being filmed. The DVD begins with the men playing with Otome's boobs before she spreads her legs. The men soon pull aside her panties to reveal her pussy to the camera. Otome is then thrown onto a bed where the men begin to play with her even more. After fingering her, they slide her down to take her first cock. She soon finds herself being passed to multiple men and filled with their cum.
In the second episode, Otome is sitting on a platform that helps better expose her pussy. The men in the video take this as a chance to double penetrate her, sending her into ecstasy. The men thrust into Otome until they finish off their loads inside her. To finish off, they move her back to the bed to get creampied a few more times.
---
6. Oide yo Shiritsu Yarimakuri Gakuen

Episodes: 4
Aired: October 28, 2016- December 29, 2017
PoRo brings us our final hentai on this list with Oide Yo Shiritsu. This hentai is all about a school that grades its students using sex! The women are in competition to have the most sex and be at the top of their class. Ode Yo Shiritsu is littered with eyebrow-raising scenes of different heroines getting pleasured.
In the first episode, the council president decides to punish a man laying on the roof with his cock out. To start the punishment, she uses her stocking covered foot to rub his dick from above. She lowers herself down lower and lower while giving the footjob until her panties are on the man's mouth. He begins to frantically lick her pussy until she's dripping wet. Unable to take it any more the man pins her against the fence while rubbing her breasts and soon shoves his dick inside of her. Best of all, they have an audience; the president even gets picked up while being pounded to give everyone a better view.
By the end of the second episode, the protagonist has two girls fighting over him. The girls make a truce and decide to share him. One forces him to lick her pussy while the other rides his dick. Of course, they both make sure to get a healthy helping of cum before the episode ends.
---
These 6 Hentai Like HHH Triple Ecchi are sure to tickle your fancy. With more hardcore scenes in Otome Dori and a sadistic couple in Renai Fuyou, this list will have something for you!
Have a similar anime we missed, let us know in the comments below!
by N. Calamity
---