Ah, sibling love. It's the core of so many hentai series, including 2020's perfectly pervy Overflow. Sexy little sisters just can't get enough of their brothers, and vice versa. Sometimes they're related, sometimes they're not – but there's always one constant in these series: they're sizzling hot. It's the taboo that gets viewers going, but there's also plenty of intriguing side-stories to keep track of as well.
Overflow follows a young man who ends up in a love triangle with his sister and smoking hot childhood friend after making a move sharing a bath together that ends in full-on sex. From there, the plot thickens as a real relationship (with plenty of hot and naughty action) develops. It's an addictive, sultry series that you won't be able to get enough of, so we thought we'd give you 6 more shows in the same vein with brother and sisters looking for a reason to jump in bed together. Ready to dig in? Let's go!
Similar Anime to Overflow
1. Sora no Iro, Mizu no Iro (Color of Sky, Color of Water)

Episodes: 2
Aired: July 28, 2006 to June 27, 2008
Hajime Saisho is a member of the school swim team, and he's popular with the girls. When a new transfer student named Asa Mizushima catches his eye, Hajime does everything in his power to win her over. They begin to fall in love, but wait – there's another girl who wants Hajime: Natsume Sorayama. Instead of having a knock-down, drag-out naked girl fight, Asa and Natsume make a pact: they're going to share Hajime, and that's something he's perfectly fine with. Cue gratuitous threesome sex between a polygamous triad. Asa and Natsume get to spend their lives with the man they're in love with, and Hajime gets double the lovin'. Score!
Overflow is heavily reliant on a steamy love triangle between a high schooler, his sister, and his childhood friend. There are plenty of moments where the childhood friend is very nearly or totally involved with sex three ways, and there's definitely a romance setup there as well. Sora no Iro, Mizu no Iro follows a similar setup, except there aren't any sisters involved. The threesome, however, should be up Overflow fans' alley, especially after the first episode's steamy bathtub scene. Plus, there's that whole pesky "falling in love" thing going on between the triad.
Sora no Iro, Mizu no Iro (Color of Sky, Color of Water) PV
---
2. Aki-Sora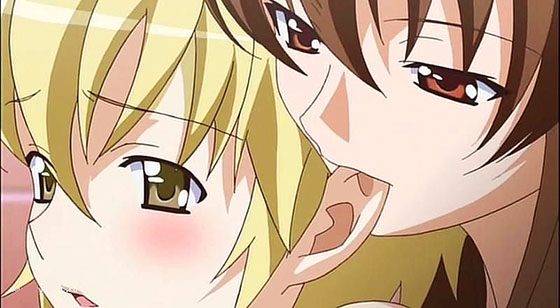 Episodes: 1
Aired: December 18, 2009
Aki-Sora follows two blood-related siblings, Aki and Sora Aoi. They're extremely close, and often bathe together, sleep together, and of course make out with each other. It's a taboo series, to be sure, as the pair often engage in intercourse, both oral and otherwise later on in the series after they reach high school. They realize their feelings for each other have only deepened throughout their lives, and their sibling bond grows ever stronger with each moment that passes. With this single episode only spanning 30 minutes, they act on a plethora of feelings and emotions, culminating in a fit of pleasure as the two consummate their love.
Overflow fans will find this brother and sister relationship familiar, as the 2020 series explores the very same concepts. There's also a third wheel in the show: sibling Nami Aoi, who harbors a deep lust of her own that's explored later in the series – just like the childhood friend. Also in Overflow, Aki-Sora explores a blood-related pair that will be taboo enough to turn viewers on, and the highly-detailed sex scenes are the cherry on top. There's a lot going on in this tightly-edited, fast-paced hentai OVA, but you'll be into it just minutes in.
---
3. Joshiochi!: 2-kai kara Onnanoko ga... Futtekita!?

Episodes: 9
Aired: July 2, 2018 to August 27, 2018
Sousuke is a young man who lives in a dilapidated apartment building. How rundown is it? The cute girl who lives above him falls right through the floor and lands right on Sousuke's penis. Yes, you read that correctly. Sousuke had already had his eye on the girl, Sunao Unyu, in the past – so this was hardly something he didn't want. And because this is hentai, there is no playing hard to get. As soon as Sunao falls onto Sousuke, the sex commences, and it only gets hotter from there on out. Sunao isn't the only woman Sousuke's getting it on with, though.
His landlord Yuki Shimizu eventually insinuates herself into this sexy relationship, throwing plenty of foreplay into the mix. You've got two hot, busty women competing for affection from Sousuke, as well as an additional third woman later on in the series (Sousuke's childhood friend) for some seriously sizzling action. Overflow fans will immediately fall in love with the sudden, unexpected sex scenes and the third partner who enters later in the series. There are also plenty of fetishes in play here, and while there are no sisters, there's water sports, hand jobs, oral sex, and plenty of voluptuous body type to go around here.
Joshiochi!: 2-kai kara Onnanoko ga... Futtekita!? PV
---
Any Anime Like Overflow?
4. Araiya-san!: Ore to Aitsu ga Onnayu de!?

Episodes: 8
Aired: April 8, 2019 to May 27, 2019
Average male Souta Tsukishima is a back washer. Normally, his grandpa would be filling that role, but he just can't deal with it anymore in his old ages Souta gets to wash the backs of a gaggle of high school girls – including Aoi Yuzuki, a girl who loves to tease Souta. But it turns out her constant hatred and harassment stems from how much she loves him and wants him to touch her body. Seeing as it's Souta's job currently to get some back washing on, he does just that with Aoi, which leads to plenty of other things, like a relationship...and lots of enthusiastic sex. This continues until one day, Souta's senpai Mei Sasakura makes her way over to the message parlor and shakes things up.
Mei is the complete opposite of Aoi, completely sweet and heartwarming. She also happens to have feelings for Souta, and becomes the all-important rival to Aoi. This leads to, well, even kinkier sex scenes. Overflow lovers will be thrilled with the women's opposite personalities and plenty of bathtub scenes. The first episode of Overflow introduced a particularly sexy one, and that same tone and feeling is echoed throughout the whole of Araiya-san!: Ore to Aitsu ga Onnayu de!? –plus, you have two women dueling for Souta's love. That's always a classic scenario.
Araiya-san!: Ore to Aitsu ga Onnayu de!? PV
---
5. Ane☆Haramix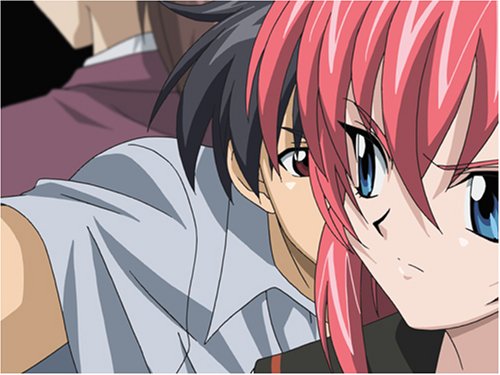 Episodes: 4
Aired: August 26, 2006 to September 15, 2007
Takami Akitoshi is a young man who's been living without his parents ever since they passed away. It's a lonely existence since he lost them at an early age, but luckily he's got his sister Hitomi by his side. Takami harbors some decidedly dirty thoughts about Hitomi, but he largely keeps them a secret, until one fateful day. A gorgeous girl clad in leather appears in his room calling herself Death. It looks like it's time for Takami to die, and Death has come to collect his soul. A concerned Takami can't stop screaming, which prompts Hitomi to rush in.
Taken aback by the news Mina shares, Hitomi pleads for Takami's life. There's one way to save him, and that turns out to be a bit unexpected: if he can father a child within a week, Mina will grant Hitomi's wish to let him live for an additional decade. Takami knows what he must do, and that means there's a lot of sex in his future with Hitomi. Again, like Overflow and many other series on this list, we have a brother and sister pair who harbor naughty thoughts for each other waiting for a reason to come together. It's exceedingly raunchy, especially since the sex has to result in a pregnancy – but you'll see what we mean when you watch.
Ane☆Haramix PV
---
6. Green Green Thirteen: Erolutions

Episodes: 1
Aired: May 28, 2004
Green Green is a series that's already rife with ecchi scenes, with Green Green Thirteen: Erolutions taking things to the next level. The original Green Green followed the exploits of the all-male boarding school of Kanenone Gakuen, which was in talks to merge with an all-girl boarding school to create a new co-ed "paradise." The girls from the boarding school come to stay at Kanenone for a month, and end up running into the "Baka Trio" and their friend, series protagonist, Yuusuke Takasaki. Together with ladies' man Ichiban-Boshi, siscon fetishist Tenjin, and pervy Bacchi-Gu, these high schoolers have to figure out how to compose themselves around women – or not. Green Green Thirteen: Erolutions takes place about half a year ahead of the schools' merging, and follows one very specific couple.
Green Green female lead Midori Chitose, who's been in love with Yuusuke since childhood, can't be with him due to reasons we won't spoil here. Instead, she sets him up with pal Futaba. What ensues in Erolutions is a threesome-type relationship between the triad as Midori tries to set Futaba up with Yuusuke. It's filled with plenty of sexy moments, just like Overflow's girl-girl-boy scenes, and features the same sexy, confident attitude you may have come to expect from that show. What's more, if you like what you see in the OVA, you can always go back and see what happens in the series for some juicy back story among the sexual content.
---
Final Thoughts
Overflow is a seriously sexy series with plenty of reasons to keep coming back: brother/sister love, squeaky clean sexual encounters, and a love triangle that just won't quit. These six shows should keep you busy long after you finish watching the final episode of the sibling love story that started it all. What hentai titles do you think are similar to Overflow? Drop by our comment section below to let us know what you think!
by Brittany
---