If you're a fan of eroge (erotic games), you've probably at some point heard of the Rance series. It's one of the longest-running series that's also super popular. It features the sex-crazed anti-hero Rance, who certainly has a mild interest in justice and goodness but is much more motivated by getting a shot with the ladies. Using either charm or force, Rance will purge the world of evil and any sexual competitors, dragging his poor, beautiful slave Sill along!
The anime Rance 01: Hikari wo Motomete is both very funny and insanely dark, as is typical of the Rance series games and anime. You can expect sex and adventure with enough story to keep you focused on more than boobs. It is at parts very rapey, especially with how Rance treats his slave, so it may not appeal to everyone. However, if you're a fan of knights, porn with a plot, and the pursuit of justice (of some kind!) we're sure you'll like these 6 anime like Rance 01!
Similar Anime to Rance 01: Hikari wo Motomete the Animation
1. Words Worth

Episodes: 5
Aired: Aug 1999 – Nov 2000
The Words Worth tablet is said to contain infinite wisdom that could carry civilization to a miraculous future, but only one person who wields the power of both shadow and light will be able to read it. Before anyone can be found, however, the tablet is broken into fragments and the Light tribe and Shadow tribe engage in war to find all the pieces. Astral is a clueless though good-hearted heir to the Shadow tribe's throne who is thought to be useless at fighting by his father and fiance. Astral proves to be far more important than either side could have imagined.
Astral and Rance share many similarities, aside from being based on eroge. Astral may be a bit more agreeable and less full of himself, but they are both admirably devoted to the quest for sex. They have no problems milking a girl's feelings for them or taking advantage of a bound prisoner. At least they both somewhat care if the girl they're with is enjoying it! Like Rance, Astral is loud and boisterous and will undermine authority to get his way. Words Worth has a bit more of a dire plot since the fate of the world rests on one horny guy's shoulders, but both less than respectable knights become part of a much bigger story than either of them anticipated.
---
2. Wizard Girl Ambitious

Episodes: 1
Aired: Aug 2011
Kei is a strong knight with a gentle heart who serves as the shield of the abrasive and powerful witch Asuka. The two journey together fighting evil and protecting each other, so it's no wonder they would find themselves attracted to each other. However, once Kei becomes turned on, he turns into an animal! Their master and servant role becomes switched and Asuka is the one helplessly taking Kei's frustrations. Kei's not even that picky about who he gets his rocks off with, so Asuka has to decide whether it's easier to watch him be with someone else or offer herself every time!
Wizard Girl Ambitious, like Rance 01, is based on an eroge. While Kei maintains a kind demeanor when not horny, all bets are off once he's in any sexual situation. Rance will be kind if that makes getting with a girl easier but he too ignores pleas to stop. Both are talented knights on a journey with a cute girl in tow, though Asuka is no Sill. When Asuka is mad, she abuses Kei both verbally and physically much in the way Rance does to Sill. One departure from Rance 01, though, is that comparatively, there is little plot. What plot is there is pretty vague. However, the eroge is much more fleshed-out (with plenty of flesh) so if you finish the anime and want more, you'll be set.
---
3. Kyonyuu Fantasy

Episodes: 2
Aired: May 2012 – Jul 2012
Ryuuto is considered a disgrace to the Knights Academy due to his late graduation. He is basically sent on a suicide mission to get rid of a murderous succubus but ends up seducing her instead! As Ryuuto is constantly challenged by his higher-ups, he continues to prove his merit. Not only is he a better knight than others give him credit for, but his sexual prowess is a force to be reckoned with!
Yet again, we have a wonderful fantasy hentai that started as an H-game. Kyonyuu Fantasy and Rance 01 both have knights who become unlikely heroes for multiple women (pleasuring them along the way!). Neither Ryuuto nor Rance are particularly ambitious, but if you put a banging body in front of them, they'll easily climb the military ranks or take first place in a coliseum tournament. You won't get tired of the many sex scenes with diverse, interesting characters, and their storylines are deceptively complicated. Most of the ladies in Rance 01 that get any screen time have sizable boobs, but as you can guess from Kyonyuu (big boobs), Kyonyuu Fantasy takes the titty cake. If you liked Rance 01 but wanted just a little more, Kyonyuu Fantasy delivers.
---
Any Anime Like Rance 01: Hikari wo Motomete the Animation ?
4. Koikishi Purely Kiss the Animation

Episodes: 2
Aired: Jul 2013 – Feb 2014
As children, Kaname and Elcia made a promise to become admirable knights that would defend anyone in need, just as they had been protected from certain death. Years later, the two friends have become a powerful duo that can strike fear into the hearts of evildoers. Yet these two share not only a love for their knightly oaths but a love for each other!
Again, like most selections on our list, this hentai anime is based on an eroge. If you wanted sweeter scenes than you got in Rance but the same high level of poon, you get it with Koishiki Purely Kiss. It's very cute and Kaname and Elcia are very much in love, but that certainly doesn't mean the sex scenes are boring! They are quite the energetic pair and find new places and positions to get it on. Both series show horny knights carrying out their duties, though Kaname and Elcia certainly take their responsibilities more seriously.
---
5. Secret Journey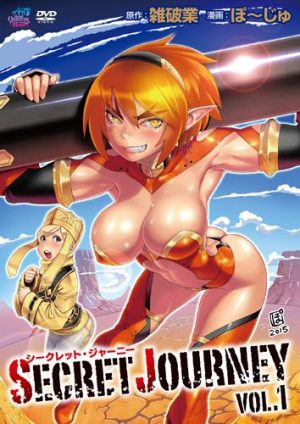 Episodes: 2
Aired: Jan 2016 – Apr 2016
Genjo Sanzo is a Buddhist monk who has been tasked with journeying to India to find the Holy Sutras and bring back the knowledge gained. When he frees Goku, a sex-crazed monkey spirit so powerful and destructive that she was imprisoned by Buddha, he worries that his journey may come to an abrupt end! Goku takes out her sexual frustrations on the tired wanderer, but thanks to a special gift from his master, Genjo is able to turn the tables! With Goku somewhat on his side, the two must brave rough terrain and tough demons that would stand in their way.
While not a knight, Goku and Rance are very similar characters. Not inclined to help others unless sex is their reward, caring little about the serious matters they involve themselves in, and being incredibly full of themselves are just a few of the traits they share in common. There's even more sex with less of a focus on the story, but those who are familiar with the Chinese story Journey to the West will know immediately what's going on and why things are happening as they are (though there will be a lot more boobies than you remember). Both shows are very funny and feature an immoral fighter with a somewhat abused peacekeeper. Sill and Genjo are always eager to help but are often just used for taking out sexual frustrations on! For once, our selection isn't an eroge adaption but instead a manga adaptation.
---
6. Shikkoku no Shaga

Episodes: 1+
Aired: Feb 2017 - ongoing
Ushiwaka, a young man pursued by the Taira clan, is trying to make it safely to the lands of Ooshu. Shaga is a powerful mononoke that saves him from pursuing demons and takes an interest in him. Ushiwaka desires to become a strong and independent fighter like his late father and Shaga resolves to protect him so he might live to see his dream realized. Along their journey, they'll come across both humans and mononoke that prove hostile. With sex as their weapon, mononoke are a powerful force to be reckoned with.
Fans of monster girls, rejoice! While our main characters don't get freaky in the first episode, there is a lot of sex happening with minor characters. There's a lot of stuff to take in from political strife to monsters using man's lust against him. Things aren't always what they seem, just like in Rance 01. For fans of guys forcing themselves on beautiful, helpless women, you'll get that as well! Though not from our good little brown noser Ushiwaka, who only has the stones for a sweet kiss. Shaga is definitely a babe so we'll be hoping to see more of her (if you know what I mean) as the story progresses!
---
Final Thoughts
All good journeys have a climax, and all great journeys have many! What better way to build up your excitement for steamy scenes than when your heart is already racing from danger and adventure? Anime about skilled warriors are fun, but knowing they can both cut down monsters and take anyone they want when they want further shows how powerful they are and imagining that kind of power for ourselves is pretty exciting. Some people will argue that all you need is sex in your hentai, but sometimes you want a little more than the same scene of balls slapping butts for 3 minutes and need some change! While not perhaps the most shining example of a well-written plot, special mention goes to Yokoso! Sukebe Elf no Mori e. The art is gorgeous and sometimes we need a heroic penis to save the day. We hope that these 6 hentai anime like Rance 01 will help you finish your quests!