Shoujo Sect tells the story of two girls who met as children on a playground, shared an innocent kiss together, and then thought they would never see one another again. Little did they know, these two girls named Shinobu and Momoko would end up attending the same all girls' school together! One of the girls had fallen in love with the other, but the other one had forgotten the encounter entirely.
Shinobu and Momoko continued to be opposites as they grew up – Momoko as a member of the disciplinary committee, and Shinobu as the girl breaking all the rules. Despite their differences, as the two begin to spend more time together, their childhood playground romance begins to develop into something a lot more mature and serious.
Shoujo Sect is a yuri hentai, so you can expect plenty of sex scenes between Shinobu and Momoko, but also with a lot of the other schoolgirls as well. None of it is hardcore hentai, it's all quite normal, and a lot of it is romantic. It definitely leaves you wanting more though at only three episodes long! And that's where our list of 6 Anime like Shoujo Sect comes in!
We have chosen six yuri hentai and shoujo ai anime that share themes similar to Shoujo Sect to give you something to watch when you finish it. They all are love stories between girls that have similar characters, settings, or sex scenes. We hope you'll find something else to love!
Similar Anime to Shoujo Sect
1. Stainless Night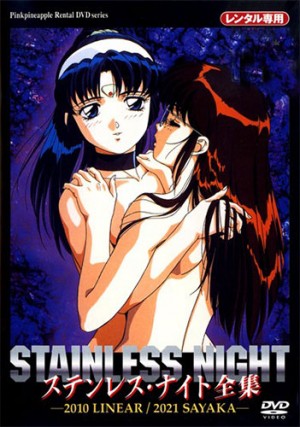 Episodes: 2
Aired: Dec. 1995 – Mar. 1996
Linea wakes up in a capsule in the countryside of Japan, confused about where she is and who she is in Stainless Night. Lost and alone, she wanders into a research facility staffed only by women. Sayako, one of the researchers, is so taken by Linea that she leaves her current lover for this new, mysterious woman. However, when the two women become intimate for the first time, Sayako discovers that there is a lot more to Linea than she could have ever guessed - and the strange woman has powers she never imagined.
Stainless Night is a yuri hentai, just like Shoujo Sect. The sex in it is more romantically done instead of hardcore like some hentai, so if you enjoyed the sex in Shoujo Sect you can expect to find the same style in Stainless Night. The characters are older and the situation is different, but both still tell a romantic and sexy story about two female lovers. If what captivated you in Shoujo Sect was the style that the hentai scenes took and the sex part of the story, then you're likely to enjoy it in Stainless Night as well (though be warned, without spoiling too much there is some futanari action too.) It's also a short watch at only two episodes, so if you don't have time for a long commitment, don't worry!
---
2. Sakura Trick (2014)

Episodes: 12
Aired: Jan. 2014 – Mar. 2014
In Sakura Trick, Haruka Takayama and Yuu Sonoda are friends from middle school who are now attending the same high school. While they decide to make the most of their high school year together and despite a few hiccups their year starts off well, Haruka becomes quite jealous when she sees Yuu making a lot of other new friends.
To make it up to her and prove that Haruka is her best friend, Yuu decides they should share something that they don't share with any other girls - a kiss. And with one kiss, Haruka, and Yuu's friendship begins to change, and more kisses are soon to follow. Eventually, their friendship turns into a relationship together - but will everything fall apart when Yuu's older sister suspects their relationship?
Like most of the anime on our list, Sakura Trick is about two high schools girls who transition from being friends to being something more. Their relationship begins quite early on in the series, so even though Sakura Trick is a lot longer than Shoujo Sect you get to see a lot of time with the girls together. There is also drama that comes into play in their relationship, and though it's a different kind than in Shoujo Sect, it still makes Sakura Trick interesting to watch. It still tells a sweet and romantic story, but the drama keeps it from being too sugary and predictable. For more bold, but romantic girl-on-girl action after Shoujo Sect (though in shoujo ai form this time) check out Sakura Trick!
Sakura Trick (Trailer)
---
3. Aoi Hana (Sweet Blue Flowers)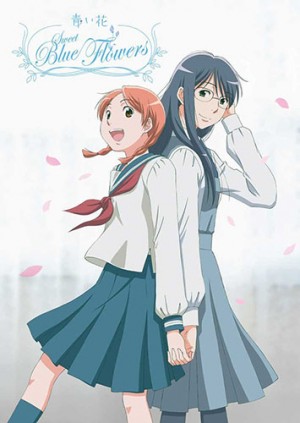 Episodes: 11
Aired: Jul. 2009 – Sep. 2009
When Fumi Manjoume begins her first year at an all-girls' high school in Aoi Hana, her heart is already broken from the end of a previous relationship. It's a hard way for a young high school girl to begin her school career. However, she soon finds her childhood friend Akira Okudaira, whom she hasn't seen in ten years! They both go to different girls' schools now, but they both have been struggling with relationship problems. As they help one another overcome their past hurts together and begin their life as high school students, they find themselves drawing closer together than ever before. Each romantic struggle brings the girls closer and closer to one another...
Aoi Hana is a shoujo-ai again about a romance between two high school girls, like Shoujo Sect. In Shoujo Sect, they attend the same school while in Aoi Hana they attend different ones but they are both still all girls' schools. The biggest thing that these two anime have in common is that they are both about a romance between two girls that started as childhood friends, were separated for a long time, and then find each other again only to develop a relationship beyond just friendship!
That transition from childhood friends to girlfriends over a long period of time is what really connects Aoi Hana to Shoujo Sect despite one being a yuri hentai and the other a shoujo ai anime. But if you like that kind of relationship story, you'll really enjoy Aoi Hana - and be happy to see it's actually 11 episodes long!
---
Any Anime Like Shoujo Sect ?
4. Kuttsukiboshi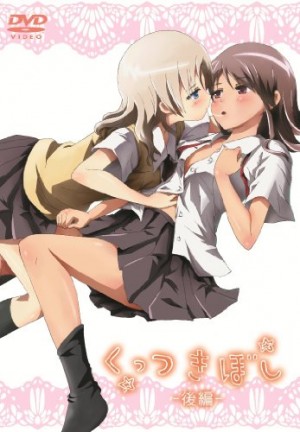 Episodes: 2
Aired: Aug. 2010 – May 2012
Kiko Kawakami and Aaya Saitou are in love in Kuttsukiboshi - a very real, very strong infatuation to the point where Aaya matters to Kiko more than anything else in the world. Kiko trusts her so much that she even reveals her biggest secret; she has psychic powers! The two then see how much they can push Kiko's powers, especially to keep their romance and intimate moments from being discovered at their school. Everything seems to be going smoothly and like the perfect secret romance, but when Aaya decides to reveal her dark secret to Kiko as well, will their relationship be able to remain the same?
Like Shoujo Sect, Kuttsukiboshi is a love story between two classmates and set at their school. They both focus heavily on how their relationship develops and the ups and downs that go with that, and the common struggles that young lovers have together. It is a shoujo-ai and not a yuri, so be warned that it won't have any on-screen sex. However, Kuttsukiboshi leaves you certain of exactly how serious Kiki and Aaya's relationship is by doing everything except actual sex, so it's still satisfying and quite sexy to watch. If you enjoyed the relationship story in Shoujo Sect but want something with a darker or supernatural twist, Kuttsukiboshi is our recommendation for your next anime!
---
5. Strawberry Panic

Episodes: 26
Aired: Apr. 2006 – Sep. 2006
Strawberry Panic takes place at three private, all-girl Catholic schools that are on Astraea Hill - already a great setup for a shoujo ai. It follows transfer student Nagisa Aoi as she tries to make friends and fit in with her new classmates at this prestigious schools. The schools have a very intense internal hierarchy, though, which makes it hard to Nagisa to find her place in the chain. That is, until Shizuma Hanazono, a girl at the top of the hierarchy, takes an intimate interest in her. The more they get to know one another and the closer they get, the more things come to the surface. It turns out Shizuma has quite a troubled past, but maybe Nagisa can help her face it.
Strawberry Panic is not a yuri hentai like Shoujo Sect, so don't expect the same on-screen sex. But if the setting and story are more what captured your interest in Shoujo Sect, then Strawberry Panic is a great similar choice for you! It's also set at a prestigious all-girls school, and like Shoujo Sect one girl in the relationship has a lot of power and control there while the other does not. It definitely leaves Shizuma, like Shinobu, in a powerful position - but both let down their guards around their respective lovers and show a different side to themselves. If you want to see a love story between two girls unfolding in a school through classes, club activities, and friendship again after watching Shoujo Sect, check out Strawberry Panic next!
Strawberry Panic Trailer
---
6. Sono Hanabira ni Kuchizuke wo: Anata to Koibito Tsunagi

Episodes: 1
Aired: Jul. 2010
Sono Hanabira ni Kuchizuke wo: Anata to Koibito Tsunagi is a love story between two school girls named Mai Sawaguchi and Reo Kawamura. While at first, Reo rejects Mai's affections and offer of friendship, when she realises that she is in love with Mai she responds in kind. The two develop a caring relationship with one another, even willing to both get sick when one has a cold and they decide to have sex anyway. Reo and Mai may have started off always fighting, and still have their silly arguments sometimes, but their relationship goes to a whole new dynamic and level when they become lovers. Together they learn what they like and what feels good when they spend time together and are intimate, strengthening their feelings each time.
First and foremost, Sono Hanabira ni Kuchizuke wo and Shoujo Sect are both yuri hentai, with lots of girl on girl sex on screen for you to enjoy. They also both only feature yuri sex, so if you don't ever like seeing male characters or penises involved (or even in the show at all for that matter!), Sono Hanabira ni Kuchizuke wo is a great follow-up to Shoujo Sect. Sono Hanabira ni Kuchizuke wo is only one episode long, which forces it to move kind of quickly, but the story hints that Reo and Mai's relationship developed over a long time much like Shinobu and Momoko, whose friendship started when they were children. Both hentai showcase a relationship between two girls that is quite sweet and romantic as well, with sex scenes that reflect that. If you want something soft and touching without being hard-core, you'll really enjoy Sono Hanabira ni Kuchizuke wo!
---
Final Thoughts
Whether you like the story of a slow-blooming romance, an all girls' school setting, or some cute and romantic sex between girls, we hope at least one of these anime will give you something to enjoy if you loved Shoujo Sect! While it's always hard to find other stories and hentai that compare to your favourites, when they're as sadly short as Shoujo Sect was, at least having a few other options to help you feel more satisfied helps with the disappointment of the show not having more episodes. So whatever part of Shoujo Sect captured your interest the most, we hope you can find something from our list of 6 Anime Like Shoujo Sect to enjoy!
So what do you think? Do these yuri hentai and shoujo-ai stack up to Shoujo Sect? Do you think there is another title that would have been better? How do you feel about Shoujo Sect yourself? We would love to hear all your opinions in the comments below!