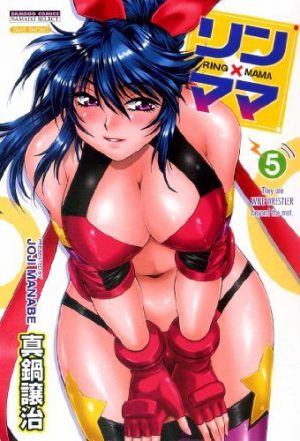 Harems are nothing new to hentai manga, but erotic mangaka Manabe Jouji excels in the genre. Ring x Mama is one of his standout pieces, detailing the exploits of a precocious young manager and a wild assortment of wrestling beauties. Story is a focal point in Manabe Jouji's works, unlike many other hentai. While there's just as much sex in Ring x Mama to match it, it's interwoven seamlessly to keep readers engrossed throughout.
Lots of kids growing up have their favorite sports athletes and idols, but for Hamazaki Ryoma, his just happens to be a woman wrestler by the name of Justice Asuka. The elite women's wrestling group known as Gigamax has been dormant since Justice faced her arch rival Darkness Aoi in a heated match three years prior. After moving to a new apartment, he is shocked to realize that the busty landlady who made a move on him is his idol herself. After seeing his fascination with her alter ego she became interested in him, and from there, Ryoma is introduced to a world he never dreamed he'd see the other side of.
The sex scenes are frequent, the competition is fierce, and the girls are plentiful. Manabe Jouji's Ring x Mama is one of the most well developed hentai harems at a bountiful 5 volumes released. For fans looking for some similar titles, here are 6 hentai manga with similarities to Ring x Mama.
Similar Manga to Ring x Mama
1. Kanojo de Ippai

Authors: Manabe, Jouji
Genres: Comedy, Ecchi, Harem, Seinen
Volumes: 3
Published: Apr. 2010 - May 2011
Todou Akira has just separated from his high school sweetheart and wife, and as part of the divorce proceedings has moved from his house into a small apartment close to his job. Unfortunately, the room has been double booked. He now is forced to share the cramped space with the ero mangaka Kamiyama Hina, who is free-spirited, lustful, and busty. Todou's resistance to the bubbly young woman wears down gradually, and before he knows it he's doing things he never would have before meeting her, with women he never would have met otherwise.
Todou Akira and Hamazaki Ryoma are a dead ringers for each other. Despite the age difference, the two have remarkably similar behaviors and characteristics, which makes sense, given that Kanojo de Ippai is another one of Manabe Jouji's works. Akira goes from a one woman man on his way to becoming a bitter divorcee to turning into an all-around harem king. In typical Manabe Jouji fashion, almost no woman featured in this story avoids the main character Todou Akira's bed for long. If you're a fan of Ring x Mama, it's almost guaranteed you will enjoy Kanojo de Ippai.
---
2. Ookii Onnanoko wa Suki desu ka? (Do You Like Big Girls?)

Authors: Aizome, Goro
Genres: Ecchi, Romance, Sports, School, Harem, Seinen
Volumes: 4
Published: Jan. 2014 - Ongoing
Tachibana Souta has been short his whole life, in stark contrast to his older sister who stands above six feet tall. She's a member of her college's volleyball club, and they're short someone at the manager position. Enter Souta, who just so happens to be reunited with his first crush, Hasegawa Ayano, his sister's old high school volleyball rival. Having no other options anyway, he eagerly accepts, but his new role has a lot more unmentioned responsibilities than he had anticipated. Who knew that living in the same dorm as an entire team of six-foot-and-up beauties who were too nervous to ever approach a man could be so exhausting?
While the story and competitive aspects aren't anywhere in league with Ring x Mama, Ookii Onnanoko does feature a massive number of sports-related ecchi scenes. Like Ryoma, Souta is completely out of his element in dealing with a large number of women while juggling his new responsibilities. He initially has his eyes set solely on Ayano, but quickly realizes that playing the field at his position is part of the job. If you're looking for another hardworking male lead tasked with keeping a large number of athletic girls "well maintained", this is definitely the read for you.
---
3. Candy☆House

Authors: Chiba, Toshirou
Genres: Hentai, Harem
Volumes: 1
Published: Dec. 2009 - Mar. 2011
Yuu Sanpei lives alone following his mother's passing when he was young and his father being absent most of his life. He is cared for by his neighbor, a woman named Natsuki Kamiya, who has watched over him since they were young. After successfully entering high school, she and him decide to celebrate by crossing the line. Kamiya, however, isn't the only one to notice how much Sanpei has matured. Afterwards, he's reached out to by a former love interest of his father's, who seeks a replacement in his son. One after another, more women who he has known and met for the first time all become acquainted with him. His once quiet love nest has gone from being a sweet home to a swinging candy house.
While there is an overall story arc, there's not much plot to speak of in Candy House. It focuses purely on the harem sex scenes between Sanpei and the girls he encounters. All of the women are big, busty and beautiful, in contrast to how small yet masculine Sanpei is. Each reason for encountering each woman is different, but the end result is the same. If you're looking for another vanilla x older woman harem hentai, Candy House is a surefire hit.
---
Any Manga Like Ring x Mama?
4. Mon-zetsu♡Taigatame: Count 3 de Ikasete Ageru (Natural Angle)

Authors: Yoshimura, Tatsumaki
Genres: Hentai
Volumes: 1
Published: Sept. 2012 - Aug. 2014
After being mislabeled as a molester whilst riding the train, the mischievous high school boy Rei is rescued by a girl who apprehends the actual perpetrator, proving his innocence. Initially thankful to her, she glares at him and departs. Shortly after, when responding to his sister's request, he encounters her again at his older sister Ryo's wrestling ring. To liven up their matches, she intends to dress him up as a girl and have him compete against them. Initially against the idea, when the girls entice him by telling him he can grope them as much as he wants during their matches, he relents. The mysterious girl he met earlier is named Uehara, and she is one of the most talented female wrestlers in the province. However, she is fearful of men and dislikes him. Rei and Uehara must overcome their differences, as well as battle a whole host of female wrestlers in order to help them grow in popularity, all while he is dressed as a girl himself.
Mon-zetsu definitely wins at having an outlandishly creative concept for its setup. A crossdressing wrestling hentai with a focus on harem sex, the series has Rei bouncing from one girl to the next both in the ring and inside the locker room. Aside from Uehara's reluctance of approaching men, she is a sweet girl in her own right. Rei also has issues of his own from his past, having recently discovered his ex-girlfriend was cheating on him having orgies on her own. The two begin to cope with each other, all while Rei "fights" his way to the top of the wrestling world. If you're looking for another hentai with a wrestling flair, this one is the perfect fit.
---
5. Girls Fight - Arisa Hen

Authors: Carmine (Crimson)
Genres: Hentai
Volumes: 2
Published: 2011
Izumi Arisa is an upcoming martial arts fighter from a well known fighting group known as Team Jeanne. With an undefeated record, she is approached with the prospect of joining the big leagues and becoming a title fighter, but under one condition. She must defeat male opponents on stage to prove her place in MMA. After winning her previous matches, her final match is with an unscrupulous-looking older man who does anything but play fair. He impresses upon her the difference of fighting against a male opponent as a woman by assaulting her. Unable to fight back, she is repeatedly humiliated during each round while she is forcibly brought to climax before the onlooking crowd.
Girls Fight solely focuses on action in the ring, without any plot or story to speak of. Unlike the previous hentai on this list, it is entirely filled with rape fantasy material, aiming toward a different audience than Ring x Mama. If you want a purely wrestling-inspired hentai that oversteps conventional boundaries, Girls Fight is the answer.
---
6. Joshikaku Rinkan Round

Authors: kinntarou
Genres: Hentai
Volumes: Oneshot
Published: 2015
After being crowned champion, female wrestler Leona relaxes with her manager/boyfriend celebrating victory. It is then that he brings her next match, a rematch against an opponent who she defeated previously. She accepts, but the weak fighter she faced is replaced by a steroid-inflated musclehead who promptly defeats her. Leona's opponent then forces himself on her in front of the crowd, while her lover watches on helplessly.
Joshikaku Rinkan Round is a straight-up netorare hentai doujinshi that tries to establish a strong-willed female fighter being mind-broken in front of a crowd. The art style is very detailed, and the female character is drawn very attractively. If you can put up with the more emotional breakdown style hentai then you may enjoy this.
---
Final Thoughts
Ring x Mama has that special something to it that just makes it so much more entertaining than most pure hentai can deliver. The other six manga we metioned also possess some of the same aspects we appreciate in Manabe Jouji's exceptional work. Do you have any favorite hentai stories that should appear on this list? Let us know in the comments, we're dying to hear them!