Nobody likes being bullied, especially when they outnumber you, outweigh you, and stand a good foot taller than you. Mochizuka happens upon the shop of Kagami Kyoko while on the run from his assailants, sending him from the frying pan and into the fire. Hearing his plight, Kyoko offers him a solution. As a fortune teller adept at matters of the occult, she resolves to hypnotize him out of his fear of his attackers, allowing him to fight back and win. However, in order to do this, she must first get him to climax, for which she hastily attacks him herself. Her plan works, a little too well in fact. He defeats his bullies, but his lust isn't sated, and he forces himself on her repeatedly, to an overwhelming degree. After his misdeeds, he becomes her assistant, and days filled with mischievous, kinky, and supernatural hijinks follow.
As a hentai, Witchcraft puts a big check on just about every fetish you can possibly find in a Japanese hentai manga. Tentacles? Yes. Futanari? Yes. Author Yamatogawa excels at drawing the most perverted imagery you can imagine. Witchcraft also contains an overall plot and story beyond the crazy out-of-this-world sex scenes. While the ideas and concepts found in this work aren't exclusive to hentai, manga is usually the only place you find stuff like this. Today we're looking at 6 manga that go to some pretty extreme lengths, just like Witchcraft does.
Similar Manga to Witchcraft
1. Power Play!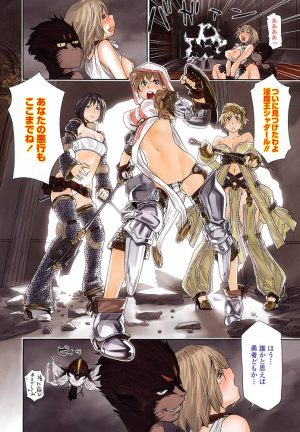 Authors: Yamatogawa
Genres: Comedy, Fantasy, Harem, Hentai
Volumes: 1
Published: Feb. 2010 – Dec. 2011
Isekai reincarnation stories usually have someone going from zero to hero, but what about vice versa? In Power Play, the demon lord "Sex King" Shadahl finds his soul has been destroyed by heroines, and most of it has reincarnated into a 28-year-old ameteur game creator living in Japan. Now known as Imao Sadaharu, he has gone from capturing his world's most beautiful women for his harem to writing eroge of the dreamlike memories of his escapades. His familiar and servant, the loyal Sara, finds his reincarnated self and tries to awaken his lust once more so he may rule this new world as well. Thus begins a harem odyssey that will have heroines, demons, and mere mortals all thrust in a battle for the fate of this world.
Similar to Witchcraft, Yamatogawa's other work Power Play has his same easily recognized art style. The sex scenes don't even think about staying tame, as a fully powered Shadahl has the ability to summon tentacles, and even duplicate his own penis for double penetration or pleasuring two women simultaneously. While not quite as far into the deep end as Witchcraft, if you like a chaotic hentai manga in the exact same vein, this work will suffice.
---
2. Tayu Tayu (Boing Boing)

Authors: Yamatogawa
Genres: Romance, Harem, Hentai
Volumes: 1
Published: Jun. 2008 - Apr. 2009
Tokiwa Reiji has returned to his childhood village town after years away living in the city. There, he left behind the Amane sisters, Midori in particular, who he was extremely close to before moving. Meeting her again, she becomes extremely flirty, suggesting they take a bath together. That night, he happens upon a girl in his bath, and thinking it to be Midori reaches out to her. She accepts, but he soon realizes it was not Midori, but her younger sister, Shiho. This is only the first of Reiji's encounters. Afterwards, he is having sex with Midori, and then the rest of the girls in class. There are no young men in the village, but with Reiji returning, all that has changed.
While Tayu Tayu doesn't have any of the supernatural elements from Yamatogawa's other works like Witchcraft and Power Play, it has a heavy focus on the harem aspects of those two hentai. It also has a more thought provoking approach to harems, as Midori is vehemently against sharing Reiji, but he is incredibly lecherous. If you want a more reserved harem read with Yamatogawa's classic art style, Tayu Tayu is worth a look.
---
3. Aqua Bless

Authors: Yamatogawa
Genres: Comedy, Gender Bender, Hentai
Volumes: 1
Published: Feb. 2006 - Feb. 2007
One of several of Yamatogawa's tankoubon collections of oneshots, Aqua Bless ranges from sweet first love to psychic foreplay. One couple features a girl with the ability to experience the stimulus of all women having sex in her vicinity, causing her to nearly blackout from being trapped in the red light district. However, her classmate comes to her rescue, but gets pulled into her request to experience real sex. Another features a long time fan of an idol, who happens to catch her mid climax in a lonely alley. He then finds her blackmailing him instead to extort sex from him.
The stories are varied in this collection, and all contain the typical Yamatogawa quality of storytelling and artwork. The gender bender tag comes from one story in particular, involving a teenage boy being forced to crossdress by his bullying classmates. However, he turns the tables on the lead girl, pulling her into his own pace. The tankoubon is not quite vanilla, but not too hardcore. A safer mix for the adventurous hentai reader.
---
Any Manga Like Witchcraft ?
4. Blade Play

Authors: Seta, Aomaru
Genres: Comedy, Ecchi, Fantasy, Seinen
Volumes: 12
Published: Sep. 2009 - Ongoing
There are a lot of isekai stories out nowadays. Most of them involve a young man who's just slightly above average being called upon on a mysterious adventure in a world out of your wildest fantasies. Blade Play takes that concept and puts Sudou Kansuke as the fabled hero from another world, with a magic sword of his own. Labeled as the chosen one and gifted with the sword of light, Kansuke has to fight off the mischievous demonesses of the night with...his penis.
His first victim is, however, a holy knight herself, Yuno Algracia. She witnesses his destructive capability first hand. His first encounter with another person after being transported into the RPG world of Munberdia, her impression of him is that of a perverted rapist who forces himself on anyone who he comes across. However, she is tasked with aiding him in his quest to save the world with...his penis.
In Blade Play, the art and plot take a backseat to the non-stop ecchi scenes that are borderline hentai. Each chapter has Kansuke getting rid of the demonic affliction of at least one girl, or getting it on with another. This manga isn't shy about showing direct sex scenes, although you may or may not be able to tell what is actually going on from the vague censorship. As a long running series with over 12 volumes, if you want plenty to read, give Blade Play a shot.
---
5. Oretama

Authors: Harada, Shigemitsu
Genres: Comedy, Romance, Ecchi, Demons, Seinen
Volumes: 6
Published: Nov. 2006 - Apr. 2010
We just happened to pass No-Fap-vember, and for those who managed to succeed the challenge, you'll never be on Kouta Satou's level. Satou is a regular 19 year old boy with normal aspirations. He works as a convenient store clerk and has a crush on his busty coworker Aizawa Minayo. Things are going as expected, until somehow, the Demon Queen Emanniel gets trapped inside his balls by an angel's sealing spell gone wrong. Yes, that's quite a big jump plotwise from where things seemed to be heading.
Having the demon lord tasked with bringing about the apocalypse sealed in your scrotum isn't all it's cracked up to be. Now Satou can't ejaculate or Emanniel will bring about the end of the world instantly, and kill him first off for getting in her way. But the angel isn't going to leave him completely stranded, he just has to hold out for a month before he can fix his mistake. Great guy. It isn't long before Emanniel's underlings realize she's not raising hell on Earth and come looking for her. A loli demon named Elyse tracks Satou down and does her best to free her boss from his balls, but she's completely scared of men despite being what she is. After numerous failings and screw ups, Elyse decides to help Kouta rather than get punished back in hell for her mistakes. The two of them try their best to keep Kouta from losing anything precious to him to any of the other female demons hunting him.
While Oretama isn't a hentai, it has many borderline hentai scenes and a very perverted plot setup. Keeping Kouta from being able to ejaculate serves the plot and keeps him from being a normal lustful young man when beautiful women of every supernatural faction set their sights on him. Angels, demons, monsters, you name it and he gets busy with just about all of them. It's almost tragic the lengths he has to go to keep his balls blue, while having an angry demon lord screaming her lungs away trapped in his testicles. Oretama is a hilarious read that will have you laughing if your sense of humor is a bit on the perverted side.
---
6. Isekai no Mahoutsukai (The Sorceress from Another World)

Authors: Saimon
Genres: Fantasy, Hentai
Volumes: 1
Published: Mar. 2016 - May 2017
On his way home from school one day, Izumori Eita happens upon an abandoned house he can't really recall. When he enters it, he finds a girl being assailed by an otherworldly tentacle monstrosity. She asks him to escape for his safety, but he ends up saving her life instead.. Thankful, she reveals she is a sorceress named Sera who is stranded in his world with very little magic. She has a strange request, begging him to refill her mana with his own semen. This begins a supernatural romance of the pair, her familiars, and associates as well.
Like Witchcraft, there's a lot of supernatural fantasy sex in this. Aside from the tentacle play, Sera uses magic to enhance their sex. Her familiar, Lucina, a cat, also has a need for his mana as well and transforms herself into various forms to please Eita. Another witch, Tanya, also had a spell go wrong and wound up as the callgirl for a cosplay gangbang session. It's a strange affair overall, but the art is well drawn and, while the story is light, it is overall interesting.
---
Final Thoughts
Witchcraft is one of the more outrageous hentai you will come across. The other six also push the boundaries of what you might expect to read from a manga as well. Supernatural elements becoming a major aspect of the plot definitely accents the boring and safe aspects of other stories. If you're feeling the least bit intrepid, why not give these a shot? Have any other manga you thought got raunchy in a fantasy setting like Witchcraft? Let us know in the comments section!