From high school onward, Masamune Takano hasn't been able to forget his first love: Ritsu Onodera. While Ritsu Onodera, from high school onward, hasn't been able to forget the greatest delusion of his life: a love delusion! Years after, when Onodera starts his new job at Marukawa Shoten, shoujo division, for Takano it's like fate, as for Onodera... Well, he doesn't immediately recognize Takano as his first love and delusion from high school.
These are the premises for the amazing boys love story in Sekaiichi Hatsukoi, full of cute characters, gags, love struggles and a lot of aggressive "seme" taking action on their "uke" every time there's a chance to do so. Since this show is just too good, we created this list to mention other six anime that are just as good, so you all can enjoy once again the same good vibes as Sekaiichi Hatsukoi!
Similar Anime to Sekaiichi Hatsukoi / Similar Anime to World's Greatest First Love
1. Yebisu Celebrities 1st

Episodes: 1
Aired: May 2010
Haruka Fujinami is a designer. When he, full of hopes, starts his new job at Yebisu Graphics, all of his dreams are painfully crushed by a tyrannical boss – Mr. Daijou. While working under Daijou, poor Haruka will endure every kind of verbal abuse, and will be forced to accomplish the most worthless tasks. Gradually, though, he will realize how Daijou's behavior is like drug; the more he hurts him, the more Haruka is attracted to Daijou. How will their story develop?
Yebisu Celebrities 1st shares with Sekaiichi Hatsukoi the same work environment, the only different is that in Yebisu Celebrities 1st it's about designers, while Sekaiichi Hatsukoi is about editors. Daijou, exactly like Takano, is a mysterious man who seemingly just wants to give the other party a very hard time. At the same time, Haruka, exactly like Onodera, are both attracted to their persecutors, in spite denying it. Yebisu Celebrities 1st can be considered Sekaiichi Hatsukoi's older brother, so if you liked one, you're bound to like the other all the same!
---
2. Finder Series

Episodes: 2
Aired: February 2012 – August 2015
Akihito Takaba is a 23-year-old man who finds himself involved in some dangerous situations. He works as a freelance photographer, and put his own life on the front line to catch the most important scoop. Everything went on smoothly until he managed to take pictures of Ryuichi Asami's obscure dealings. Asami is not one to let things slip that easily, that's why he kidnaps Akihito, rapes him and makes it clear how Takaba would better shut his mouth.
Talking about cutie pies who love their prosecutors, Finder Series is another example of the sort, but a bit harder than Sekaiichi Hatsukoi. Akihito and Onodera are our unwilling uke, they both don't want the attentions of their counterparts, or so they claim... Yet, they're both sticking to them like glue. Asami and Takano, too, share some similarities; they both are amused to see their uke's reactions, and act accordingly. Even though Finder Series, involving yakuza and rape, is harder than Sekaiichi Hatsukoi, the similarities these two show share are a guarantee that you will like both!
Finder Series Trailer
---
3. Saigo no Door wo Shimero! (Close The Last Door)

Episodes: 1
Aired: March 2007
Here's an interesting love triangle for you! Atsushi Nagai is an office worker, and he is in love with his coworker Saitou. There are a few problems about his loving a man, but the biggest one is: Saitou is about to get married. Poor Nagai, then, decides that it's time to give up on his love and support his beloved Saitou from the heart... But then Honda, a sly coworker, goes and set something up and the recipe for a strange love triangle is ready!
It's easy to see why Saigo no Door and Sekaiichi Hatsukoi can be considered similar. For starters, we have once again a work environment and coworkers who share relationships. In Saigo no Door there's a love triangle that can easily remember the same love triangle made of Chiaki Yoshino, Yoshiyuki Hatori and Yuu Yanase in Sekaiichi Hatsukoi. Both these shows have a lighthearted atmosphere, and yet they can get you all emotional at times. It's not a stretch to state that you'll like Saigo no Door for sure, if you enjoyed Sekaiichi Hatsukoi!
---
Any Anime Like World's Greatest First Love / Any Anime Like Sekaiichi Hatsukoi?
4. Love Stage!!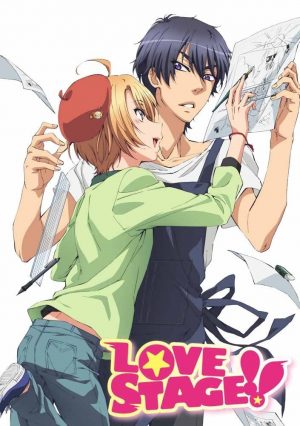 Episodes: 10
Aired: July 2014 – September 2014
Talking about work environment, here comes a comedy full of stars! Love Stage!! revolves around Izumi Sena, a boy surrounded by showbiz stars: his mother is an actress, his father is an actor and a producer, his older brother is a singer in a popular rock band. And even so, Izumi just wants to become a mangaka. When a fated meeting with another actor, Ryoma Ichijou, happens and for Ryoma is love at first – or second! – sight, both their lives drastically change and Izumi starts to see the showbiz differently.
Aside from the fact that both these shows involve a work environment, both Ryoma and Izumi, same as Takano and Onodera, had a first meeting back in the years, only to be meeting years after with almost no memory of it. Both Izumi and Onodera are unwilling to accept their counterpart's requests, on the contrary they both don't want to be involved in a gay relationship. Slowly, but surely, they will fall in love and begin to accept the other's feeling. Both these shows have comedy parts and gags that can make you crack up, so if you want to relax with a lighthearted atmosphere, Love Stage!! can be your next step after Sekaiichi Hatsukoi!
Love Stage!! Trailer
---
5. Junjou Romantica

Episodes: 12
Aired: April 2008 – June 2008
Misaki Takahashi is your high school student who just wants to pass university entrance exams. His older brother's best friend, Akihiko Usami, is a famous writer and willing to help Misaki with his studies. When Misaki starts university, some circumstances take the two of them to live under the same rooftop. Usami, who was in love with Misaki's brother, falls for Misaki. While Misaki will struggle, wondering what is that he feels whenever Usami is around.
Sekaiichi Hatsukoi and Junjou Romantica were both born as manga by the same author, Shungiku Nakamura. Therefore, these two shows share almost the same art style, and a universe full of different couples struggling for love. Takano and Usami are similar in their way of acting; they're both bossy, cheeky and demanding. While Misaki and Onodera have to deal with these whimsical seme, they both will make sure to give them back an even harder time. Both Seakiichi Hatsukoi and Junjou Romantica focus on editorial departments and book writers, it feels like Sekaiichi Hatsukoi is an extension of Junjou Romantica's world. It goes without saying that you're bound to fall in love with Junjou Romantica as well!
Junjou Romantica Trailer
---
6. Koisuru Boukun (The Tyrant Falls In Love)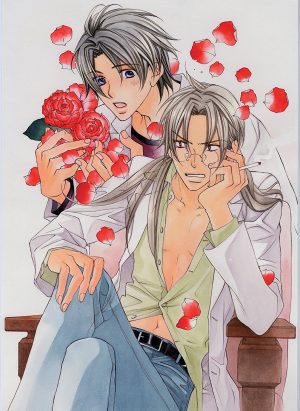 Episodes: 2
Aired: June 2010 – December 2010
Koisuru Boukun revolves around poor Tetsuhiro Morinaga, who is in a one-sided relationship with his upperclassman, Shoichi Tatsumi. Since Tatsumi is a homophobe due to a trauma he had in the past, he can't avoid showing Morinaga all of his disgust. But since Morinaga is as sweet as honey, and willing to have his dream of love come true, he will find a way within Tatsumi's heart, whose only thought is his job at university, as a research worker.
Both Sekaiichi Hatsukoi and Koisuru Boukun are shows full of comedic moments. We can find in both the uke who are hot-tempered and unwilling to accept the other party's attention. Well, in the beginning at least. What's more, both Onodera and Tatsumi can't bring themselves to accept the fact that they're gay. On the other side, Takano and Morinaga are two patient and lovable seme, who are willing to wait while the other party's feelings catch up. If you like the way Takano and Onodera interacted, and the way Onodera managed to get embarrassed over the most trivial stuff, you'll enjoy Koisuru Boukun all the same!
---
Final Thoughts
We end this list with Koisuru Boukun, hoping you enjoyed it. Here we have six other anime sharing with Sekaiichi Hatsukoi the same nice vibes, a lighthearted atmosphere and the craziest gags to ensure you'll crack up every five minutes. Whether boys love is your cup of tea, or you just want to spend your time enjoying shows that can make you relax, we think this is the list meant for you! What do you think? Do you have any other recommendation? Don't forget to share your thoughts below!
---