INTRODUCTION / OPENING PARAGRAPH
Sensitive Pornograph is a nice story born as a manga by Sakurako Gokurakuin first, and later on adapted into a 30 minute OVA that covers the first two chapters of the manga. As probably all of you already know, it's a story about how four men find love and whether it's in a lovely way or in a less lovely one, the matter is that this OVA is very well-developed in spite being this short. Sensitive Pornograph can be defined as a yaoi anime, with some hentai traits that can satisfy even those who don't turn their nose up at something spicier than normal. Since Sensitive Pornograph is a rare gem in its own way, we tried to list six other anime that share with it something. It proved to be a hard task, but we did our best trying to find those anime that are hot and spicy with a nice plot and boy on boy action, so stick with us and you won't be disappointed!
Similar Anime to Sensitive Pornograph
1. Boku no Pico (My Pico)

Episodes: 1
Aired: September 2006
Let's get this list started with Boku no Pico! This story revolves around a pre-adolescent boy, Pico, who works at his grandfather's coffee shop for the summer. Tamotsu, a white collar who is sick of the daily struggles, happens to enter the cafe where Pico is working, and as the two meet, suddenly some nameless emotion sparks between the two. Going beyond their gender and their difference in age, the two of them seek pleasure in each other and start a carnal relationship that breaks the convention of sexuality down.
Well, we must warn you that if you are not into shota, this can't be your piece of cake. But if you can go beyond it, and liked Sensitive Pornograph for its hentai parts, you're totally gonna love it. In fact, Boku no Pico shares with Sensitive Pornograph some hard boy on boy action, and truly hot moments. In both these shows there's a semi-rape scene, but fear not, it's just your usual cliche where the boy pretends he doesn't want to have sex, while actually enjoying it. If you still haven't watched it, it's time to catch up!
---
2. Haru Wo Daite Ita (Embracing Love)

Episodes: 2
Aired: March 2005 – May 2005
Yoji Kato and Kyosuke Iwaki are two AV actors with one big dream: to become popular actors worldwide, and finally put an end to their AV careers. Since they work in the same field, they know each other, and their rivalry is very high. One day, during an audition, the director asks a very unusual thing: he wants them to have sex. Puzzled and confused, after a first moment of reluctance, they end up overcome by their rivalry and accept. Iwaki wins, and from that moment onward, Kato is totally captivated by him.
Haru Wo Daiteta is a yaoi anime with very hot boy on boy moments, exactly like Sensitive Pornograph. These two shows share other similarities, like for example the working environment. In Sensitive Pornograph, Sono and Seiji are both manga artists, so they know each other because they work in the same field. The same happens with Kato and Iwaki, who work as AV actors. Another thing these two shows share is the romantic feelings between the two protagonists; in fact, after the initial reluctance, their relationship evolves from a carnal one, to a deeper and sentimental one. We can safely say that you are bound to like Haru Wo Daite Ita as well!
---
3. Keiraku no Houteishiki Level-C (Level-C)

Episodes: 1
Aired: July 1995
This is a story revolving around Mizuki, who is a fashion model living in a very nice apartment. On the exact opposite side, there's Kazuomi, a man who has just been kicked out of his girlfriend's apartment and is already searching for someone new to live with. When Kazuomi meets the cute Mizuki, he asks to live with him in exchange for great sex. While Mizuki thinks that's a bad joke, later at night Kazuomi shows him that he can keep his promises.
We are yet in front of another cute story with strong hentai elements. Sensitive Pornograph and Level-C share the hentai, yaoi traits, mixed together with very romantic moments. While it's true that both have very spicy boy on boy actions, it's even true that in the end love blossom for both the couples. So if you liked Sensitive Pornograph because of its nice balance between hot and fluffy, Level-C is exactly what you're looking for!
---
Any Anime Like Sensitive Pornograph?
4. Papa to Kiss in the Dark

Episodes: 2
Aired: November 2005 – December 2005
Let's keep going with another non-conventional story! Papa to Kiss in the Dark is a 2 episodes anime revolving around the relationship between Munakata Mira and... his father. Yes, Munakata Kyousuke, his Hollywood actor, hot father. Mira will encounter a lot of troubles; teenage angst, love confessions from close friends, his father about to marry a Hollywood actress and the discovery of being an adopted child. Will Mira and Kyousuke's love be strong enough to stand the crisis?
Papa to Kiss in the Dark is a non-conventional yaoi anime, with some hentai sparks. Fear not, we are not in front of a shota hentai, as Mira is already 15-year-old, and there's no incest, as Kyousuke is not Mira's real father. But what does Papa to Kiss in the Dark share with Sensitive Pornograph? Well, it's the right amount of boy on boy spicy action and fluffy moments between Mira and Kyousuke. Same as Sono and Seiji, Mira and Kyousuke aren't simply after each other's body: they do love each other. Once again we recommend it if you want to feel completely satisfied with hot action and love!
---
5. Sekaiichi Hatsukoi (World's Greatest First Love)

Episodes: 12
Aired: April 2011 – June 2011
Masamune Takano is the editor-in-chief of the Emerald department at Marukawa Shoten. When Ritsu Onodera, who happened to be his first love during high school, starts his job at the Emerald department, Takano decides not to reveal to have recognized him, but starts bullying him instead. Once the truth is discovered, though, there's no longer room for jokes: will their love, born years before, be able to bloom once again?
Talking about fluffy stories and hot guys, Sekaiichi Hatsukoi is the perfect example. It shares with Sensitive Pornograph the fact that both protagonists work in the same field; while Sono and Seiji are both manga artists, Takano and Onodera are both manga editors. Although Sekaiichi Hatsukoi doesn't wield a hentai trait, fear not because Takano will jump Onodera so many times that you'll feel completely satisfied even without actually seeing the deed. Both these shows depict, in the end, a love story between two grown up men, so if you liked Sensitive Pornograph but are looking for something somehow softer, Sekaiichi Hatsukoi is the right choice!
Sekaiichi Hatsukoi Trailer:
---
6. Koisuru Boukun (The Tyrant Falls In Love)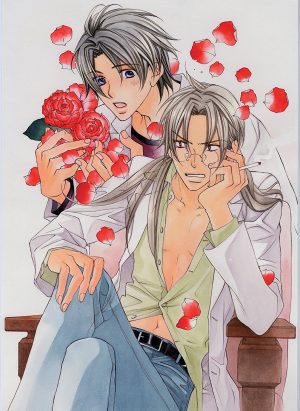 Episodes: 2
Aired: June 2010 – December 2010
Tetsuhiro Morinaga is in love with his upperclassman, Shoichi Tatsumi, one-sidedly. The big problem is that Tatsumi, due to a trauma he had in the past, turned into the worst kind of homophobe and so he can't avoid showing Morinaga all of his disgust. Poor Morinaga, though, is as sweet as honey, and he is willing to have his dream come true, and make the tyrant Tatsumi fall in love with him. Will Morinaga manage to win Tatsumi over, when Tatsumi's only love is his job at university, as a research worker?
Koisuru Boukun is a nice comedy that can make you crack up, and make you feel hot when the right time comes. In both Koisuru Boukun and Sensitive Pornograph there's a semi-rape scene, but as we mentioned before, it's just a way for the uke to pretend he doesn't want to have sex. Both Morinaga and Tatsumi share the same working field, exactly like Sono and Seiji. Koisuru Boukun and Sensitive Pornograph share hot guys in action with each other, in a very sexy way, and at the same time they both show a deeper feeling of love. But if you want to add a bit of comedy to the whole thing, Koisuru Boukun is meant for you!
---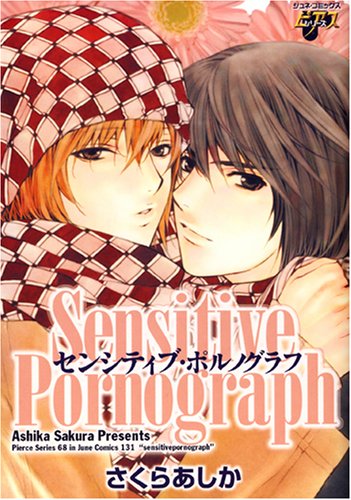 Final Thoughts
And this is how our list came to an end. We hope you found it useful, and enjoyed it. These six anime share with Sensitive Pornograph one thing or another; whether you liked it for its hentai traits, or its fluffy parts, this is a list meant for those who crave for more Sensitive Pornograph vibes. What do you think? As always, please share with us your thoughts in the comments below!