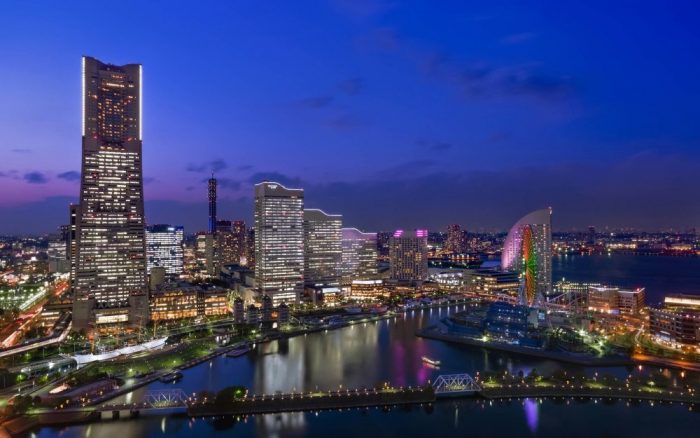 Beyond borrowing the names of famous literary authors, Bungo Stray Dogs is also famous for how it portrays Yokohama to the point that the series has been used as a means of promoting tourism. In addition to Tokyo and Osaka, Yokohama is also one of Japan's biggest cities. It's very accessible to Tokyo and if you choose to live here, its cost of living is much cheaper than Tokyo! If you've seen Bungo Stray Dogs, the cast visits some landmarks that you can visit in real life such as the city's own Chinatown, Motomachi, and Minato Mirai. So, how does the anime version compare to the real thing? Read our Hot Spot to find out!
Info
Location
Address: Naka Ward, Yokohama City, Kanagawa Prefecture

Nearest train line(s): Chinatown and Motomachi are accessible from Motomachi Chukagai Station on the Tokyu Chukagai Line, which deviates from the Toyoko and Fukutoshin Lines from Yokohama Station. They're also accessible from Ishikawacho Station on the JR Keihin Tohoku and Yokohama Lines.

On both the Motomachi Chukagai lines and JR Lines, you can visit the Minato Mirai/Sakuragi Cho. On the Motomachi Chukagai Line, get off at Minato Mirai Station, and on the JR Lines get off at Sakuragicho Station.

Cost of Admission
Amount in ¥en and Dollar$: There are no admission costs to these districts, but visiting certain museums, amusement parks and events do have their own admission costs.
Hours of Operation
Hours of operation vary depending on businesses in each district
Time and days
Most local businesses are open most days of the week, but expect a fraction to be closed during New Year's holidays
Phone Number
Phone Number: 045-473-2895 (Yokohama Tourist Information Center)
Official Website
www.yokohamajapan.com (Yokohama Convention & Visitors Bureau)
The Experience

One notable district of Yokohama that fans of Bungo Stray Dogs can easily visit is the Minato Mirai/Sakuragi-Cho area. This section of Yokohama was also recently featured in 7 Seeds, of course in a more ruined state in context to that anime. There are many places to visit such as Landmark Tower, the tall tower featured in the anime. Within the basement floors and first few floors of that tower is more or less a shopping mall and has everything you can think of (EVEN A POKÉMON CENTER!). It also has a hotel where you can have a pleasant stay and you can even go up its observation deck. Of course, the observation deck has is own respect fees and operating hours that you must comply with.
Another notable feature of that area is the Ferris Wheel. That Ferris Wheel is home to Cosmo World, a small amusement park. Along the old Bashamichi Bridge (which used to be a rail bridge now turned into a promenade), is the Red Brick Warehouse, or the Aka Renga Sengo in Japanese. The surrounding area of the Red Brick Warehouse is home to numerous seasonal events, and inside the warehouses are souvenir shops. Depending on the event, some have an admission fee, and some you can enter for free.
Also featured in the anime is another district with architecture that comes resembles late-19th century/early 20-century Western European architecture. That respective area is Motomachi. It has a unique history in which it was first opened in the 19th-century, it was used as a gateway to introduce the native Japanese to Western culture with its French and Germany bakeries. While some of that tradition still holds to this day and still maintains its history, it's now a district for luxury shopping with some fancy restaurants and cafes.
Last, neighboring Motomachi is Chinatown, or Chukagai in Japanese. In one episode, you have likely seen a traditional Chinese gate that say街華中 on a purple billboard. That's pretty much the east entrance to Chinatown since those 3 kanji literally mean Chinatown. If you ever find yourself in front of this gate, you'll instantly recognize it as if it came from the anime itself! It's full of souvenir shopping and food, and some of their famous foods are shoronpo and roasted nuts.
---
Additional info

Some areas are likely to have wi-fi and there are some that don't. As of present, the City of Yokohama doesn't provide free wi-fi, but if you go to a café or shopping mall, there are some places that may have it. A lot of these sections of Yokohama we shared are all within walkable distance of each other so if you want to start from Motomachi/Chukagai and walk to the Sakuragi Cho/Minato Mirai areas (or vice versa), we encourage you to do so. In between both areas, we strongly suggest you swing by Yamashita Park.
Yamashita Park regularly has free events such as Jazz festivals and/or beer drinking events (drinking age is 20 in Japan). Not only that, it's full of nice flowers for you to see and take pictures of. The Minato Mirai/Sakuragi Cho area is home to a harbor where you can see the ocean and historical ships on display such as the Hikawa Maru or the Nippon Maru ships, but require their own respective entrance fees. For you Pokémon fans, just about every summer, the district is home to an annual Pikachu event!
---
Final Thoughts
For those visiting Tokyo on their trips, we strongly recommend that you visit Yokohama. While it's another metropolitan city, it offers a calmer vibe. It's easily accessible from Tokyo and you can easily spend a day here. Considering that Yokohama was the city that reopened Japan to the world a little over 130 years ago, its legacy is very much alive and you can even learn of that history through the Yokohama Customs Museum, and the exterior of that building has also been featured in Bungo Stray Dogs. So if you want the ultimate experience where anime meets reality, Yokohama is it!