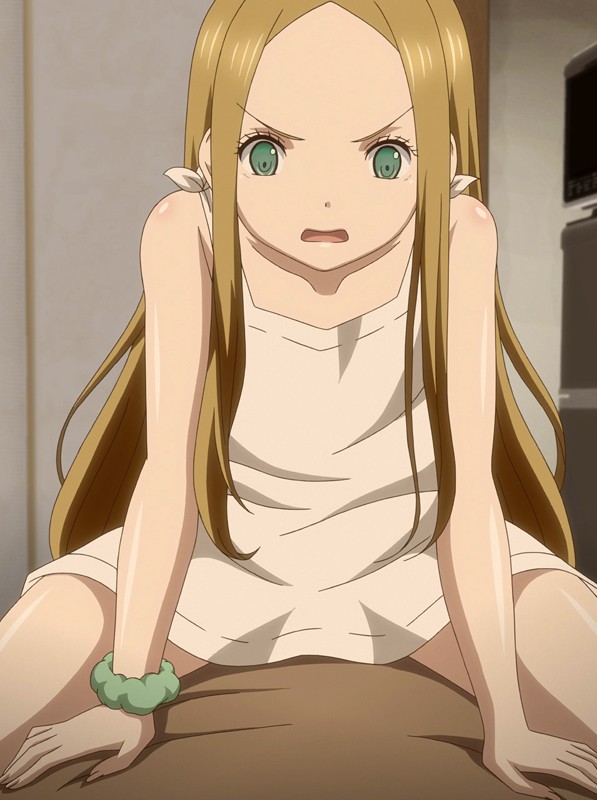 Astrology—and by extension, horoscopes, along with blood type compatibility, birthstones, fortune-telling, tarot card reading… and probably ouija boards—are one of the few fun ways to know stuff like what kind of person we're compatible with, predict our future profession, when to take action to avoid bad luck, determine our strengths and weaknesses, and so on. In fact, astrology can also determine your sexual interests and which sex act or fetish you'll likely to prefer, and since we're at the hentai side of Honey's Anime, we're going to have a little fun with a hentai anime twist.
This is not some pansy Cosmo article—we're here for the hentai anime goodness! Now that's out of the way, here is our hentai anime recommendation for Aries people!
What is Aries?

Aries is the first astrological sign in the zodiac and the first of the fire signs, along with Leo and Sagittarius. Its ruling planet is Mars, and the animal symbol is the ram. Just like the god of war Mars, Ariens are aggressive, demand immediate action, want to be in control, and enjoy the thrill of hunting down their prey.
Aries's Sexual Preferences

Ariens want their sex very simple and straight to the point, with no fluff getting in the way. That means they don't like getting teased and don't like foreplay that much unless they are 100% it's just a preparation for the real thing. Ariens tend to like prostitutes due to this direct attitude because, unlike a girlfriend or boyfriend, you pay them to fuck, not to fuck around with relationship-building. But if an Aries does want a relationship, they will make it a point that they are sexually attracted to the person, and the other perks like hugging, kissing, dating, companionship are secondary. That is not to say Ariens are insensitive and just want to fuck; not at all. Ariens are compassionate, loving and caring to the person they love, but they tend to show it through sex.
3 Hentai Anime Titles to Check Out

The following list of hentai anime titles contain some of the elements an Aries prefer. Aggressive sex, a man hunting down his prey, a story you can easily skip or doesn't drag on, and sex usually involving the hero dominating their partner in bed. There are a few more to list, but these are the main things this article will focus on.
Venus is known for her extravagant taste, evident in her creations. In episode 8, for a special request for an animal that uses "courting that causes a throb" she gives it her all. Venus enlists her colleague Shimoda as a prop while she gets to be the real star. She ends up completing another request, one for a "bird that forms a dance team with its bad student". We think Venus is a Leo, so she has to be the center of attention at all times and her outfit made heads turn.
---
1. Chichiiro Toiki

Episodes: 2
Aired: May 2014 - September 2014
Takashi is a young man with raging hormones who notices his little sister Mika and childhood friend Saya grew up as fine women. Fine curves, big breasts, and that sweet and intoxicating pheromone scent... it's only a matter of time before Takashi unleashes his inner desires.
Takashi is very direct, assertive, and wastes no time fucking his childhood friend Saya with passionate abandon, so we are led to believe that Takashi is an Aries. There were a couple of moments when Saya tried to subdue the raging ram by giving him a titfuck or riding on top of Takashi, but all Saya is doing is fueling the sexual fire within him, and he ends up ramming that pussy all night long. Also, Takashi couldn't be stopped once he's on fire. He didn't give a fuck his little sister sees him ramming his cock in Saya's mouth—he's gonna cum and he'll make sure Saya drinks every last drop. And speaking of his little sister Mika, Takashi fucks her as well!
But apart from that, is Chichi-iro Toiki actually good? Fuck yeah it is! Don't let the simple art style fool you--the animation is great, and it perfectly captures Takashi's aggressive sex with him constantly ramming Saya's pussy until she passes out. If you want to see an Aries in action, then Chichi-iro Toiki is one of the best examples to check out.
---
2. Rance 01: The Quest for Hikari The Animation

Episodes: 4
Aired: December 2014 - June 2016
Rance is an adventurer and a powerful warrior who travels a fantasy kingdom in search of a missing girl named Hikari Mi Blanc to bring her back to safety. Armed with his trusty sword, his "other" trusty sword, and his trusty slave and personal onahole Sill, Rance sets off to find Hikari and fuck a lot of girls along the way.
When it comes to aggressive sex, Seven are experts with exaggerated animations, priceless ahegao and superhuman piston action, so it's no surprise they're the perfect studio to match the equally crazy sex antics of Rance. Throughout 4 episodes, Rance fucks any girl who gets in his way without any tact or taking the girl's feelings into consideration. 100% of the sex scenes you see in Rance 01 are rough, with Rance wasting no time enjoying free pussy. The last episode is very noteworthy of its lengthy punishment rape involving Rance and a fallen foe--he's just enjoying his biggest catch yet.
3. Tiny Evil

Episodes: 4
Aired: September 2018 - February 2019
Tiny Evil is a collection of two stories of guys encountering supernatural girls with a taste for semen. Story one is about Miyu, a succubus who gets summoned by a guy with nothing else left to lose. If you want to die, at least die at the hands of a succubus, right? Story two is about a college dude named Shuu who is unaware his apartment is haunted by a cursed doll.
There are female Ariens too, and they're equally intimidating and as aggressive with their sex as their male counterparts. Tiny Evil is a great example of women domination in hentai anime. Miyu uses her powers to suck the lifeforce of Takeshi by making him permanently erect so she can cowgirl him until he dies. Nina, the cursed doll, is happy Shuu hasn't thrown her away so in return, she'll grant him good fortune by attending to his sexual needs. Unfortunately for Shuu, Nina has infinite stamina and wrings him dry to exhaustion every day. But what if Shuu decides he doesn't want Nina anymore? Then he'll suffer the wrath of this tiny evil!
Quite honestly, the hentai anime adaptation didn't do Tiny Evil justice because there are more tiny evils introduced in the doujinshi series, and the girls are far more extreme. Go read the doujinshi when you can!
---
Final Thoughts
And there you go, friends! Don't get too hung up if the character traits of an astrological sign doesn't match yours because astrology is just pseudoscience, and it doesn't mean the hentai titles we've listed aren't suited for you. Sex is a universal language for love and pleasure, ergo, hentai is too a universal langauge. Again, we're just having a little fun at recommending good hentai anime titles, and we hope you at least enjoyed them!
What do you think of this astrology topic with a hentai twist? If you're an Aries, what would you recommend? The comment section is yours!
---