In the past, we've looked at oral sex in hentai anime before. While both fellatio and cunnilingus on their own are extremely fun activities, but do you know what's even hotter? Efficiency! Why take it in turns to sample each other's love nectar, when you can both have a go at the same time? Here are ten hentai anime that show off the 69 (Six Nine) position in all its glory.
10. Accelerando - Datenshi-tachi no Sasayaki [Episode 3]

Episodes: 4
Aired: January 2007 - February 2010
Tamaki is working her job as a waitress, when her friend, Ohashi, pops in to visit her. A young couple sitting in the café take notice that these two clearly have feelings for each other. As Tamaki brings them their drinks, she slips on a puddle of water caused by the couple's dripping umbrella. She spills the drinks all over the young woman's clothes, and she demands that Tamaki give up her clothes in exchange. Ohashi stands up for her, but this just results in him getting beaten and tied up. The couple warn Tamaki to do as they say, or else her beloved Ohashi will face the consequences.
First, they make her strip naked, forcing Ohashi to watch the entire time. Then after some teasing, the woman lays Tamaki down and climbs on top of her. She licks Tamaki's pussy, bearing all for Ohashi to witness. Then she demands Tamaki also do the same to her. After she climaxes, it turns out Ohashi was very much aroused by the show. Their ordeal isn't over yet.
---
9. Joshi Luck! [Episode 1]

Episodes: 2
Aired: September 2019 - October 2019
Kuroda lands a job as the coach of an all-girls lacrosse team. After losing his house keys in the girls' locker room, he sneaks in after they leave to look for them. Worried that the girls will think of him as a creepy pervert, he frantically searches for them as fast as possible. Suddenly he notices a pair of lacy panties and he gets distracted trying to work out which of the girls they belong to.
His private musings are interrupted however when one of the girls, Kise, catches him holding her panties in his hands! Rather than getting angry, she senses an opportunity. She pulls down his shorts and climbs on top of him, giving him a rather aggressive blow job. Kuroda can't help but enjoy the view and smell of her pussy hovering so close to his face, while she attempts to vacuum his cock dry in a 69 position.
---
8. Tsunpuri

Episodes: 1
Aired: December 2015
After a young knight rescues the King and his daughter from bandits, he is taken back to the palace to recover from his wounds. He wakes up to find he has been stripped naked and bandaged. The concerned Princess Reiana awkwardly tries to thank her rescuer. He puts her at ease by giving her what she clearly wants, a passionate kiss.
Seeing that she is so concerned with maintaining a proper image of herself, he takes the initiative and encourages her to get on top of him. She willingly and lovingly starts sucking and licking his cock. She is caught off guard when he suddenly moves aside her panties and slides his own tongue inside her. He hungrily laps up her juices, while she struggles to concentrate on pleasuring him at the same time.
---
7. Majuu Jouka Shoujo Utea [Episode 3]

Episodes: 4
Aired: December 2015 - June 2017
Karen and Mitsuki are two magical girls who have the power to purify lust beasts, demons who exploit a human's carnal urges for power. The way the purification ritual works is when a magical girl satisfies the demon's sexual desires.
One day Karen discovers that her beloved Mitsuki has herself become a lust beast. So in order to purify her friend, she must do everything she can to satisfy her. Having always harboured secret feelings towards Mitsuki she can't help but feel excited at the thought of giving her companion pleasure. They kiss passionately and Karen wonders if Mitsuki has ever felt the same way about her. Suddenly Mitsuki is on top of Karen, lapping at her overflowing pussy. She breathlessly asks Karen to do the same. Before long, the demon possession of the beast causes Mitsuki to grow a penis which she begs Karen to suck on.
---
6. Shoujo Kara Shoujo e...[Episode 1]

Episodes: 2
Aired: February 2016 - March 2016
Single guy Kuroda goes to visit a woman he's had a crush on since high school. What he wasn't expecting was to run into her daughter, Asami, instead. Asami has read his pornographic blog and even the love letter he once wrote to her mother. She uses this information to seduce him. He's shocked and flustered that such a young girl would do such a thing, but his body betrays him. His dick stands to attention at the sight of the girl's budding cleavage and polka dot panties.
Seizing her opportunity, Asami climbs on top of him and allows this lonely pervert to drink from her pussy. Then while still in that position, she nimbly leans backwards and licks his cock, making him squirt in seconds!
---
5. Mou Hasamazu ni wa Irarenai♥

Episodes: 1
Aired: February 2014
One night while wishing on a star, high school student Amano makes several specific demands. One of which is to have larger breasts. Just at that moment an alien crashes into her, killing her instantly. The alien uses his powers of regeneration to reconstruct her entirely. He makes a few slight errors, the size of her breasts for one! Through a random act of misfortune, Amano got her wish!
She leaves for school and discovers that she's smarter, faster, stronger and also her skin is clearer. After her P. E. lesson, she runs into the boy she has a crush on, Sugiuchi. The alien, sensing her sudden rush of hormones, decides to escalate the situation in the hopes of understanding human reproduction. It doesn't take long before Sugiuchi suddenly finds himself lying on the floor of the girl's bathroom, staring right at his class mate's dripping wet pussy. The alien takes control of Amano's body in order to unbutton Sugiuchi's pants, releasing his hard cock. Amano seems not to mind the situation too much and relishes the opportunity to suck on Sugiuchi's cock.
---
4. Papa Love [Episode 2]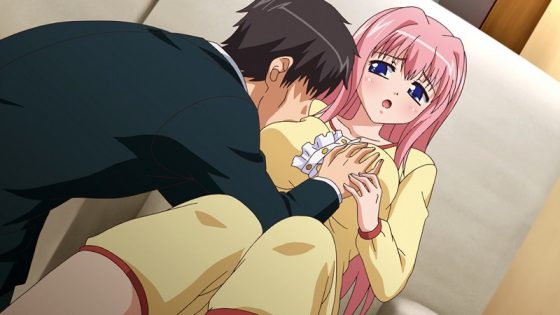 Episodes: 2
Aired: July 2012 - January 2013
After his wife leaves him, it falls to Haruki's two teenage daughters to satisfy his sexual urges. After catching his youngest daughter, Hyouka, masturbating while wearing his underwear on her face, he confronts her about it. She insists on having sex with him, whether he wants to or not and ends the night no longer a virgin. The next day at school she craves more attention from her father, since her first time with him mostly just hurt. She leads him to the school roof and climbs on top of him, thoroughly licking his penis and enjoying the smell she loves so much. She demands that as punishment for hurting her last night, he has to pleasure her at the same time. She didn't count on her dad's tongue being so skilled at probing her most intimate area.
---
3. Furueru Kuchibiru (Fuzzy Lips)

Episodes: 1
Aired: April 2014
This is the story of Kon Katakura and her sexual relationship with her home room teacher. Neither she, nor her teacher are entirely sure how they feel about one another. Is this just taboo, pleasurable fun for them or is there something more?
One evening, Kon is staying over at Sensei's place like usual. Suddenly her playful comments seem to bother him a lot more than usual. They bicker back and forth, each not wanting to admit their true feelings. Finally, Kon has had enough and gets up to leave, when suddenly Sensei stops her. He pins her against the door, not sure what to do but he knows he doesn't want her to leave. He starts to say the words Kon's been longing to hear, but the powerful urge overtakes him and he passionately kisses her. They make their way back to the bed where Kon lovingly licks her teacher's cock. Meanwhile, he happily buries his face into her pussy (69 style), letting her juices drip down his chin. This couple are in love and this is how they choose to express it.
---
2. Boku dake no Hentai Kanojo Motto♥ The Animation

Episodes: 1
Aired: September 2017
High school student Yonezu discovers a secret about his girlfriend, Hina. She's a huge pervert! After school, she enjoys peeing outside and taking photos of her vagina. Her boyfriend was content to just watch her from the bushes for a while. Eventually he reveals how much he enjoys seeing this kinky side of her. They each thoroughly enjoy trying out new, perverted things with each other.
One day Yonezu buys some vibrators for Hinata to try. A little unsure at first, she tries it and discovers how sensitive she is to the vibrations. Yonezu gets excited watching her and can't wait to stimulate her more. Feeling that it's unfair that only she is getting pleasured, Hina perches herself on top of Yonezu and begins vigorously sucking his cock! He begs her to slow down so he can insert the vibrators inside her on his end, getting up close and personal with her nether region.
---
1. Ane Kyun! Joshi Ga Ie Ni Kita!

Episodes: 1
Aired: August 2014
Honoka has a huge crush on her older brother, Hirokazu. She is suddenly overcome with jealousy when he invites his classmate, Akazaki, over to study. Hirokazu senses something is wrong with his sister and goes to check on her. She explains how strongly she feels about him and begs to be kissed.
In the next room, Akazaki hears pleasurable moaning and figures Hirozaku's sister must be masturbating. After a while, Hirokazu returns explaining that his mother called saying she won't be home for a while. Akazaki takes this as a signal that maybe Hirokazu wants to do more than just study. She seductively lifts her skirt, thinking the bulge in his pants was caused by her. The two of them have sex (69 style), all while Honoka listens in the next room. After Akazaki leaves, Hirokazu realises how upset Honoka is.
He fantasises of a scenario where he has a threesome with the two girls. Akazaki playfully fondles Honoka's breasts in order to convince her to like her more. She gently leads Honoka over to the bed and softly starts licking between her legs. She encourages Honoka to do the same for her. While the two girls mutually munch at each other's muffs, Hirokazu joins in. He takes Honoka from behind, spraying love juices all over Akazaki's face beneath them.
It's a shame that only occurs in his head.
---
The 69 (Six Nine) position truly is the best way to mutually pleasure each other in a more comfortable and practical manner. Also as the various hentai anime above shows, it doesn't need to be restricted to just two people either. Let us know in the comments which sexual positions in hentai you'd love to see more attention given to.
---