También puedes leer este artículo en:Español
**This article contains mature content not suitable for minors! Must be 18 years of age or older!**

Now that Honey's Anime has been delivering more hentai content to you great folks, it was only natural to give you an insightful and well-rounded top 10 list of futanari girls in anime. We understand that this is a niche interest and it's certainly not going to cater to everyone out there, but for that reason alone, we feel that we should bring our loyal fans something that is seldom talked about, let alone ranked.
Whether you consider yourself an avid fan of futa or you just want to dip your toe in the water and see what this fetish is all about, we've compiled a list of great moments, characters and hentai to delight every reader who is eager to expand his or her horizons. Diversity is extremely important to us and you will quickly come to realize that after reading this article. It's not as simple as taking one female and having her penis do all the work. The situations are varied and in some cases, carry great consequence.
A lot of what went into ranking this list had to do with the sheer impact a character had in her given scene or anime. Certainly if there was something unique to talk about, we considered that to be a forerunner for inclusion. It's not a specific science to narrow down this type of list, but we hope you understand what some of the thought process was. Now without further ado, Honey's Anime is proud to give you our top 10 anime futanari girls.
10. Kana from Koakuma Kanojo The Animation

Episodes: 2
Aired: Dec. 2013 – Feb. 2016
This list will start off with a female who initially has no male sex organ. Kana is a curious high school student who heard rumors of a mysterious DVD that curses anyone who watches it. She decides to take it home and see what all the hub-bub is about. It's not long before she gets cursed and something 'rises' from her that will shock both her and her younger sister Mai.
The action starts to heat up in this particular story during the second part of episode one, where Mai sees Kana's 'growth' from the aforementioned curse and is happily ready to take advantage of her older sister's newfound penis. During this steamy scene we get Kana who initially was reluctant to do any sexual activities with Mai, to becoming the dominant female and having her way with her. What's interesting is that towards the end of the episode when Kana thinks she is finished, she later finds Mai watching that same cursed DVD and the fun resumes, this time both of them with full-blown erections. It may only have two scenes but it gets points for having two futanari sisters going at each other.
---
9. Sakurako-san from Alignment You! You! The Animation

Episodes: 2
Aired: Feb. 2008 – May. 2008
Sakurako-san is an interesting choice for our number nine pick. She is from one of the better-known futa-hentai out there and she is seen providing some compelling situations for the main cast of characters in this anime. Sakurako-san is a ghost who haunts the boy's washroom in Takahashi's high school. She's crude, depraved and prone to rape and murder. That's one heck of a combination!
Sakurako-san's rapist wit starts to fire up in episode two when she takes one of the teachers for an unsuspecting ride. By that we mean, the teacher sits down on a chair only to have her get penetrated by a ghost penis. Yes, you read that correctly. It's not long before students and co-workers start to take notice and assist Sakurako-san. Whether Sakurako-san is reviving other female students to give her pleasure or getting raped by another rival ghost, there is plenty of futa-action to go around. She rightfully deserves a spot on this list for being a class-act phantom of perversion.
---
8. Grimgerde from Valkyrie Choukyou Semen Tank no Ikusa Otome 10-nin Shimai

Episodes: 2
Aired: Dec. 2009 – Mar. 2015
This number eight selection is one of the Valkyrie's by the name of Grimgerde. She and the rest of the Valkyrie's are tasked with trying to maintain peace between the realms of the living and the dead. That's a tall task for any of the four members. Grimgerde just so happens to be the lucky one who gets possessed by a vengeful force and thus gives her the power of the penis. With that new found ability, she is set on a mission to 'conquer' her fellow teammates.
What makes Grimgerde a fabulous choice on this list in the unmitigated amount of h-scenes she is involved with in the two episodes that this anime presents. Unrelenting, she takes care of her team members one by one with lust and a newly acquired penis. She even has a sizzling threesome with two other members of the Valkyrie's, and she doesn't give up until they are both completely fulfilled sexually. That's the kind of spirit that you want to see from any partner. The animation is of great quality and comes as no surprise to us, since PoRO is producing this hentai.
---
7. Kaneshiro Ruhl from Night Shift Nurses 2 (Yakin Byoutou Ni)

Episodes: 5
Aired: Jul. 2004 – Jan. 2006
This next selection involves a true futanari, no tricks, no possessions and she's certainly not a ghost. Kaneshiro Ruhl is the director of the St. Cattleya Hospital and she seeks to keep the nurses there in check. She knows what she wants and she doesn't have any issues manipulating anyone to achieve that. She's a deviant and takes pleasure in seeing the other nurses get raped, while in some cases having her way with, said nurses.
In one instance, Kaneshiro was pleasuring one of her higher ups in a limo; convincing him that if they can get that kind of "service" from the hospital, which can potentially lead to a large growth of people wanting that kind of treatment there. After that was all said and done, Kaneshiro, now frustrated with that act she had to give shows her dominant manner by forcing Karen, a nurse there, to pleasure her. Although she might not have had as many h-scenes as some of the other futanari on this list, it was her personality and impact for Night Shift Nurses 2 that we felt should give her a spot.
---
6. Kaori Shina from Parade Parade

Episodes: 2
Aired: Apr. 1996 – Jul. 1996
This anime follows a particular talented pop idol by the name of Kaori Shina. What she doesn't want people to know about her is that she is a futanari. She's worried that if news broke of her little secret, that it could be career sabotage for her. This is the only anime on this list from the 90's, but it greatly deserves to be on this list because of the premise of this story alone. The h-scenes start off with Kaori and her partner Yuuko Imai, who is accepting of her penis. However they don't end with just her partner, oh no, Kaori has some more fun with others!
Fellow pop idol Saki Midorizawa, behind the scenes is a lesbian and wants nothing more than to please Kaori, despite their rivalry on stage. She gets her wish one on one, but what makes this an engaging engagement is later on in episode two we have a partner swap, which leads to an orgy of pop idol rivals and partners. While the animation has aged, it's still pretty solid. You have to remember this was made in the mid-nineties and hentai in general didn't have the best animation going until much later on. Kaori is a true futanari who becomes world-renowned, not too many can say that.
---
5. Mao Asakura from Futabu!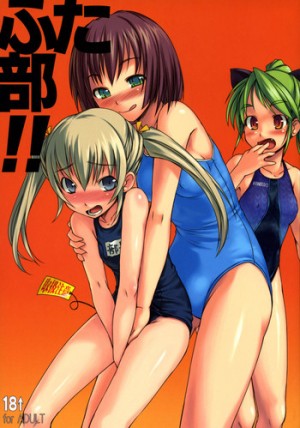 Episodes: 2
Aired: Feb. 2014 – May. 2014
As we get closer to our number one spot, you can tell things are starting to pick up! How about we give you an anime that is about a group of futanari that form a club, which aim solely to please each other. That sounds like things could get messy! While we had four females to select from, we opted to go with the chairman of the "Futa Club". One of the reasons Mao Asakura was chosen is simply because of her immense genitalia. Because of that size, she is unable to please herself effectively.
Her penis grows large (41 cm in length) and with that she becomes anemic from all that blood flow going right to her 'pleasure stick'. It's rather unusual to see such a petite girl have such a commanding size. With that, she really takes charge with her club members. The newest member of the Futa Club, Akane Niimura is the only member who doesn't have a penis. Akane becomes more or less a slave to the rest of the club and to Mao in particular. You can expect orgies, supersized penises and a whole lot of sexual relief between the five girls. Futanari fans should eat this one up!
---
4. Futaba Higuchi from Discode (Discode: Ijou Seiai)

Episodes: 3
Aired: Aug. 2004 – May. 2005
Number four brings us Futaba Higuchi, a high school student who has an insatiable desire to please herself. There's no place off limits for her. Locations include, outside on a bench with several guys watching her, in the school bathroom and even during class! She just can't help herself and to make matters worse, she likes this boy named Kagekiyo Hirano, who isn't aware of her little secret.
The only relevant person who knows initially about her secret is Kyoka Izumi, who happens to be Kagekiyo's stepsister. Shocking isn't it? The reason Futaba is on this list is mostly for her sexual lust and desire. She doesn't just limit herself to masturbation, oh no, she also has intercourse with other females and males. Futaba had one scene that you don't see very often, and that comprised of a threesome with two other guys, while she is wearing a chastity belt. You will have to check this anime out to find out if her crush will accept her.
---
3. Sara Scorpion from Uchuu Kaizoku Sara

Episodes: 4
Aired: Apr. 2008 – Feb. 2010
Sara Scorpion is a notorious space pirate who makes her way around the war-torn galaxy. Her opposition is a silver knight known as, Sylia von Bernstein. Once Sara captures Sylia, she turns her over to Duke Blankenheim Koushaku for information of the whereabouts of the Sword of Bernstein. Long story short, she falls into a trap and is held captive for sexual humiliation. Sara gets put through an "experiment" which gives her a penis, much to her dismay.
Sara is very prideful and despite the Dukes plans to humiliate her, she doesn't crack. Her character is very strong-willed and after her experiment she becomes well-endowed in both the upper and lower half of her body. She is put through tests from intercourse with a relentless lizard man, to having sex with her rival Sylia, who was also converted into a futanari. There's even a unique scene in episode three that offers an orgy with mutual masturbation, while Sara is being pleasured in her lady part. This hentai has arguably everything a fan of this genre would like, including tentacles.
---
2. Ryouko Makimura from Tokubetsu Byoutou

Episodes: 2
Aired: Oct. 2007 – Mar. 2008
This hentai may not offer everything imaginable, but the main character Ryouko Makimura is one nasty piece of work. She deserves to be high up on this list, since we are talking about futanari girls and not hentai in particular. Ryouko is a female doctor who created two different sex pills, one for male and one for female enhancement. Right away we find out that the pills have an uncanny side effect, with Ryouko gaining a penis. Her intentions are to experiment with these pills on the other employees of the hospital.
She uses her newly acquired male sex organ to hound on four specific female employees. Ryouko preys on these unsuspecting nurses by telling them to take these new pills. When one of girls questions Ryouko about the pills, Ryouko reacts by torturing and raping her. Her attitude is reprehensible, but that is what makes her the number two selection. Other than our number one pick, which we will get to, she is probably the most sadistic futanari on the entire list. This is one persona you won't soon forget about.
---
1. Reika Kitami from Bible Black

Episodes: 6
Aired: Jul. 2001 – Jun. 2003
I don't think any fan of hentai should be shocked at Reika Kitami being our number one futanari female in anime. For the people out there who don't know who she is, here's a little background on her. Reika appears in all three Bible Black series, with Bible Black being her most prominent role. In the prequel she was targeted by the Magic Club at her school. She becomes the sacrifice and a demonic vessel, which affords her a multitude of skills and power. Fast forward twelve years and she is now the school nurse looking to find a new female virgin to reincarnate in.
Reika, the main antagonist takes advantage of the high school students, including Taki Minase. He was dabbling in black magic to receive sexual pleasure from his peers and friends, thanks to a black book of magic. Reika fits every parameter that we set out for while making this list. From being sadistic and raping many different males and females to being the table setter to all the impactful scenes in the entire series. The sheer amount of h-scenes she's involved with shatters any females that are in futa anime. She really left her mark and is well deserving of this approbation. Her cold personality and creepy demeanor is enough to keep her embed in the minds of many hentai enthusiasts.
---
Final Thoughts
Well that was an exciting list! There isn't a ton of hentai exclusively featuring futa h-scenes. However, we feel you're headed in the right direction with this list; you simply can't go wrong if you're a fan of this style. We had many different takes and tastes on the futanari genre in general. Believe us, there were some females that just missed the cut.
Now that you've seen the entire list and how it was ranked, how do you feel about it? Did we pick out any of your favorites? Based on this list, is there any anime you're now planning on watching? Please let us know, we would love to hear from you in the comments section below!
---