También puedes leer este artículo en:Español
Make no mistake about it, one of the most talked about fetishes is the foot fetish. These fixations come in a variety of layers and levels. When it comes to the world of hentai, this fetish is covered, but not in a great deal as some of the others out there. In fact, one could make a case that there needs to be more of this content presented in hentai.
However you look at it, we wanted to make sure that this popular fetish was covered for the people who are looking for some foot fulfillment. This countdown will feature some of the best 'footwork' in all of hentai. Kick your feet up and indulge as Honey's Anime delivers a list full of sensual rubbing.
10. Oni Chichi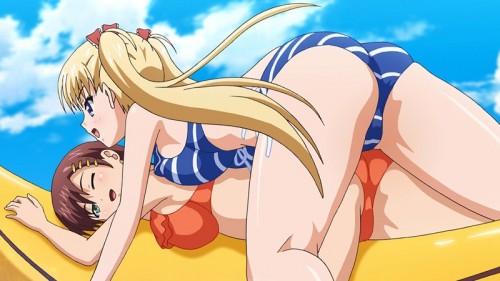 Episodes: 2
Aired: Oct. 2009 – May 2010
A sexual deviant by the name of Kouzou Akizuki lusts for his two stepdaughters, Airi and Marina. Marina is kind to her stepfather, but the same can't be said for Airi, who sees him as a pervert. No longer is Kouzou content with watching videos of Airi and her friend Sana, so one day he creates an aphrodisiac to take advantage of his stepdaughters and friends. The story turns into a whirlwind of hurtful incest to feed their warped stepfather's body.
Our opening anime, Oni Chichi is perhaps one of the most well-known hentai on the market at this point, and it only made sense to include this anime on this countdown, given the subject matter. Oni Chichi is packed with a lot of themes and during episode two; we're witness to a steamy footjob/ashikoki scene between Airi and Kouzou. This sequence lasts for about a minute, with Airi in a dominant role teasing her stepfather with her appropriately fashioned thigh-high black stockings on her feet. Airi very much teases Kouzou with the sight of her pink panties and is sure to let him know who's in control.
---
9. Love 2 Quad

Episodes: 3
Aired: Aug. 2012 – Jun. 2017
What started out to be an average day for Wataru quickly changed for this student of Akakura Gakuen. The most admired teacher at his school, Aoi-sensei, approached him and proposed that he take his clothes off immediately in order to help her. Puzzled by her proposal, Wataru complied. Little did Wataru know that Aoi works for the secret international defense organization, Cradle. In order for Wataru to lend his assistance, he's going to need to engage in perverted activities to gain sexual energy and defeat the enemies, "4D".
Our next selection takes things up a notch, not only increasing the duration of the footjob, but it also takes place in a much more stimulated location. Around the midway point of the first episode, Wataru is being 'punished' by his girlfriend, Ermalit de Blanchefort on the roof of their academy. She blindfolds him and slips on some black pantyhose and proceeds to tease him with her feet. What makes this a unique choice is that during most of the footjob/ashikoki sequence she's on his shoulders stretching her leg down his torso to reach her goal.
---
8. Koakuma Kanojo The Animation

Episodes: 2
Aired: Dec. 2013 – Feb. 2016
Koakuma Kanojo The Animation is three stories split into two episodes that center on a peculiar DVD that is rumored to curse anybody who watches it. The first story showcases Mika becoming cursed from watching the DVD. She gives her classmate Kazuya more than he can handle. Story two follows a curious student named Kana who decides to watch the mysterious DVD. Kana's sister, Mai watches from the shadows while the two discover that the rumors are indeed true. The final episode tells a story about what can go wrong when an aphrodisiac is introduced between two girls and a guy.
The scene takes place during the last episode in the school's infirmary with Hibiki overcome with lust, thanks to an aphrodisiac. Despite this footjob sequence being the shortest on this countdown, we felt that the scenario made this an optimal pick. For starters, Kazuki is bound to the bed with rope making things extra kinky, and then Hibiki lies on top of him and uses both feet energetically to stimulate him. It may be a shorter scene (roughly 40 seconds) but it makes up for it with its erotic nature.
---
7. Yagami Yuu (Night Shift Nurses: Yagami Yu)

Episodes: 1
Aired: Dec. 2006
Yagami Yuu is based on a game by Mink's M no Violet division. Yagami Yuu takes place in the same world as Night Shift Nurses 3 and it continues with the main protagonist, nurse Yuu. Jiro Yotsuya is a novelist who was traveling in a strange village near the mountains when he got hit by a car, breaking one of his legs. He's rescued by Yuu and taken to a local hospital to be treated, completely oblivious to the madness that awaits him.
Flavors Soft is the hentai studio that was responsible for the art and animation of Yagami Yuu. If you're a fan of the first Taimanin Asagi, you will feel right at home, visually, with this selection. What's best about Yagami Yuu is that it gets right down to the footjob scene immediately from the start. Nurse Yuu is featured in a high-octane, lubricated footjob, complete with fast camera cuts, dirty talk and the use of both of her feet simultaneously. If you're craving for a rough footjob/ashikoki sequence, this one will fit the bill.
---
6. Junjou Shoujo Et Cetera

Episodes: 2
Aired: Aug. 2013 – Oct. 2013
Junjou Shoujo Et Cetera is based on the adult manga by Miyabi. This series features two unrelated stories that encompass an episode each. The first story involves a sweet and timid girl named Konomi Kuramochi who finds herself sucked into a relationship with a perverse classmate, Yuuto Jounouchi. The second story revolves around a very flirtatious student named Rumi. She feels that she can get a boyfriend at any time, but chooses not to. Instead, Rumi utilizes technology to sexually satisfy her desires, via a webcam and the internet.
Junjou Shoujo Et Cetera features one of the longest footjob/ashikoki scenes on this countdown. It takes place during the second half of episode one. What we love about this particular footjob/ashikoki scene is that it delivers with several different stimulating visuals including, megane, thigh-high stockings complete with garter, and a determined female known as Konomi to satisfy Yuuto. Konomi completely breaks character from her wholesome appearance and personality and brings forth a powerful performance that won't soon be forgotten. Konomi sure knows how to work her feet.
---
5. Fault!! Service: Aratanaru Rival

Episodes: 1
Aired: Feb. 2013
Shuuichi Sugiyama returns for his second school term after a tumultuous summer vacation. He continues to get bombarded with love and lust from Ai and Mio. The tennis club leader, Reiko decides that they will take part in the school festival and with their efforts, will run a cosplay café, much to the delight of Shuuichi. However, Reiko feels a bit uneasy about the newest transfer student, Maya. She appears to have an ulterior motive and may throw a curveball into Shuuichi's sex life.
There are many things that stand out to us when it comes to Fault!! Service: Aratanaru Rival, the cosplay being one of them. However, we felt that the footjob/ashikoki scene towards the end of the episode had to be included on this list. The scene we want to highlight takes place in a classroom between Shuuichi and Maya. The scene really delivers an exceptionally arousing piece with Maya executing a footjob while seated on top of a desk and Shuuichi on the ground. With that positioning, the camera angles are able to capture many erotic shots.
---
4. Imouto Paradise!

Episodes: 2
Aired: Dec. 2011 – Apr. 2012
Imouto Paradise! presents a summertime scenario where a perverted male named Aniki is dealt with taking care of his five sisters because his parents are working overseas. It won't be easy, however, as each of his five sisters possess varying personalities and won't settle for the same restrictions. With his parents out of the picture, Aniki is free to do whatever he wishes. Aniki loves to please himself to his favorite eroge in the confines of his room. Ultimately, that doesn't last long when his sister catches him in the act and proceeds to relieve some of Aniki's tension. This would be the dawning of his younger sister paradise!
Imouto Paradise! is known for its fast-paced piston like action and believe us, the footjob/ashikoki scene during episode two is no different. Aniki gets caught masturbating by one of his sisters and what does he do? He asks his sister for assistance, naturally. This springs a delightful sequence where the sister strips down to her purple underwear and proceeds with the ashikoki. Aniki assists her by clamping his hands around her bare feet as she stimulates him. The action is fast and in your face, perfect for most people with a foot fetish.
---
3. Nee Summer!

Episodes: 2
Aired: Dec. 2011 – Apr. 2012
When it comes to the summer many people indulge in the warm weather, sun-soaked beaches and for students, time to enjoy their much-deserved break. Yuuta Yamauchi is your everyday student, who exemplifies exactly what one would do in the summer. There's just one thing different about him, he's involved in a sultry relationship with his cousin, Kei Higashide. It all started with Kei offering to help Yuuta with his college entrance exam and it quickly escalated from there. One thing's for sure, Yuuta's summer vacation will play out much differently than he imagined.
Just like our number seven selection, Yagami Yuu, Nee Summer! delivers a heated footjob/ashikoki scene immediately. The first episode treats us all to an arousing situation involving two cousins and foreplay. What we loved most about this sequence was that the footjob was animated remarkably well. Its strength was the ability to have Kei use all of her feet to near-perfection. She held his manhood in between her toes, which is a trick that isn't often seen, while also utilizing both of her bare feet. Between the camera angles, Kei's intentions, and how experienced she was, it's easy to see why this is ranked at #3.
---
2. Cafe Junkie

Episodes: 2
Aired: Oct. 2008 – May 2009
Cafe Junkie is about a guy named Masaru, who hasn't been able to land a job despite almost finishing up his college degree. During his leisure time, he enjoys visiting Hidamari, a cafe that his childhood friends, Nanami and Kurumi work at. Both those girls have always liked Masaru, but they became lustful with him after realizing that he has another childhood friend coming to visit him. Masaru has a tough decision on his hands.
Number two offers up probably the longest footjob/ashikoki sequence on this list and it doesn't disappoint. Unlike many of the choices on this countdown, the scene takes place in a private location, a bedroom to be exact. The scenario quickly becomes an arousing situation that features kinky foreplay, hands being bound together and a cloth to gag Masaru. Kaede literally uses every aspect of her bare feet and even her ankles to pleasure Masaru. She doesn't look inexperienced and Masaru conveys it perfectly trying his best to survive Kaede's calculated feet-driven offense.
---
1. Kanojo x Kanojo x Kanojo: Sanshimai to no DokiDoki Kyoudou Seikatsu (Kanojo x Kanojo x Kanojo)

Episodes: 3
Aired: Dec. 2009 – May 2011
Haruomi is the main character who vacated temporally to stay at his relatives house due to a volcanic eruption that took place near his home. While at his relatives, he gets reacquainted with three cute sisters that he later indulges on. This hentai delivers an average storyline about the Orifushi's family-owned ice cream shop. The eldest sister, Natsumi inherited it when her parents died. This anime showcases the hardship and eventual triumph of the shop. When Haruomi is not having intercourse with his relatives, he helps the families struggling ice cream shop.
It all started because Haruomi got a little too curious and was caught spying on Mafuyu masturbating in her room. For punishment, he was dragged into the room and forced to deal with his 'punishment'. What we most enjoyed about this scene is that Mafuyu was erotically dressed for the situation. The twin-tailed cutie had a black and white choker, a revealing corset and black and white striped stockings. Mafuyu was in complete control, even taking off one of her stockings to let Haruomi feel her soft foot. On top of that, Mafuyu added lubricant to make this the sloppiest footjob on our countdown. All in all, it's a must watch!
---
Final Thoughts
That will bring us to the end of this foot-centric countdown. While we might not have captured all of your favorite footjob/ashikoki scenes in hentai, we feel confident that you will enjoy our selections. We tried to focus on duration and presentation.
We wanted to curate some of the best footjob scenes in hentai and we felt we did just that. Do you agree with this list? Are there any notable omissions? We look forward to discussing that and more in the comments section below. Until next time, keep your feet clean and your excitement levels high.
---