This is a very late Top 10 and we apologize for not being diligent at providing news and content to our hentai anime fans. But hey, The Top 10 Best Hentai Anime of 2018 is finally here and thank you for your patience! Like a wise man once said: "Better to be a late bloomer than having premature ejaculation." It's not verbatim and we don't know who said this, but never mind the details!
Before we start beating our meat, er, before we start the list, there are a couple of things we need to point out. The list will only contain titles that came out in 2018 and it doesn't matter if the anime are still ongoing or are finished. There are no specific criteria so anything from rape, harem, hardcore or vanilla were all considered. The only thing excluded from this list and for possible future lists are any hentai anime adaptations from studio Queen Bee. And in case you hadn't noticed, we love beating this Queen Bee dead horse.
Let's get started!
10. Imouto Paradise! 3 The Animation

Episodes: 2
Aired: April 2018 - July 2018
Nanase Yuuichi is very lucky to have 5 beautiful little sisters who will do anything to make him happy. Yuuichi's raunchy dream came true when his sisters start showing sexual interest towards him. And as a responsible big brother, Yuuichi teaches his sisters some essential sex education they won't otherwise get in class.
Imouto Paradise! 3 The Animation is nothing special with an above-average art style, almost zero storyline to think of, and it's just a pure vanilla harem. But what makes Imouto Paradise! 3 The Animation special is that it ticks the right boxes for that exceptional incest experience—5 little sisters of varying personalities all vying for onii-chan's love, there's zero rape, and despite having an average art style, it's good enough to deliver colorful and decently-animated sex scenes that will keep your hand(s) busy.
---
9. Boku to Nurse no Kenshuu Nisshi The Animation

Episodes: 1
Aired: November 2018
Shirosawa Takuya graduated from medical school and is working at Amagi University Hospital for residency training. In the hospital, he is reunited with his childhood friend Akagi Mio, who is now working as a nurse. An accident occurs when Takuya breaks his arm after saving Mio from falling down the stairs. Feeling responsible, Mio spends her time nursing Takuya until he's back on his feet. During this time, Mio confesses her feelings towards Takuya and has to shuffle between treating her childhood friend and finding a remedy for her aching heart.
Getting treated in a hospital and falling in love with the sexy nurse who treated you is a classic love story told throughout the ages, and that charm is ever so present in Boku to Nurse no Kenshuu Nisshi The Animation, but with a more Japanese twist to it. Realistically, the only time a nurse will ever get near your penis is when it's time for you to pee in the urinal (pray they won't opt for an adult diaper instead), but you can always fantasize what it's like to have a nurse who has the hots for you and will give you the right sedatives and stimulants. Self-mockery aside, Boku to Nurse no Kenshuu Nisshi The Animation is what the doctor ordered.
---
8. Tsun M! Gyutto Shibatte Shidoushite The Animation

Episodes: 1
Aired: April 2018
Saki is quite upset when she finds out her boyfriend Takeshi has a secret S&M fetish. This revelation doesn't affect their relationship or sex life but Saki is curious if tying herself up would make her boyfriend happy. It turns out Takeshi loves seeing her tied up and is more aroused than ever. And to top it all off, Saki is a natural and finds the fetish exciting and arousing. Ah, the things you do to keep your lover happy.
In a way, Tsun M! Gyutto Shibatte Shidoushite The Animation is similar to Boku to Nurse no Kenshuu Nisshi The Animation because each show focuses on a specific fetish. For this specific title, S&M is the name of the game with Saki always tied up in the most embarrassing of ways, but they're nothing extreme. Short, simple, and with lots of rope—Tsun M! Gyutto Shibatte Shidoushite The Animation is a very good hentai anime to test out your knot-tying skills.
---
7. Soikano: Gyutto Dakishimete The Animation

Episodes: 1+
Aired: September 2018 - Ongoing
High school student Kozuya Kouhei decides to take a nap inside an abandoned greenhouse near his school. Seemingly quiet with not a soul to be found, our hero wakes up with a girl sleeping on his chest. The nap time angel is Kumakura Yoake and she is the president of a gardening club with a range of activities like, well, gardening and afternoon naps. Kouhei's fondness of Yoake's free-spirited nature grows every time he visits the club and it's just a matter of time until he tells Yoake how he really feels about her.
Soikano: Gyutto Dakishimete The Animation is a simple visual novel adaptation with a focus on character development, story, and one couple. Sure, by default, a visual novel adaptation is generally bad because the logistics of cramming all dialogue to a single episode is impossible, but the argument is, what's wrong with having a focused experience? Soikano: Gyutto Dakishimete The Animation, while not perfect, did well at telling a story with enough development that the eventual sex is earned and Yoake didn't just spread her legs to Kouhei for no apparent reason. Add the fact that Soikano is beautifully animated and has an attractive art style, and it can pass as a mid-budget TV anime.
---
6. Niizuma Koyomi The Animation

Episodes: 1
Aired: July 2018
4 girls vie for Nakamuru Soushirou's hand in marriage (isn't that the other way around?), but our hero remains undecided. To help Soushirou decide on who to marry, the four girls—Koyomi, Kuzunoha, Tamaki and Shino—agree to take turns spending time alone with Soushirou and help him make up his mind. Will Soushirou finally decide which one of the lovely girls to marry? Or will he wise up and create a harem instead?
Niizuma Koyomi The Animation is like playing a visual novel and the hero decides to go for a harem ending. Soushirou sleeps with various girls to see which one of them is a keeper, and after sleeping with every one of them, Soushirou thinks the unthinkable: Marry them all! Niizuma Koyomi The Animation is a very vanilla hentai packed with inoffensive love-making that makes you realize that rape isn't the only solution to getting pussy. The adaptation was handled by studio T-Rex, so expect beautiful ladies and lots of sweat or other bodily fluids. And yeah, you'll be secreting lots of bodily fluids as well.
---
5. Kyonyuu JK ga Ojisan Chinpo to Jupo Jupo Iyarashii Sex Shitemasu.

Episodes: 2
Aired: October 2018 - November 2018
3 middle aged guys and their high school girlfriends get together in a hot spring resort for an orgy. How they managed to get young lovers is not a mystery: these girls have a thing for older guys.
You might argue Kyonyuu JK ga Ojisan would've been great if the beautiful girls weren't paired with fat and balding middle-aged men, but the thing is, Kyonyuu JK ga Ojisan knows its target audience and it was made specifically for this purpose. Take a look at yourself at the mirror—Yes, you're staring at Kyonyuu JK ga Ojisan's target audience. Don't take that the wrong way! We're not perfectly sculpted individuals and a lot of us are now way past our prime, and this anime caters to the older hentai fans by giving us a solid hentai experience that not only looks great with nonstop sex, but also gives us a ray of hope that life truly begins at 40. Though it's best not to brag about your hentai experience to your future grandkids.
---
4. Dokidoki Little Ooyasan

Episodes: 4+
Aired: May 2018 - Ongoing
Tanaka Daisuke is a college student who is currently staying in a run-down apartment. Daisuke doesn't mind the deteriorating building because the landlady Miyuri is rewarding tenants who pay their rent on time with free sex! Now that's bang for your buck right there!
Good sex means a mutual understanding between man and woman—The man shouldn't do all the work, and realize that his partner is more than capable of taking the lead, she can be as equally dominant as him, and can equally give pleasure. Dokidoki Little Ooyasan, while lacking any story or character development, excels in—and we're being serious here—true gender equality. Daisuke is a big guy with a dick almost the size of his arm, and he can knock out any girl with the sheer pressure of his ejaculation alone, but Miyuri, despite her small stature, is a fighter and she can easily put Daisuke into submission. The two are in a constant arms race to see which one of them comes out on top, and that is ultimately why Dokidoki Little Ooyansan is a fun distraction.
---
3. Tiny Evil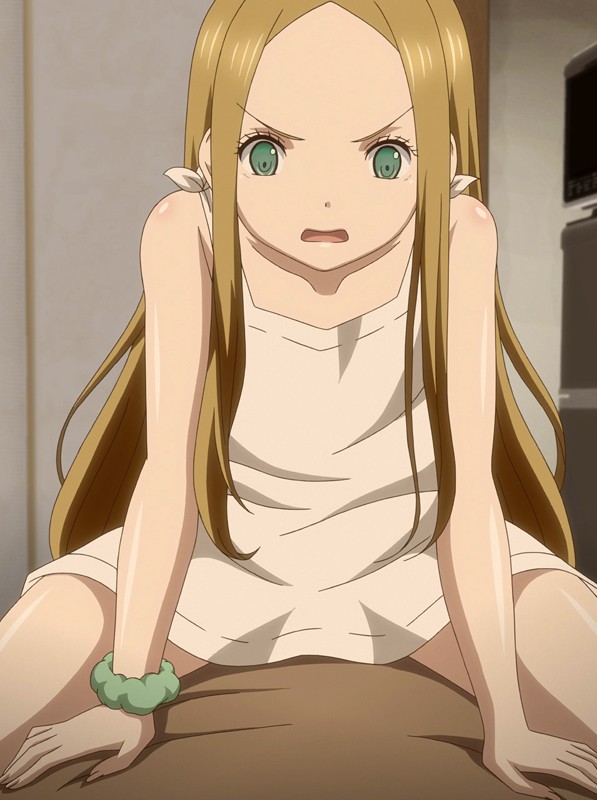 Episodes: 4+
Aired: September 2018 - Ongoing
Tiny Evil is a collection of short stories of mischievous girls having their way with hapless virgin men who haven't seen a pussy in their lives. Tiny Evil episodes 1-2 came out in 2018 and it tells the story of Takeshi, a pathetic and suicidal man who successfully summons a young succubus named Miyu and asks the inexperienced demon to end his existence by sucking away his lifeforce.
The Succubus Miyu arc is a very nice introduction of what to expect in Tiny Evil. At first, Tiny Evil is trying to be the next Toshi Densetsu Series by featuring a loli character based on popular urban legends or tales, but once you're past the first two story arcs, Tiny Evil will be its own different show with devilishly malicious loli characters who dominate their male partners in ways that are surprisingly hardcore and cater to a specific type of audience. Unfortunately, this is just a prelude of what's to come because it's not fully confirmed that animation studio Majin will adapt the rest of the series to hentai.
---
2. Youkoso! Sukebe Elf no Mori e

Episodes: 2+
Aired: February 2018-Ongoing
After meeting a strange-looking loli on the streets, Yuuichi was suddenly transported to Alfheim, a magical world of female elves. The all-female elves are facing extinction, and in order to save their race, they need to have babies. Yuuichi is the prophesied Messiah who will impregnate every elf to make sure the elven race will continue to thrive for the next generation. Procreation is the foundation of a civilization so start making elf babies, Yuuichi-kun!
Youkoso! Sukebe Elf no Mori e and Elf no Oshiego to Sensei were the only hentai titles featuring elves that premiered in 2018, and while these titles are great in their own right, we ended up adding Youkoso! Sukebe Elf no Mori e in the Top 10 Best Hentai Anime of 2018 list because the show has dark elves. DARK-FREAKING-ELVES! Why dark elves make everyone reach puberty faster than getting an erection is a mystery, and, for now, we can only but speculate. Maybe dark elves represent the sexual appeal of Gyaru culture, or maybe the appeal comes from the exotic nature of dark elves? In anime, they are seen as a secluded and tribalistic race compared to the high elves who are a dime in a dozen and often coexist with humans. Dark elves are oblivious to the culture outside theirs and due to their exotic appearance, they're easy to exploit and they're desirable objects of horny rich nobles and royalty.
If you don't give a shit about that and you're more concerned about the quality of the fuckings and the sexings, then worry not because 90% of the show is dedicated to our hero Yuuichi pumping his love juice to every elven baby factory he can find. Veteran animation studio T-Rex handled the art and animation of Youkoso! Sukebe Elf no Mori e, known for their slightly realistic-looking semen, excessive bodily fluids secretion, and sweaty ladies with puffy vulvas and torpedo-shaped titties. You can't go wrong with this beaut!
---
1. Ore ga Kanojo o *su Wake

Episodes: 4+
Aired: April 2018 - Ongoing
Ryuuji is your typical, generic-looking stud who has possession of an aphrodisiac he once used in his younger days. He gets to use the aphrodisiac once again to rape his niece Rinka partly because Ryuuji is fed up with Rinka's bullshit every time she hangs out in his apartment. Ryuuji's true motive reveals that he hated his brother for taking away the love of his life, and he slowly builds his plan to seek revenge. Rinka is part of his revenge plan because she's a spitting image of her mother and the right girl for Ryuuji to release his pent up sexual frustrations. We think Ryuuji doesn't completely know what the duck test is, but hey, if Rinka looks like her mother, then… you know...
Ore ga Kanojo o *su Wake got a few things right: A plausible 4-episode revenge story that sets the tone while not testing the viewer's patience and beautiful character designs with a well-animated variety of sexual acts and positions. Deepthroat, creampies, double penetration, exhibitionism, humiliation, bondage, threesome, NTR… Yeah, you can tell Ryuuji has been deprived of sex for quite a while. What about our heroine Rinka? Rinka is… well… a fucking hot teenager with good features that are not exaggerated, and she's very desirable thanks to her bitchy attitude—ever wondered why tsundere characters are popular? Now you know. Slap her on the face with a dick and you'd be surprised how quickly Rinka becomes obedient and willing to bend over for some Uncle Meat. Now that's a niece worth having around the house! For doing the chores, obviously!
---
Final Thoughts
Picking which hentai anime is the best is very difficult because the enjoyment of each title ultimately boils down to the quality of the sex scenes. Whether you like rape, drug-induced sex, harem, gangbang, NTR, mind break, etc., the quality of the presentation of the sex scenes is first and foremost the most important. But for picking the very best, we took into consideration how a hentai title does with story, pacing, development, and the quality of the sex scenes. Out of the 10 we've listed, it's a no-brainer that Ore ga Kanojo o *su Wake comes out on top with its great balance of everything.
Of course, everyone has their own preferences and we would like to know what were your favorite hentai titles in 2018. What do you think of our list? Were there any titles you think are better than the ones we've listed? Don't be shy and share your thoughts with us by leaving a comment below.