2016 is now officially in the books. Most people will be looking ahead to the New Year, but before we do that, we would like to take a moment to reminisce about some of the best hentai of the past year. There were dozens of new series that got released. Spanning a variety of genres and coming from established studios and newcomers.
We want to make this clear that "new hentai of 2016" qualifies as new series that started in 2016. Not new episodes that came out from older series. That might explain some notable omissions for some. With this list, we wanted to cover the best of the best and we feel we've captured just that. Without further delay, let's dive into the countdown!
10. JK to Ero Konbini Tenchou

Episodes: 3 as of Jan. 5, 2017
Aired: Feb. 2016 – ?
We're going to start the list off with your prototypical PoRO animation. JK to Ero Konbini Tenchou is about two female students who work part-time at a convenience store called Clover. Throughout their daily tasks, they're harassed by their roguish manager; such acts include, stalking and spying on them with cameras as they change and use the bathroom. One night after the girls leave work, Yui realizes that they left their food in the change room. Shiori offers to go back and grab it. What she doesn't realize is that the manager set her up to look like a thief.
We won't lie, there were quite a few options for our number ten selection. Although many could argue that JK to Ero Konbini Tenchou shouldn't make the list, we thought it did just enough to warrant a spot. For starters, PoRO was able to do something most series didn't do in 2016, release three episodes in less than a year. The two cousins Yui and Shiori don't have a lot to their character but they are fabulous to look at. Finally, the setting is an interesting choice, as most of the scenes take part in the convenience store, either during or after work hours. Episode four can't come fast enough!
---
9. Shoujo kara Shoujo e...

Episodes: 2 as of Jan. 5, 2017
Aired: Feb. 2013 – ?
This next choice on the countdown is based on the erotic manga by Shiomaneki. This hentai features four different stories spread out between two episodes. Each story features a different female and plot. The stories featured in the first episode include a naughty girl and a blogger who have relations while on webcam and an aspiring manga artist that needs sexual experience to perfect her craft. In the second episode, we're treated to an arranged marriage between two longtime friends and a married woman who proposes to have dinner with another guy after breaking something of his.
As one might expect from a hentai that brings us four contrasting stories, it falls short of showcasing a marginally interesting plot. What this anime does well, is it brings together provocative scenarios and some oddly entertaining comedic relief. Comedy is certainly not needed in hentai, but it's a welcomed addition to a smoking hot anime. Episode one brings some solid examples of alluring scenarios, such as a mother interrupting her daughter while the daughter is pleasing her sex partner, during a video chat or the situation with the aspiring manga artist that reminds us of Eroge! H mo Game mo Kaihatsu Zanmai.
---
8. Shoujo Ramune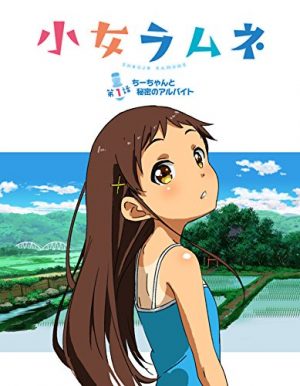 Episodes: 2
Aired: Oct. 2016 – Feb. 2017
Continuing on the countdown we come to the first loli hentai to crack this list of the top hentai from 2016. Kiyoshi had a dream to run his very own candy store. After quitting his job, he was able to accomplish that dream by creating his very own candy shop in the outskirts of Tokyo. During the summer months, a girl named Chie came to his store and was caught stealing some candies. From there, she offered to help work part-time in order to resolve the situation. Kiyoshi accepted her proposal and things drastically changed from there.
If we were just rating the best loli hentai of 2016, this would be our number two pick, hands down. There's a lot to like if you happen to be a fan of loli anime. It introduces three energetic girls who have a love for candy and it's exploited throughout the first episode. This hentai teases the audience early on with sexual suggestions that set the stage for the main course. The art and animation are top notch. We really can't say anything bad about it. Shoujo Ramune is a must watch for any loli fanatic out there.
---
7. Chijoku no Seifuku

Episodes: 2 as of Jan. 5, 2017
Aired: May. 2016 – ?
Chijoku no Seifuku is based on the game by Bishop. It tells a story about an electrician named Yoshimoto. He takes great pride in his work. While he does do an exceptional job, he has a darker side to him that he later reveals to his customers. Unknowingly to his customers, he installs cameras in their rooms or electronics to gain some sort of sadistic pleasure. In addition to visual pleasure, he also uses footage from these customers in order to blackmail them with the intention of turning them into sex slaves.
The main character Yoshimoto has an obsession with turning females into sex slaves. He does this through manipulation and blackmail. His ultimate goal is to get the three girls in this hentai pregnant. Yoshimoto is a sinister character that surrounds himself with absolutely stunning girls. The best part of this hentai is the girls, there's really nothing else to say about it. The vibrant girl's contrast nicely with the overall dark tone to the anime. If you find yourself yearning for beautiful obedient girls, who are ready to be tested physically, you cannot go wrong with Chijoku no Seifuku.
---
6. Imakara Atashi......

Episodes: 2
Aired: Sep. 2016 – Dec. 2016
Yayoi Takatsuki has always had a thing for her older brother, Ryousuke. When Yayoi was younger she reminded her childhood friend that she had aspirations of marrying Ryousuke when they were old enough to do so. Despite its taboo nature, Yayoi and Ryousuke share an incestuous relationship with each other. One day, the two have a sexual encounter at school, unaware that somebody recorded every minute of their ecstasy. Now Yayoi has to deal with the consequences of her actions, as the one who recorded it is about to take charge.
This story is heavy on the NTR side of things. So much so, you would have thought it was made by PoRO or Suzuki Mirano. That's not the case, however. What we love about this hentai is the animation. Yayoi is put through so many sex positions that you will likely lose track of them all, but that's not a bad thing. The varied positions and the eventual breakdown of Yayoi are appealing. Imakara Atashi...... is able to stand out because of its unusual ending for an NTR hentai.
---
5. Dropout

Episodes: 2 as of Jan. 5, 2017
Aired: Feb. 2016 – ?
Coming down to the medial portion of the list, we have the hentai known as Dropout. As you can probably imagine from the title, it does indeed involve a student who drops out of school. In fact, Reika Shichijo was a top class student who suddenly dropped out. Because of her actions, she is now forced into becoming a sex slave to her former classmate Niimi. The idea is that if she helps relieve his sexual tension he will become a better student. Things start to pick up when Reika's ex-boyfriend gets involved, but how will he take it?
Like a lot of hentai, Dropout takes an outlandish direction to their story. Unlike a lot of hentai, however, they are able to capture exactly what's needed to make it work. The premise of this story is so absurd, but the characters really breathe some life into it. The animation is often times over the top, but we feel it's appropriate for its subject matter. Dropout offers fast-paced action with loads of internal shots for emphasis. The attention to detail is fantastic and it has been a fun ride thus far.
---
4. Shoujo-tachi no Sadism The Animation

Episodes: 2 as of Jan. 5, 2017
Aired: Sep. 2016 – ?
Our next pick tries to present a theme of sadism. Although light on that content, it's clear that was the intention. The anime is about four female students who have an unhealthy interest for their teacher. After drugging him with an aphrodisiac, the girls start to tease and take advantage of him. The teacher is brought to humiliation when the girls drop the antidote all over their feet and force him to lick it off. Things take an even darker turn when the girls decide to take turns having him impregnate them.
It's not too often in the world of hentai that the females are made to be the dominant ones. However, in this particular anime, everything gets flipped reversed. The idea of the four seductive girls raping this guy is a rather satisfying scenario. The girl's proportions in this hentai are more realistic than a large portion of hentai out there. It's refreshing to see such variety in characters. Even though sadism could have played a larger role in this anime, it's still effective and a treat to watch.
---
3. Fella Hame Lips

Episodes: 2 as of Jan. 5, 2017
Aired: Oct. 2016 – ?
Fella Hame Lips is the newest series on this list and has already released two episodes as of the writing of this article. The plot to this anime involves a world where technology has advanced to the point of being able to create a sex toy that's indistinguishable from a human woman. The Onahole is what they're called and they come in various shapes and sizes to suit your desires. Shijima Tarou is a lonely college student who sees an ad for the latest model of the Onahole and decides he wants one. This revolutionary purchase is sure to please Shijima.
The slogan for the Onahole campaign in this hentai reads "If you're going to cheat, do it with an Onahole." Right away this gave us the idea that this isn't going to be your prototypical hentai. That commercial set the tone for what was to come. It was clear and thorough. The Onahole's willingness to please Shijima without any dark undertones is stimulating. The fellatio scenes are well detailed and plentiful. It's not easy to hit all the right buttons, but we recommend checking this one out to see what we mean.
---
2. Toshi Densetsu Series

Episodes: Air Date: 3 as of Jan. 5, 2017
Aired: Jan. 2016 – ?
Next up is an already wildly popular hentai produced by Mary Jane. It was featured on a Honey's Anime top 10 list earlier this year. The first episode involves a female student who was raped by her teacher one night after school. She eventually succumbed to her injuries and died during the act. She returns to the school as a ghost and meets a lovely teacher. In order to transcend into heaven, she needs to seek out his help in more ways than one…
Toshi Densetsu Series was ranked our number one loli hentai earlier this year and with good reason. Since its release one year ago, it has already made a strong impression on the masses. It starts out as a loli hentai in the first episode. Then in the second episode, it almost lends itself outside of the loli label. Sure enough, the third episode brings something different to the table, in form of a shota hentai. It will be interesting to see what the fourth episode has in store for us! Either way, quality is expected from this series.
---
1. Baka na Imouto wo Rikou ni Suru no wa Ore no xx dake na Ken ni Tsuite

Episodes: 4
Aired: Apr. 2016 – Jul. 2016
After a lot of consideration we are proud to give the number one hentai series of 2016 to Baka na Imouto wo Rikou ni Suru no wa Ore no xx dake na Ken ni Tsuite. The story revolves around a lonely university student who's always had an unhealthy appreciation for his younger sister, Hana. In fact, he moved away from her in order to make sure he didn't give into his feelings. Years later, he has Hana visit with him for the duration of the summer break. This is where they both start to discover new pleasures.
There are several reasons why this was our number one pick. Firstly, because it comes from one of the top hentai studios, Collaboration Works. The next reason is because they were able to release four quality episodes in a span of four months. That's nearly unheard of in the hentai community. The h-scenes are littered with cosplay, the art and animation are extremely detailed and there are enough kinks and fetishes to keep you pleased for more than several viewings. This is why we believe that Baka na Imouto wo Rikou ni Suru no wa Ore no xx dake na Ken ni Tsuite is the top anime series of 2016.
---
Final Thoughts
That concludes our look back at some of the best hentai series from 2016. 2016 definitely had some memorable hentai. It will be interesting to see how 2017 fairs.
With that being said, it's that time again, where we want to hear from you. What did you think of this list? Did we capture the essence of hentai this past year? Let us know in the comments section below!
---