Tits, boobies, breasts, tibbies… there are many increasingly creative names for one of the most favored parts of the human body. Arguably the most definitive symbol of femininity, tits are not just bags of fun, they hold the dreams of boob-enthusiasts inside them! Joking aside, the size and shape of a character's breasts often helps reveal what sort of personality traits she might have in hentai anime. Women with big tits are often overtly sexual and are less shy about experimenting. Women with tiny tibbies are more likely to be sexually reserved. (This differs in ecchi anime where big boobs often signify a clumsy, air-head type and small boobs reflect a somewhat stand-offish or insecure personality.)
While we believe all breasts are a gift, in this article we will be focusing on the BIGGEST in hentai anime. This is for when you're tired of the jokes in ecchi where a girl cant fit through a small space or she knocks things over due to her giant rack… the hinting without the delivery!! Never fear, for we have provided a list of bountiful chest-pillows that will leave nothing to your imagination.
10. Matsuri from Tropical Kiss

Episodes: 3
Aired: Oct. 2012 – March 2014
Kaito believes that the only way he can be a real man is to set out from his comfort zone and go live life! He starts working at a resort, thinking it's the perfect place for him. Yet things change when all of his past loves reappear! Everyone is vying for his affections, and that may make it hard for Kaito to focus more on himself than the hot girls surrounding him!
Matsuri-chan is adorable, and her large breasts are both sexy and endearing! With boobs so big, sometimes people can't help but grope them. If you're one for the 'oops I meant to hold you back but I grabbed your boob' gag, Matsuri delivers! Once she gets over her initial embarrassment, she enjoys sex so much she's quite eager to strip and have her melons fondled, which viewers will appreciate!
---
9. Celestine from Kuroinu: Kedakaki Seijo wa Hakudaku ni Somaru

Episodes: 4
Aired: an. 2012 – Jan. 2014
The land of Eostia is riddled with war between the dark elves and humans. With the help of the vicious orc race, human women are targeted and raped. When humans enlist the help of mercenaries, these sell-swords band together and decide to enslave both races, using the orcs to defile the dark elves they once called masters. The swell-swords and orcs desecrate the proud warriors to break them and mold them to their will, and only a band of brave princesses stands to fight back against evil!
Celestine is a goddess reborn as a high elf, and has fitting fun-sacks for a woman of her status. Unlike other contenders that try to keep their boobies under wraps, Celestine overtly displays her kyonyuu (big boob) status. She's actually a rather modest girl and doesn't reveal her tits so easily, until she's lost in pleasure! At that point she will endure any shame if it arouses her more.
---
8. Rei from Mankitsu Happening

Episodes: 4
Aired: March 2015 – Aug. 2015
Keiichi is hopeful that his newest job at a manga café will be a peaceful one without the complications of his previous jobs. To his shame, he has ended up sleeping with every female coworker he's ever had! Because of this, he can't stay at the same place for long, so he is terribly disheartened when he finds his new coworkers are cute girls! Sure enough, his curse follows him and he ends up in strange circumstances where he can't help but screw his coworkers! Complicated days are ahead for our reluctant friend.
Rei is an absolute beauty and possesses some massive mammaries. She is a huge fan of Keiichi's 'problem' and has no qualms about sharing him. She'll show off her tits to onlookers if it means she's getting some quality time with Keiichi's powerful package. She loves having her breasts squeezed and the sensation of her milk being forced out turns her on like no one's business. If you're into lactating tiddies, you'll enjoy Rei's!
---
7. Kei from Nee Summer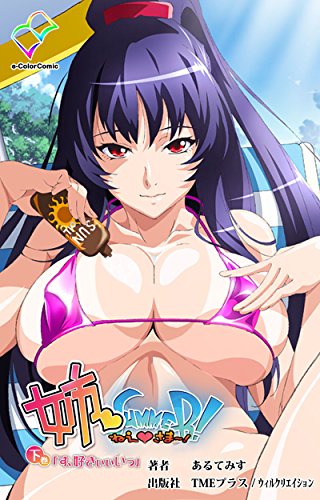 Episodes: 2
Aired: Dec. 2011 – April 2012
Kei and Yuuta are cousins, though they are so close Yuuta refers to her as Kei-nee (older sister Kei). They are so close that she has Yuuta stay with her so she can tutor him for his college entrance exam. So close that… they end up having sex! Yuuta's life is at a crossroads and his summer just got a whole lot more confusing.
Kei's tits are tantalizing treasures that are out and about a lot thanks to her and her cousin's high sex drives. With the many positions she ends up in, you get to see her boobs from so many angles. They seem to spill out of Yuuta's hands as he tries in vain to contain them. While being blatant indicators of her sexuality, her breasts house a fierce heart loyal to Yuuta.
---
6. Mio from Baku Ane: Otouto Shibocchau zo! The Animation

Episodes: 1
Aired: Aug. 2014
When Ryou is forced to return home for physical therapy after a soccer injury, he's looking forward to relaxing and being cared for by his four older sisters. All hell breaks loose when they find little sister hentai manga and DVDs in his bag. Refusing to believe any other reason aside from their brother being a lolicon, the sisters take it upon themselves to rehabilitate him. What better way to stop unnatural perversions for young girls than showing him the full joys of kyonyuu!!
While not the only large pair of huge boobs in the family, Mio's are the stars of the show. She's very adept at using them to rub her younger brother's back which allows the audience to see oppai (big boobs) used in a sexually stimulating way that doesn't involve just hands or penises. While worried about her inexperience, her resolve to save her brother brings her to bare all! There's a lot of detailed and excessive movement in this hentai so it will be hard to take your eyes off her tits!
---
5. Kyouko from Kyonyuu Hitozuma Onna Kyoushi Saimin

Episodes: 2
Aired: Jan. 2016 – Feb. 2016
In a school where teacher evaluations are based solely on the academic scores of their students, the pressure is high to get the best grades possible. Morishita worked hard to overcome his troubled home life and get good grades. His teacher Miwa provides him comfort and support, but when she announces her engagement to her fiancé, Morishita feels devastated. When the Hypnosis App appears on his phone, he realizes he may be able to get closer to Miwa than he ever thought.
Kyouko is not the main focus of Morishita's affections, but despite her cold nature, she has a smoking hot body. Her giant jugs command attention and respect. That is until she's under Morishita's control and he can grab those boobies as much as he likes. The high definition of the animation of her spinning tits is hypnotizing itself!
---
4. Erina Houjou from Energy Kyouka!!

Episodes: Unknown
Aired: April 2016 - ongoing
Highschool girl Kyouka doesn't know how she's going to have enough money to pay her bills for the month. Deciding that charging some virgin boys to use her body once will be enough to get her through this rough time, she agrees happily to sell herself. Unfortunately for her, the student council president threatens Kyouka that if she doesn't do as Reona says, she'll have Kyouka expelled. Reona brings Kyouka to her mother's high class gentleman's club and at first Kyouka is horrified. After learning how much money she'll be making however, any shred of hesitation is gone and she's ready to firmly grasp this opportunity!
While not the star of the show, Erina Houjou, Reona's mother, has the largest lady lumps of anyone in the anime. As the owner of the gentleman's club, it's fitting she should have the biggest and best boobies as a sign of her authority. Her nipples are pretty big as well which is different from many of our previously mentioned tatas. Lady Erina's tits are a treat and you'll get to see more of them in episode 2!
---
3. Akira-Sensei from Saimin Class

Episodes: Unknown
Aired: Dec. 2016 - Ongoing
Daichi goes to a school where some pretty strange things take place. Masturbation breaks, sexual calisthenics, and full-body checks occur with only minimal questioning! Some of the students argue weakly against it but quickly lose their will, turned on by being watched by their fellow classmates. There is an unknown power at play here, but it seems no one has the motivation to stop it!
Health teacher Akira-Sensei takes her students' health seriously when she proposes the class takes a break from their studies since her students have started to lose focus. Her solution is to have everyone masturbate! As soon as she whips out her voluptuous bosom, she's certainly got the attention of the class again. As soon as the tight shackle of her blouse is removed, her tits spill out. Bouncing with every stroke as she touches herself, Akira-Sensei's boobs hold their own even amongst her well-endowed students. She graciously shows them off to her adoring audience and encourages the other girls to do the same. Hopefully in later episodes she'll be just as visible!
---
2. Anna from Okusama wa Moto Yariman

Episodes: 2
Aired: Feb. 2014 – Nov. 2015
Yuuto is a hardworking young man who, thanks to his three beautiful neighbors, is feeling at ease living alone. He tries to help these lonesome housewives with various chores, for which they are grateful. One night, Megumi, Anna, and Mako decide to celebrate Yuuto's birthday and Megumi and Yuuto share a passionate night together. The others hear Megumi moaning and instead of being outraged at the adultery, they decide to take Yuuto for a ride themselves!
Anna's tits are in good company. Her neighbors also boast bountiful breasts, but Anna scrapes by with the biggest. Her boobs definitely look more natural being free from restrictive clothing, swinging easily when she grinds against her young lover. Even two hands aren't enough to cover just one tit! She certainly loves being fondled and played with after being ignored by her husband. Just how anyone could leave those knockers alone is beyond our comprehension.
---
1. Roxanne from Kyonyuu Fantasy

Episodes: 2
Aired: May 2012 – July 2012
Ryuuto is banished to a far off town as punishment for being the knight with the lowest marks. Despite his poor skills, he is a man of endless optimism and luck. When he is attacked by a succubus that has been killing men in the village, he not only survives but manages to endear himself to her with his amazing sexual prowess! With her help, Ryuuto journeys across the kingdom aiding the many beautiful women he encounters.
Roxanne is the shining epitome of the kyonyuu fantasy. Her mighty mammaries catch everyone's eyes as if her beauty wasn't enough. She begs Ryuuto to relieve her from her sore breasts and massage them till they're better, but we can't blame her when she's carrying those bountiful breasts on horseback for miles. Fulfilling many fetishes, Roxanne's tits provide a milk shower before engaging in paizuri (boob sex).
---
Final Thoughts
So many glorious, towering tits in hentai anime to fawn over! Hopefully this top ten list will satisfy you guys for now! As a special note, if you're wanting to go even bigger but don't mind a lack of actual sexual use of tits, Queen's Blade has a lot to offer. While all boobs are precious, big tits hold their own special appeal not found with smaller ones. If lactating and paizuri are important to you, raise your hand! (Only one, we know the other one is busy.)
---