If you're looking for something to spice up your night, then adding in some bondage to your hentai is a safe bet. Bondage hentai often incorporates more hardcore sex, along with interesting themes. From just hand restraints to full bodysuits, we have found hentai with a wide diversity of bondage. If you're looking for something a little bit different than a vanilla love scene, then check out our list of the top 10 bondage hentai anime below.
10. Kuroinu: Kedakaki Seijo wa Hakudaku ni Somaru

Episodes: 6
Aired: January 27, 2012 - December 28, 2018
Kuroinu is a fantasy hentai that is based in a country where women are at the mercy of men. In the show, the action starts with the former queen of the dark elves being ravaged by the country's new owners. The hentai jumps between plenty of gorgeous women you're sure to fall in love with.
The bondage starts almost immediately as the queen of the dog elves is held captive by a group of orcs. Discordia is forced to take in the new human king's huge dick as the orcs lick on her nipples. After the king has finished, the orcs move on to holding back Discordias arms for a long gangbang session full of creampies.
Later episodes show the hands of a young blonde being bound above her while she gives a blowjob. Along with this, the show has plenty of gangbangs and facials to get yourself off to.
---
9. Sakuramiya Shimai no Netorare Kiroku

Episodes: 2
Aired: June 21, 2019
Sakuramiya revolves around two step sisters who have fallen in love with each other. Sadly, the photography club unearthed their secret romance and is now making obscene demands to keep their secret hidden.
In the very first episodes, the sisters are shown bound next to each other in leotards. The leotards are cut out to show the sisters privates, and a clothespin is put on their nipples for added stimulation. The men begin to tease the sisters by stuffing their pussies with ping pong balls and attaching stings between their vaginas.
Before long, the episodes develop into full-on sex with BDSM, where the sisters are pounded into side by side.
---
8. Tsuma Netori: Ryoujoku Rinn

Episodes: 1
Aired: March 16, 2018
After transferring to a new school, the P.E. teacher is caught snooping around the school at night. This leads to her being bound and pounded by another member of the staff. Sunohara soon learns the joys of bondage in this hentai.
From the very first sex scene, Sunohara is suspended and bound by ropes while having her ass licked. After being teased properly, her capture lower her to the ground to begin rubbing his dick against her wet pussy. The pair continue to have sex throughout the show until the finale at the end.
Sunohara breaks down at the hentai ends and ends up in a sex auction with body enhancements like nipple piercings.
---
7. Do S na Seitokaichou-sama ga M Note ni Shihai Saremashita.

Episodes: 4
Aired: January 26, 2018 - September 28, 2018
Do S na Seitokaichou is about a girl named Maina who is really into teasing her classmate. Maina starts off by giving the unsuspecting boy a footjob with her boot but eventually finds herself falling under her spell and getting into bondage.
In the first bondage scene, Maina is tied up and then bent over doggy style. Her classmate then proceeds to smack her ass over and over again while taking in view of her wet pussy. Before long, she even loses her virginity to his massive cock and learns the joys of sex for the first time in her life.
Throughout the next four episodes, the couple gets more adventurous and even start having sex in public places.
---
6. Drop Out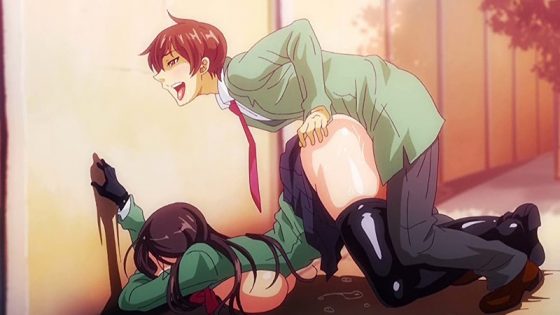 Episodes: 2
Aired: February 26, 2016 - March 25, 2016
Drop Out, like the name suggests, revolves around young girls who have decided to drop out of school. When you become a drop out in this version of history, though, you are assigned to other students to help them relieve their sexual stress.
If you're into latex, then Drop Out will please your senses with the hot young girls wearing revealing outfits. From blowjobs to choking and even a scene of double penetration by dildos, this hentai has it all.
The last episode even has one of the girls crawling around with dog ears while one a leash. If you love hardcore, but still slightly realistic hentai then this one is for you.
---
5. Wanna. SpartanSex Spermax!!!

Episodes: 2
Aired: February 22, 2013 - September 27, 2013
Nagisa has transferred schools to find out who was bullying her cousin. As most things in hentai go though, Nagisa ends up having sex with the bullies instead of teaching them a lesson. Nagisa even ends up giving her first kiss to these men.
Nagisa's first sex scenes has her with her hands tied above her head while her tits are played with. Soon enough, the men work their way down her body and begin to finger her pussy before plunging in with their dicks.
Nagisa slowly begins to like the sex and by the second episode, finds herself dressing up in a bunny outfit. Before long Nagisa even finds herself having sex with the man she loves.
---
4. Maki-chan to Nau.

Episodes: 4
Aired: February 24, 2012 - December 26, 2014
Maki-chan is a hentai that starts out softer and works its way up to bondage scenes. Before you get to the bondage, though, you get plenty of four play and interesting sex scenes to get you excited.
The bondage starts in episode three when one of the girls is bound and then put on a sawhorse. She is also whipped beforehand and is extra sensitive when the main character begins to play with her tits. The scene even devolves into some candle play with hot wax being poured all over the woman's body. By the end of the scene, the man his ramming his cock inside of her ass while a vibrator pleasures her pussy.
---
3. Tsuma Netori: Ikumi to Shizuka

Episodes: 1
Aired: December 28, 2018
Ikumi to Shizuka is season two of Tsuma Netori and contains some great bondage scenes. Ikumi has started to get used to her life as a sex slave and enjoy sex. Thanks to this, she finds herself in many daunting positions.
The sex scenes start with Izumi in spandex on stage as her tits are being fondled in front of a crowd. Her husband arrives at the show and is shocked to see his wife sucking the cocks of random strangers with her nipples pierced. Before long, he even sees her asshole get torn open by another man's dick. Throughout the rest of the show, Izumi is bound up, again and again, to service the men around her.
---
2. Toriko no Shizuku: Natsu no Gouka Kyakusen de Kegasareru Otome-tachi

Episodes: 2
Aired: March 22, 2019
Toriko no Shizuku is a fantasy hentai that is very hardcore in nature. The show focuses on a luxury cruise ship that only lets aboard a special list of VIPs. Unknown to some of the star acts, though, this ship is actually a cover-up for a pleasure cruise.
Mizo is invited to a VIP members room where she is bound and rammed into from behind. Soon enough, other men join in, and she ends up drinking a funnel of semen while the group watches. Across the room, her friend is being played with using items like a wine bottle while being held still by another group of men.
The second episode of Toriko even has a star singer being gangbanged by a group of men.
---
1. Lilitales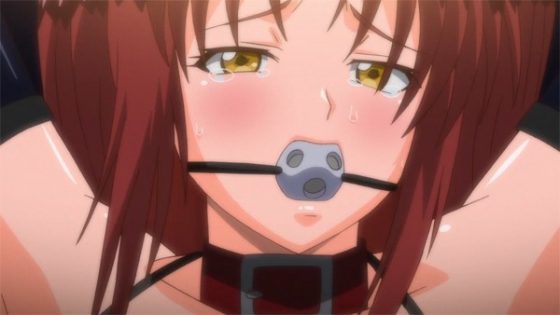 Episodes: 4
Aired: May 18, 2018
Luna is a female knight on a mission to rescue her princess when she sells herself to a trader. In the auction, Luna finds the princess Jill who has lost her virginity, a horde of horny men. Both women soon find themselves in a land of lust and pleasure.
The first bondage scene opens with the Jill strapped to a chair with a ball gag in her mouth. She is being auctioned off as the auctioneer shows a room her virgin pussy. Before long, a man steps up to buy her with his penis out and ready to take her virginity. The man thrusts inside of the princess until he unleashes his load inside of her. Later on, the hentai switches back to Luna, who is chained up and being rammed from behind.
---
If you love hentai with tons of bondage themes, then the titles above are sure to tickle your fancy. From a cruise ship of lust to an innocent couple trying out bondage for the first time, this list is sure to have something for everyone. Be sure to let us know what your favorite bondage hentai are in the comment section below!
by N. Calamity
---