The classic bunny girl is a widely popular erotic fantasy that spans the globe. The most famous example being Hugh Hefner's Playboy Bunny. So it makes perfect sense for bunny girls to show up in hentai anime. Here's a list of ten of our favourites.
10. Bible Black [Episode 1]

Episodes: 6
Aired: July 2001 - June 2003
The bunny girl in this series, Ito, is actually just a regular school girl. Her "bunny ears" are merely a fashion choice formed from a stiffened hair ribbon. Which is what the original Playboy bunnies did to make their "ears". Nevertheless, she still gets up to sexy fun. She is called to the school nurse's office for an "examination" of some kind. The nurse, Kitami, is secretly a witch. She uses her magical abilities to cast a spell on young Ito, driving her wild with carnal desire. After some intense nipple-teasing, she is literally begging the nurse to take her. Being a merciful witch, Kitami obliges and uses her magic to suddenly grow a penis. She thrusts deep into the eager student's now throbbing pussy, satisfying her magically-induced lustful urges.
---
9. Boku to Misaki-sensei

Episodes: 1
Aired: April 2017
It's normal for a lot of young boys to have crushes on their sexy teachers. It's a lot less normal for a very young boy to have wild kinky sex with his teacher! Misaki is a very large-breasted elementary school teacher who finds herself in a passionate sexual relationship with her young student, Yuu Kazama. One day they decide to try full-on kink with Misaki dressed as a sexy bunny girl and Yuu tying up her breasts in intricate knots with a thin rope. The young boy is having a blast, thrusting much more aggressively into his curvaceous teacher. She, on the other hand, is not. The combination of the rope biting into her soft flesh and seeing her usually sweet, caring student behaving this way is too much for her as she starts to cry. Feeling bad, Yuu removes the rope and takes her gently on the bed. Giving those large, soft pillows the care and attention they deserve.
---
8. Namanaka Hyaku Percent!: Katamusubi no Shinpa [Episode 3]

Episodes: 3
Aired: November 2012 - June 2013
In this scene, two sisters compete for the affection of the same guy, Touya. They decide to have a contest of which is the sexiest bunny girl. The older sister, Akane, already has the advantage of larger breasts. So she fills out the classical style bunny outfit very well. The younger sister, Akimi, compensates for her flat chest by showing off her cuteness. She swaps the sheer black stockings for white knee socks instead. The girls appear to have done some sort of research as they sprinkle in various facts about the nature of rabbits and their mating habits. Unable to decide between the two, he slides his hard cock against both sisters' wet pussies, stacked on top of each other. A fitting compromise!
---
7. Tsuma to Mama to Boin (Cantaloupe Collector) [Episode 2]

Episodes: 2
Aired: January 2007 - July 2007
While helping his neighbour move some boxes, Yuuichi accidentally gets to see Mrs. Tsubaki's entire underwear collection! Noticing her bunny outfit, he asks her to try it on for him. Seeing how embarrassed she is, he decides to reassure her by getting out his rock hard cock. The power of the bunny takes over as she is drawn to the large "carrot" in front of her. Hungry bunny rabbit that she is, she practically swallows his cock whole! One of the fun features of the more modern versions of the bunny outfit, is that the gusset is lined with poppers. Allowing much easier access to a bunny girl's rabbit hole! Mrs. Tsubaki takes full advantage of this and unbuttons hers in order to ride Yuuichi's carrot until it squirts again, this time all up her back!
---
6. Wanna. SpartanSex Spermax!!! [Episode 2]

Episodes: 2
Aired: February 2013 - September 2013
After being filmed while the gym teacher raped her, Shiori is blackmailed into having sex with a group of three men. Each guy requests that she wears a different outfit. A school P. E. uniform, naked with just a frilly pink apron on and a bunny girl costume.
The one who chose the bunny outfit goes first. He aggressively grabs Shiori's head and forces her to suck his dick. She begs and pleads for him to stop, but this only makes him hotter. He gently pulls her costume to one side (must be old fashioned, no poppers) and then violently thrusts his thick cock deep inside her. Even as she objects to what's happening to her, her body can't help but react to the pleasurable sensation coursing through her body.
---
5. Bikyaku Seido Kaichou Ai

Episodes: 1
Aired: March 2014
Student council president Ai Ninomiya comes from a wealthy family and is very popular at school. It seems she has it all. Until a boy she treated badly blackmails her into doing sexual favours for him. After being raped and then teased for an entire day with a vibrator inside her, by the time he forces her to dress as a bunny girl Ai actually enjoys discovering this new perverted side of herself. She uses her sheer stockings to give her abuser a silky foot job. Surprising herself, she actually starts to beg him to put his cock inside her pussy. Bending her over, he tears open her stockings and pushes his throbbing dick into her. She orgasms right away, with her student council subordinates watching her from outside.
---
4. Tamashii Insert [Episode 2]

Episodes: July 2017 - October 2017
Aired: July 2017 - October 2017
After downloading a mysterious app to his phone, Naoto suddenly finds himself inhabiting the body of his younger step-sister, Yui! Curiosity getting the better of him, he decides to play with his sister's body. After masturbating in front of a full length mirror, he violates her further with his body. The next day he decides to try out his new power on a classmate of his. Unfortunately for him, when the app activates she happens to be working as a prostitute to pay her tuition fees. So he wakes up, not in her bedroom like he hoped, but instead dressed as a bunny girl with a large dick pounding his pussy! He's horrified at first to be suddenly thrust into this strange situation, but he quickly starts to enjoy the rippling, pleasurable sensation having a cock-filled vagina can bring.
---
3. Aku no Onna Kanbu (Evil Woman Executive) [Episode 2]

Episodes: 2
Aired: November 2011 - March 2012
The bunny girl in this case, Oboro, isn't just wearing a costume. The bunny ears and fluffy tail are actually hers! Under the influence of mind control, she rips open her pink fishnet stockings and opens her legs for the man controlling her. He's been stealing magical abilities from her companions and now he's after her power. After taking her virginity, Oboro is completely under his spell. She is appalled at herself when she starts craving her new master's cock. Even going so far as masturbating while sniffing his clothes. Being a kind master, he gives her what she so desperately craves. Afterwards, he brings in another one of his control victims, Serena. A wolf girl he manipulated into being his personal watchdog. At his command, he sits back and watches as bunny and wolf start playing with each other.
---
2. Fault!! [Episode 3]

Episodes: 3
Aired: November 2009 - May 2011
Shuu, Mio and Ai all belong to the tennis club, on this particularly warm day everyone decides to enjoy the pool to cool off. Shuu's head is turned however, when one of the teachers shows up in a new swimsuit she bought that accentuates her ample bosom.
Having had feelings for Shuu for a long time, Mio and Ai work together to figure out how they can hold Shuu's attention like that. The answer is simple, sexy outfits! Mio goes for a sexy maid apron, while Ai chooses the bunny costume. After being mysteriously summoned to the sports supply closet by the two girls, Shuu quickly finds himself on his back with a sexy bunny girl sitting on top of him! Confused by this strange turn of events, he decides to go along with the kinky fun. It turns out a bunny's pussy in your face can be very difficult to say "no" to.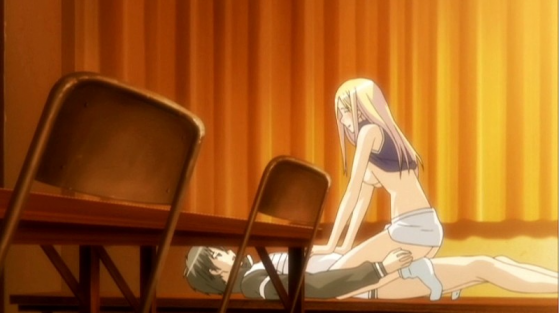 ---
1. Wagaya no Liliana San: The Animation

Episodes: 1
Aired: January 2019
After being found living in an alleyway, Liliana is taken in by a young man named Tatsuya. With nowhere else to go, she ends up happily living with him for a year. One day, while Tatsuya is at work, a parcel arrives containing some sexy outfits. Wanting to show gratitude towards her hospitable companion, she tries on the new clothes for him. Her bunny costume is a much more revealing version. The middle section has been entirely removed, exposing her breasts and stomach. As per Tatsuya's request to "act like a bunny", she literally bounces up and down on his cock. While showing off the power of her thighs, she makes adorable "pyon, pyon" sounds. They continue having sex for hours and hours, truly "doing it like rabbits"!
---
Final Thoughts
There you have it rabbit fans, ten incredibly sexy hentai anime featuring bunny girls. This is one rabbit hole that is extremely fun to get lost in! Let us know in the comments what other kinds of wildlife you like to see girls dressed as.
---