También puedes leer este artículo en:Español
Anime makes you laugh, cry, and horny, but what if you can combine all? An anime that makes you laugh while getting horny and end up crying you couldn't get off because the show is too surreal or funny? Or get an opposite effect: You end up crying at how funny the show is and… still, couldn't get off… Not sure that made sense, to be honest.
Anyway! Funny hentai shows are very common and contrary to popular belief, hentai isn't all about rape, slavery, monsters, and depressing stories. Adding humor to sex is an interesting experience and show that having sex (or in this case watching porn) is a fun activity.
We're going to list down Top 10 Comedy Hentai Anime shows that are funny and as well as titillating. The shows don't need to be pure slapstick, but the shows are made to give the viewers a good chuckle or a good laugh while enjoying the sex scenes. Let's get cracking!
10. Itadaki! Seieki!

Episodes: 1
Aired: March 2014
Is she a succubus or a vampire? Kanzaki is your typical high school hero who received a love letter from a girl with suspiciously pointy ears named Mari and have her meet in the gym tool shed. It turns out Mari wants to suck his blood because she's a vampire, but the problem is Mari is not used to drinking blood. Thankfully she can alternatively drink any fluid that has life energy, so try to guess which bodily she'll end up sucking?
You'll know from the get-go this show is going to be funny because our hero is no idiot and happily pulled his pants down and invited Mari for an energy drink. And the story is basically Mari relying on Kanzaki to provide her with daily nutrients around the school. The story is pretty barebones, but the show has a sense of humor.
---
9. Toshi Densetsu Series

Episodes: Unknown
Aired: January 2016
Admittedly, episode 1 will be hard to swallow at first because the girl died after getting raped by the teacher. Once you're past that, the rest are just fun to watch. Toshi Densetsu or Urban Legends tells the stories of popular urban legends with a kinky twist ranging from a girl haunting the bathroom to haunted VHS tapes.
Toshi Densetsu Series currently has 2 episodes and it's safe to assume that this series will give some a few laughs. Not slapstick kind of laughs, they're more like the funny because the characters are thrown into bizarre situations kind of funny. From a ghost trying to seduce the teacher to a ghost finding new ways to haunt people because VHS tapes are already outdated.
---
8. Love Selection The Animation

Episodes: 2
Aired: 2008-November 2008
An adaptation to one of the popular hentai manga series by Kisaragi Gunma, Love Selection the Animation tells two stories about young people love having sex. Episode 1 is about a group of girls proposing they have sex before their school life ends and episode 2 is about a guy frequenting a restaurant with the girl of his life working there, and the twist is the restaurant has a secret menu involving lust and bodily fluids as the main course.
Arguably the best part of Kisaragi Gunma's style is the very detail fellatio scenes and thankfully this translated well to the anime. Regardless, though, Love Selection is a very tame hentai with lots of sex and without the rape and despair. This hentai has some funny moments like the guy in episode 1 ended up with a harem and the guy in episode 2 got something he didn't expect. Everything is in the spirit of fun, and this can also be considered a good hentai for first timers.
---
7. Nudist Beach ni Shuugakuryokou de!! The Animation

Episodes: Unknown
Aired: May 2016-
School trips are fun activities for the class and let them experience new things outside their boring classrooms. There are trips to historical monuments, museums, etc., but there's one school in particular that sent their class to a nudist beach! Young people with raging hormones in a beach where you all go naked? Oh, man! It's one field trip you'll never forget!
The anime is still ongoing and so far the story is pretty simple with the entire class naked and the guys checking out their crushes without their uniform. But like most hentai stories, Nudist Beach will end up being a harem anime because that one guy with the nerdy glasses happens to have the biggest fishing rod around.
---
6. Darling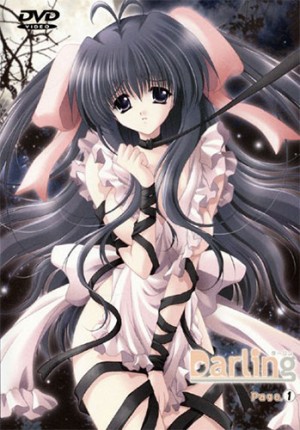 Episodes: 3
Aired: February 2007-June 2007
Kitano Jun is an erotic manga artist who is good at drawing every bit of lewd details of the human anatomy. He is living the dream after he marries his assistant-turned-fiance Miyuki. The day after their honeymoon, the chief editor of a manga publishing company, Sonoko Mifuji, arrived at their home and is given the task to create an anthology manga with a very tight deadline. With the help of his wife Miyuki, Jun will use all of his strength and bodily fluids to meet the deadline. Hyper Erection Mode activated!
Darling is about poking fun on hentai tropes, turning extreme stuff like rape, and tentacles to funny moments through Jun's story-making methods and with the help of his lovely wife Miyuki acting as a model. There's nothing offensive about Darling so you're guaranteed to have a good time watching the anime while laughing in the process.
---
5. Fella Pure: Mitarashi-san Chi no Jijou The Animation

Episodes: 1
Aired: March 2014
Student council president and role model Mitarai Keiko has a problem: She can't stop thinking about a man's wiener! Sometimes she can't control it, she tends to handle any phallic-like objects like handlebars in a suspiciously lewd manner. Thankfully for her, she lets out her urges towards the nearest guy in her immediate vicinity: her younger brother Noboru.
The title of the anime is very self-explanatory and man, chances are you'll have a good time watching the anime or ended up completely dumbstruck at how the siblings go to great lengths to expel their lust with their parents around like putting a hole in the wall so they can, well, do things without needing someone going to the other room. Talk about convenience!
---
4. Alignment You! You! The Animation

Episodes: 2
Aired: February 2008-May 2008
Takahashi is one of the unfortunate girls in the world — she died in an accident after saving her crush Oohara, became a ghost haunting her school and she couldn't return her feelings to the boy she loves after he confessed his feelings post-mortem. As she wanders around the school, she bumps into another ghost named Sakurako, who happens to be the first ghost haunting the school.
The anime tosses Takahashi into bizarre, kinky and funny situations thanks to Sakurako ghost power and do kinky activities ranging from exhibitionism, bondage, tentacles, and borrowing a penis so the girls can, well, you know… Alignment You! You! is a raunchy experience that sometimes you wish there were horny ghosts haunting your school.
---
3. The Rapeman

Episodes: 2
Aired: October 1994
Uh… The title says it all. There is an anti-hero prowling the night for evildoers and he is only known as the Rapeman. He rapes women for GREAT JUSTICE. It's VERY hard to keep a straight face for typing that.
The tone of the anime is on the serious side and the stories involve the hero (Rapeman) accepts a client's request, find and rape the target, and the lives of his victims and clients change for the better. For example, the daughter of a Yakuza boss cares only the looks of men and never considers what's on the inside, mother of daughter calls the Rapeman to rape her daughter in hopes for the daughter to change for the better. It's hard to explain this without watching the anime itself, but good things happen in the end.
The funny part of the anime? THE ENTIRE THING! The anime tries to be serious, but with a premise like that, it's hard to take this seriously. It's Rapeman raping women for GREAT JUSTICE!
---
2. Hatsu Inu

Episodes: 2
Aired: May 2007-July 2007
Who do you like most, me or that vibrator? This is probably the most important question a man has to ask a girl he loves. Well, that's assuming the girl you're asking is Fujino Shion. Our hero Fukuya has ended up dating his class Fujino Shion after one freak moment inside the train. Still, the two are officially couples now, but there's one problem: Shion loves to use the vibrator so much, she hardly takes it off. This worries Fukuya because he thinks he's no better satisfying Shion than a vibrator. Does Shion love Fukuya or is she just addicted to her toy? Will Fukuya convince Shion that he has more battery life than a vibrator? Fujino Shion is a strange kind of woman.
Hatsu Inu is love comedy at best with Fukuya having to deal with the silent Shion and her vibrator. There is a developing relationship between the two and while it's not the best if you compare to non-hentai love comedy hentai, their relationship is just enough for you to care and support the guy. Seriously, it's a story of a guy trying to win over a girl who loves vibrators. The premise alone is worth a few chuckle!
---
1. Eroge! H mo Game mo Kaihatsu Zanmai

Episodes: 6
Aired: August 2011-March 2016
The first erotic game of all-female developer, Flower, didn't sell too well, and with sales tanking, the company is on the brink of shutting down. The problem of the company lies within the crew's inexperience with sex and have zero know-how to excite their target audience. Enter our hero Mochizuki Tomoya, a part-timer hired by the company, and with his experience in playing erotic games, he helps the crew at Flower to develop a game that will appeal to their audience by, well, showing them some inspirations.
You see this hentai a lot with good reasons: It's a hentai series that caters to almost everyone, it has great art and animation, a decent story and lots of sex. Best of all, it's enjoyable and fun. Our hero Tomoya is helping out the company and one of the ways to do that is to basically give the all-female crew some sexual experience. Since every girl has their own sexual preferences, Tomoya fumbles a bit and ended up creating silly situations he wasn't expecting.
---
Final Thoughts
Being "funny" can be anything, really. A seemingly serious show can be comedy gold if the premise is silly enough like the Rapeman, or an entire lewd moment can be absurdly funny because they can't control their lust like Fella Pure or Eroge! H mo Game mo Kaihatsu Zanmai.
This list is more or less a combination of both with moments that will make you laugh, giggle or give you a smirk after one girl decides to borrow a guy's penis and use it like it's her own. But don't take the girl borrowing a guy's tool literally, though… That'd be painful…
If you got any funny hentai shows (intentionally or unintentionally funny), please share it with us by leaving a comment below!
---