Hentai is an already extremely viable source of entertainment. It's arousing and stimulating all in itself. For some people, the act of cosplay makes things even more enticing. Let's use a maid outfit, for example, does the idea of having another female dress up and offer her 'services' to you sound thrilling? If so, you're not alone. This is why we wanted to showcase some of the best cosplay hentai on the market.
What you will see with this list is an erotic feast of various series that cover the best of the best in cosplay. In addition to that, this countdown also exhibits a vast majority of kinks and fetishes that one would come to expect when playing 'dress up.' Now that we've wet your whistle, it's now time for Honey's Anime to present you with our top 10 cosplay hentai.
10. Kimi no Mana wa Rina Witch (Your Magical Name is Rina Witch)

Episodes: 1 (as of Apr. 12)
Aired: Nov. 2016 – ?
Kimi no Mana wa Rina Witch is a unique story that deals with magical girls known as witches. These girls store magic particles called mana within them in order to release it as magic. In order to become stronger, they will need to build up a sufficient amount of mana. However, their only way of building up mana is with the use of male semen. The two witches and their partner are going to have to go through several mana replenishing training courses, otherwise, the team will be disbanded.
Kimi no Mana wa Rina Witch is, in fact, the newest released series to land on this countdown. This is a wonderfully designed hentai by the studio, T-Rex. It should come as no surprise as they've designed some of the top hentai on the market. In terms of cosplay, this series offers a sufficient amount of h-scenes. Both idols/witches, Koyanagi and Alyssa are shown taking in "mana" from other men in fantasy-like situations. The use of sex toys and male domination are also prominent in this anime. If you're drawn to cute idols, this will be sure to please.
---
9. Kanojo ga Nekomimi ni Kigaetara

Episodes: 1
Aired: Jun. 2015
Our next pick on the countdown is a cat cosplay anime titled Kanojo ga Nekomimi ni Kigaetara. The story is about two friends named Shougo and the gorgeous Haruna. The two enjoy playing video games against each other. They decide they want to spice up their friendly competition with a wager. The loser has to do whatever the winner wants. In this case, Shougo becomes the victor and Haruna accepts doing anything that he desires for the day. In preparation for his victory, Shougo purchased clothes for Haruna to try on for him. While in her new outfit, Shougo brings out the video camera to record what's to come.
As mentioned before, the theme for this exceptional piece of work is the cat cosplay. This is the main draw, or appeal if you will. Haruna loses the wager and she is to abide by everything that Shougo says. Naturally, Shougo is going to sexually indulge on his fetishes and one of those fetishes is having Haruna dress provocatively, which includes having her wear a headband with cat ears and an anomalous tail. How Shougo has her equip that tail is something for everyone to view. If you like [forced] exhibitionism and a ton of neko influence, this is the hentai for you.
---
8. Hitozuma Cosplay Kissa 2: Hitozuma LoveLove - Cosplay OVA

Episodes: 2
Aired: Aug. 2007 – Nov. 2007
This story tells a tale about a struggling coffee shop that has begun to receive far fewer customers in recent times because of a newly established amusement park that was built in the vicinity. The plan for the owner of the newly created amusement park is to renovate Sakurako's coffee shop and turn it into a shopping mall. With her business in dire straits, Sakurako has to devise a plan to not only survive but thrive or her coffee shop will be gone for good.
Hitozuma Cosplay Kissa 2: Hitozuma LoveLove - Cosplay OVA is easily the oldest entry on this countdown, but don't let the age fool you into thinking that it's not a solid cosplay hentai. This anime has crammed some glorious cosplay action into the two episodes that were presented. The cosplay oriented h-scenes start with some yuri as the two girls dress in their waitress outfits after hours to have a little fun with each other. Another solid example is when a female dressed in traditional maid garb sexually serves her master. Things pick up in the second episode with six girls partaking in h-scenes while wearing black and red rabbit outfits.
---
7. Nuki Doki! Tenshi to Akuma no Sakusei Battle

Episodes: 2
Aired: May 2013 – Sep. 2013
The battle between angels and demons has reached the pinnacle of their feud. In order to finish this competition, they're going to have to try and win Yamato's heart, by any means necessary. Neither one will be satisfied as the runner-up. This sets off numerous attempts by both angel and demon to sexually satisfy Yamato, in ways that he couldn't even imagine. It's the ultimate race between an angel named Sera and a demon named Firika to see who comes out on top.
Regardless of how you perceive this anime, one thing that should stand out, is its serviceable cosplay h-scenes. As we mentioned before, this series is about a demon and angel who dress very provocatively based on their race. Both these girls are busting out of their respective garb and show more than enough skin to please many anime enthusiasts. One of our favorite scenes from this anime is when Firika dresses up in gym class attire and tries to persuade Yamato with her buxom body in the equipment room. Other cosplays include Sera as a nurse and Firika as a maid.
---
6. Baka na Imouto wo Rikou ni Suru no wa Ore no xx dake na Ken ni Tsuite

Episodes: 4
Aired: Apr. 2016 – Jul. 2016
Our next pick is based on the adult game by Pita Fetish! The story revolves around a lonely university student who's always had an unhealthy appreciation for his younger sister, Hana. In fact, he moved away from her in order to make sure he didn't give into his feelings. Years later, he has Hana visit with him for the duration of the summer break. He quickly realizes that she isn't the sharpest knife in the drawer, and thus they both begin to discover new pleasures between each other.
One of the reasons why this is number six on the countdown is not because of the quality of animation or h-scenes, it's simply because this anime has four episodes and only the last two really explore cosplay. Despite that, the three scenes that are included are fantastic pieces of work. This series showcases some stimulating get up from Hana; that includes an extremely revealing yellow and black cat outfit complete with black paws. That scene is the highlight for us in terms of cosplay. The other notable cosplay scenes are with Hana in a female warrior outfit and a traditional white wedding dress.
---
5. Idol☆Sister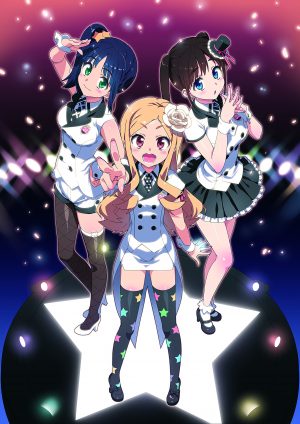 Episodes: 1
Aired: Dec. 2014
This next story involves an idol group by the name of Platinum Kiss. It's a newly established group that consists of three girls, Ayaka Takano, Maki Kamii and Maina Ooizumi. The perverted older brother of Ayaka happens to be their manager. One day before a large event, Ayaka's brother is nowhere to be found and they become increasingly nervous about the situation. After getting busted for peeping on the group, the manager is able to calm their nerves in a way that's satisfactory to all individuals involved. Prior to their performance on stage, they have another performance to take care of.
When we were looking at anime to select for this countdown Idol☆Sister was one that instantly came to mind. It was as if it was made perfectly for the inclusion of this list. A trio of idols known as Platinum Kiss takes part in some friendly fondling with each other. The crowning moment is when the girls are dressed in their idol gear and the manager gets in on the fun. All these girls partake in some arousing situations. We will stress that if there are any fans of stockings on females, this anime will be an erotic overload for you.
---
4. Tsun Tsun Maid wa Ero Ero Desu

Episodes: 2
Aired: Mar. 2013 – May 2013
Eishun has a voluptuous friend named Kiriha Hariyama who he has known since their childhood. While Eishun's mother is out buying girly games, Kiriha is tasked with the duties of becoming Eishun's personal maid. It's not long before Eishun comes to the realization that Kiriha is not your typical maid. Throw in the fact that Kiriha is a tsundere and things quickly escalate. If Eishun thinks that Kiriha is going to bend to his perverted direction, he has another thing coming.
Just like the previous selection, Tsun Tsun Maid wa Ero Ero Desu is also tailor-made for this countdown. This series consists of two episodes that span almost the entirety of the h-scenes focusing on Kiriha sporting a maid outfit. It's an ideal inclusion for any countdown featuring cosplay in hentai. What we love about this hentai is that the first episode explores how dominating the tsundere 'maid' can be towards her friend. Things start to change and in episode two, the dominant one becomes the dominated one. It's a welcomed play as you get to see both sides of the coin from this lovely lady.
---
3. Oni Chichi: Vacation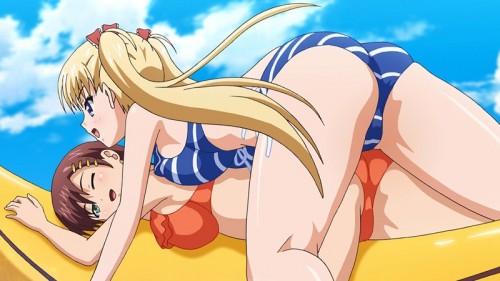 Episodes: 1 (as of Apr. 12)
Aired: Apr. 2016 – ?
In comes Oni Chichi: Vacation, a continuing story about Airi and her deviant stepfather, Kouzou. This time the couple decides to go on vacation during the winter holidays to a secluded school in the countryside. Here, Kouzou hopes to feel the nostalgic memories of his first love that he grew up admiring when he was younger. The pair ends up meeting his long-lost love, Mari. Upon their meeting, she realizes that the father x daughter connection is real. Mari takes it upon herself to spice things up with some cosplay and other tricks.
Our number three selection is a sort of mystery story that involves a gracious amount of cosplay h-scenes. To put things into perspective there are a total of three h-scenes that take place in this anime and the last two involve some scintillating dress up activity. Airi graces the screen with an adorable school girl outfit, complete with glasses that are fitted for her after receiving it from Mari. What makes this unique, is that when Mari returns she looks like an Airi clone; the only difference is that Airi, err Mari is actually wearing Santa getup. This leads to some hot three-way action between them that you don't want to miss.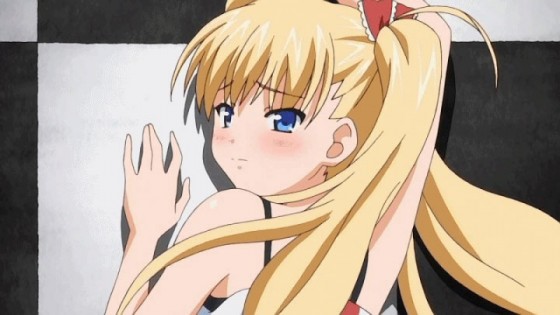 ---
2. Baku Ane: Otouto Shibocchau zo! The Animation

Episodes: 1
Aired: Aug. 2014
The story of Baku Ane: Otouto Shibocchau zo! The Animation takes off after a soccer player named Ryoushirou Hayasaki finds himself on the disabled list after receiving an injury. He's sent home to rehabilitate his contusion. In his parent's absence, his four elder sisters will be there to take care of him, After Noemi finds salacious letters and videos in Ryoushirou's bag they get together for a family meeting to discuss his punishment. Ryoushirou's return home is not exactly going how he envisioned it.
Baku Ane: Otouto Shibocchau zo! The Animation is an extreme case at what we liked when it came to selecting cosplay hentai. This anime does a remarkable job at showcasing the talent in all their glorified costumes. Baku Ane: Otouto Shibocchau zo! The Animation's art-style gives these characters an ample advantage with their over the top breast size. Then you throw in two erotic females who know how to sport their clothes and you're in for a treat. These attires include school uniform, rabbit, cheerleader, police officer and finally a bikini/maid hybrid, which is a bikini with a maid headband.
---
1. Koiito Kinenbi The Animation

Episodes: 2
Aired: Dec. 2012 – Mar. 2013
Koiito Kinenbi The Animation delivers several stories and situations spread out between two episodes. The prominent stories involve the Okunaga family which consists of the younger sister Anna, the eldest sister Kanako and their mother Yurie. Kanako's boyfriend Yuuichi becomes the beneficiary of the family's lust. The other story is about a girl named Aisha who is taking place of Santa Claus delivering presents. While visiting her last house, she slips and falls, suddenly being woken up to a horny male who is taking advantage of her. Furthering the story a year later, Aisha's younger sister Sasha visits and things start to heat up in the cold winter's night.
Ultimately the reasons for us to give Koiito Kinenbi The Animation the nod was because of the overall quality of these supremely stimulating episodes. Koiito Kinenbi The Animation delivers some satisfactory cosplay domination in the drama room in the first episode. A girl, in character, is bound with rope and becomes victim to the lust of her drama partner. Oh did we mention she is dressed as a fox? The highlight comes in the second episode when the two sisters get dressed in suggestive Santa attire and relish in some three-way magic. Seek that scene out!
---
Now that we've reached the conclusion of this countdown, it should be inherently clear that this list is packed full of some of the best cosplay hentai out there. Whether it's fox, idol, nurse, Santa or maid attire, there is something for everybody.
We're now at the point of the article where we would like to hear from you fine folks. What is your favorite series from this countdown? Did we miss some? Heck, after reading this article are there any fetishes that you simply can't resist? Let us know in the comments section below!
As always, stay tuned for more titillating lists from Honey's Anime.
---