Just like with nurse hentai, there was a plethora of doctor hentai to come out during the years spanning from 2000-2010. In fact, so much so, that seven of the ten series that were included on this countdown was released during that time frame.
Hentai that heavily features doctors is very much one of the more popular genres in the last 15 years. One of the most common traits that these series share are deviant doctors. Very few hentai, in general, use a doctor in a lighter tone. They are usually casted as someone who uses their knowledge or authority to take advantage of their patients or staff members. With that in mind, it's time to count down our ten favorite doctor hentai.
10. Shiroki Tenshi-tachi no Rondo (Hardcore Hospital)

Episodes: 2
Aired: Oct. 2002 – Dec. 2002
Shiroki Tenshi-tachi no Rondo takes place in a corrupt hospital, that's led by the devious Dr. Date. Date General Hospital is unlike any other hospital. Dr. Date handpicks a group of special nurses from the hospital staff and they're ordered to go above and beyond to serve their patients. Moreover, Dr. Date utilizes a new sex stamina drug, which has yet to be approved. The patients, the special nurses and even the doctor will feel pleasure like they've never felt before.
Let's us begin with one of the oldest series to be included on this countdown, Shiroki Tenshi-tachi no Rondo. This series mirrors many hentai that predominantly showcases doctors in them; including, toys, experiments, blackmail, initiations, and bondage. The reason that Shiroki Tenshi-tachi no Rondo is our opening pick is that its art and animation are quite dated now and it doesn't thrill us visually, like many of the other inclusions on this countdown. It's definitely worth a watch if you're into the early 2000 series with a more story-centric anime.
---
9. Heisa Byouin (Naughty Nurses)

Episodes: 2
Aired: Dec. 2003 – Mar. 2004
Mayu and Dr. Nimura were once a couple. The two parted ways after Nimura couldn't garner enough courage to have sexual intercourse with Mayu. As time moved on, fate would have them reunite at the Aoshima General Hospital. The two will now be working together despite the uncomfortable nature of things. In addition to their history, the Aoshima General Hospital is home to some of the most lecherous staff imaginable. The staff puts both Mayu and Dr. Nimura to the test, as sexual tension arises.
Heisa Byouin focuses on Mayu and Dr. Nimura, the former couple. The two are subjected to several sexual scenarios. Mayu's job is to keep the patients in the hospital satisfied, while Dr. Nimura gets seduced by the nursing staff. This series gives off an NTR feeling, despite the fact that the main characters aren't actually together anymore. Heisa Byouin is actually one of the more lighthearted series featured on this list, making this an optimal pick for people who aren't into the more twisted hentai.
---
8. Innocent Blue

Episodes: 2
Aired: Nov. 2005 – Aug. 2006
Innocent Blue is about a nurse named Saeki Nozomi, who's taking care of her male cousin who recently became ill and needed medical attention at his local hospital. The married Saeki is not the only family member there to 'assist him', he also has the pleasure of his younger sister Yumi helping out. Yumi is a trainee studying to become a nurse, but she has strong feelings for her brother, which makes things even more heated between the two girls.
Innocent Blue introduces a doctor who takes advantage of a family through shrewd tactics in the workplace. The NTR is packed to the brim in Innocent Blue. The incestuous relations between the cousins is the start, but then the sinister doctor takes advantage of the situation and moves in on both the female cousin and the brother's younger sister. We like this inclusion because it checks off most of what we were looking for on this countdown; nurses, doctors, and patients having sexual relations while inside a hospital.
---
7. Maro no Kanja wa Gatenkei

Episodes: 2
Aired: May 2015 – Jun. 2015
Maro no Kanja wa Gatenkei is based on the adult game by Elf. The story revolves around a perverted doctor who uses his charm to seduce another man's wife. The aforementioned doctor's name is Maro. His patient, the ever busty Sakimi, came to Maro's office to ask him about a small pain she had been receiving. Through his knowledge and expertise, Maro was able to gain Sakimi's trust, to the point of unnecessary groping by the doctor. One day, Sakimi's husband finds out about the sexual conduct and assaults Maro, leaving his hands injured. Sakimi starts to assist Maro since she feels responsible for her husband's actions.
Maro no Kanja wa Gatenkei is another series to feature NTR. Not only does the wife cheat on her husband with the doctor, but she's also seen having group sex with several other individuals. On the visual side of things, Maro no Kanja wa Gatenkei looks rather solid. Its age reflects that, in that it's the most recent release on this list, coming out just a couple years ago. Maro no Kanja wa Gatenkei is a quirky hentai that plays up well, comically. If you can withstand the NTR, this is a fun, albeit strange inclusion.
---
6. Chijoku Shinsatsushitsu (Doctor Shameless)

Episodes: 2
Aired: May 2003 – Sep. 2003
The story of Chijoku Shinsatsushitsu picks up when a struggling hospital is on the brink of closure and the only way the head doctor feels that the hospital can remain afloat is if they try unorthodox approaches. Enter, Dr. Shinji Ishida. The renowned doctor is called upon to save the hospital from financial ruin. Dr. Ishida has made a career out of satisfying all of his patients. His unconventional methods are exactly what this hospital needs to stay alive. It's not long before his patients can't get enough of his sessions.
Doctor Shameless is an appropriate title given to this hentai. The charming and well-mannered Dr. Ishida uses his medical prowess to take advantage of the patients and nurses in the hospital. He's able to gain their trust and then eventually fully convert them into his sex slaves, through vigorous sexual activities. Dr. Ishida even makes house calls as he persuades a mother and daughter to conform to him. That ultimately leads to some NTR elements. Overall, this series is an easy watch and should scratch that doctor itch.
---
5. Tokubetsu Byoutou

Episodes: 2
Aired: Oct. 2007 – Mar. 2008
Tokubetsu Byoutou is about a heinous doctor, Ryouko Makimura, who produces two sexual enhancement pills; one for females and one for males. Ryouko intends on testing these sex pills on her unsuspecting colleagues without any remorse. The doctor knew there would be some side effects, but even she wasn't ready for what was about to transpire between her 'guinea pigs' and her new drug. These unwanted side effects produce body deformation, making these nurses lustful victims of this devious doctor.
The halfway point of this countdown changes things up ever so slightly. In Tokubetsu Byoutou the doctor, or antagonist, in this case, is a female. Most every doctor hentai out there usually involves some maniacal male doctor, but in this case, Ryouko fits the "maniacal doctor" role well. Ryouko takes some drugs that alter her body and from there she shows little remorse for the rest of the staff. Futanari is very much present in Tokubetsu Byoutou, so if you're a fan of that genre, you should enjoy this devious doctor in the hellish hospital.
---
4. Kindan no Byoutou The Animation

Episodes: 2
Aired: Sep. 2012 – Dec. 2012
Kindan no Byoutou The Animation is based on the erotic game by Atelier Kaguya Team Heartbeat. The story tells a tale about a physically appealing doctor who takes on a variety of patients in order to guide them into better health. That all seems standard for most doctors, but Dr. Sousuke is far from your standard doctor. He's incredibly talented, which is exhibited by his treatment of a female who suffers from androphobia. The mysterious Dr. Sousuke charms his way to the hearts of his patients and staff. The doctor's medicine leaves them begging for more.
There are several reasons why we have Kindan no Byoutou The Animation ranked at number four. For starters, the visual aspect of this series is fantastic. The production value is top notch (for a hentai) from Pink Pineapple and it really conveys some quality eroticism. The other strong point about this hentai is that it features consensual h-scenes in the hospital. In the world of doctor and/or nurse hentai, very few of these drive home a feeling of consensual relations. For those reasons and more, we feel Kindan no Byoutou The Animation is a strong candidate as one of the better doctor hentai releases.
---
3. Chu Shite Agechau: Oshikake Oneesan no Seikou Chiryou

Episodes: 2
Aired: Feb. 2013 – Jun. 2013
Chu Shite Agechau: Oshikake Oneesan no Seikou Chiryou's story revolves around a clueless male named Akira, who's unaware of the changes that most go through during puberty. He knows very little about sex, so his older sister Yuu takes it upon herself to personally teach him the ways. Fortunately for Akira, he has more than just his sister willing to teach him. Through various practices, these girls are slowly guiding Akira on how to be a man.
Chu Shite Agechau: Oshikake Oneesan no Seikou Chiryou is another doctor hentai that features a female doctor. The difference between Chu Shite Agechau: Oshikake Oneesan no Seikou Chiryou and our number five pick are that Kimika Tachibana, the doctor, is much more behaved. Dr. Tachibana is not twisted or sadistic, she's very caring and it shows. She seeks to aide Akira any way possible and that includes going to his house for additional assistance. Chu Shite Agechau: Oshikake Oneesan no Seikou Chiryou has fantastic animation and there are numerous girls for entertainment.
---
2. Rensa Byoutou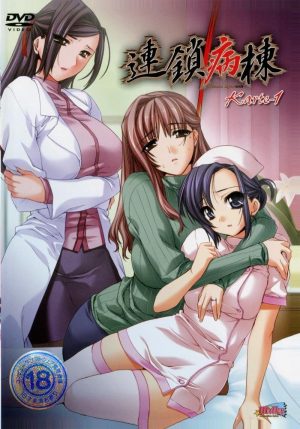 Episodes: 2
Aired: Jun. 2007 – Sep. 2007
Kiyosato Hospital is where Shuji's father passed away during an operation while Shuji was in college. Nearly ten years later, Shuji finishes medical school and is assigned to a familiar place, Kiyosato Hospital, of all places. The memory of his dad dying still haunts him to this very day. Now that Shuji is a doctor at Kiyosato Hospital, he's able to further investigate why exactly his father died. Shuji learns that the doctor that operated on his father is now the assistant director of the hospital and is married to Shuji's former girlfriend, under dubious circumstances. This ignites Shuji to launch a full investigation on Dr. Takao.
Rensa Byoutou focuses on a mystery about a death and Shuji's quest for revenge. In addition to that, Shuji's former girlfriend gets thrown into the fray, and it brings much drama to this series. Rensa Byoutou very much deserves to be ranked at this spot because it's got an interesting story, the visuals stand out (female's eyes) and this hentai also features not one, but two doctors. Both doctors play an integral role in the anime and it wouldn't work without both of them present in the series.
---
1. Yakin Byoutou (Night Shift Nurses)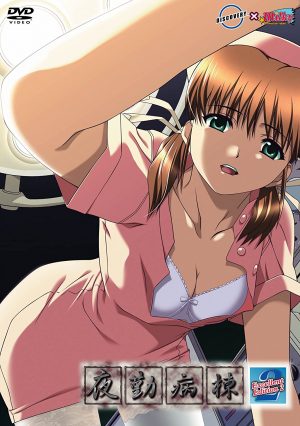 Episodes: 10
Aired: Dec. 2000 – Jan. 2004
Ryuji Hirasaka is a delusional man who was scarred during his university life after he had witnessed a tragedy that involved a mortally wounded female that he tried to save. Fast-forward many years later and Ryuji is now working as a gynecologist at the renowned St. Juliana Hospital. After many years of mental trauma, his delusions start to take over and Ryuji develops a sadistic side to him, leaving all of his co-workers in the crosshairs of some insanely erotic experiments. These nurses will be stripped of their inhibitions and restraint.
Our number one selection should come as no surprise to anyone. Night Shift Nurses is one of the most iconic hentai of all-time. When we think of doctors in the world of hentai, Ryuji Hirasaka easily is the first one that comes to mind. Night Shift Nurses is the lengthiest doctor hentai out there. This series comes packed with 10 episodes and that doesn't even include the sequels and spinoffs. There's really nothing off limits in this hentai. If you're into some of the darker genres in hentai, such as blackmail, torture, experimentation and even murder, this one's for you.
---
Final Thoughts
That will conclude another thrilling hentai countdown here on Honey's Anime. We wanted to bring you folks the best of the best, in regards to hentai that feature doctors. We feel we have accomplished that.
There are bevies of hentai series that showcase doctor interactions as a mainstay. There were a couple tough choices when rounding down to the top ten, but we feel we chose wisely. Do you agree with our list? Let us know down below!