También puedes leer este artículo en:Español
When it comes to this genre, whether it's gangbang or double penetration, there are a couple hentai producers that stand out from the bunch; that being Suzuki Mirano and Pixy. These studios complement each other fabulously, in terms of their contents subject matter. One features mostly human interactions of gangbangs, while the other experiments with beasts and demons. Their common bond is that females in their series tend to get used and abused more so than other content producers in the hentai community.
After we had concluded our Top 10 Gangbang Hentai article, we felt the next logical step for us was to cover hentai heavily featuring double penetration. After all, gangbangs and double penetration go hand in hand and we want to offer as much as we can to our fans. This list that we're about to present to you harkens back to some of those aforementioned hentai producers.
We've gone on long enough; it's now time for Honey's Anime to offer up some of the best double penetration hentai on the market.
10. Dainiji Ura Nyuugakushiken The Animation

Episodes: 1 (as of Jun. 2017)
Air Date: May 2017 – ?
Dainiji Ura Nyuugakushiken The Animation is based on the doujin manga by Migumigu. The story is about an outstanding female student named Youko Shirayuri who gets summoned to the principal's office. Once there she's shown all sorts of candid photos of her "indecent" activities on the school's campus. Shocked at the sight of these photos, Youko is faced with a dilemma. In order for her to remain at this school, she's going to have to bend to the whims of these intolerable teachers and enroll in "other" activities.
We're starting this list off with an anime that was freshly released to the public one month ago, as of the writing of this article. Dainiji Ura Nyuugakushiken The Animation offers up a splendid build-up to the main event. It starts with a seldom seen act of foreplay to ramp up the mood as the teachers use water guns to squirt Youko, who was appropriately wearing a white shirt for full effect. It only got worse for the poor girl, as multiple teachers use several sex toys to prod and penetrate her. Youko was made as an example of and penetrated in the three prime sexual orifices throughout this hentai.
---
9. Taimanin Asagi 3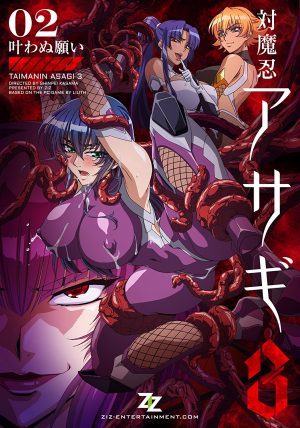 Episodes: 2 (as of Jun. 2017)
Air Date: Dec. 2016 – ?
In the future where evil spirits run rampant in Japan, there are a few humans who stand up to take the fight to these demons. This group of ninjas is known as the "Anti-Demon Shinobis." In Taimanin Asagi 3 the sinister Oboro is at it again plotting her devilish plans to humiliate and end Asagi once and for all. While Asagi is doing business at the Tokyo Kingdom, Oboro springs a trap for the other two ninjas, Sakura and Murasaki. After being deceived by the government, the two ninjas are captured and subjected to torture.
Another new series to grace us on this countdown is the third iteration of the Taimanin Asagi series. The entirety of the Taimanin Asagi series could have been placed on this list, but we felt that this third installment brought a lot in the way of double penetration. The first episode showcases two rope bound ninjas being completely overstimulated by a large group of males. Lactation, urine, and semen were all present during the time that Sakura and Murasaki became their slaves. The second episode featured futa, yuri and tentacle double penetration, making Taimanin Asagi 3 an obvious inclusion.
---
8. Machi Gurumi no Wana: Hakudaku ni Mamireta Shitai

Episodes: 4
Air Date: Feb. 2010 – Sep. 2014
The story takes place in a rather unusual town that services men with female sex slaves. Atsuko Takagi is a caring high school teacher who gets caught up in a whirlwind of sexual activities after one of her student's posts salacious photos of Atsuko in their classroom. In order for things to not get blown out of proportion, Atsuko must do as she is told from a variety of males throughout her school and newly settled town.
The reason we felt like Machi Gurumi no Wana: Hakudaku ni Mamireta Shitai was a solid choice at number eight is because of its coverage of double penetration. Not many series on this countdown showcase three episodes of females taken to their limit from double penetration. In this case, the latter three episodes exhibit various males spit roasting and double teaming three different girls. There's plenty of variety, from doggy style to missionary positions, you won't be disappointed. If you're thirsting for this kind of action, start on episode two and enjoy.
---
7. Mashou no Nie 3

Episodes: 2
Air Date: Jun. 2016 – Dec. 2016
Mashou no Nie 3 is based on the erotic game by Liquid. The story takes place in Austria where Iris and Mireille von Austria rule. Iris and Mireille were deceived by their subordinate, Claus and were overthrown by the remorseless pirate's onslaught. This led to the royalties capture. Claus, or better known as Vanclad, has devious intentions for both the queen and princess. With the combined effort of Vanclad and his partners in crime, Vanclad looks to satisfy his vendetta by punishing and humiliating the royalty.
Mashou no Nie 3 features the work from director Teruaki Murakami whose work is well-known for featuring fast-paced action and plenty of POV shots. The art style is also easy to recognize. With Mashou no Nie 3 he really takes these two girls to their limits with scintillating h-scenes that more often than not, bring a course full of simultaneous penetration. Both Iris and Mireille are bound by rope or boards and forced to take the full brunt of the pirate's lust. If you're attracted to blondes with large blue eyes, this is a must see anime.
---
6. Last Waltz: Hakudaku Mamire no Natsu Gasshuku

Episodes: 2
Air Date: Apr. 2010 – Oct. 2010
During the summer months, several different school clubs stay on an isolated island to go through the rigors of a training camp. Yuki is a female who happens to be a caretaker for the baseball club. All of a sudden a civil war descends upon their country and all the male teachers embark on a mission to see what went wrong. After several days of no contact, the teachers never return, leaving everyone stranded on the island. With minimal food and supplies, everyone starts to lose their self-control.
It was only a matter of time before we got to a Suzuki Mirano release. If you look through the entirety of Suzuki Mirano's catalog you will see loads of gangbang hentai that comes with a plethora of double penetration. Last Waltz: Hakudaku Mamire no Natsu Gasshuku is no exception. This series is ranked appropriately we believe because it brings a ton of variety in terms of characters, both male and female. An assortment of male club members takes advantage of these gorgeous girls, who each offer up something different with regards to appearance and personality. The final scene really demonstrates that.
---
5. Rinkan Biyaku Chuudoku: Nigeba Nashi! 1428-nin no Seito Zenin ni Sex Sareru Reijou Sayaka

Episodes: 2
Air Date: Oct. 2015 – Dec. 2015
Sayaka Akimiya is a gorgeous girl who's adored by many of her peers, in particular, a lecherous guy by the name of Yukio Saitou. He's enamored with her; he always pictured her as a dirty girl to feed his sadistic desires. Yukio even started to stalk her, just to find some justification for her being a whore. One day, it all changed when Yukio received a DVD in the mail. The contents of this DVD were exactly what he imagined Sayaka to be. From that day forward, Yukio was given extra motivation to get involved with Sayaka.
Although this series doesn't offer up much in the way of varied characters, it certainly makes up for it with its constant double and sometimes triple penetration sequences. Sayaka is a nympho that enjoys being filmed. Nothing thrills her more than taking on a large cast of male genitalia, which she does remarkably well. Male genitalia isn't the only things that penetrate her, however, as vibrators and dildos also find its way inside her. Whether it's older men or classmates, there's nothing she won't stoop to in order to quench that sexual desire.
---
4. Kimi no Na wo Yobeba

Episodes: 2
Air Date: Nov. 2008 – Feb. 2009
This next hentai is a sad portrayal of a female who is issued with only a number for her name at her school. "No. 3" is what she is referred to as at a male dominated school. All the other females are tied up and used as sex slaves to further stimulate the males so they will commit fewer crimes. There is one guy in the school named Nakagawa, who feeds her and treats her like a normal human being. It's then that he finds out her real name, Mitsuko.
Kimi no Na wo Yobeba is a sad tale about a school that uses females to alleviate any pressure that guys receive during school. In essence, these girls are used as tools to reduce crimes from these students. What's most interesting about this selection is that it really makes you feel for the characters, particularly Mitsuko. She is mishandled by all, but one male student and is like a lamb to the slaughter. She gets tossed into nearly every position imaginable and suffers tremendous pain from these constant gangbangs. The reason Kimi no Na wo Yobeba makes this list is because darn near every h-scene involves double penetration.
---
3. Wana: Hakudaku Mamire no Houkago

Episodes: 2
Air Date: Feb. 2011 – Apr. 2011
Our number three pick showcases a story about a mysterious suicide. Raika Misaki's brother, Yasuji was so close to graduation with aspirations of becoming a teacher. One fateful night, Yasuji decided to jump from the top floor of the school. Raika naturally has trouble coming to grips with reality and is determined as ever to find out why Yasuji did what he did. Raika transfers to her brother's (all-boy) school with the intention of discovering the truth about her brother's death. Unfortunately for Raika, someone interferes after discovering her true identity.
Wana: Hakudaku Mamire no Houkago was an easy pick to include on a countdown based on double penetration. It wasn't a matter of IF it would be selected, but more, where it would land on this list. Justifiably at number three, because it contains some of the best double penetration h-scenes in hentai. The series sets the tone right from the start with a female getting filled up in numerous orifices. From teachers in bikinis to students in bathing suits and five different girls featured in these gangbangs, it's easily one of the more stimulating additions.
---
2. Rinkan Club

Episodes: 4
Air Date: Apr. 2011 – Jan. 2014
The old town of Rinin has been host to a longstanding dark ceremony for thousands of years. It's enacted in order to appease the guardian deity and to protect the region from crop failures and disease. During the evenings of a new moon and full moon, there has to be a maiden gangbanged in hopes to get her pregnant for the sake of suppressing the Guardian's anger. Many centuries later, the traditions are carried out by the "Gang Rape Club" as many women fall prey to its sinister ritual.
This brings us to our number two pick, Rinkan Club. This anime presents four lengthy episodes of some of the most bizarre, but stimulating h-scenes on this list. Females are being used in rituals to appease the traditionalist from many generations ago. This series is based on a "Gang Rape Club" and whenever there are gangbangs; there is almost surely double penetration involved. What makes this a favorite of ours is that six different females partake in numerous spit roasting activities. There are six females to receive double penetration in this series, which happens to be the most on this countdown; thus making Rinkan Club an ideal choice.
---
1. Helter Skelter: Hakudaku no Mura

Episodes: 4
Air Date: Jan. 2009 – Nov. 2014
Helter Skelter: Hakudaku no Mura tells a tale of Miu and her family of four women who aspire to become well-known celebrities. After her mother, Sayoko lands the family a TV shoot they travel to a remote island in the summer to commence filming. However, it's not long after when they come to the realization that they've been had. It was all a devilish scheme to get them to participate in a festival known as "The Shishigami." There, the girls are unwillingly placed deep in the traditions of the festival.
We felt that our number one double penetration hentai had to cover a variety of favorable sequences and present quality animation. Helter Skelter: Hakudaku no Mura was selected at number one because it fits that criteria. This series features some of the longest episodes on this countdown and a plethora of h-scenes that focus on a central theme, gangbang. Each episode offers up at least two females being double penetrated in various ways; leading up to the entire family of four, taking part in one giant orgy of pleasure. A number of fluids and male genitalia these girls take in is more than enough to stimulate the fans of this genre.
---
Final Thoughts
We've come to the conclusion of this scintillating, lust-driven countdown. After viewing this list, it should come as no surprise that the front runners of double penetration in hentai happen to be the same ones that occupy several spots on our gangbang hentai list.
We're at that point now where we would love to hear some feedback from you fine folks. What did you think of the series that were included in this countdown? Did we supply you with some new content? As always, let us know in the comments section below! Be sure to keep your eyes peeled for a superb hentai content here on Honey's Anime.
---