Sexual exhibitionism often involves someone who is aroused by doing something indecent or taboo in public. Flashing genitals, masturbating outdoors, or sometimes even just the thrill of getting caught while having sex are all forms of exhibitionist behavior. In this list, we look at 10 Hentai anime that show off these tendencies in very sexy ways. Is your body ready? Keep reading!
10. Tinderbox [Episode 1]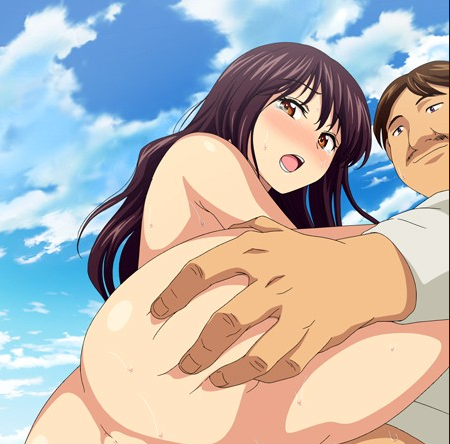 Episodes: 2
Aired: September 2018 - November 2018
Ever since she was young, Amana has loved touching herself in public, so it seemed like the perfect opportunity for her to work part-time as a nude model. After she strips naked and sits down on the prepared mat, the art students start to sketch her. She tries to remain professional, but soon the temptation to start touching herself overtakes her...
With her back to most of the students, she thinks she can get away with a little bit more. She slides her fingers a little further inside herself, hoping the students don't notice what she's doing, until suddenly, a voice whispers in her ear to keep going and don't hold back. Horrified, she looks up to see one of the art students watching her. She begs him not to say anything to the rest of the class, but he doesn't listen. Soon, everyone is asking to see more of her body. Embarrassed and ashamed, she flees the class.
---
9. Muttsuri Dosukebe Tsuyu Gibo Shimai no Honshitsu Minuite Sex Sanmai

Episodes: 1
Aired: June 2018 - July 2018
Model student Anna secretly loves to relieve stress by going to a debauched sex club after school. She and a bunch of other girls regularly get up on stage to have sex with random strangers in front of everyone. One thing she wasn't counting on was her younger step-brother going to that very club and seeing her up on stage!
Afterward, he confronts her in the club hallway. He tells her that if she enjoys having sex with strangers in front of a crowd, then surely she'd be willing to do the same with him in a hallway. She begins to object, but he pins her against the wall and threatens to ruin her perfect reputation by letting everyone know her perverted secret.
---
8. Tsuma ga Kirei ni Natta Wake [Episode 2]

Episodes: 2
Aired: April 2019 - May 2019
During the day, Misako plays the part of a beloved housewife; by night, she's out having an affair with her ex-boyfriend, Hiro. What Misako doesn't know is that Hiro is secretly filming their antics and sending the footage to her husband, Tarou. Not only does he know what she's been up to... he actually gets off on it!
One evening, Misako goes to meet Hiro in the park, but he also texts Tarou the location so he can watch from the bushes. After watching them have fun with a rocking horse, he asks Hiro to make his wife masturbate next. His adulterous wife climbs to the top of the climbing frame and begins touching herself, getting more aroused at how exposed she is.
---
7. Kanojo ga Nekomimi ni Kigaetara

Episodes: 1
Aired: June 2015
After losing a bet with her boyfriend, Haruna is made to wear an embarrassing cat girl outfit. As part of her punishment, she has to go outside dressed this way, all the way down the stairs leading to their apartment. She succeeds in completing the challenge and returns to yell at Shogo for making her do such a thing. Since she did so well, he agrees to make it up to her and starts teasing her pussy and pointing out that she must have enjoyed the thrill of being exposed, given she's much wetter than usual. Enjoying the cat thing a little too much, Shogo pushes his luck and makes Haruna beg and meow for sex. The next evening, Haruna discovers that she actually really enjoyed being outside and she ventures out once again, this time completely naked except for the cat ears and tail. The arousal becomes too much for her as she sits down and begins to play with herself, moaning loudly.
---
6. Fault!! [Episode 2]

Episodes: 2
Aired: April 2019 - May 2019
Ai and Shuichi both belong to the after school Tennis Club. Over time, Ai develops feelings for Shuichi but doesn't have the courage to say anything due to his unusually close relationship with his sister, Mio. On a particularly warm summer afternoon, Shuichi asks Ai to practice with him one on one. Just as they finish up, the heavens open upon them. They hurry to collect all of the tennis balls and take shelter under the bench area of the court. Shuichi can't help but notice the sexy way the rain makes Ai's clothes cling to her body. Passion overtakes them both as they have sex right on the tennis court.
During the summer break, the Tennis Club organizes a training camp. Making the most of the gorgeous scenery, Ai and Shuichi go for a jog together, and they end up in a secluded forest area overlooking the beach. Shuichi admires Ai, her cheeks bright pink from the exercise and her sweat causing her outfit to cling to her large breasts. He can't help but smile at a similar situation! Ai becomes turned on by his gaze and asks to have sex with him, right there in the forest.
---
5. Watashi no Shiranai Mesu no Kao

Episodes: 1
Aired: January 2010
Ichika lived a peaceful life with her husband, until thee day he is sent a disc showing footage of Ichika being raped by her high school classmates. Over time, as she was forced to endure more and more extreme humiliation, she eventually started to enjoy it. Even as she enjoys the gentle lovemaking sessions with her husband, she still craves the feeling of being punished.
She secretly meets up with someone to be her "Master". Dressed in red bondage gear with her breasts and pussy exposed, her Master blindfolds and handcuffs her to a lamp post in the park. She waits patiently for her Master to come and punish her, but he suddenly disappears. Blind and vulnerable, she listens for his approach, but all she hears are ambulance sirens in the distance.
---
4. Zoku Tsuma Netori: Ikumi to Shizuka

Episodes: 1
Aired: December 2018
Shortly after starting her new job as a P. E. Teacher at her sister's school, Ikumi soon finds herself being blackmailed by a senior staff member. In order to protect the reputation of her sister, she must do whatever it takes to satisfy this perverted older man, becoming his sex slave and being forced to do more extreme acts by the school's perverted janitor too.
After being tied up, raped, and humiliated, she eventually becomes the star of a live sex show in a private club. On stage, she performs various sexual acts in front of thirty men. At first, she can only think of enduring this for the sake of her sister, but very quickly she gets into it. She starts to enjoy being the center of attention of all these men lusting after her. She wants as many cocks inside her as she can take, and she enjoys every minute of it.
---
3. Baka na Imouto wo Rikou ni Suru no wa Ore no xx dake na Ken ni Tsuite

Episodes: 2
Aired: February 2019 - March 2019
While her parents are away, Hana starts living with her older brother. Being spoiled all of her life by her parents, she has grown up intellectually stunted, so she very easily falls for her brother's lie that drinking his "milk" will make her smarter. He starts out by tricking her into sucking his dick, which then further escalates into other activities.
After teaching Hana what sex is, they go to the park for the day. With the weather being so hot, Hana's brother treats her to a chocolate ice cream, but shortly after leaving her alone for a few minutes, he returns to find Hana bent over a park bench, panties around her ankles, pushing the ice cream into her pussy out in the open! The reason? She was getting too hot and tried to cool herself down. She begs for her brother's cock, but she doesn't want to take the ice cream out. So her brother decides it's time to advance Hana's education onto anal sex out in public.
---
2. Oide yo! Mizuryuu Kei Land

Episodes: 3
Aired: August 2017
Mai and her friends are on their way to a very special theme park, a place where everyone can have sex with anyone, anywhere to their heart's content. They get to dress as skimpily as possible and frequent, public masturbating is encouraged. The entire park is an exhibitionist's dream, although there are still places for those who prefer something more private. Like the Ferris wheel, where Mai ends up in the same carriage as the cute boy she met on the bus earlier that day. Neither of them is as outgoing as their friends, though, who had started having sex the minute they entered the park.
---
1. Boku Dake no Hentai Kanojo

Episodes: 1
Aired: August 2017
Hina is your typical high school girl, a model student who studies after school with her boyfriend. Yet she has a secret: she likes to go to the local park and do various perverted things. She enjoys reading porn and masturbating, using her phone to take pictures of her vagina, and publicly urinating. It becomes a regular part of her day, until her boyfriend finds out. Luckily, he's completely fine with it. In fact, he even finds it incredibly erotic and wants to help explore this side of her even further. Such an understanding boyfriend!
---
Final Thoughts
There are many forms of exhibitionism. For some people, it's merely the thrill of getting caught, but others take pleasure in the shock value of being seen doing something lewd in public. It all ranges from fairly harmless to outright breaking the law. Let us know in the comments which hentai anime you'd like to see get some exposure next!
---