Facesitting scenes are probably more uncommon than you think when it comes to hentai. Whether it's with multiple females or just one, each of these well-crafted series is sure to delight facesitting fans. While we only covered ten of our favorites, we believe we gave you an excellent list to go by.
Facesitting in hentai is typically dominated by female facesitting and because of that, this list is catered more towards that style than male facesitting. Having said that, we did fit in a couple from the male side of things to at least try and please both sides of the spectrum. Now that you know what you're in for, let us bring you this delicious countdown.
10. Kateikyoushi no Oneesan 2 The Animation: H no Hensachi Agechaimasu

Episodes: 2
Aired: Oct. 2010 – Jan. 2011
It's once again the end of another school year for Touya Sakura. He looks to bask in the glorious weather of the summer. It's not long before his plans take a sharp detour thanks to a familiar group of ladies. In the sweltering heat, Touya is once again graced with the presence of four lovely tutors. Rio, Nagisa, Sara and Amane return to continue their tutoring sessions with Touya. Throughout the summer Touya is tested both mentally and physically as these demanding tutors seem to know what's best for Touya.
Right off the bat we're going to deliver a delightful treat for you facesitting enthusiasts. Kateikyoushi no Oneesan 2 The Animation: H no Hensachi Agechaimasu produces not one, but two facesitting scenes. The first one takes place late into the first episode and it introduces a more educational way of approaching the act. Rio opens up a book and tutors Touya off in the distance, while Sara jumps in on the action and really gives Touya a facial workout. The other facesitting scene is noteworthy for its group sequence where Nagisa and Sara enjoy a ride, while Amane and Rio are present.
---
9. Fault!!

Episodes: 2
Aired: Nov. 2009 – May 2011
This next selection's story involves six characters, five of them are in the tennis club and four of them are female. The main character Shuuichi Sugiyama, ends up injured due to an accident. His partner, Ai Saeki loves him very much and assists him during his recovery. His younger sister Mio, who he practices against on the tennis court, reveals to Shuuichi the she intends on relieving him as best as she can. Ai, to her surprise sees Mio and her brother kissing, which leads to more questions.
While Fault!! doesn't produce the same quantity of facesitting scenes as our previous selection, it outshines it in the quality department. Episode two is where we find the exceptional facesitting scene between Ai, Mio and Shuuichi. It's a fairly lengthy scene with Mio finding her place on top of her step-brother's face, with Ai taking on his lower half. There are two standouts for this scene, the first is the location; it takes place on the tennis court. The second positive is how well-crafted the camera angles are. It really brings out the erotic nature of the situation.
---
8. Oni Chichi 2: Revenge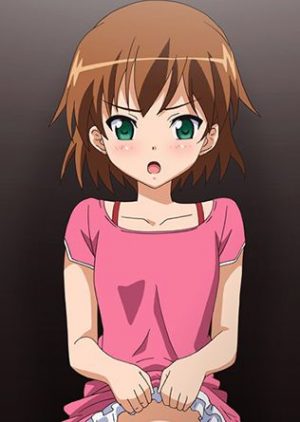 Episodes: 2
Aired: Nov. 2013 – Mar. 2014
Oni Chichi 2: Revenge has no relation to the characters in Oni Chichi. Kenichi, a father of four, discovers that his daughter's school is holding a training camp. Natsume, Akira, and Fuyu are all interested in going, but they need a chaperone. Eager to affiliate himself with that, Kenichi offers to chaperone his three daughters. Needless to say, the girls aren't overly thrilled about this because they know what kind of training regimen he will put them through.
Oni Chichi 2: Revenge's facesitting scene is particularly hot for a number of reasons. Firstly, it takes place in a school gym with Kenichi all wrapped up in essentially a sleeping bag. He's unable to move very much making this already a unique situation for this countdown. Mix in two bikini-clad females who outright dominate Kenichi in their quest for "revenge". Throw in some fantastic visuals and camera work and you got yourself an outstanding facesitting scene that very few hentai present us with.
---
7. Aku no Onna Kanbu (Evil Woman Executive)

Episodes: 2
Aired: Nov. 2013 – Mar. 2014
Aku no Onna Kanbu tells a tale about a prosperous kingdom that has fallen on some hard times. The busty princess Lunatemis is normally the one who gives orders, given that she's royalty. However, the tables turn on this lovely princess and she's subject to much humiliation from her devious servant, Katsuma. He has been plotting to take the throne from Lunatemis for quite some time and in order to do so; he punishes the princess and has her obey his every command thanks to a mind-controlling spell.
For this pick, we're going to focus on episode one. Towards the end of the episode, the predatory Katsuma continues to exploit the princess with his Emblem Steal spell. This time, however, he has a soldier, Kaguya, also involved in the lewd acts. In fact, Kaguya is the driving force behind this facesitting selection. She's squatted down on Katsuma while Lunatemis is occupying his lower half. The two females become competitive with each other, which only fuels the eroticism in this h-scene. The competitive nature and the abundance of close-ups really shine in this hentai.
---
6. Ryou Seibai! Gakuen Bishoujo Seisai Hiroku

Episodes: 2
Aired: Apr. 2013 – Jul. 2013
Kyoichiro fantasizes about his step-sister, Saki. After their parents died, she took good care of him. Saki is a teacher at an academically intensive high school where she becomes a rape victim. Immediately, Kyoichiro launches an investigation to find out who could have done that to his beloved sister. He eventually finds out that the three members of the student council are the ones responsible for that unpleasant act. After meeting Yamiko (posing as a school nurse), they make it their mission to return the favor on the student council.
There seems to be another pattern growing on this countdown. All of the previous entries facesitting scenes take place near the end of their episodes, and Ryou Seibai! Gakuen Bishoujo Seisai Hiroku is no different. The first episode offered us one of the best one-on-one facesitting scenes in hentai. It involves the dominant Yamiko and Kyoichiro doing the deed in the school infirmary. Kyoichiro is tied up and Yamiko proceeds to sit on his face and show superiority. Yamiko is dressed seductively in dark stockings, and her cleavage is ready to burst out of her top. Yamiko's seduction knows no end as she directs and grinds until the end.
---
5. Bakunyuu Oyako

Episodes: 2
Aired: Jun. 2004 – Sep. 2004
The story of Bakunyuu Oyako is an appealing one that follows an intelligent guy by the name of Yusuke. He meets up with a fellow student, Reina and she immediately puts him on the spot, asking him to be her private tutor. Before he could muster a response his libido kicks in and directs him to take Reina under his wing. Once arriving at Reina's house he realizes quickly that it's going to be hard for him to focus on her studies. Yusuke finds himself in a desirable situation and to spice things up, Reina's mother has more than her daughter's studies in mind.
The midway point of this countdown brings us the oldest series to be included on this list, Bakunyuu Oyako. We had the find the perfect balance between quality and quantity for this selection. While Bakunyuu Oyako does present us with the most facesitting action on this countdown, we didn't feel like it presented the best quality either – therein lies our ranking. There are copious amounts of facesitting throughout this series and a lot of it involves all three characters. The yuri sequences are extra exciting and break the mold from the usual female-on-male sitting.
---
4. JK to Ero Konbini Tenchou

Episodes: 6 (as of Jan. 2018)
Aired: Feb. 2016 – ?
This next selection is our second PoRO animation to make the list. JK to Ero Konbini Tenchou is about two female students who work part-time at a convenience store called Clover. Throughout their daily tasks, they're harassed by their roguish manager; such acts include, stalking and spying on them with cameras as they change and use the bathroom. One night after the girls leave work, Yui realizes that they left their food in the change room. Shiori offers to go back and grab it. What she doesn't realize is that the manager set her up to look like a thief.
JK to Ero Konbini Tenchou is the only series on this list that's still ongoing, which means that we have the potential to see even more succulent facesitting action in the future. As for why it's ranked number four on this countdown, it's simple, PoRO gets creative with the two facesitting scenes that are present in JK to Ero Konbini Tenchou. Episodes 4 and 5 feature those standout h-scenes. One takes place in the convenience store while Yui is on the manager's shoulders trying to change a light bulb and the second is a scintillating three-way sequence with all of them on the receiving end of a pleasuring situation.
---
3. Nee, Chanto Shiyou Yo!

Episodes: 5
Aired: Nov. 2005 – Jul. 2007
Nee, Chanto Shiyou Yo! is based on a game by Candy Soft. When Kuuya Hiiragi was a child he was adopted into the vast Hiiragi family. Being the youngest son in the family, Kuuya was sent by his father to stay at a relative's house in fear that his older sisters would spoil him. After his father's untimely passing, Kuuya returns home to check up on his six elderly sisters. In an inconceivable turn of events, his stay at the Hiiragi household turns into a sexual rivalry that involves the entire family.
While we primarily covered female facesitting on this countdown, there are a couple series that do feature male facesitting. Nee, Chanto Shiyou Yo! happens to be one of them. The third episode showcases one of the more pleasing group scenes on this countdown. It takes place in the bathroom with Kuuya and two of his other sisters. Serori is sitting on the edge of the bathtub receiving cunnilingus from Kuuya, who happens to be sitting on Umi's face. If that wasn't stimulating enough, how about later on in that episode where Kuuya begs for Tomoe to plop on top of him so he can bring her to climax.
---
2. Oni Chichi: Rebuild

Episodes: 3
Aired: Dec. 2013 – Dec. 2014
The number two pick goes to Oni Chichi: Rebuild. Rebuild is the fourth OVA in the original Oni Chichi series. In this three episode installment, we have our first look at Kayoko, the mother of Airi and Marina. Kayoko looks to reestablish or "rebuild" if you will, her relationship with her kids and most importantly Kouzou. What she doesn't know is that Kouzou has been having sexual relations with their daughters. In addition to that, Airi has become a little jealous of a new student named Yuka, who Kouzou has grown a fondness for.
In the third episode of Oni Chichi: Rebuild we're witness to one of the better threesomes in all of hentai. Towards the end of the episode, Sana convinces Airi to allow her to join in on the fun with Kouzou. From that, we get a wonderful double fellatio scene, double paizuri scene and it follows that up with a rotation of Airi and Sana receiving pleasure from both Kouzou's face and penis. This anime is remarkably impressive visually, and this scene is a highlight of that. Both girls grind vigorously as Sana records every bit of it.
---
1. Mankitsu Happening

Episodes: 4
Aired: Mar. 2015 – Aug. 2015
After several unsuccessful jobs, Keiichi finally lands a job working under his best friend Rei, who serves as the manager of a manga café. In addition to that, Keiichi also found out that his cute childhood friend Kururu, happens to be a regular customer there. The problem Keiichi is now faced with is the likelihood that he will not be able to restrain himself from the pleasures of being around those lovely females.
Mankitsu Happening really packs some of the most stimulating action of any hentai. It starts with its superb visuals and it continues with its characters, and finally its multiple facesitting scenes. Just like our number three selection, Mankitsu Happening also happens to include a male facesitting scene. It's a hilariously awkward situation that turns spicy really quickly. Basically, Keiichi goes from being sorry to satisfy in a matter of minutes. Episode three finds Keiichi in another comedic mix-up, this time due to a slippery floor. This leads to Kururu planting her lady part on Keiichi. The scene has bouncing, fondling, grinding, fluids, and pantsu. Oh, my!
---
Final Thoughts
That will do it! We're happy to bring you, what we feel is the best facesitting scenes in hentai. While we did primarily focus on female facesitting, there should be enough content in there for you fans of male facesitting as well.
Readers of Honey's Anime, we'd like to hear what you have to say. What are your favorite facesitting scenes in hentai? Would you have ranked this any differently? Give us a shout in the comments section below.