Masturbation is a completely normal thing for people to do; the majority of men do it without any shame, but when it comes to women, it's completely different, more secretive... and ten times sexier!
This list will focus on hentai girls pleasuring themselves or having other people—or toys—do the work for them. Let's dive right into it!
10. Bokura No Sex — Episode 2

Episodes: 2
Aired: November 2016 - January 2017
Bokura No Sex focuses on short stories about older women having sex with young guys. While most of these are about MILF's getting banged, in the second episode, there's one in particular that features an excellent example of female masturbation.
This first scene is also the shortest one on the list, although it's quite a sexy opener nonetheless. It starts with Tomoko shooing away a group of her male friends so that she can be alone, but one of them stays behind and catches Tomoko on her knees, rubbing herself while reading a porn magazine. Like we just said, it's a short scene that serves as a prelude to a sex scene, but Tomoko's embarrassed face and sexy moves definitely deserve a place on this list!
---
9. Yume Kui: Tsurumiku Shiki Game Seisaku — Episode 2

Episodes: 2
Aired: July 2011 - September 2011
For a company that produces hentai anime, it's only natural to get its staff more involved with sex. However, many of the male staff take it a bit too far, forcing the girls in the company to fuck and learn, crossing the line between reality and fiction. In this list, you'll see several anime that include more than one masturbation scene, and this is one of them!
The first one starts off with Kanzaka-san tying up voice actress Akihio-chan, groping and teasing her breasts. His hand travels down between her legs and rubs Akiho through her panties, so she lets out a cute moan despite not really wanting this to happen. Kanzaka uses his tongue for a bit, before fingering her and eventually using a microphone to help make Akiho squirt. The director loves it and encourages them to keep going, but he's not the only one. Outside, Kitahama Kyouko is rubbing and fingering herself too!
---
8. Rasen Sokou no Dystopia

Episodes: 2
Aired: June 2015 – November 2015
This hentai is based on an eroge made by LiLiM, and the story goes as follows: there are three fruits in the world, and if these are ever harvested, it all will be destroyed. As you must have already imagined, these fruits are actually girls, and if they ever get fucked, the world would cease to exist.
The eight masturbation scene on this list features Kou and Itsuki kissing, while Azusa pleasures herself in her bedroom with what looks like a necklace. She's rubbing herself through her panties, and there's a lovely yet brief shot of her butt. As Kou and Itsuki start making love, Azusa picks up the pace and is now groping her breasts, while her other hand is inside of her panties. Her fingers start pushing faster, deep inside of her wet vagina, and it doesn't take too long before she makes herself cum, while thinking about her love for Kou-chan.
---
7. Fault!! — Episode 3

Episodes: 3
Aired: November 2009 – May 2011
Sugiyama, Saeki, and Mio—Sugiyama's stepsister—are all on the tennis team. Summer has finally come, and so, they travel to a secluded camp to practice. But, you know, this is a hentai anime, so the least they will be doing is playing tennis!
Mio finds Sugiyama's porn collection while searching through his room with Saeki. Aroused and confused, Mio rubs herself a bit while looking at the magazines; Saeki, curious, says that's she's starting to feel a bit strange. The girls take off their underwear and lay down on the bed, as watching porn is not enough to learn how to please Sugiyama. They need real practice!
A couple of seconds later, they start rubbing each other's vaginas while talking about their masturbation routine. Of course, the girls get off in an instant, and they even squirt together. Three cheers for our first yuri scene!
---
6. Sotsugyou ** Densha — Episode 2

Episodes: 2
Aired: April 2020 - June 2020
Our Ugly Bastard, who isn't named, admired Naoka Nakashima, who was his teacher back in high school. One day, he finds a woman on the train who looks exactly like Nakashima-sensei. Convinced that she will change jobs soon, he molests the woman on the train, eventually having sex with her.
The protagonist kneels behind the lady and rips her pants off, pulling down her panties and fingering her hard and deep. Although notably wet down there, the woman is not enjoying this and begins to cry. After a flashback scene of the protagonist and his teacher, he finally pulls his wet fingers out of the woman's vagina.
---
5. Joshikousei no Koshitsuki (High School Girls` Waists) — Episode 3

Episodes: 6
Aired: August 2013 – April 2015
Aoi secretly loves and admires her senpai, Futami, who will be transferring to another school very soon. While in the photography room, Futami is joking around with Aoi about modeling for him, just like in his erotic books. Knowing that she'll be lonely when Futami leaves, Aoi agrees to model for him while wearing a sexy cheerleader cosplay.
During the photoshoot, Aoi gets aroused and takes off her clothes. Unexpectedly, she's masturbating in front of her crush, but that doesn't seem to stop her, changing positions before finally lying on her back. Now, her fingers are slipping fast inside of her, which leads to a beautiful orgasm. Futami captures it on camera, before preparing to finally fuck her.
---
4. Shoujo Kyouiku — Episode 2

Episodes: 4
Aired: May 2015 – September 2019
Youichi went through his entire life without having a girlfriend or feeling love from the opposite sex. Upon becoming a teacher and now in his thirties, he finally falls in love with one of his students, Sae Inagaki. She first starts out cooking for Youichi, and that turns into a forbidden love involving lots of sex. However, episode 2 is different, with Youichi going for another one of his students.
In this anime, we have 2 different female masturbation scenes. In one of these, Asami is wearing a swimsuit, and Youichi has her tied up, with several vibrators inside of her vagina. After contemplating it for a moment, he decides to participate, pushing a larger vibrator against Asami's pussy.
While Youichi fingers and kisses Asami, we have a flashback of her sitting in the photography club room, using a vibrator on her vagina, through her wet panties. Even though she does cum, she doesn't stop using the vibrator on herself!
---
3. Oyasumi Sex — Episode 2

Episodes: 2
Aired: October 2018 - May 2019
Noticing his younger sister is too innocent and pure, Akira doesn't want them to stay siblings anymore. Eventually, he realizes that Yui always takes sleeping pills, so he sneaks into her room. Yui is so vulnerable and cute that Akira can't control his thoughts, imagining how it feels to have sex with his own sister...
There's a shorter scene in this episode, but in this entry, we'll be focusing on the solo loli scene. Yui is lying in her bed at nighttime, teasing her own nipples while thinking about not knowing how to act around her older brother, even though she loves him a lot. She ends up stripping off her clothes and starts to rub her clitoris, but things pick up as she begins muttering 'onii-chan' repeatedly, unable to stop as she has an orgasm.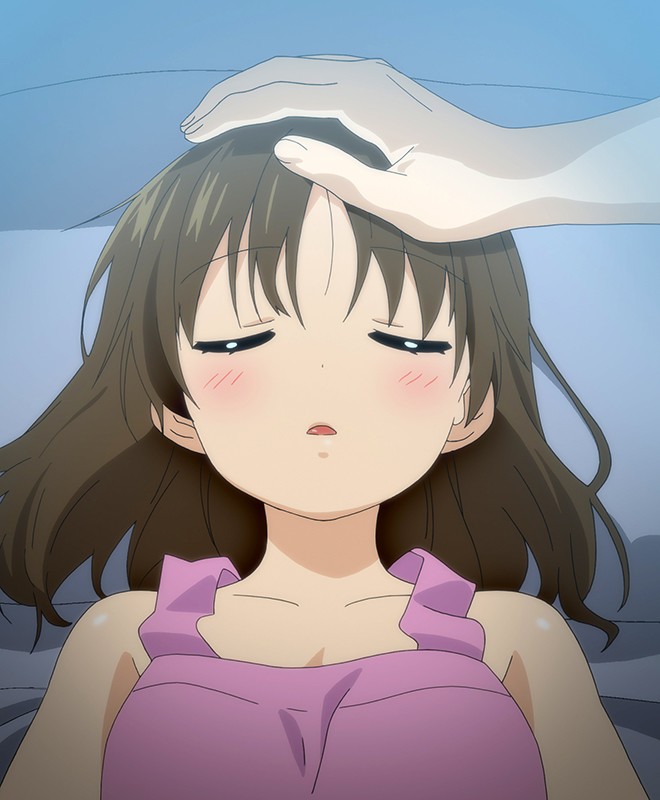 ---
2. Nariyuki Papakatsu Girls!! — Episode 2

Episodes: 2
Aired: February 2018 - June 2018
An older man paid Chihiro and Eri some money so that they would have sex with him, eventually becoming their sugar daddy. He gives them money to fulfill the crazy scenarios that he livestreams to the internet, and the streams garner thousands of views.
Early in this episode, Chihiro is slowly rubbing herself while Eri and their sugar daddy are watching her. Everything is being transmitted, so at first, she's embarrassed about the whole thing. As Chihiro plays with herself, Eri praises and encourages her, but Chihiro can't go on without her sugar daddy's cock inside of her!
The next scene features Eri and Chihiro in space—because their sugar daddy is some sort of millionaire, apparently—as they're being livestreamed while masturbating in zero gravity. Despite being in the same place together, the girls stick to just fingering themselves instead of each other, which is the only disappointing thing in the episode. Eri squirts first, but Chihiro follows immediately afterward. The scene ends with them talking to each other, while their juices float around.
---
1. Anejiru 2: The Animation — Episode 2

Episodes: 4
Aired: December 2006 - February 2011
Yu Shirakawa moves in with his mother after living with his grandparents for ten years. His mother has remarried, and this man has three daughters: Kyoko, Ryoko, and Anzu, who are now Yu's stepsisters. They welcome him into the family and let him stay in their father's study, where he finds a strange jar that will give him a terrible curse unless he collects the love juice of women.
Allow us to introduce you to arguably the best female masturbation scene ever, around seven minutes of pure pleasure! It starts with Kuri, a catgirl, being woken up when she hears some moaning coming from the bathroom. Like any curious cat, she goes to investigate and finds Kyouko sitting on the toilet, rubbing her vagina through her panties while talking about her stepbrother, Yu. The scene progresses to Kyouko's fingers sliding inside her vagina as Anzu gets home, and nearly catches Kuri watching. She hears the moaning and investigates, seeing her sister using a large, green vibrating dildo on her pussy, pretending that it's Yu's penis. Anzu gets wet and starts rubbing herself as she watches her sister go to work with the dildo. This glorious scene ends with Kyouko squirting as the door opens, revealing Anzu standing there, dripping wet.
---
Final Thoughts
Fingering, jilling, klittra, it doesn't matter how you call it; female masturbation is wonderful, and we just listed 10 hentai anime to prove it! But hey, which one is your favorite? If you want to give your thoughts on the list, or maybe recommend us more female masturbation scenes in hentai, the comment section is down below, and we'll be more than happy to read it!
by Yuri Barnes
---