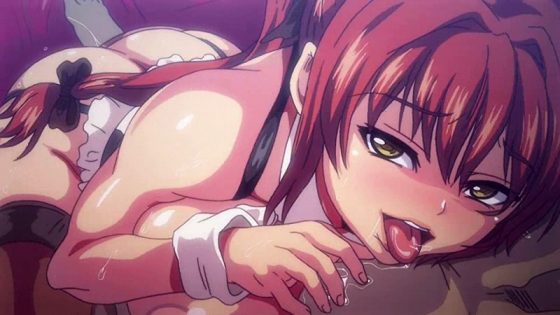 For easily accessible sexual pleasure, there is no greater tool for the job than the hand. Whether it's your own or someone else's, there is much fun to be had with a little bit of probing and exploration. A person's fingers are wonderfully strong and dextrous, perfect for delivering powerful orgasms. In these next ten hentai anime, we'll be able to see what the results of a good finger-blasting can achieve.
10. Chikan no Licence [Episode 2]

Episodes: 2
Aired: November 2012 - January 2013
While investigating the man who assaulted her, Takako hits a dead end when her leads take her to what appears to be the man's grave. Just as she loses hope of ever catching the man in possession of the mysterious "molester's license", he actually appears! He ties her up and takes her back to the train he violated her on.
Now strung up from the ceiling of the train carriage, she can only squeal helplessly as no one on board moves to save her from being whipped by her attacker. The magical license appears to create an aura in the carriage so no one on board thinks anything out of the ordinary is going on.
Suddenly her two younger sisters, also under the molester's thrall, start to touch and lick her all over. Aoi, who is also the train's conductor, gently slides her fingers inside her sibling's pussy. She gradually increases the speed and pressure of her finger movements in response to her sister's moans.
---
9. Taimanin Yukikaze [Episode 2]

Episodes: 3
Aired: November 2013 - January 2016
After infiltrating an evil organisation, Rinko ends up getting caught and brainwashed into becoming a sex slave. Her captor ties her up and demands that she spreads her legs. He gets up close to examine her dripping wet pussy. He softly strokes the outer folds, spreading her open. He uses his fingers to massage her clit a little before sliding them inside her. He aggressively pumps his fingers in and out of her, spraying her juices everywhere. Satisfied that she is sufficiently lubricated, he presents her with his cock.
---
8. Residence [Episode 1]

Episodes: 3
Aired: May 2017 - January 2018
An old, creepy mansion is said to have precious treasure inside. One day a treasure hunter finds the mansion, only to be stopped by a young girl who lives there. However she is no ordinary girl, she uses her magical powers to transform the intruder into a woman. Now taking control of his new female body, she forces him to pleasure himself with his fingers. He lifts his skirt and begins stroking his pussy through his panties. The demonic hostess helps her prisoner along by massaging his breasts and teaching him about the sensitivity of female nipples. Overcome with pleasure, he finds his fingers sliding into himself very easily. Probing his insides with his new girly digits, he cries out as the orgasm ripples through his body. Now exhausted and panting on the floor, he realises that his hostess is not yet done with him.
---
7. Shoujo Sect

Episodes: 3
Aired: July 2008 - November 2008
Chizuru has always been in love with her older sister, Shigure. Everytime she tries to confess her true feelings, her sister just changes the subject. Frustrated, Chizure decides to kick things up a notch. Late at night she enters her sister's room, wearing only her underwear. Shigure goes to tell her to leave when she notices tears streaming down her face. Chizure tells her that she feels pain in her heart because of her passionate love. She places her sister's hand on her breast, Shigure gives in and kisses her sister. Now naked on the bed, the two sisters carefully kiss and caress each other. Chizure lies on her back while her sister pushes her fingers inside of her. She gasps with pleasure and reaches between Shigure's legs to do the same.
---
6. Bible Black Gaiden [Episode 1]

Episodes: 2
Aired: May 2002 - August 2002
When three high school students find a mysterious spellbook, they decide to form an after school magic club. Unfortunately, the class president disapproves of their activities and demands that their little club be shut down. They decide to get some revenge by casting an erotic spell on her best friend, Junko.
During school assembly, Junko walks up to the podium and prepares to give her speech. Suddenly she is overcome with arousal, she strips off her clothes in front of the entire school. Perching herself on top of the podium, she spreads her legs wide and starts stroking at herself. The more everyone stares at her, the more excited she becomes. Her moans echoes throughout the assembly Hall as she moves her fingers faster. The three witches stare at her, shocked that the spell actually worked!
---
5. Kanojo X Kanojo X Kanojo [Episode 3]

Episodes: 3
Aired: December 2009 - May 2011
After Hiroumi moves in with the three Orifushi sisters, he quickly becomes attracted to each of them. The youngest, Mafuyu, treats him very coldly. Yet secretly she is actually quite perverted. She enjoys Hiroumi watching her masturbate, and she likes to punish him by teasing him mercilessly.
One day, she decides to join him while he takes a bath. While rubbing up against him in the water, she can feel his erection pressing into her back. She attempts to commencement with her usual teasing, but he gains the upper hand. He manages to slide his fingers inside her tight pussy. This time he's the one who teases her until she cums, squirting all over the bathroom floor.
---
4. Joshiochi! 2-kai Kara Onnanoko ga… Futtekita?! [Episode 2]

Episodes: 9
Aired: July 2018 - August 2018
After his neighbour comes crashing through the ceiling, Aikawa is stuck spending the night with his sexy landlady. As he lies next to her, the combination of the summer heat and her hot body leads him to temptation. While she sleeps, he takes his opportunity to caress her breasts underneath her cute pajamas. Without waking her, he takes things a step further and gently kisses her while slowly moving his hand lower between her legs. With just a little probing, she subconsciously widens her legs for him. Unable to believe his luck, he pushes his fingers deep inside. Her panties now soaked, she suddenly wakes up!
---
3. Mankitsu Happening

Episodes: 4
Aired: March 2015 - August 2015
Keiichi gets persuaded by his friend to start a new job in a manga café. While he gets to work cleaning the floors, he bumps into an old childhood friend, Kururu. She's grown up a lot more since the last time he saw her. After a brief hello, she heads over to one of the private video booths.
As he continues to clean, he works his way past Kururu's booth. He looks in and sees her masturbating! She lies spread out on the mat, hungrily stroking her pussy. She moans in pleasure while she thinks of Keiichi, surprised to see him all grown up after all these years. Just as she climaxes, she looks up to see him watching her.
---
2. Yubisaki Kara no Honki no Netsujo

Episodes: 8
Aired: July 2019 - September 2019
Working as a firefighter, Soma eventually gets called to his childhood friend, Ryo's apartment building. After rescuing her from the blaze, he realises she no longer has anywhere to live. He offers to let her stay at his place. Over the course of the two of them living together, things start to heat up between them. Although Ryo refuses to acknowledge her true feelings for her friend, she can't help but enjoy it when he touches her.
One evening they attend a summer festival together. Both dressed in their yukatas, they head up the hill to watch the fireworks. Seeing how beautiful she looks in the moonlight, Soma can no longer hold himself back. He kisses her passionately against a tree and caresses her breasts. It doesn't take long before the two of them are spread out on the grass, Soma sliding his fingers in and out of his friend's pussy once again. Unable to resist his touch any longer, Ryo succumbs and they have sex beneath the exploding fireworks.
---
1. Fukai ni Nemuru Oujo no Abaddon

While exploring a creepy mansion, the two girls of the group, Mia and Yachika, find a room to rest in. They decide to take a bath together in order to calm their nerves.
Secretly Yachika has always had feelings for Mia but doesn't know how to express them. Seeing that Mia is horrified by the creepy situation they're in offers to help relax her by giving her a massage.
Using the warm bathwater, Yachika's hands slip and slide easily over Mia's smooth skin. She carefully massages her friend's breasts while slowly moving her hand downwards. Mia resists at first, but enjoys the sensation of Yachika's touch. Gently pushing her fingers inside of Mia, she begins switching up the tempo. Her fingers glide in and out of her easily. She adapts her strokes to her friend's moans, and makes sure to give her clit some loving attention too. Once Mia is close to orgasm, Yachika confesses her true feelings. The horrors of the mansion are seemingly forgotten for now.
---
Final Thoughts
Making good use of nimble fingers is an excellent way of bringing pleasure to yourself and other people. Just make sure to trim those fingernails! Let us know in the comments what other handy techniques you like to see.
---