También puedes leer este artículo en:Español
We here at Honey's Anime have covered a variety of hentai genres in the community. One of the more pushed for genres has been "gangbang". While it's not everybody's cup of tea in this fantasy-based entertainment, it sure has its following. Now, we're here to say that we have this covered for you folks who demanded it.
We want to make sure that everyone is not confusing this list with the best group scenes. While these would technically qualify as group scenes, we're aiming to look at the darker side of things. This means a group of characters sequentially or simultaneously enjoying non-consensual sexual activities with their targets. Now that we have established the criteria, it's time for us to deliver this filthy list.
10. Toriko no Chigiri

Episodes: 2
Air Date: Dec. 2013 – Mar. 2014
At the start of the countdown, we come across a beautiful purple-haired girl by the name of Rio Yakumo. She and her sister Miyu, get thrust into a sticky situation, to say the least. Their grandfather heads a Yakuza group and he suddenly falls ill. During this time another group proposes a potential takeover that could be crippling for many involved. In order for the Yakumo family to thrive, they will need to make a deal with a rival group for their support; however, it's going to cost them a female or two.
As I'm sure you can gather from that synopsis both Miyu and especially Rio are in for a desired-filled physical confrontation. It starts with Rio taking one for her ailing grandfather as the rival group takes their turns breaking in Rio. Miyu, concerned for her sister, finds herself in an equally sticky situation as the rival group has no qualms about having another for their demented pleasure. The reason this made the list is for two reasons, the first is because of the sinister game the group makes the sisters play with them and secondly, due to the uniquely rare gangbang ending.
---
9. Last Waltz: Hakudaku Mamire no Natsu Gasshuku

Episodes: 2
Air Date: Apr. 2010 – Oct. 2010
During the summer months, several different school clubs stay on an isolated island to go through the rigors of a training camp. Yuki is a female who happens to be a caretaker for the baseball club. All of a sudden a civil war descends upon their country and all the male teachers embark on a mission to see what went wrong. After several days of no contact, the teachers never return, leaving everyone stranded on the island. With minimal food and supplies, everyone starts to lose their self-control.
The first act shows a lone female trying to build a rapport with one of the clubs, by offering up her body in exchange for protection. Of course, it starts out well, but when the clubs demands far outweigh the girl's expectations, things start to go downhill quickly for her. That situation further emphasizes one of the main selling points for this anime; nobody is safe. Even the girls, who avoid danger early on, are eventually swallowed up by the carnal desires of these deplorable clubs.
---
8. Himekishi Lilia

Episodes: 6
Air Date: Jun. 2006 – Jul. 2010
Himekishi Lilia tells of a fantasy-driven tale about a princess named Lilia who is destined to become the new leader of her kingdom. However, not everybody is willing to accept that scenario and her defiant brother, Dirk, has his own agenda. Dirk makes a pact with a demon in order to capture Lilia and extract the holy energy that she possesses. In order to do that, Dirk will have to get Lilia to reach her highest level of sexual ecstasy. Dirk captures their own mother and threatens her very life if Lilia doesn't comply with Dirk's corrupt ambitions.
Himekishi Lilia is the lengthiest of the series that we have on this countdown. The good thing about that is it gives them adequate time to develop more devilish scenarios. In one of the few examples on this list, this series adds a different flavor to the standard gangbangs by exhibiting incestuous relations between mother, sister, and brother. The vile brother is blinded by power and with the help of a demon, he's able to capture and break down his sister and mother. This becomes a long journey between three females who are used as slaves to further someone's ambitions.
---
7. Wana: Hakudaku Mamire no Houkago

Episodes: 2
Air Date: Feb. 2011 – Apr. 2011
Our number seven pick showcases a story about a mysterious suicide. Raika Misaki's brother, Yasuji was so close to graduation with aspirations of becoming a teacher. One fateful night, Yasuji decided to jump from the top floor of the school. Raika naturally has trouble coming to grips with reality and is determined as ever to find out why Yasuji did what he did. Raika transfers to her brother's (all-boy) school with the intention of discovering the truth of her brother's death. Unfortunately for Raika, someone interferes after discovering her true identity.
One of the things that Wana: Hakudaku Mamire no Houkago tries to do well is throw in a hint of mystery to the story. Its overall violent tone is noticeable. Now we won't say that it's the best mystery driven narrative for a hentai; in fact, this isn't the only hentai on the countdown that showcases a female dressing up as a guy to find out the truth. What this anime does bring to the table, is a gripping climax to the series. When we're talking about gangbang hentai, anything that makes it standout is a bonus to us.
---
6. Makai Kishi Ingrid

Episodes: 4
Air Date: Jun. 2009 – Aug. 2010
Tokyo, the now diabolic city is the host of a dark existence that's sweeping and changing the very landscape. Hell knight Ingrid is tasked with taking care of a treacherous doctor named Sabato Kiryuu. Determined as ever to settle the score, Ingrid runs into Sabato in a church where she gets caught off-guard and gets captured by the diabolic doctor. Now with the authority to do whatever he wants with Ingrid, he encourages monsters to defile and disgrace her body all in a sinister plan to keep Edwin Black from saving her.
With Makai Kishi Ingrid we get a more action oriented series that definitely takes on a darker side, in terms of characters and visuals. The lion's share of the scenes in this anime are dimly lit which adds to the characters somber tone in this hentai. Makai Kishi Ingrid concocts a steamy blend of gangbang, slavery, tentacles and demons. In addition to that, it also dabbles in exploitation and experimentation. If that sounds like something up your alley, then look no further. It's not hard to see why this is a highly regarded hentai.
---
5. Wanna. SpartanSex Spermax!!!

Episodes: 2
Air Date: Feb. 2013 – Sep. 2013
This next selection is based on the eroge from Guilty eX. Yoshiyuki Tanabe is a student at a shabby academy, filled with delinquents who constantly bullied him. After reading that Yoshiyuki had disappeared, his cousin, Nagisa became incensed. In an effort to find her cousin, Nagisa dresses up as a male and transfers to Yoshiyuki's school to investigate his whereabouts. What she finds is that these thugs do more than just bully students.
Remember a couple picks ago we discussed that there was another hentai that shared a lot of the same parallels to Wana: Hakudaku Mamire no Houkago? Well, here it is. The difference is that Wanna. SpartanSex Spermax!!! utilizes bondage and sex toys more effectively. This anime also packs in an aphrodisiac to enhance the pleasures of the females involved. The bullies at this school literally break down these girls by pushing them to the absolute physical and mental limits; which is exactly something you would want from this genre.
---
4. Kangoku Senkan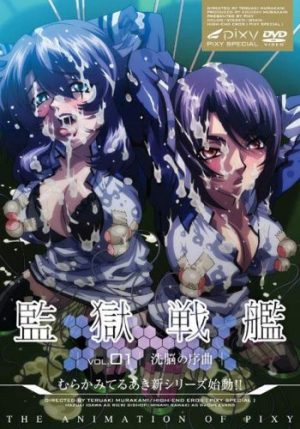 Episodes: 4
Air Date: May 2009 – Dec. 2010
Our next pick is a science fiction space adventure involving a space criminal by the name of Donny Bogan. He happens to be captaining a ship representing the Neo Terrors. Donny has been building resentment and plotting a plan to get back at New Solar commander Lieri Bishop and her aide Naomi Evans for sabotaging his mission four years ago. His plan is to kidnap them at the Titan Space Station and then bring them aboard his ship so he can brainwash them and use them for his sexual desires.
Kangoku Senkan strongly depicts what can go wrong when a space criminal who has an unyielding vendetta against a female commander and her subordinate. When Donny finally captures the girls he shows no remorse and forces them to become his sex slaves through a variety of methods. One of those disturbing methods is brainwashing them through the use of neuro-chemicals and shock treatment. Copious amounts of gangbang hentai result in physical abuse, but in this anime, you can really sense the sheer malice that Donny has for Lieri and Naomi. Kangoku Senkan can stimulate some darker fantasies out there.
---
3. Helter Skelter: Hakudaku no Mura

Episodes: 4
Air Date: Jan. 2009 – Nov. 2014
Helter Skelter: Hakudaku no Mura tells a tale of Miu and her family of four women who aspire to become well-known celebrities. After her mother, Sayoko lands the family a TV shoot they travel to a remote island in the summer to commence filming. However, it's not long after when they come to the realization that they've been had. It was all a devilish scheme to get them to participate in a festival known as "The Shishigami." There, the girls are unwillingly placed deep in the traditions of the festival.
Unlike our previous selection, Helter Skelter: Hakudaku no Mura doesn't use revenge as a theme for sexual abuse. Instead, these degenerates trick a bubbly family into thinking they are filming something of importance. Instead, the family gets blind-sided and is in the hunt for their life as the sexual predators are unrelenting in their quest for perverse desires. If you're a fan of sex toys, double penetration, creepy characters and generous amounts of bodily fluid, there is no reason not to check Helter Skelter: Hakudaku no Mura out.
---
2. Rin x Sen + Ran -> Sem: Cross Mix

Episodes: 2
Air Date: Jun. 2013 – Aug. 2013
We now present you with our number two pick, Rin x Sen + Ran -> Sem: Cross Mix. As the name would indicate this is a crossover between two other Suzuki Mirano hentai series, Rin x Sen and Ran->Sem. The story follows a broken Urara who was told that her fiancé was taking part in the seminars at the heinous Believe Laboratory. After contemplating her options, she is met by Anna and Riko who recruit her into the fold. From there, the exclusive trade-off of talent between the corrupt Kokudou Academy and Believe Laboratory can officially get started.
Rin x Sen + Ran -> Sem: Cross Mix has everything and more that we liked about the two series that crossed over. This installment is arguably the epitome for gangbang hentai enthusiasts. It's got beautiful art, stimulating females and above all else, wonderful scenarios that play out in a way that's extremely arousing for the viewers. We see the return of all the familiar faces from each series and it plays very much like a sequel to both. If you're a fan of Urara you're going to get your money's worth in this hentai, as she is repeatedly broken down both physically and mentally.
---
1. Kuroinu: Kedakaki Seijo wa Hakudaku ni Somaru

Episodes: 4
Air Date: Jan. 2012 – Jan. 2014
For over a century the humans and dark elves have fought for supremacy over the lands of Eostia. The dark elves rule over a race of monsters that has raided human lands for generations, capturing and defiling their women. A group of mercenaries, led by the ruthless general Volt partner up with the fierce orcs and they declared war against both the humans and dark elves alike. The only remaining hope for the rest of the kingdom is a fellowship of seven princess knights to purge the evil throughout the land.
The first thing that comes to mind when we ranked this anime is the character diversity in this series. Not only just in the female department, but also with the males as well. We have humans, dark elves, orcs, demons, goblins and an assortment of other beasts. These poor females get used and abused by these hellish monsters; literally becoming their public restrooms. Kuroinu: Kedakaki Seijo wa Hakudaku ni Somaru wraps up everything wonderfully that you crave in a gangbang hentai. If you're a fan of beasts tearing up beautiful girls in a fantasy setting, this is going to be your delight of the night.
---
Final Thoughts
It's clear after viewing this list that the studio known as Suzuki Mirano takes the cake for bringing some of the best gangbang hentai on the market. To put it into perspective, Suzuki Mirano has produced 50% of the anime that's comprised of this list.
It's that time once again where we would love for everyone to chime in with their thoughts towards this lewd list. What are some of your favorite gangbang hentai? Let us know in the comments section below! Be sure to check-in early and often as Honey's Anime strives to bring the best hentai content on the web!
---