Hentai is such a broad term in anime that it encompasses all other sub-genres under this generous umbrella term. Harem, supernatural, yuri, yaoi, fantasy and more all find their place within the world of hentai. But did you know that there are even hentai that fit into even smaller sub-categories? There are, and there's something to suit every interest. Today at Honey's Anime, we are going to explore the world of goth hentai/gothic hentai. And if you didn't know that such a thing existed, well. Get ready to learn something new!
So just how are we deciding what constitutes goth hentai/gothic hentai? We looked at both classical and modern goth/gothic culture to decide what elements these hentai need. For classic goth/gothic, we looked for Victorian inspired settings, fashion, and characters as our basis. As for modern goth/gothic, we focused on black magic, pagan symbols, and "darker" sex scenes using bondage, leather, pleasure-pain, et cetera. In the end, we created this list of what we feel are the best hentai that can be considered "goth/gothic," whether using the classic or modern use of the term. We hope you enjoy our choices!
The anime in this article are all meant for adult viewers only. Many contain subjects like violence, rape, tentacles, et cetera. Viewer discretion is advised.
10. Mahou Shoujo Ai

Episodes: 5
Aired: Aug. 2003 – Feb. 2005
Mahou Shoujo Ai takes place in a city where mysterious attacks have been taking place. Due to the inexplicable nature of these attacks, many believe that the source is supernatural. Around the same time, a new girl began attending the school that Akitoshi Akishima goes to. While everyone else seemed to remember the girl from somewhere, Akitoshi doesn't feel that way. When he decides to follow her to learn more about her, he stumbles upon the scene of a monstrous crime - one of the girls from his school is being suspended, naked, by some kind of tentacle monster! And then things get even crazier when a mysterious girl named Ai shows up and fights the monster... just who is she?!
Mahou Shoujo Ai is a tentacle hentai, so it's best to understand that right from the start if that's not your kind of thing. It's also a hentai that has goth/gothic qualities! The monsters that are attacking the town show up with ritualistic circles which are pulled from pagan religions and the magic that is used by Ai to fight them is dark magic. Because of the tentacles, the sex in Mahou Shoujo Ai is all a form of supernatural bondage. It's very dark, and the tone of the hentai is always quite gritty and intense. While it may not be everyone's cup of tea, for those curious to try it, Mahou Shoujo Ai definitely has dark, goth/gothic qualities.
---
9. Euphoria

Episodes: 6
Aired: Dec. 2011 – Feb. 2016
Keisuke Takatou wakes up in a strange, white room at the start of Euphoria along with six girls. Four are his classmates, one his teacher, and the last his childhood friend. As everyone is wondering what is going on, a voice suddenly announces that they have entered a game. Keisuke is the "unlocker," and he must choose a girl to be his "keyhole" to unlock five locks and give everyone their freedom. To do this, Keisuke must violate the chosen girls in whatever way he is ordered to. What's worse, failure to participate will result in death, a fate which unfortunately befalls one of the girls immediately when she refuses to play. Only by following these sadistic orders can the others escape.
Euphoria is a hentai about exploring sexual pleasure through pain and unleashed carnal desires. Nothing about Euphoria is vanilla; it's all bondage, pleasure-pain, submission, torture, and more. There is also a lingering feeling of tension and terror throughout the whole hentai, and everything is presented in an intense and overwhelming style. These dark themes and overall suspenseful feeling are what put Euphoria on our list of goth hentai/gothic hentai. Oh yeah, and the girls are quite regularly wearing black leather bondage suits, so that also helps! They easily look like they could be part of a modern goth/gothic bondage club.
---
8. Ail Maniax: Inma Seifukugari & Majogari no Yoru ni

Episodes: 3
Aired: Aug. 2001 – Mar. 2002
Ail Maniax: Inma Seifukugari & Majogari no Yoru ni is the story of a demon that becomes obsessed with human women. The demon can change gender whenever they please, meaning there are nearly no limits to the number of different ways that they can engage in sex. And Ail Maniax: Inma Seifukugari & Majogari no Yoru ni pushes the limits in every way possible, trust us. In the second half of the hentai, the story shifts to being about a group of woman (the demon included) who are accused of being witches and put on trial by the church. Get ready for a mix of sex, blood, sweat, gore, and more.
Ail Maniax: Inma Seifukugari & Majogari no Yoru ni is a demon hentai first and foremost, which already makes it fit into the goth/gothic theme. After all, a lot of the sex is between a demon and humans. What else helps Ail Maniax get onto our list is the dark side of a lot of the sex; there's needles, swords, intense penetration, and more in this hentai. It's definitely not for the faint of heart, but if you're looking for a hentai that isn't afraid to explore dark and disturbing sexual situations (with a demon) well. Look no further. Ail Maniax will expand your imagination at the very least and take you for a crazy ride. Goth/Gothic style is all about being a dark counterculture and this hentai is exactly that to the rest of the hentai world.
---
7. Yuuwaka Countdown (Countdown Conjoined)

Episodes: 6
Aired: Jun. 1995 – Nov. 1995
Yuuwaka Countdown isn't one hentai; it's actually six short stories, each one as odd and unusual as the next. They range from a samurai policewoman who has to fight a giant walking statue, a knight who finds himself at the mercy of a maiden who loves bondage, a lustful bride getting in a bit of extra fun before her wedding, and a threesome where gender is in the eye of the beholder. All of the stories are not quite like any other hentai, but that is what makes them entertaining to watch. They all push the limits a little of what is expected, and they're all wickedly erotic.
What makes Yuukawa Countdown make our list of the best goth hentai/gothic hentai is just how unusual it is, and how much it likes to push the limits of what is accepted and expected. Yuukawa Countdown has plenty of over the top situations that make it stand out in an undeniably dark, and sometimes intimidating, way, much like the goth/gothic style does. But don't worry, we didn't just add Yuukawa Countdown as a metaphor for the goth/gothic style. It's also full of horror and supernatural themes that affect and inspire most of the sex. That means you'll see monsters, bondage, terror and more in these short stories. And of course that, too, makes Yuukawa Countdown a goth hentai/gothic hentai.
---
6. Kyuuketsuki

Episodes: 2
Aired: Mar. 2011 – Dec. 2012
Mikage Onohara is the pink-haired protagonist in Kyuuketsuki. Due to her parents' overwhelming debt, Mikage felt she had no other options left but to sell herself to pay. She could never have been ready for what happened next, though. Mikage sold herself into a household of vampires and they want to take everything she can give from her! The leader of the vampires, Claude, especially is infatuated with Mikage. And he doesn't want just blood; he wants her body, too, in submissive and humiliating ways to reach maximum personal pleasure. Mikage thought she would do anything for freedom from debt, but will this be too much?
Kyuuketsuki is a vampire hentai, and a lot of the sex is affected by one party being a vampire. You can count on seeing lots of fangs, biting, and blood along with a lot of hardcore sex with bondage, anal, and more. Kyuuketsuki pushes the bounds of aggressive sex while never letting you forget that one person is actually a vampire. This dark overtone for the hentai gives it its goth/gothic theme. After all, beautiful vampires with Victorian-inspired clothing and long hair living in a huge mansion and having their way with humans is a wonderfully goth/gothic idea, isn't it? Just be ready for some really intense action!
---
5. Brandish

Episodes: 2
Aired: Jun. 2012 – Aug. 2012
Brandish's main character isn't a human, but rather a succubus, or pleasure demon. Her name is Twiska, and she gets her kicks by draining men of all their cum. And it isn't hard for her to get men to trust her with her super cute looks and sexy black outfit. But she starts to become a problem for the local villages, who call upon a hero named Theo to help rid them of her. But when Twiska and Theo cross paths, it doesn't go exactly as expected. It turns out Theo is also incredibly cute and also addictively good at sex. Twiska knows she has to kill him to save herself - but what if she wants to just keep him as her toy forever instead?
The character designs in Brandish are quite cute which doesn't fit the goth/gothic theme we are looking for, it's true, but everything else about the hentai does. Looking past her cuteness, Twiska's sexy outfit is a black leather dress with Victorian vibes, though it's been turned into a bondage suit rather than a conservative dress. Brandish is also set in a medieval time, perfect for a goth/gothic setting. And all of the sex is between a human and a succubus that even has a tail! Human and demon relationships are a great theme for a goth/gothic anime. So look past the cuteness you might see at first glance; there's a lot of goth/gothic goodness to be found in Brandish, too.
---
4. Seikoujo: Haitoku no Biden Dorei (Dark Chapel)

Episodes: 2
Aired: Apr. 2006 – Dec. 2006
Seikoujo: Haitoku no Biden Dorei begins at a church in a small village. Sister Rosaria has been working there happily for some time, having escaped a past of sexual assault. But her peace and happiness are about to come to an end when a new priest and sister arrive at the church...and are anything except what they seem to be. Both are criminals on the run for theft and murder, and even worse, the priest is the same man who assaulted Sister Rosaria in the past! The fate of the village Sister Rosaria loves so much falls into her hands; if she does whatever he commands, the people will be safe, but if she does not he will kill everyone in the village!
The church setting of Seikoujo: Haitoku no Biden Dorei is what lands this hentai on our list of goth hentai/gothic hentai. The aesthetic and style of the old church have had a heavy influence on modern goth/gothic style, and of course, was heavily inspired by classic goth/gothic architecture! That's why you will see crosses and other religious symbols used in modern goth/gothic aesthetic. Seikoujo: Haitoku no Biden Dorei makes heavy use of the church as a background, including having the main character be a nun and her sexual partners a false priest and sister. That gives Seikoujo: Haitoku no Biden Dorei it's goth/gothic feel while setting up some intense and dark sex.
---
3. Pigeon Blood

Episodes: 2
Aired: Nov. 2003 – Mar. 2004
Pigeon Blood revolves around a man who has lost all of his memories and finds himself the "master" of an entire mansion. Weirder yet, that mansion is full of sex slaves that all answers to him! All of the women have clearly been forced to be there, and while he is confused, he can't help but take advantage of his luck. Then one day, another cute girl approaches him and does the unexpected - she actually asks to become his sex slave! After promising to do anything he wants for him, he can hardly turn her down...
Pigeon Blood has plenty of bondage and other BDSM elements along with quite dark sex scenes to already push it in the direction of a goth hentai/gothic hentai. But what really puts Pigeon Blood on our list of goth hentai/gothic hentai is the style of the maid's uniforms. A huge part of the goth/gothic culture is the fashion and style aesthetic which is largely influenced by Victorian styles. The slaves in Pigeon Blood all wear Victorian maid uniforms most of the time which are conservative, with long sleeves and plenty of bustles. This fits right into the Victorian style of modern as well as classic goth/gothic style. Pigeon Blood has a lot of intense sex similar to some other hentai on our list, but it's this clothing style that really brought it to our attention on the hunt for goth hentai/gothic hentai.
---
2. Black Gate: Kanin no Gakuen

Episodes: 2
Aired: Jul. 2004 – Dec. 2004
Black Gate: Kanin no Gakuen begins with Narifumi Hosokawa preparing for his high school's culture festival. He's working alongside the twins Shizuku and Kasumi Kadomori. What he doesn't know is that the Kadomori family has been tasked with protecting the magic Black Gate, which protects an enormous amount of power. While everyone is distracted, Shizuku goes against her family's oath and opens the gate, travelling into the world beyond and leaving the gate open and exposed. When Narifumi gets dragged into helping defend the gate and keep anything from happening to either world, he encounters Shizuku again on the other side - with her new allies.
Black Gate: Kanin no Gakuen is a supernatural hentai about black magic and the powerful, sexy women who wield it. It goes from being a hentai set in modern Japan to one with a much more exciting fantasy setting. And with the use of magic and powerful entities, it can capture the goth/gothic imagination. In order to gain dark powers, Shizuku gives her body over to demons wholeheartedly - so that adds some demons into the mix, too. Black Gate is full of rituals, demons, black magic, and of course, lots of sex influenced by all of these goth/gothic elements! And it even has enough of a plot to keep it going, too.
---
1. Bible Black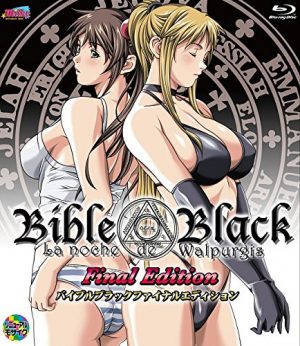 Episodes: 6
Aired: Jul. 2001 – Jun. 2003
The high school in Bible Black has a dark secret in its basement; what started as a fun magic club became a black magic cult stained by murder and vengeance. It was forgotten for 12 years until a young man named Taki Minase found the magical book called the Black Bible. He quickly learns that the magic contained in it is real, and can penetrate into the hearts and minds of his classmates. The dark magic grows out of his control though, and soon everyone he knows has been pulled into its curse. Ritualistic sex and violence run rampant, and Taki realises too late he has made a horrible mistake.
At the heart of Bible Black, is dark magic and pagan symbolism, including pentagrams and ritual circles. The sex all is tied up in this dark, supernatural theme. There's lots of bondage and BDSM as well, also related to the ritual sex and black magic. All of these elements work together to create a modern goth/gothic feel to Bible Black. The modern goth/gothic style often makes use of symbols from Satanism and pagan beliefs, and these symbols are critical to the atmosphere of Bible Black. Because the sex is all related to the supernatural elements in the hentai, and that sets the theme and tone for all the hentai scenes, Bible Black has a dark and twisted sex story. The themes explored and the general feeling of Bible Black make it a great modern goth hentai/gothic hentai.
---
Final Thoughts
From Victorian maids to modern BDSM, the term "goth hentai/gothic hentai" can be quite broad. But at the end of the day, goth hentai/gothic hentai give us a darker piece of the counterculture to enjoy. These hentai push the limits of classic ideas of sex and play with horror and the supernatural to add in some excitement. They capture our darkest fantasies and let us live out dreams we may never wish to speak of in the daytime. Goth/Gothic style has always been a dark response to the rest of society, and goth hentai/gothic hentai is the same for the rest of the hentai world. It's a unique way to look at these hentai, and we hope you enjoyed our perspective.
What do you think a goth hentai/gothic hentai should have in it? Did we miss one you think should be on the list? Are there any you're going to watch now, or you have seen before? Do you have any questions about goth hentai/gothic hentai or how we chose these selections? Let us know in the comments below!
---