Let's get this out of the way first: Lolis, especially in hentai, are not necessarily underage girls subjected to unspeakable manners of sexual experiences. A loli by definition is a girl with a petite build or a child-like figure. So with all that said, let's get to the meat of things. As we have mentioned in numerous Top 10s regarding hentai titles, the variety offered by the genre is staggering ranging from incest to monster sex, and featuring girls ranging from MILFs to lolis.
For this list, Honey's Anime is going to look at 10 lolis in hentai. Unlike non-hentai top 10s, we're not limiting ourselves to girls with good characterization, oh no! In this list, we're also going to list lolis with sex appeal and generally how, uh, how do we say this… how they "perform on cottony furniture".
10. Luu Luu from Kuroinu: Kedakaki Seijo wa Hakudaku ni Somaru

Some people see Kuroinu as another brainless sex romp with tons of rape while some consider it to be the one of the best hentai series out there because it's a fetishist's wet dream thanks to the huge cast of diverse characters well, umm, violate. There's a story somewhere of some guy who looks like Guts from Berserk, but seriously, who cares? You're in this for the sex!
With a diverse cast, of course, a loli is involved in the, well, you know… Luu Luu, one of the Seven Princess Knights, is a Half-Link, a strong yet small race of humans with tails. Despite their small size relative to that of a typical human, half-links can easily mate with other species. And since the main villain, Vault, has seized Luu Luu's kingdom, he wants to find out if Luu Luu can mate with giant ogres with equally gigantic penises. It's not a pretty sight, especially Luu Luu who has to handle 3 huge ones all at once.
---
9. Kohinata Yuki from Imouto Jiru (Younger Sister Juice)

Akira is sort of a pathetic guy who daydreams of having sex with his step siblings, but he did get to bang two, out of three girls, because, well, aside from his lust, he's under contract with a goddess named Inana. If he fails to fill three bottles of "love essence" from three young girls, a great calamity will befall him. Did he fulfill his contract in the end? No, because one of his step-sisters Yuki isn't falling for his nice guy antics.
The elusive one tends to be the most desirable one and Yuki is a good example. Yuki is perceptive and knows that her step-brother Akira has some very lewd intentions. Yuki didn't get seduced by Akira and while that is a bummer to some, Yuki did get a lovely yuri treatment care of her classmate.
---
8. Akizuki Airi from Oni Chichi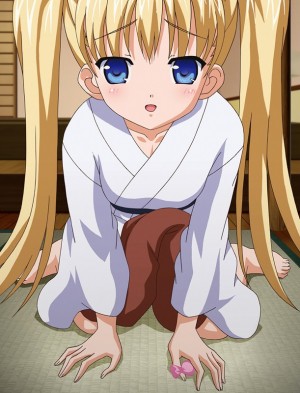 Of all the many girl types in anime, the tsundere is probably the most popular amongst the hentai crowd because it's admitted fun to see evasive and intimidating girls turn mellow and loving after a few good dickings. One of the tsundere girls in hentai is Airi (if you can't tell she's tsundere, just look at her twin-tails - the basic sign of a tsundere).
The stepfather Akizuki Kouzou wasted no time in drugging Airi and raping her and eventually raping his other stepdaughters. Out of the three stepdaughters, Kouzou likes all of them, but Airi seems to be his favorite. And after getting used to the pleasure of sex, Airi becomes more assertive and possessive towards Kouzou and at some point, Airi turned the tables and hogs him to herself.
---
7. Naho from Chiccha na Onaka

This series is based on a manga series and currently, three stories were adapted to hentai animation. Out of the three stories, we'll have to go with the 2nd story featuring Naho because the foreplay is a bit better compared to the other two and Naho, while childish like the rest of the girls, she's more innocent with her cluelessness of sex, and the story isn't too unrealistic like a teacher helping a student wiping her crotch because she peed herself for some reason, and the cliche teacher seducing a student to sex.
---
6. Shirakawa Sumire from Hitoriga the Animation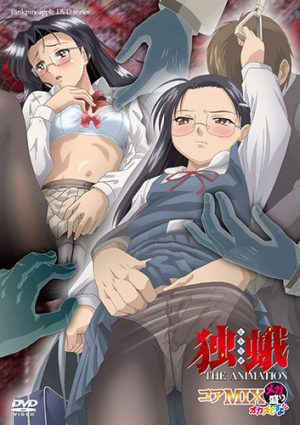 Since Sumire is the only loli in the show, she's automatically the best girl in the show. Unlike the other lolis you saw in numbers 10-7, Hitoriga does have a story that spans 4 episodes involving Sumire the honor student getting drugged, raped and conditioned to be a sex slave.
The story mostly being told through Sumire's narration and this gives us more insight into her character and her experience throughout the show. The story unfolds like a psychological thriller and it's something rare you see these days.
---
5. Kawamura Reo from Sono Hanabira ni Kuchizuke wo: Anata to Koibito Tsunagi

Sono Hanabira OVA is one of the rarest hentai shows that's short, sweet, focuses on romance and doesn't over complicate things with drama or a third wheel. Of course, in order for good romance to be good, the show needs a great couple and thankfully Mai and Reo are one great and cute couple.
As we pointed out before, the tsundere girl type is the best type in hentai because it's fun to watch seeing a girl soften up after a kiss or after some hot loving. Reo is an exemplar tsundere loli in hentai with her feisty yet loving personality, and it doesn't matter if Reo's partner is a girl or a guy, anyone will find it hard to resist a tsundere charm.
---
4. The Younger Sister in Episode 1 from Suki de Suki de, Suki de The Animation

Another series with multiple stories and we'll give our pick for best loli in the show to the nameless little sister in episode 1. The little sister always hangs out in her brother's room and it sucks for the brother because he can't do much with her around (ie watching porn). One day he decided to drug his sister to sleep and watch porn in peace, but things didn't turn out very well because the sister is wide awake and the brother gets aroused looking at his sister on the bed.
What's so great about the little sister and the episode is they're all funny. You'll end up laughing at how absurd the situation has escalated all thanks to the sister still pretending to be asleep while her brother continues groping her.
---
3. Hasegawa Hanako from Toshi Densetsu Series

The Toshi Densetsu Series features self-contained stories of urban legends and the first episode tells the story of one unfortunate girl who gets raped and killed by a teacher and her spirit is left to haunt the school for eternity as the fabled Hanako of the Toilets. In order for Hanako to pass on, she must have sex with a suitable individual and luckily, a good-natured teacher came along and ends up helping her.
Hanako was given a proper, though tragic, background so everything that was happening had a reason. And it has a romantic twist to it that veered off to the usual animal lust that made you care more about Hanako and her desire to be set free.
---
2. Sayama Chie from Shoujo Ramune

When it comes to strictly loli hentai, you can't go wrong with Shoujo Ramune. Though lack in story, the length is short and with little to no characterization, Shoujo Ramune excels in the sex and, well, you know, as we mentioned time and time again: you don't watch hentai for the story.
Out of the three girls, Chie is currently the only girl who got the sex scene and is arguably the best. Her story is a bit more complicated: Chie was caught stealing sweets from the candy shop and the main character, also the candy shop owner couldn't let it slide and Chie ends up working part time to pay off the candies she has stolen (though this detail wasn't mentioned in the show directly). And we can all know what kind of part time job Chie is doing. Who can blame the guy, though? Chie is young with no formal sex education and our horny hero simply took advantage.
---
1. Orifushi Mafuyu from Kanojo x Kanojo x Kanojo

You'll know Mafuyu is the best girl in the show the moment you see her in the first few minutes of the first episode. Our hero Haruomi got to have sex with the sisters and his classmates, but the distant Mafuyu has eluded him for a while.
This feisty twin-tailed blonde goth loli loves to masturbate a lot because of the wide assortment of pornographic books she reads with a distant, cheeky, yet dominating attitude that gives her control over the situation at humiliating Haruomi. But in the end the opposite happens, Haruomi took control of the situation and gave her some hot loving, and then we found out Mafuyu is still a young inexperienced girl with a cute side.
All of the girls in this list are lovely in their own way, but Mafuyu is number 1 thanks to the perfect pace and timing of the show. Mafuyu is instantly desirable at the beginning but the show decided to put her last while leaving a trail of teasing that made Haruomi, and in turn, the viewers, slowly want more of her. And who can forget that cute and memorable snicker of hers?
---
Final Thoughts
So what's the appeal of lolis? It depends on who you're asking. If you're a fan of MILFs, chances are you prefer a mother-like figure or a woman who is experienced at sex. If you're a fan of high school girls, you prefer girls who are ripe and fresh with cherries that needs popping. If you're a loli fan, chances are you're the type of person who is happy to teach these girls the world of adulthood, or show a petite girl that boobs and curves aren't everything... or maybe you like girls who are easy to carry… or maybe you want to play the role as sugar daddy...
What do you think of our list? Do you know any great lolis in hentai you saw? Please share it with us by posting a comment below!
---