We're already in 2020, but let's go back to 2019 and look at the best hentai shows of the year. There were lots, and we mean lots of great titles in 2019—like shows about lolis, monster girls, themes around mind control, drugs, and just good old-fashioned vanilla—and out of the huge list of hentai shows, we at Honey's Anime have compiled 10 hentai anime we think are the best 2019 had to offer.
If you're one of the viewers who reached adulthood, grew some chest hair, and drank their first alcohol and want to watch the very best of 2019, then you've come to the right place. And to those who are regulars here at Honey's Anime, please sit back and relax, and enjoy Honey's Anime's Top 10 Hentai Anime of 2019!
10. Wagaya no Liliana-san The Animation

Episodes: 1
Aired: January 2019
Tatsuya is hanging with his fellow otaku friends and after they split up, something catches Tatsuya's attention—a beautiful woman with silver hair and dark skin lying on the floor, seemingly unconscious. This extremely exotic beautify is Liliana and she's from a fantasy realm we pretty much don't know about. Actually, we don't know much about Liliana regarding who she really is, what her full name is, or what race she is. Tatsuya, however, doesn't bother asking these questions because he likes Liliana and that's all he cares about.
Wagaya no Liliana-sama The Animation is very simple and you can consider this a bad hentai anime adaptation because the story doesn't tell you anything apart from Liliana being a dark-skinned girl from an unspecified magical realm that randomly teleports to the human realm for an unspecified reason. In fact, the story is so stripped down that you can swap out Liliana with a different girl and the story would remain the same. That is not to say Wagaya no Liliana-sama The Animation is bad at everything else—its vanilla romance story about a young man living together with a beautiful dark-skinned girl and the two eventually falling in love is nice. But don't let the term "vanilla" fool you because Wagaya no Liliana-sama The Animation is animated by studio Seven, so you'll get some great sex scenes that are not vanilla by standard.
---
9. Love x Holic: Miwaku no Otome to Hakudaku Kankei The Animation

Episodes: 2
Aired: November 2019 - December 2019
Amano Taichi is a very determined high school student and he aims high by looking for a demi-girl girlfriend. Taichi is having trouble because every girl dislikes him for some reason. Tough luck there, buddy. Not all is hopeless though, Taichi trips and locks lips with Aoe Kuon, the most popular girl in school! Romance cliches! But it wasn't love at first sight because the two cut their lips during the encounter and Taichi gets sick and is bedridden for a week. Taichi resumes attending school after he fully recovers and then he notices something strange—all of the demi-girls are fawning over him. It turns out the demi blood of Kuon has mixed with Taichi's blood and his body is emitting a scent with an aphrodisiac effect that makes every demi-girl in his vicinity extremely horny. Hentai romance cliches!
The foursome scene in episode 2 is still a letdown, but that doesn't overall ruin the show. The story is lacking in Love x Holic, but the girls are very attractive, the overall art style is beautiful, the hero is decent-looking, and the sex scenes are top-notch, all thanks to veteran hentai anime studio Seven. Oh and don't forget about the demi-girls!
---
8. Aibeya The Animation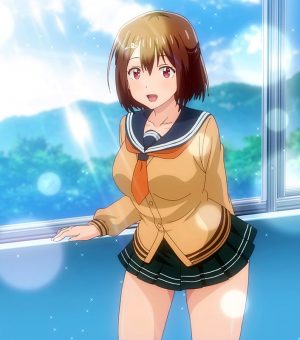 Episodes: 1
Aired: November 2019
Kouta's mother has, out of the blue, decided to renovate the entire house and Kouta is forced to stay at his childhood friend Aki's home next door. Kouta and Aki are friends for a long time, but as they grow older, their feelings for each other grow and all they need is a gentle push to kickstart their relationship. And apparently, forcing Kouta to sleep in Aki's room for the foreseeable future is the most gentle push. Way to go, parents.
We mentioned in our January 2019 list that we need more story-driven vanilla hentai anime experiences because they break the monotony that involves the usual laundry list of tropes like rape, mind control, drugs, etc., and, well, Japan sort-of-kind-of listened and 2019 gave us some very well-made vanilla hentai anime. Aibeya The Animation is one of few very high-quality hentai anime with a good story, proper pacing, top-notch sex scenes and characters you can't help but cheer on. There are no fat, faceless, and perverted main characters, nor single-minded, drug-induced sluts here!
---
7. Aikagi The Animation

Episodes: 1
Aired: April 2019
Soon-to-graduate high school student Nozomu is having a conversation with his classmate Shiori about wanting to become independent by living on his own, but he has no idea what to do. Thankfully, Shiori has been living by herself for the past 3 years and she offers her help to teach and prepare Nozomu for an independent life. So what's Shiori's plan? Simple: invite Nozomu to live together in her apartment.
Aikagi The Animation is similar to Wagaya no Liliana-san The Animation and Aibeya The Animation—they're all stories about two people living together and finding love. But unlike Wagaya no Liliana-sama The Animation, Aikagi The Animation has a complete story with decent character development, and unlike Aibeya The Animation, Aikagi The Animation has a more happy-couple-living-happily love story. As for the sex, well, they're completely vanilla but they're nicely thought out. You won't be cumming by the bucket-full, but Aikagi The Animation will give you a warm, nice feeling in your loveless heart.
---
6. Shoujo Kyouiku RE

Episodes: 2+
Aired: July 2019 - Ongoing
Shoujo Kyouiku RE is a collection of 2 short stories (so far) about girls making out with older guys. Episode 1 tells the story of Inagaki Sae gathering all her courage to confess her feelings to her teacher. Episode 2 tells the story of Shiraishi Nana, a very feisty girl who is desperate to get fucked hard by her brother. Problem is, her brother refuses to have sex with Nana because, well, you know, they're blood-related siblings and such. This is just a minor setback and Nana never plans on giving up.
Yeah, we get you, Shoujo Kyouiku RE is a remake, but we still think Shoujo Kyouiku RE is different enough to be its own series. We still think the 2019 remake is inferior to the original due to the lack of story and a sizeable cast of lolis, but when it comes to pure loli hentai in 2019, Shoujo Kyouiku RE is top in its class. And let's not forget the studio behind the fantastic loli hentai Shoujo Ramune also did Shoujo Kyouiku RE. You literally can't go wrong with this hentai anime title!
---
5. Shishunki Sex

Episodes: 2+
Aired: June 2019 - Ongoing
Story 1: Class Rep Akane confiscates a hentai manga from her classmate Okazaki. On the next day, Akane spots another hentai manga on the way to school and it promptly gets "taken care of." Akane takes a few pages of the hentai manga out of curiosity and, well, her curiosity gets the best of her because Akane starts experimenting with her body after looking at some very lewd pages.
Story 2: Hana is amazed after learning about the human reproductive system and wants to learn more. Instead of asking the teacher, Hana invites her childhood friend Kenta to help her sate her curiosity of the human body.
One of the best things about vanilla hentai is that they tell interesting romantic stories as to why the two get together in semi-realistic scenarios. Shishunki Sex contains two stories of adolescents experimenting with their maturing bodies and experiencing sex for the first time. Unfortunately, the hentai anime adaptation, so far, only covers two chapters from the manga of the same name, but these stories are still very good with a dose of comedy and surprisingly well-animated sex scenes.
---
4. Ecchi na Onee-chan ni Shiboraretai

Episodes: 2
Aired: July 2019 - August 2019
It's summer break, and you know what that means! Go home away from the cramped dormitories and relax! Boku-kun is not the outgoing type, but hey, literally anywhere is better than staying in the dormitory where people will just drag you along for some stupid summer activities. Boku-kun made the right call because, at home, he has two beautiful sisters who are overly excited to see him. Very, extra overly excited, if you understand the subtle implication we are insinuating!
It was tough to decide to pick Ecchi na Onee-chan ni Shiboraretai over Megane to Megami—both shows have incest and both are animated by studio T-Rex. Ecchi na Onee-chan ni Shiboraretai edges out because the art style is distinct, has 2x more incest than Megane no Megami, and the sex is wilder. Seriously, you can't go wrong with a threesome incest hentai anime. Megane to Megami is still great, though; and, well, fuck it, we'll include the show as rank 4.5! Everyone's now happy!
---
3. Saimin Seishidou The Animation

Episodes: 2+
Aired: February 2019 - Ongoing
Resident perverted, sweaty, and ugly fat fuck Tanaka Hajime brainwashed everyone with his powerful hypnotic spell into believing he's a licensed sex counselor—a person who gives sex training to every girl in school. These sex education sessions are mandatory, so all of the girls go to Hajime to get fucked all while without realizing they've been hypnotized. It's a man's dream job, to be honest.
Saimin Seishidou The Animation is one of the best-looking hentai anime because not only are the animation, sex scenes, and production values high, studio T-Rex almost perfectly captured the style of the source material; it's hard to tell the difference! Sure the coloring style is different and some scenes look a tad better in the manga, but overall, it's impressive seeing studio T-Rex going the extra mile to capture mangaka Aiue Oka's style. Other than that, Saimin Seishidou is a great package featuring a fat fuck hypnotizing his entire school and raping the beautiful high school girls with impunity. Yeah, Saimin Seishidou The Animation didn't animate every manga chapter, and to be fair, Saimin Seishidou is still an ongoing series. Here's hoping we'll get more episodes down the line.
---
2. Seikatsu Shuukan The Animation

Episodes: 2
Aired: March 2019 - July 2019
Shuntarou is lazy, doesn't know the concept of taking baths, spends his time playing incest visual novels, and is hated by his 3 beautiful and ripe sisters Ayaka, Chiaki, and Fuyuno. One day, Shuntarou stumbles upon another incest visual novel he doesn't recall ever installing in his computer. This visual novel appears to be broken and Shuntarou leaves it alone and goes to bed. When Shuntarou wakes up, he's transformed into a young boy and his sisters suddenly find him irresistible.
Hentai anime adaptations of hentai manga rarely work because of many factors like the length of the story—if the story is too long, the adaptation will either cut out a lot of scenes or rewrite the scenes so they fit in a 2-4 episode format. Seikatsu Shuukan The Animation, more specifically, the hentai anime adaptation of the "A week-long of daily sex life" chapter of Seikatsu Shuukan is a perfect example of a story that works in hentai anime form—a short, self-contained story with decently-paced sex scenes and a proper-no-hint-of-sequel ending.
While the art style of studio Seven doesn't closely match Michiking's, the overall presentation of Seikatsu Shuukan The Animation is top-notch with studio Seven's exaggerated sex animations that work well with the story's focus on lustful sweaty incestuous affection between a shota and his beautiful sisters.
---
1. Master Piece The Animation

Episodes: 2
Aired: May 2019 - August 2019
When he was at a young age, Enomoto Yuuji was taken in by the Tsubakihara family after his parents had passed away. Yuuji has found comfort within his new family and Yuuji has gained new siblings, twins Yuna and Nina. As the three children grow up and mature into young adults, their feelings towards each other changes and they no longer see each other as siblings. Will love bloom between Yuuji and one of the twins or will Yuuji find love elsewhere and maintain the status quo—not hurting the twins and ruin the family who took him in?
Master Piece The Animation has everything: beautiful art style, beautiful characters with varying personalities and sexual needs, a very hot MILF, a wholesome romance story spanning two 30-minute episodes that doesn't involve deception, blackmail, drugs or rape, and the animation is handled by one of the best hentai animation studios out there, studio T-Rex. Frankly speaking, the resident MILF Tsubakihara Mira steals the show because she has more screen time than both of her daughters combined. If you're looking for some MILF goodness that isn't cheating or NTR, then by the gods, Master Piece The Animation has got you covered… in sweat and other assorted bodily fluids once you're done watching this—dare we say—"masterpiece" of a hentai anime!
---
Final Thoughts
Phew! What a year, man. What a year! 2019 may not be the best year in the past decade, but the titles of varying genres we've seen made 2019 a very good year for anyone from a seasoned fan to someone who is just getting into hentai. And, well, that's it. Let's wave goodbye to 2019 and then look forward to new favorites and potential instant classics in 2020 and beyond. Happy-goddamned-New Year!
---