Happy New Year, hentai fans! Here we are again for the yearly Top 10! For this list, as always, we're looking back at the best titles that came out in 2020 to rank them from the best to the very best. Yes, there are several great hentai anime titles in 2020, so it was hard narrowing down the list to just 10, and believe us when we say we took a long time debating which title gets in and which one gets the number one spot!
As always, we will only list hentai titles that made their debut in 2020, which means that new episodes of older hentai anime do not count. Are we all in agreement? Great! Buckle up, boys, because this is Honey's Anime Top 10 Hentai Anime of 2020!
10. Onii-chan, Asa made Zutto Gyutte Shite!

Episodes: 2+
Aired: March 2020 - Ongoing
Remember the 5 rules in the Onami household?
Rule #1: Hug a little sister every day.
Rule #2: Hug her for at least 10 seconds.
Rule #3: Make sure to sniff her well.
Rule #4: Repeat all 3 rules when you end up letting your little sister go.
Rule #5: Hug her with affection.
Onii-chan, Asa made Zutto Gyutte Shite! is like a cute visual novel in auto mode with a guy dedicating his love to one imouto per episode. Currently, there are only 2 chapters available, but so far, this hentai anime has been great, with tons of cute and lewd moments between these siblings. Cute, lewd, incestuous, and inoffensive, Onii-chan, Asa made Zutto Gyutte Shite! is a great vanilla experience for anyone who loves incest stories.
---
9. Jitaku Keibiin 2: Haibara-ke no Ketsuzoku

Episodes: 4+
Aired: March 2020 - Ongoing
Hikimori Haibara is not on good terms with his grandfather, and after hearing the old man talking of passing his fortune and estate to Hikimori's soon-to-be-married cousin, Reina, our protagonist feels cheated. For that reason, once Reina's family moves in, Hikimori fears his grandfather will kick him out of the estate, leaving him nothing. But there's a chance to stop this nonsense: Hikimori has a short time frame before the transferring of the estate is signed, so he installs various hidden cameras to secretly record these invaders of his home, and blackmail them.
Hentai anime with sex and story often don't mix because a story only gets in the way... and, frankly speaking, a lot of people just skip to the sex scenes. But when a story is done right, it helps with the sex scenes by giving it proper context, and a purpose for them existing. Jitaku Keibiin 2: Haibara-ke no Ketsuzoku, just like the previous Jitaku Keibiin series, is a story-driven hentai anime with good pacing and lengthy sex scenes—mostly of girls getting raped by a guy with unusual, logic-defying facial features. Good stuff, overall.
---
8. Hajimete no Hitozuma

Episodes: 2
Aired: May 2020 - August 2020
Tomoya and Kanako are a happy couple, and soon they'll get married and live happily ever after. Well, not until Tomoya brings Kanako over to his dad's house for a visit. Turns out Kanako was a prostitute back in her high school days, and one of her customers happens to be Tomoya's dad, Makoto. Future father-in-law Makoto vividly remembers his time with Kanako, and since she's in his house, the two have some catching up to do.
NTR is an acquired taste, but it shouldn't be a problem if you've gotten used to rape hentai being thrown at you frequently. Hajimete no Hitozuma is too good to be ignored as an NTR hentai anime, with well-animated sex scenes and a heroine with killer looks and body. It doesn't offer much else, sadly, and it's not for everyone; what it does offer, the great sex scenes, are so very good, then everything else doesn't really matter—you came here for sex, and Hajimete no Hitozuma delivers!
---
7. Overflow

Episodes: 8
Aired: January 2020 - February 2020
Sudou Kazushi is your average high school student, heading home for some rest and relaxation. He is greeted with two lovely little sisters, who are actually just his childhood friends, Ayane and Kotone Shirakawa. Since all three just hit puberty, things get a little extra steamy when they decide to take a dip in the tub.
Overflow has its problems, though: the scenarios are more of the same, there is no definite conclusion to the story, and there is no threesome. Nonetheless, if you watch all 8 very short episodes in one go, Overflow is a good-looking vanilla hentai anime, with attractive female leads, great sex scenes, and a bit of a high school slice of life. Honestly, it's hard to beat a hentai anime that is so good to look at! And, of course, be very sure you're watching the uncut version!
---
6. Ane wa Yanmama Junyuu-chuu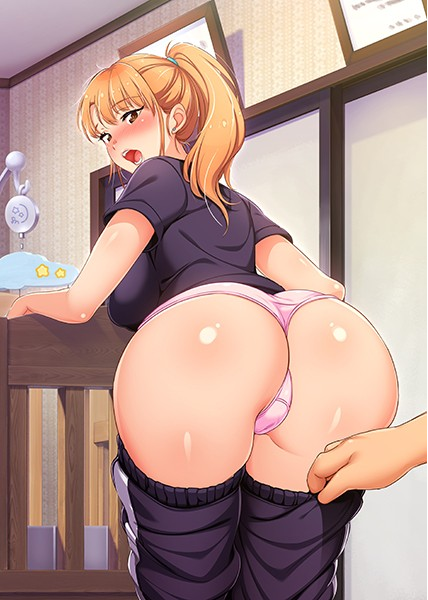 Episodes: 2
Aired: June 2020 - July 2020
Takumi gets an unexpected visitor: his stepsister, Aika. She has recently given birth to her second son, and she and her husband visit the family home for some good old rest and relaxation. Takumi has a secret crush on Aika, and after seeing her MILF body, he can't help his desires and shows Aika that the boy she once knew is now a man.
If a hentai anime is being animated by studio T-Rex, then you know the sex is going to be good. Ane wa Yanmama Junyuuchuu has a ton of actual MILF action about a horny guy showing his childhood friend that he's no longer that little twerp back in childhood. And oh boy, he's really showing it! Now, this hentai anime has a girl cheating on her husband and is lying to her young sons, but everything is done in an inoffensive way that you don't feel sorry for the husband. Looking for a top-tier non-stop MILF action? You're looking at it.
---
5. Ookami-san wa Taberaretai

Episodes: 3
Aired: September 2020
Ookami Hinako has always been a loner and she's not getting along with her classmates because they make fun of her. Except for her PE teacher Akazu Tatsumi, who never finds her strange and never makes fun of her. Is this love at first sight for Hinako? One way for her to find out is to push Tatsumi into a corner, and "convinces" him to confess.
Ookami-san wa Taberaretai is a very straightforward anime that is lacking in many areas, like more character development and more sex scenes. That being said, it's a nice romance hentai anime with beautiful character design, a TV anime-like presentation, very tasteful sex scenes, and a couple of characters that are hard to ignore.
---
4. Yuutousei Ayaka no Uraomote

Episodes: 1+
Aired: October 2020 - Ongoing
At school, Ayaka is your textbook honors student with high grades and boring looks, but at night, she is a free-spirited harlot seeking the joys of sex. But it's not about the sex, really. It just helps her bring out her true self as a woman who isn't bound to her academics.
Rape, blackmail, drugs and mind break are certainly not bad things in hentai, and we enjoy sluts guzzling on cum, but it does get repetitive. Yuutousei Ayaka no Uraomote doesn't have the power fantasy a man seeks, but what this hentai anime offers is a pure fun experience, with Ayaka enjoying sex in a free-spirited way. Our girl enjoys sex because it's fun to the senses, frees her from the monotony of being an honors student, and at the same time, Ayaka doesn't devolve herself into a two-bit street hooker. This is a fun hentai anime, and if that's what you want, then you'll definitely get that when watching Yuutousei Ayaka no Uraomote.
---
3. Oneshota The Animation

Episodes: 1
Aired: November 2020
Aria the elf and Lulu the beastwoman find themselves transported from their magical world to the Earth. They know nothing of this strange realm and its customs, and until they find the means of going back to their world, Aria and Lulu are getting taken care of by Mahiro, an average shota who just happens to be at the right place at the right time.
Of course, shota and MILF fans weren't left out in 2020, and we got ourselves a very well-made hentai anime featuring a shota getting pampered up and down by two lovely ladies in a reverse-isekai story. Oneshota is a vanilla fare, but despite the lack of ahegao and bodily fluids splattering across the room, it's still a fun hentai anime to watch because of its beautiful character designs, coupled with Aria and Lulu's sophisticated tastes in fashion to get the viewers and Mahiro's into the right mood.
---
2. Succubus Stayed Life The Animation

Episodes: 2+
Aired: August 2020 - Ongoing
Haruyuki Matsukawa is in the fortunate position of being a sex friend of one of the school's most beautiful students, Touko Sakuramachi. Whether Haruyuki believes Touko's claim of being a succubus or not, he's constantly getting his dick sucked dry by Touko at every opportunity. Be it at school, or at home, Touko can't just get enough of Haruyuki's cum!
Adapting Succubus Stayed Life to hentai anime can be difficult because, depending on the animation studio understanding the source material and having the budget to do so, an adaptation can end up being a major success or a big disappointment. Visually, studio T-Rex should've taken the helm, as it understands the appeal of the thickness of girls, but studio Seven is better at giving us a good show, with rough sex scenes. Was studio Seven a good choice? For the most part, yes because the sex scenes in the first two episodes of Succubus Stayed Life The Animation are visual spectacles of 3 girls sucking every last drop of the guy's cum.
---
1. Toromitsu Musume no Hitou Service: Torottoro Churu Churu Gohoushi Sasete Kudasai

Episodes: 1
Aired: October 2020 - Ongoing
Our nameless and faceless hero got himself a new car, and with some money left, he sets out to the countryside to relax. After his car GPS broke, he ends up finding a secret hot springs resort and quickly jumps in for a dip. To his surprise, he is greeted by three beautiful girls: Hazuki, Amane, and Hina, who are eager to give him a wonderful and memorable hot springs experience.
Sadly, we forgot this anime premiered in October 2020, and that's a shame because Toromitsu Musume no Hitou Service is a colorful and fun loli hentai anime featuring a guy getting pampered in the hot springs by 3 lovely girls. The art and animation are worthy of mention, with cute character designs and steamy sex scenes showcasing every trickle of water, steam, and sweat. There's still one girl that didn't get some sweet loving, and we're looking forward to episode 2 to come out, hopefully in 2021.
---
Final Thoughts
Picking the very best has always been difficult, but ultimately, the hentai title deserving the number one spot must have a good combination of visuals, art style, story (if applicable) and, of course, the fun factor. Out of the 10 titles we've listed, Toromitsu Musume no Hitou Service: Torottoro Churu Churu Gohoushi Sasete Kudasai has a good combination of everything we want for a great hentai experience, with colorful, cute girls, fun scenes, and a story that doesn't hinder the hentai experience.
And there you have it, folks! Were there interesting titles we've failed to notice? Or were there hidden gems that we didn't find? That was our list, and now we're curious about your personal favorites of 2020!
---