También puedes leer este artículo en:Español
The end of the year is approaching and for some of us, there's snow on the ground. With that in mind, we thought it would be an excellent opportunity to take advantage of the holidays and curate a list of some of our favorite hentai to watch during Christmas.
There's very few hentai that actually uses Christmas as a central theme. With that being said, what we wanted to accomplish was bring to you hentai that took place during winter. Several factors were paramount when it came to ranking this list. These included the number of snow scenes, Christmas vibes (cosplay, decorations etc.) and the overall quality of the hentai. As we bring you this list of hentai to watch during Christmas keep in mind it's not exclusively about how great the animation is.
10. Yukiyo Ichiya Monogatari (Snow Night Stories)

Episodes: 3
Aired: Mar. 2004 – Jul. 2005
Yukiyo Ichiya Monogatari is a three episode series that centers around three intimate stories. The first story is about a woman who's wed to an older man who cannot satisfy her. While out selling goods, his wife is left alone with a thief who enters their house. Story two takes place during the feudal war era, where a princess's family is slaughtered. The princess is one of the few to survive, but a fate worse than death awaits her. The last story revolves around a married couple that sees the bride treated crudely and receives the groom's harsh love.
Yukiyo Ichiya Monogatari very much feels like a winter hentai. While each of these episodes tells a different tale, the one thing that they share in common is the snow landscape illustrated in each episode. That alone makes this a worthy inclusion on our list because, for a large majority of the world, Christmas takes place during the winter. Two of the three episodes start with a snowy landscape at night and then all three episodes end with a wondrous snow-covered locale. It really hammers home the title of this series, Snow Night Stories.
---
9. True Blue: Gaiden

Episodes: 1
Aired: Dec. 2005
The childhood relationship between Aoi Kanzaki and Akito Kurusu has all but crumbled. Akito still has lingering feelings for his former lover. Aoi, on the other hand, has moved on and since has become a mistress to her P.E. teacher, Yuuichirou Shouda. Their mutual friend, Kaya, has always been interested in Akito. Her efforts to win over Akito have fallen on deaf ears. In addition to that, Kaya finds herself in a precarious situation. Kaya has to take the turmoil head-on otherwise she will never be able to escape her predicament.
The sequel to True Blue very much evokes the same feelings as the original. In fact, some of the same characters return to this sequel making you feel even worse for Akito. You get a sense of time moving at a relatively fast pace in True Blue: Gaiden, most notably from the weather changes. Near the climax of the episode, it begins to snow and it starts to feel like winter. True Blue: Gaiden doesn't play with the winter theme very long, but it gives off just enough seasonal attributes to warrant a spot on our countdown.
---
8. Hatsu Inu 2 The Animation: Strange Kind of Woman – Again

Episodes: 2
Aired: Sep. 2008 – Dec. 2008
The story Hatsu Inu 2 The Animation: Strange Kind of Woman – Again features the familiar faces from the first installment, Fujino, Fukaya, Mita and the nurse. Fujino and Fukaya travel to the sex shop to buy a new vibrator for Fujino because Fukaya accidentally breaks her old one. While there, the two experience a lustful encounter that leaves Fukaya wondering why Fujino hasn't been herself lately. Her reaction to their lovemaking was subpar and he insisted that Fujino become more vocal during intercourse. With the assistance of Mita and the nurse, Fukaya and Fujino hope to get their sex life back on track.
Another sequel to grace this list and it comes as one of the better overall series on this countdown. The reason why it's not higher on the list is that it doesn't cover as much Christmas/winter oriented activities. However, the Christmas themed h-scene that we receive from the first episode is quite incredible, despite its length. Fujino and Fukaya take a trip to a department store and Fujino tries on several erotic suits, including a lovely Santa outfit that's sure to get the blood pumping.
---
7. Tsuma Shibori (Beautiful Sisters)

Episodes: 2
Aired: May 2008 – Sep. 2008
Tsuma Shibori or Beautiful Sisters tells a tale about a male named Kousuke Shinba, who lives a very ordinary life with zero female presence. However, that's about to change when Kousuke's father introduces a girl named Madoka to Kousuke and as fate would have it, the two end up living with each other. As if that wasn't enough, Madoka's older sister, Sakura, moves in with them in order to keep watch over her sister. Kousuke's life will never be the same as two potential wife candidates are now within his reach.
The first shot you will see in Tsuma Shibori instantly sets the mood of the series with snow falling in the night sky. Right away, it gives off a sense of peacefulness and retreat. The story of Tsuma Shibori takes place in the winter and it's shown throughout its two episodes. Kousuke even mentions that the weather is cold out, making you feel more immersed in the setting. On top of that Aoi shows up in the hour of need and offers to give Kousuke a place to live, making it feel sort of like a Christmas wish of sorts.
---
6. Eromame

Episodes: 2
Aired: Dec. 2014 – Mar. 2015
Eromame is based on the original work by Mame Eda. The opening act takes place on Christmas where a lonely guy throws in a childish request to the Santa Foundation, Japan Branch. Later on, that night, after he had passed out he receives one heck of a wakeup call from a cute girl who claims she's Santa. The other story revolves around a gifted captain of the archery club. After displaying her skills to the club, Yumika becomes jealous when she sees her boyfriend conversing with another girl. Later on that day, Yumika and her boyfriend, Kohinata, settle things in the archery room.
Our next pick is a studio that we don't talk about very often, Queen Bee. Despite some of their shortcomings in the animation department, they created a fantastic seasonal series for you Christmas lovers out there. The initial story in episode one of Eromame takes place on Christmas. That story involves some Santa cosplay, much like our number eight selection. However, unlike Hatsu Inu 2, the female in this story actually refers to herself as Santa-san. In addition to that, Santa-san and the lonely guy share a lengthy h-scene that's filled with toys and bondage.
---
5. Baka Dakedo Chinchin Shaburu no dake wa Jouzu na Chii-chan♡

Episodes: 2 (as of Dec. 2017)
Aired: Jun. 2017 – ?
On a smoldering hot day, Kota Muroto came across a classmate, Shiina Chiari at a convenience store near his house. Kota finds Shiina extremely erotic and couldn't help but notice how she was provocatively eating her popsicle. Shiina came up to Kota and had a proposal for him. If Kota is able to improve Shiina's grades, Shiina will repay him handsomely. Kota accepted the proposal because he thought he'd have a chance to lose his virginity with her. Shiina claims she has a boyfriend, but she's willing to make sure Kota doesn't walk away empty-handed.
We've now reached the midway point of this countdown and we're ready to bring even more sizzle to this Christmas countdown. The second episode of Baka Dakedo Chinchin Shaburu no dake wa Jouzu na Chii-chan♡ transitions into the Christmas season as Kota and Shiina become study partners. The pair has been "friends with benefits" for quite some time and things are becoming more serious. The romantic scene that takes place outside on a bench with Christmas trees decorated all around brings out much emotion visually. If that wasn't enough, they spend the night together and proceed with sexual intercourse until dawn, cementing their status as a couple.
---
4. Pretty x Cation 2 The Animation

Episodes: 2
Aired: Nov. 2016 – Jan. 2017
Pretty x Cation 2 The Animation is based on the visual novel of the same name. The opening act features a lovely girl named Honami and her lover Tetsuki. Tetsuki offers Honami to visit his house so he can show her how nice the flower she gave him has grown. When they arrive, lustful feelings overwhelm them. The second-half story showcases the blossoming relationship between a waitress by the name of Suzuka and her boyfriend. After shopping at the local mall, Suzuka suggests they infiltrate her boyfriend's school. Once arriving, passion overtakes them.
We're going to focus on the midway point of episode two of Pretty x Cation 2 The Animation. In this portion of the episode, the main character is in a jovial mood after he looks outside and sees that they are surrounded by loads of snow. The couple goes for a walk and they end up at an observatory. Basking in the dreamy snow-filled landscape the two initiate a steamy h-scene. Between the gorgeous backdrop and the stimulating situation outside in the snow, this ranks as one of our favorite hentai to watch during Christmas.
---
3. Oni Chichi Vacation

Episodes: 1
Aired: Apr. 2016
In comes Oni Chichi: Vacation, a continuing story about Airi and her deviant stepfather, Kouzou. This time the couple decides to go on vacation during the winter holidays to a secluded school in the countryside. Here, Kouzou hopes to feel the nostalgic memories of his first love that he grew up admiring when he was younger. The pair ends up meeting his long-lost love, Mari. Upon their meeting, she realizes that the father x daughter connection is real. Mari takes it upon herself to spice things up with some cosplay and other tricks.
When it comes to hentai that takes place during the winter, Oni Chichi Vacation is the first series that comes to mind. The entire episode focuses on Kouzou and Airi traversing the snowy mountains. The two take shelter in a cave where Kouzou initiates sexual intercourse in hopes to keep each other warm. It's really just them and the environment. Oni Chichi Vacation captures the essence of a winter-themed hentai perfectly and it shouldn't be missed if you're looking for a winter wonderland setting.
---
2. Koiito Kinenbi The Animation

Episodes: 2
Aired: Dec. 2012 – Mar. 2013
Koiito Kinenbi The Animation delivers several stories and situations spread out between two episodes. The prominent stories involve the Okunaga family which consists of the younger sister Anna, the eldest sister Kanako and their mother Yurie. Kanako's boyfriend Yuuichi becomes the beneficiary of the family's lust. The other story is about a girl named Aisha who is taking place of Santa Claus delivering presents. While visiting her last house, she slips and falls, suddenly being woken up by a horny male who is taking advantage of her. Furthering the story a year later, Aisha's younger sister Sasha visits and things start to heat up in the cold winter's night.
What happens when you take a similar concept to our number six pick but throw in more females and better animation? You get one of the stories in episode two of Koiito Kinenbi The Animation. The steamy h-scenes take place on Christmas Eve with two blonde sisters sharing one guy in a festive night full of lust. The highlight of these scenes is easily the lewd Santa attire that the girls wear. Koiito Kinenbi The Animation is not only a great hentai to watch during Christmas, but it's one of our favorites of all-time.
---
1. Amakano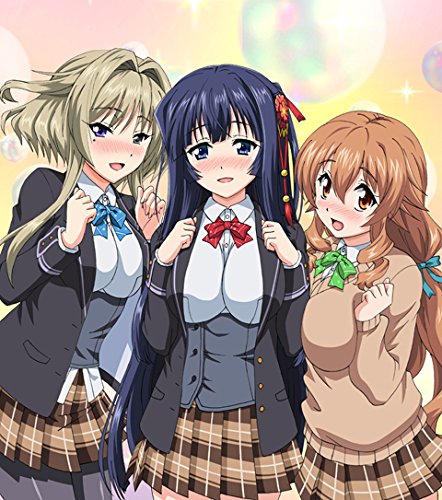 Episodes: 4
Aired: Feb. 2016 – Jan. 2017
Yuuki, a kind spirited individual moved to the snowy hot springs town of Yomase-machi to assist his grandparents with shoveling snow. During the course of his time there, he met many wonderful people, including a shrine maiden named Sayuki, an exuberant housemate, Mizuki and a café mascot named Koharu. After seeing these three beautiful girls, his grandfather suggests he finds love while he still can. Now Yuuki has to decide which girl is best suited for him.
There are many reasons why we have selected Amakano as our number one hentai to watch during Christmas. It all starts with the series having four episodes that all take place in a wintry village. The second reason why this outperforms the other nine on this list is that it focuses on three beautiful girls, each getting their own episode. The three girls come together to share the final episode with the main character, Yuuki. The dreamy hot springs even become a chilly backdrop to a heated h-scene in episode four. If there's one hentai that captures winter exquisitely, it's Amakano.
---
Final Thoughts
As we draw to a close on this frosty countdown, we hope we left you dreaming of a white Christmas. With Christmas rolling around the corner, we felt the need to recommend the best hentai to view during these long winter months.
Can you think of any other winter-themed hentai that we didn't cover? If not, what's your favorite hentai to watch during Christmas? Let us know in the comments section below. We hope everyone has a Merry Christmas and a happy new year!