Psst! Hey man, you wanna play some hentai games? Like, titles with sex scenes in them? Yes? Then we've got a list just for you! Hentai games are making a comeback because numerous publishers are localizing them to the West, so let's list 10 good ones that you can download!
The criteria for this list are: the titles must be hentai in nature, can be purchased, and are playable in current operating systems. So let's get cracking! And yes, you can do this in one-handed mode!
10. HuniePop

System: PC, Linux, MAC
Publisher: MangaGamer
Developer: HuniePot
Release Dates: April 6, 2015
Part dating sim, part puzzle game, HuniePop lets you take on a role of a man or woman who isn't good at romance or good at getting a girl in bed with them. But after a few helpful hints from the magic love fairy Kyu, you go out into the world to start dating women!
HuniePop is a hentai game developed in the West, but the art is anime style and good enough to get you invested in dating a cast of lovely ladies. Before you even romance a girl, you have to date them first and it's very straightforward; you read their profile, find out what her hobbies are, and what they love or hate through branching conversations to know what gifts to give them later on. After that, comes the puzzle part of HuniePop, a game of Match 3 in which you line up 3 identical symbols to slowly build up a meter. Difficulty ramps up as you progress, but if you are successful at winning the heart of the girl, you are treated with some very raunchy imagery and dialogue.
And yes, you can play HuniePop with one hand as we advertised.
---
9. Highway Blossoms

System: PC, Linux, MAC
Publisher: Sekai Project
Developer: AlienWorks
Release Dates: June 17, 2016
Amber has been traveling alone the interstate ever since her grandfather died and is currently heading towards a special event in New Mexico. Along the way, she encounters a stranded girl named Marina who is one of the thousands of amateur prospectors looking for a hidden stash of gold detailed in an old journal that was published nationwide. Since the two are heading in the same direction and seeing that Marina is oblivious to the outside world, Amber invites Marina to travel with her across the American Southwest. The extra company helps and maybe, Amber might find something she didn't know she was looking for.
Highway Blossoms is a kinetic visual novel, meaning the story plays out from start to finish without selecting any branching paths to get a different outcome. While that may be a bummer, the story is very well written, the main characters—Amber and Marina—are an interesting pair, and the supporting cast of characters are quirky and funny. The visual novel has excellent voice work in the dialogue and tastefully done and fully-voiced lesbian sex scenes make the entire 5-6 hour experience very worthwhile. After clearing the story, you'll have access to the Goofball Mode that adds some funny tweaks to the story if you decide to start over.
---
8. Ikazuchi no Senshi Raidi (Lightning Warrior Raidy)

System: PC, FMT, PC98
Publisher: ZyX, G-Collections
Developer: ZyX
Release Dates: April 8, 2008
Raidy is a wandering warrior and has made a name for herself as Lightning Warrior Raidy for her ability to harness lightning. When Raidy visits the town of Saad, it's in a state of decay and all of the young women have been taken away to an ominous tower by vile monsters. It's up to Raidy to storm the tower alone and rescue the women.
Lightning Warrior Raidy is a simple tile-based dungeon crawler where you navigate Raidy through the maze-like corridors and fight monster girls along the way. You start at the bottom of the tower (well, obviously) and you navigate each level looking for clues and important items and fight monster girls wearing very skimpy outfits through random encounters. Combat is turn-based and you have the option to attack, defend, use items, escape, or use Raidy's powerful move, Thunder Slash. Apart from gaining experience points and potential item drops, you're rewarded with artwork featuring the slain monsters in various states of undress. Each level has a boss monster and defeating them will trigger a cutscene with Raidy sexually shaming the fallen boss. But if the boss defeats you, then Raidy gets to wear the gag before the Game Over screen. It's a win-win deal.
---
7. Honey Select (Honey Select Unlimited)

System: PC
Publisher: Illusion, Fakku
Developer: Illusion
Release Dates: March 28, 2018
Honey Select Unlimited lets you create your own custom character or use what's already provided in the game and, well, fuck them to your heart's content by using many options such as editing the rooms where you interact with the ladies, engaging in conversations, giving them gifts, etc., and you dictate what kind of sex scenes you wish to have. But be careful because based on each girl's personality, they may not like the sex positions you want. Of course, you can force a girl to do a specific thing and she might hate it, but once she cums, then chances are she'll continue to like you regardless of whether you were rough with her or not.
The character designs lean on towards the realistic side, so if anime-like characters are your thing, then Honey Select Unlimited may turn you off. But if you want a porn version of Dead or Alive Xtreme 3, then Honey Select Unlimited will satisfy that itch. Honey Select Unlimited is a straightforward hentai game that lets you create your own custom girls with your own custom sexual escapades. And as an added bonus, Honey Select Unlimited has VR support, so you can get up close and personal with the girl(s) of your dreams!
---
6. Custom Maid 3D 2

System: PC
Publisher: Kiss
Developer: Kiss
Release Dates: July 24, 2015
Your uncle has decided to leave you to manage his Empire Club nightclub and, unsurprisingly, the business is riddled with debt. It's up to you and your maid to save the popular nightclub by bringing in customers to pay off the debt your uncle lovingly inherited to you.
As the title suggests, Custom Maid 3D 2 is a hentai game that lets you create your custom maids and have them do chores and work at the Empire Club. There are two parts to Custom Maid 3D 2: The first part is creating your own maid with either a character design preset you can download or create one from scratch. Give your maid a name, personality, and sexual preference and have her do things maids are supposed to do. Letting your maid do stuff helps her develop her skills and engage them in conversations so you will eventually have sex with them. The second part is the club management gameplay where you assign your maids to serve the guests in your club and use your earnings to slowly clear the debt. But be careful though, because the more maids you hire, the more funds you need to maintain the club and keep your maids happy.
---
5. Katawa Shoujo

System: PC, Linux, MAC
Publisher: Four Leaf Studios
Developer: Four Leaf Studios
Release Dates: January 4, 2012
You take on the role of Hisao Nakai, a simple young man until he has a heart attack when asked out by a girl. Not really a nice way to experience a girl's confession, but yeah, due to his illness, Hisao is transferred to Yamuka High School, an institution specializing in teaching students with disabilities. There, Hisao meets a lovely cast of ladies, each with their own stories to tell. Which one Hisao will love is up to you.
Katawa Shoujo, in a way, is very unique because it was made by the collective minds of anonymous online users from around the world. And the end result is a romantic, heartwarming and gut-wrenching story of a group of young individuals with disabilities finding new life and love. Katawa Shoujo is a full-fledged visual novel with branching paths, multiple endings and fail states. And best of all, Katawa Shoujo is free to download!
---
4. Nekopara Vol. 1

System: PC, PS4, Nintendo Switch
Publisher: NEKO WORKs
Developer: NEKO WORKs
Release Dates: November 6, 2018
Kashou Minaduki moves out of his hometown to start his own bakery business he proudly named Patisserie La Soleil. While he was moving his things and equipment inside his new building, Kashou was shocked to see that his two catgirls Chocola and Vanilla from back home have followed him. Instead of going through the troubles of sending them back, and with the prospect of having two helpers for his new business, Kashou assigns Chocola and Vanilla to La Soleil's maid catgirls.
Nekopara is one of the cutest hentai games you can find that is translated into English (provided you got the PC version with the R-18 patch installed, like any sane person would) featuring a huge cast of lovely catgirls. And Nekopara is quite lengthy, with 3 volumes and a short teaser volume 0, so this series will keep you busy for many hours. Volume 1 lets you romance and bed the two main catgirls Chocola and Vanilla and you get to romance more catgirls in the following volumes. Now, who wouldn't want a harem of catgirls who will do anything to make you happy?
---
3. Sono Hanabira ni Kuchizuke o: Mikaeru no Otome-tachi (A Kiss For The Petals - Maidens of Michael)

System: PC, Linux, MAC
Publisher: YurinYurin, MangaGamer
Developer: St. Michael's Girls School
Release Dates: February 22, 2018
Azumi Risa is the class representative of the first year Snow Class at St. Michael Academy for Girls, and she is quite capable at handling any situation swiftly and efficiently. But there's one thing that's being a constant thorn on her side: Ayase Miya. Beautiful, anti-social, and always skipping class while listening to no one, Ayase Miya is always on Risa's mind and their constant bickering catches everyone's attention in school and they are named one of the Best Couples of the school. Feeling unsure about why this is happening, Risa and Miya go along with it in order to keep up appearances, and to make things more awkward, Risa and Miya are stuck in a committee where other popular couples from other classes gather to plan events like Christmas and Valentine's Day!
The quintessential yuri visual novel series, Sono Hanabira has been around for many years and has spawned many games, spin-off games, web series, novels, drama CDs, and a hentai adaptation. But it was until very recently that one of the games—Maidens of Michael—got an English adaptation complete with uncensored sex scenes. Maidens of Michael isn't a dating sim, nor do you take on the role of a faceless avatar romancing the girls; rather, you experience the stories from the perspective of the couples. You start off with the main couple, Risa and Misa, and after the end credits, you'll have the option of following the other couples' stories. With at least 5 couples to follow, and with a hearty amount of branching dialogue, tasteful lesbian sex scenes, and presented with some of the most beautiful artwork in a visual novel, A Kiss For The Petals - Maidens of Michael is a lengthy and worthwhile experience.
---
2. Rance VII (Sengoku Rance)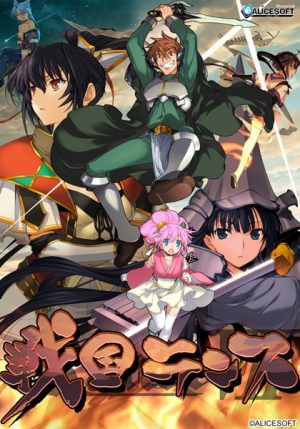 System: PC
Publisher: Alice Soft
Developer: Alice Soft
Release Dates: December 15, 2006
Rance is a walking force of destruction and testosterone and, for better or worse, did immeasurable damage to the Continent—the main setting in prior Rance games. Rance and his slave Sil continue their journey through the war-torn nation of feudal Japan in his unending quest to fuck every miko, ninja, priestesses, shrine maiden, village girl, and anyone else with XX chromosomes.
The game itself is surprisingly deep with its fully featured character development/diplomacy system, deep strategic gameplay with RPG elements, and engaging story with very funny or uncomfortable dialogue happening during gameplay. The combat itself is turn-based with the player selecting a general and their squad occupying one tile out of six. Ideally, you place your warrior/melee class generals in front and your support generals at the back to provide healing, defensive buffs, and long-range attacks. Since Sengoku Rance is a hentai game, you can have sex with your subordinates, which affects their opinion of you and gives Rance some buffs to aid him in his conquest to conquer all of Japan and fuck all of the girls who are (un)fortunately residing within.
---
1. Artificial Academy 2

System: PC
Publisher: Illusion
Developer: Illusion
Release Dates: June 13, 2004
In Artificial Academy 2, you create your own story, your own dream school, and select a roster of lovely students, or create your own using the highly robust character creator. Interact, befriend, seduce, and have sex with the girls you desire, and breathe life to your own world.
The relationship-building gameplay and character creator in Artificial Academy 2 is complex and overwhelming for first-time users with tons of customization options (worse still, you need some tweaking to your system in order to boot up this game). But once you're past the initial hurdle, Artificial Academy 2 is a full-fledged high school simulator in which you can create an entire school where your own custom characters can interact and the various personality options of each character will dictate the story in unpredictable ways. The girls will get jealous if you keep on talking to a different girl, there are betrayals, and everything else you would expect from a typical high school anime.
The biggest draw of Artificial Academy 2 is its near-infinite replay value. If you have the patience, you can start the game by using your own custom girls. The character creator has enough options that you can possibly recreate your favorite anime characters and have them do lewd things with your avatar or with anyone you've created. You can also set their sexual orientation to gay, lesbian, or bisexual, so there's something for everyone.
---
Final Thoughts
These are one of the best hentai games that are currently available to download with some of them having English language dialogue and/or being compatible with modern operating systems. There are a ton of great hentai games out there, but a lot of them aren't translated and they are hard to find because they have no downloadable versions. Some of them are highly revered by hardcore fans, but were too controversial and are banned in certain regions like the infamous RapeLay.
So anyway, what do you think of our list? Please leave your thoughts in the comments section below!