The month of March 2018 had some great hentai releases. So great, in fact, we decided to make this month`s top 5 top hentai releases a top 10 list! A common character style this month was enormous breasts. That sort of character design is all too common in hentai, but for March 2018, there are some girls with great endowment. But of course, there is more to hentai than just breast size. Different stories, tropes, fetishes, and even a couple of vanilla works all round out the month of March. Check these hentai out in our Top Ten Hentai of March 2018 list below!
10. Katainaka ni Totsui de Kita Russia Musume to H Shimakuru Ohanashi

Episodes: 4
Aired: March 30, 2018
Devastated that her partner, Kouta, has left on a business trip, Alisa finds herself masturbating on the floor to the sweat smell of Kouta`s sweaty shoes. Olfactory fetishes are quite common, but this is one of the rare times when it presents itself in hentai among female characters. This hentai features another fetish: pregnancy. Unlike some other pregnancy hentai, this particular hentai doesn't show Alisa`s protruding belly. However, there are mentions of her being pregnant during subsequent sex scenes. Even so, the fact that there are two prominent fetishes in this hentai kicks off our top ten of March 2018 list.
---
9. Do S na Seitokaichou-sama ga M Note ni Shihai Saremashita

Episodes: 2
Aired: March 30, 2018
A well-endowed and naked Maina is given an order: lean against this desk and stick out! A great scene ensues with something that`s a bit of a rarity in hentai – spanking. Spanking is a little more common in pornography and although it certainly exists in hentai, it`s on the rarer side. So, spanking is great to see in this hentai for all those who have a spanking fetish. The spanking, however, isn't hardcore. In fact, it`s rather vanilla, but we appreciate the fact that Maina is not given the choice to bend over and take it either. Spanking is a particular favorite of ours here at Honey`s, which is why we put this hentai at the number nine spot on our top ten list of March 2018.
---
8. Cherry & Gal`s

Episodes: 2
Aired: March 9, 2018
This shotacon hentai is the story of Ryouma`s sexual awakening with a much older high school girl. She flashes Ryouma on a train and he follows her to a park, where the two of them engage in sex, him for the first time. Both willing participants, Ryouma`s first time is unlike anyone else`s. He`s taken care of with expertise. The scene is most of the episode, but that doesn't make it boring. On the contrary, this episode of Cherry & Gal`s is great and leaves us with a semi-cliffhanger. We`re looking forward to the next installment and for that, Cherry & Gal`s clenches the number eight spot on our top ten of March 2018 list.
---
7. Enkou JK Bitch Gal – Ojisan to Namapako Sekatsu, Part 2

Episodes: 1
Aired: March 9, 2018
There are a lot of first-time sex scenes in this vanilla hentai, but the story opens with a wonderfully drawn scene. The character of Nana is beautifully drawn: large-breasted with pert nipples seen from across the room, Nana is still partially clothed. Nana fulfills the school girl sex fantasies of her partner by wearing a pair of old school Japanese P.E. bloomers during sex. Her shirt lifted but her bloomers still on, Nana gives her partner a run for his money at the local love hotel. Later on in the episode, we`re treated with some breast on breast action in a great three-some scene, where we learn that Oji-sama likes paying for sex with school girls, just as much as we like watching him to.
---
6. Only My Oppai Soul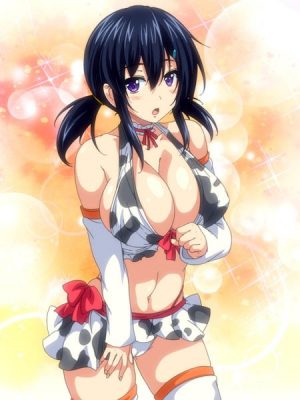 Episodes: 3
Aired: March 16, 2018
Joining the volleyball club has never been so sexy. This hentai has a rather simple story, but that`s not why we`re here! There are several titty sex scenes in this hentai, and rightfully so! The female characters in this hentai all have enormous breasts, and you know what that means! When a male character can have a great sexual experience with a pair of breasts, we`re on board too. We love those scenes just as much as you do. Vanilla with a decent, but humorous story, we put Only My Oppai Soul at the number six spot on our list.
---
5. Tsuma Netori: Ryojoku Rinne

Episodes: 1
Aired: March 16, 2018
Ikumi is a strong woman and as we all know, strong women in hentai are just begging to be dominated by their male counterparts. Tsuma Netori opens with a vanilla scene between Ikumi and her husband, Makoto, but progresses to more severe rope bondage half way through the episode, and an impressive gangbang scene to round out the episode. This hentai is about control and domination, strong women being dominated, and the family that Ikumi chooses to protect. Not vanilla at all, but not particularly hardcore either, Tsuma Netori makes its way to the middle spot of our top ten list.
---
4. Hono no Haramase Oppai Ero Appli Gakuen

Episodes: 2
Aired: March 30, 2018
Judging from the title alone, you`re probably watching this series for the same reason we are – the female characters in this hentai have some amazingly big breasts. The titty play in this series is vanilla, but still worth the watch! We love watching all of the characters engage in sex with the luckiest man in the world, Misaki, and Misaki is especially good at titty play. Rubbing and pinching are just some of the ways Misaki engages with these big-breasted women. But that`s not all! There`s a great yuri scene between Kyouko and Nikozaki, where, of course, the focus is on titty play. We especially loved this part of the hentai: there`s something awesome about girl-on-girl titty play, which is why we put this hentai at the number four spot on our list for March 2018.
---
3. Youkoso! Sukebe Elf no Mori e

Episodes: 2
Aired: March 2, 2018
Here at Honey`s, we appreciate elf hentai just as much as you do! We love how elves are drawn in hentai; we love how imaginative these characters can be and we especially love how these characters are drawn. Different shades of elves make for some really beautiful girls. The elves` bodies in this hentai are really beautiful and this series has been great so far because of that. Usually, we see a lot of elf hentai featuring rape scenes, but Youkoso! Sukebe Elf no Mori e turns things around with consensual sex and more vanilla sex scenes. Pure heaven for all of you vanilla lovers out there!
---
2. Saimin Gakuen

Episodes: 1
Aired: March 30, 2018
At our number two spot is Saimin Gakuen (2018) simply because of a rarer fetish: pregnancy. Some of pregnancy fetishes come from the idea of impregnating someone during sex, some from the idea of seeing a protruding abdomen, and others like the idea of seeing that abdomen sway during sex. Whatever the reason, if you`re into pregnancy as a fetish, Saimin Gakuen (2018) has exactly what you`re looking for. Unlike the pregnancy scenes in Katainaka ni Totsui de Kita Russia Musume to H Shimakuru Ohanashi, these scenes in Saimin Gakuen clearly show a swollen, uncovered belly. There are two very different approaches to the pregnancy fetish with these two hentai. Whichever you prefer, Saimin Gakuen is definitely worth the watch.
---
1. Shoujo Ramune

Episodes: 4
Aired: March 2, 2018
The last episode of the series, the episode opens with an interaction between Kiyoshi and Komako at a bus stop. Vanilla for lolicon, this scene is beautifully drawn. Komako`s character design is spot on and the focus is on her character`s movements. As the episode progresses, the character Chie has a sexual encounter with Kiyoshi too. That scene is also beautifully drawn! The voices in this hentai are quite nice too. Realistic dialogue for a first time, these scenes give off the air of being special for the female characters, and for Kiyoshi, too. For these two scenes, we give Shoujo Ramune the top spot for our top ten hentai of March 2018!
---
Final Thoughts
That`s it for March 2018! This month saw a particularly good bunch of hentai. Vanilla sex was most common, but a few good bondage scenes also hit our screens. We liked that there were some fetishes – including two anime featuring pregnancy! – and we liked watching the shotacon and lolicon hentai too. The most prominent part of hentai in March 2018 was the female character`s designs. Enormous breasts and the sexy things that were done to them really made this month what it was. Was there a hentai we listed in particular that you really enjoyed? Let us know in the comments section below!
by Hilary
---