También puedes leer este artículo en:Español
It's often said that every guy's fantasy is to have a threesome. Though that could be argued, there is no question that many ultimately would love to have one. For most of us, that's not going to happen, so why not channel that fantasy to hentai? Hentai is a rare beast, it can cover nearly every possible fetish, interest or taboo topic out there. For this top 10, we're going to cover a highly sought-after sub-genre, which desperately needs this kind of countdown for threesome enthusiasts.
With a plethora of hentai out there, it can be hard for newcomers to find an anime that specifically meets their current mood. If you're one of those aforementioned newcomers or just want to seek out some top notch threesome action, you've come to the right place. How do you select just ten of something that is seemingly everywhere in hentai? Well, it's no easy task but we feel we selected some provocative threesomes in anime. Without further delay, let's bring them to you.
10. Stringendo (Stringendo: Angel-tachi no Private Lesson)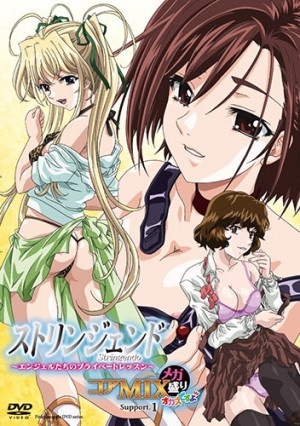 Episodes: 12
Aired: Jan. 2006 – Apr. 2012
Firstly, we would like to say that Stringendo is arguably one of the best and longest running hentai out there. However, for this particular list, it falls to number ten. This anime doesn't have too many threesomes in it, but we did happen to find one that stood out to us, mostly because of the situation it presents. This certain h-scene on episode 4 is brilliantly done and it's bound to please, due to its ability of having the male character not know what hit him. It's truly an uncommon threesome and that's why we chose it.
Mikura meets Kotoha and she explains to her that she had seen Mikura and another guy exchanging bodily fluids in the nurse's office. Excited by the possibility, Mikura has Endou, the guy she had a previous encounter with show up. Not knowing that Kotoha is in the vicinity, Mikura blindfolds him with her own panties. It's then that they proceed to please him, one at a time. The best part of that entire scene isn't the h-scene itself, but rather that Endou just received sexual pleasure from two different females, unbeknownst to him. This caters to the audience without putting too much emphasis on the sexual act itself.
---
9. Harem Time The Animation

Episodes: 2
Aired: Oct. 2012 – Jan. 2013
This anime brings a small feud to the characters on episode 2. Misuzu and Seiji are newlyweds looking for just one opportunity to consummate the marriage. Misaki, Misuzu's daughter, makes it rather difficult because she always opts to sleep in the same bed with them. One night, Seiji dreams of making love to Misuzu, and before things start to get really good, he's woken up by his step-daughter, performing on him exactly what Misuzu was doing in his dream.
Things start to get heated shortly after the realization of his situation. Misuzu wakes up to find her daughter going at her husband. Instead of kicking her out of the room, oh no, she decides, with her experience, to teach Misaki a thing or two in the bedroom. That's when the aforementioned rivalry really comes into full swing, as they produce a youth versus experience angle. This anime delivers exceptional threesome action and further cements the sexual frustration the married couple was going through.
---
8. Oni Chichi: Rebuild

Episodes: 3
Aired: Dec. 2013 – Dec. 2014
If you're looking for a threesome that provides incest, video recording, and two best friends, number eight on this list has you covered. In the final episode, we're given the sexual deviant father tied up on the bed, while his step-daughter Airi and her best friend Sana discuss what they are going to do with him. Airi eventually agrees to allow Sana to have some fun with him since Sana claims that Airi has been "monopolizing" most of his time.
What makes this an interesting threesome is once the 'activities' start between the three participants, it doesn't slow down any. Relentless throughout the entire act, neither one of the girls let up and give Kouzou a chance to recuperate. This situation would be considered rape if he wasn't such a pervert and wasn't already more than willing to have them both to himself. Sana even has the gall to record the scene while continuing her lust-filled desires on her best friend's stepfather. This is a distinct threesome that will have you viewing it all over again.
---
7. Joshikousei no Koshitsuki

Episodes: 6
Aired: Aug. 2013 – Apr. 2015
This anime offers up a string of different stories and characters throughout most of the six episodes. With that in mind, we're going to talk about the fifth episode that has sisters, Saori, and Sawa, eager to please their volleyball coach. The girls have several glorious h-scenes with their sensei individually, leading up to the eventual culmination of unmitigated passion.
This series has tremendous art style and animation. It's top notch in its depiction of both desire and lust. This is further showcased by the surprise that their sensei receives when he comes home, only to find that he has both of his students waiting for him playing with sex toys. Sex toys aside, it's not long before their need for him turns into eagerness from the volleyball coach. While not too crazy, this threeway between them shows off many positions and exhibits how much they candidly yearn for their sensei. Joshikousei no Koshitsuki is a must-watch for any hentai enthusiast.
---
6. Koiito Kinenbi The Animation

Episodes: 2
Aired: Dec. 2012 – Mar. 2013
Our number six selection comes at you right from the warmth of a hot tub. In the first episode, it has Kanako and her boyfriend, Yuuichi, along with Kanako's mother, Yurie, bathing together. Once Yuuichi agrees to massage Yurie's shoulders, Kanako shows signs of jealousy. To calm her nerves she takes one drink after another of liquor. Her inadequate tolerance to alcohol led to her passing out on the outskirts of the hot tub. Conveniently, Yurie's towel falls off and you can kind of guess where this is going…
The location for such an act is fantastic and the whole idea of pleasuring your girlfriend's youthful looking mother is hard to come by. Yuuichi takes the plunge and has his way with Yurie. Shortly thereafter Kanako wakes up angry about the situation, but before Yuuichi could react, she physically and verbally declares that her boyfriend is off limits. The best part of this entire scene preceded the sexual act between the couple. Kanako passes out again and sure enough, Yurie is ready to go for round two. That was an underhanded move from the mother, but supremely invigorating to the viewers.
---
5. Menkui!

Episodes: 2
Aired: May. 2011 – Aug. 2011
Halfway through the entire list and we have one of the most peculiar additions. Akina is a childhood friend of Masaru, she longs for his attention, but it's a bit more complicated because of his unhealthy obsession with maids. One day, In order to get his attention, Akina dresses as a maid and starts to service him. This is where the story starts to sizzle. Masaru has a handmade sex doll named NiGou that transforms into a human after a titanic "miracle".
To Masaru surprises, NiGou offers to service him in one of the new maid dresses he ordered for Akina. Upon Akina's arrival, you get to see both females vying to become Masaru's number one maid. NiGou's ensuing passion furthers Akina's determination to please Masaru. This threesome is fierce and it brings out the best in both girls. The idea of a homemade sex doll coming to life and pleasing its master is not often explored, even in hentai. This anime walks a fine line between quirky and alluring.
---
4. Fault!!

Episodes: 3
Aired: Nov. 2009 – May. 2011
Our number four selection Fault!!, has two threesome scenes in it. Although both of them are fantastic, we opted to go with the one in episode three. Shuuichi is asked to meet both girls in the equipment room not far off from their familiar hangout, the tennis court. In there he finds both his sister Mio, and his love interest Ai dressed in a maid and bunny costume respectively. They figured based on his selection of porn magazines that he would crave them even more, in that garb.
It turns out they weren't wrong about the cosplay, making Shuuichi's enthusiasm hit an all-time high. This hentai offers up some great incestuous action, while also entertaining the idea of his love interest being involved in the action at the same time. In addition to the clothing, Ai incorporates a sex toy which she worked on herself while Mio was being satisfied. Ai wasn't done there; she also applied it to herself and used it on Mio. With the potential of being caught in the back of their minds, and the unparalleled pleasure taking the forefront, it's easy to see why this is a favorite of ours.
---
3. Boin

Episodes: 2
Aired: Aug. 2005 – Jan. 2006
The number three threesome goes to Nao, Mitsugu and Daisuke. Episode two kicks off with Nao and Daisuke heating up the kitchen, but not with the oven. About midway through the episode, Mitsugu walks in from getting groceries and she is shocked to see what's in front of her. The shock swiftly turns to competition and you see Mitsugu and Nao arguing on who gets to attend Daisuke's "lesson". To the girl's surprise, he settles on having them both take part in his lesson.
The seminar had Nao dressed as a flight attendant and Mitsugu dressed as a maid. There was some fun role-playing going on between the three, which ultimately led to an even more intoxicating scene. The Partners were taking turns and abiding by the rules given out during this session from Daisuke. This ultimately led to the grand finale that had all three participants playing together at once. If it wasn't for the average animation, this could have easily been the top selection.
---
2. Eroge! H mo Game mo Kaihatsu Zanmai

Episodes: 6
Aired: Aug. 2011 – Mar. 2016
Much like the majority of this threesome compilation, rivalry and competition between the girls are fierce. The females are determined as ever to one-up the other. For our number two selection, that description fits just nicely for Kisara, Momoka, and Tomoya. What really makes this one stand out, is the fact that there is a fourth person (Iori) watching and enjoying herself as the steamy threesome plays out, unbeknownst to the other three.
During episode four of this series we're treated to Kisara trying to learn more about the eroge that they are working on, so in regards to that, she decides to practice on Tomoya to get a better understanding. It's then that Momoka walks in on them and Kisara offers up a sweltering proposition. It was proposed to see who can make Tomoya orgasm first. They literally share him evenly to see who can get the upper 'hand'. This steamy scene has all three together, taking turns and even giving a show to Tomoya. Needless to say, he was spoiled beyond belief!
---
1. Issho ni H Shiyo

Episodes: 6
Aired: Dec. 2009 – Dec. 2011
Here we are folks; we have reached our number one selection. It's a unique scene that offers a POV shot as it puts the viewers in the role of Yui's stepbrother. When the stepbrother is asked questions he just nods or shakes his head. It's a really engaging way to offer up such an h-scene. This plays throughout the entire 17+ minute episode, with roughly 14+ minutes of action. Because of that, it makes this threesome the longest running on this list. It's no wonder that we've selected this to be our number one threesome in anime.
It starts off with the stepbrother (who is nameless) having issues concentrating on his homework because Yui and her friend Aoi, are being too loud. If he gives Yui a massage they will go to bed and let him study peacefully. Yeah, a massage is all she asked for. That leads up to the visually stimulated Aoi joining in and providing more than just a massage for her friend's stepbrother. The scene reaches its boiling point when Yui notices the pleasure her friend is receiving and wants some of that for herself. It's great back and forth action and we can say for certain that this will be a pleasing experience.
---
Final Thoughts
The subject matter for this kind of list is purely subjective. What we might find mind-numbingly seductive could very well fail to please someone else. What we hope to accomplish is to broaden people's horizons and give them some quality threesomes in anime that they won't soon forget.
As always, we'd love to hear from you! Share with us some of your favorite threesomes in anime. Did we nail some of your most-liked scenes? The comments section below is ready and willing to take all your thoughts about this list.
---