October is upon us, and we all know what that means – Halloween! Everyone is starting to get into the Halloween spirit, planning their costumes, eating candy, decorating, and searching for great new anime to watch to really get into the spirit of the season. But what about hentai fans? Are we to be left out of having some new stuff to watch that is still in the spirit of Halloween? Of course not! Lucky for us, there's plenty of dark, demon-filled, scary, monster hentai to really get the blood racing in more ways than one. Thus we present to you the Top 10 Hentai You Should Watch during Halloween.
Get ready for hentai full of supernatural creatures, tentacles, horror, bondage and more! And if that's a bit too dark for your tastes but you're still looking for some Halloween hentai, don't worry, we've got you covered too with some more light-hearted and funny hentai that still feature monsters or other Halloween themes. We've got a little bit of something for hopefully everyone, so get ready to check out some new hentai this Halloween season to enjoy throughout October.
10. Kuro no Danshou (Mystery of the Necronomicon)

Episodes: 4
Aired: Oct. 1999 – Sep. 2000
Private detective Susuki and his adopted daughter are having a skiing vacation together when the isolated resort they are staying at is shut down in Kuro no Danshou. The two find themselves trapped at the resort with a few other vacationers like themselves. It seems like everything will be okay - until one of the guests ends up dead, suspiciously murdered. Susuki decides to take it upon himself to find the killer, despite being off-duty - but the more he finds out about the other guests, the more they start to instead blame him and label him as the murderer!
Kuro no Danshou may be older than the other anime on our list, but don't let that turn you away. We've kept it on our list of the Top 10 Hentai to watch at Halloween because it's an intense murder mystery story with a lot of twists. The guests at the resort have a lot of dirty secrets that Susuki is able to expose, and some are much darker than ever expected. And of course, since it is a hentai, there's going to be sex, too. Sex, murders, mysteries, secrets, and intrigue? Sounds like a great set-up for a hentai at Halloween time, and Kuro no Danshou doesn't disappoint.
---
9. Itadeki! Seieki ♥

Episodes: 1
Aired: Mar. 2014
Itadeki! Seieki♥ is not your average vampire story. The vampire herself, Mari Setogaya, actually hates the taste of raw blood even though she needs to drink some kind of bodily fluid to survive. Lucky for Kanzaki, the boy she reaches out to through a love note, blood isn't the only bodily fluid that works! But there is even more to Mari than meets the eye, and the longer she is with Kanzaki the more another power has begun to awaken in her…
Itadaki! Seieki may only be one episode long, but it's an episode full of fun. Of course, the vampire is why it's on our list of the Top 10 Hentai to watch during Halloween. But it's not a super dark story at all. Actually, even though it's got supernatural themes, it's pretty light-hearted and very fun to watch. Mari is a strong, sassy character, and seeing her interactions with Kanzaki are really interesting. And don't worry; the sex scenes are still really hot while having the added twist of a vampire to really keep things exciting!
---
8. Tentacle and Witches

Episodes: 4
Aired: May 2011 – Nov. 2012
Ichirou Tachibana knows his homeroom teacher Yuuko's secret in Tentacle and Witches - she's a witch. And so is his classmate, Lily. When Ichirou takes to spying on Yuuko, Lily decides it's time to teach him a lesson by casting a spell on him. However, the spell she was sold is actually corrupt and broken, and she accidentally turns Ichirou into a purple, tentacled monster! And the only way for Ichirou to maintain any of his humanity is to gain sexual gratification from none other than witches; lucky for him the spell also has given him the power to control Yuuko and Lily to fulfill his desires. But who sold Lily the bad spell and why? What larger plot is unfolding for the trio?
Tentacle and Witches may have a lot of tentacle sex, which is usually quite a dark theme for hentai, but this anime is actually quite fun to watch. It's done in a more light-hearted manner, even if the sex itself is pretty hard-core, and the characters and story have real depth to them. And of course, the story of magic gone wrong and witches makes it a great hentai to enjoy at Halloween! You can still see some hardcore monster sex ripe with magic but treated in a more comedic and fun way. Tentacle and Witches is great for Halloween fun!
---
7. Brandish

Episodes: 2
Aired: Jun. 2012 – Aug. 2012
Brandish is a fantasy hentai that is more on the supernatural side of things to add another lighter, more fun selection to our list. The main character is Twiska, a girl that spends her time traveling from village to village and draining the cum of the people that live there. Her casual way of life is interrupted when she encounters Theo, however. He's attractive and really great at sex, and what more could a girl want? The only problem is that Theo is trying to defeat her! What will Twiska do in this difficult situation?
Brandish is another more light-hearted entry on our list of the Top 10 Hentai to watch during Halloween. Twiska is still a supernatural creature that enjoys draining humans of their cum, which is a pretty dark theme. Not to mention her character design definitely looks like a demon! But her relationship with Theo is an amusing one, with her confusion about whether she wants to kill him or just have him all the time since he's so good at sex. It makes Brandish very fun to watch while still keeping in the Halloween spirit!
---
6. Demonion: Gaiden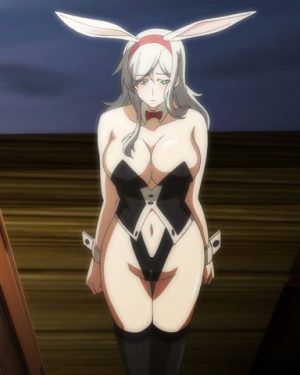 Episodes: 2
Aired: Nov. 2014 – Mar. 2015
Demonian: Gaiden is the story of the Devil King Astaroth. Astaroth was once very powerful and tried to destroy the world. However, he was stopped and sealed deep underground, hopefully for all eternity. It wasn't to be so, though, and two hundred years later Astaroth was revived and the seal on his prison supposedly broken. With the temptation of fame and glory, many adventures began to make the descent to his lair, hoping they would be the one to finally defeat him. Astaroth is a force to be reckoned with, however, and a Devil King should never be underestimated. He is ready to meet any adventurers that come his way and fall into his traps!
For many, Halloween is a time to think about demons and all sorts of dark, supernatural ideas. Demonion: Gaiden easily fits into that theme with Astaroth being not just a regular demon, but a Devil King. And after two hundred years locked up, you can imagine what a demon lord would do to human girls that are coming to try to defeat him! That's right. You can expect a lot of dominating, intense sex between Astaroth and the girls he catches in his traps. Dominating sex with a Devil King lands Demonia: Gaiden squarely on our list of the Top 10 Hentai to watch at Halloween.
---
5. Kyuuketsuki

Episodes: 2
Aired: Mar. 2011 – Dec. 2012
Mikage Onohara's family is in debt big time in Kyuuketsuki, and she is willing to do a lot to try to help them out. In a desperate attempt, she sells herself into actual slavery for a clan of vampires. That's right, vampires, the legendary creatures that live in the shadows and prey on humanity. The leader of this clan is named Claude, and he is more than happy to take advantage of their new slave to do with as they please. All Mikage wants is to do whatever she has to, to pay back her parents' debt and earn her freedom again, but will she be able to handle what Claude and the other vampires have in store for her?
Vampires are one of the most famous supernatural creatures, and of course, Halloween season is their prime time. So we couldn't have a Top 10 Hentai to watch for Halloween list without including a hentai where vampires are central to the story! And Kyuuketsuki does just that. What happens to Mikage won't be pretty, but if you like vampires and hard-core sex, Kyuuketsuki is what you're looking for. All of the sex scenes are not only intense, but they also have supernatural elements to them because of one party being a vampire so you can expect that plot point to be explored. If you're looking for a romantic story with a vampire, look elsewhere, but if you want a dark one - you've come to the right place.
---
4. Koutetsu no Majo Annerose (Witch of Steel: Annerose)

Episodes: 4
Aired: Jul. 2012 – Nov. 2014
Koutetsu no Majo Annerose takes place in the fictional city of Amidahara, a dark place full of humans and demons - and the powerful witch Annerose, one of the most important citizens of the city. The story begins centred around the jealousy of Annerose's servant, Mitico, towards her new servant, Rikurou, a human she has bonded to herself with dark magic. However, that is only the beginning of the story, because soon Annerose and her quarreling servants are swept up in a missing person case. The mystery leads them to a group whose leader, Lee Mayfeng, is one of Annerose's oldest enemies.
Koutetsu no Majo Annerose has sex at the centre of a really deep story. With creature like demons and monsters living alongside humans, as well as Rikurou being undead, it's not hard to guess why it's included on our list of the Top 10 Hentai to watch during Halloween. But beyond that, the sex itself is dark - humiliation, bondage, frustration, and even pain. There's also a lot of jealousy and completion. Oh yeah and also a mystery story with a dark twist. All of these elements combine to make Koutetsu no Majo Annerose a great hentai choice for Halloween and are why it stands so high on our list.
---
3. Makai Kishi Ingrid (The Dark Knight Ingrid)

Episodes: 4
Aired: Jun. 2009 – Aug. 2010
The Tokyo that exists in Makai Kishi Ingrid is a much darker, more terrible place than the one we know today where demons and humans live side by side. As the dark forces begin to take over and try to destroy the city, Ingrid, a "hell knight" who fights to hunt down demons that harm humans, tries to get to the bottom of it. Along the way, though, she is captured by Sabato Kiryuu in a derelict church. Kiryuu's goal is to destroy Ingrid's soul however he can, and in the meantime, use her as bait to lure out her boss - the vampire known as Edwin Black. To humiliate and break her, Kiryuu calls on all manner of monsters that want revenge on Ingrid for what she has done in the past in hunting them down to do whatever they please to her body. And you can bet that it won't be anything pretty.
Makai Kishi Ingrid has a lot of elements that put it on our list of the Top 10 Hentai to watch at Halloween. Firstly, it has some typical Halloween favourites starring in it - monsters, demons, and vampires. Secondly, the setting is a darker version of the real city of Tokyo which is a good backdrop for a Halloween hentai. Thirdly, the sex itself is hard-core and twisted with absolutely no romance to be found anywhere. Ingrid is being humiliated and raped by demons and monsters all out of vengeance and anger, so you can bet it's going to be intense. You can count on tentacles as well. For an intense choice full of rape and demons in a very dark version of Tokyo, check out Makai Kishi Ingrid.
---
2. Himekishi Lilia

Episodes: 3
Aired: Oct. 2010 – May 2012
Himekishi Lilia is a story of a fight for the throne, but with an added supernatural element. Princess Lilia is meant to be the next ruler, but as often seems to happen in this sort of story, her brother Dirk believes he is better suited to the throne. Rather than dispose of his sister in a traditional way, however, he makes a deal with a demon to become the King. What he has to do in return is capture Lilia's secret power for the demon. To try to meet his end of the deal, Dirk not only captured Lilia but also their mother, and all of Lilia's Knights!
The only way for Prince Dirk to capture Lilia's power is to bring her to the height of sexual ecstasy. However, Dirk doesn't stop with just Lilia - he also captures all of her knights and even their own mothers! Himekishi Lilia is full of harem sex scenes and bondage, and all done in the name of a demon. That is why Himekishi Lilia makes it onto our list of the Top 10 Hentai to watch during Halloween. It's well made and delivered well too, making it enjoyable to watch and landing it this high on our list. If you like fantasy stories but are looking for a darker theme to them this Halloween season, give Himekishi Lilia a try.
---
1. Bible Black

Episodes: 6
Aired: Jul. 2001 – Jun. 2003
High school student Minase's life would never be the same after he found the black magic book in Bible Black. At first, he used the book to give himself and his friends some sexual benefits. But the more he used the book, the more be began to learn about where it came from - and what happened in the past, on the dark Walpurgis Night twelve years ago. Now Minase and his friends are involved in a secret, dark cult tampering with the blackest of magic and engaging in perverse sexual acts. Will they ever be able to escape from the darkness they have been pulled into?
Like many hentai on our list of the Top 10 Hentai to watch for Halloween, Bible Black is not for the faint-hearted. The sexual sequences in it are very dark and almost always involve the occult. A lot of it is non-consensual and done to create black magic spells. The further Bible Black goes, the more terrifying the plot is, and the more intense the sex becomes. Of course, that makes it perfect for the Halloween season! With sex and the occult combined into one very dark story, it will definitely get you into the Halloween spirit - while enjoying some very naughty and hardcore sex, too.
---
Final Thoughts
There's just something about being both scared and turned on at the same time that really makes horror hentai special. So are you ready to see some dark stories played out before your very eyes, get down and dirty with some demons or monsters, or even laugh at the antics of a romance between the supernatural? We hope that our list of the Top 10 Hentai You Should Watching during Halloween already has you in the Halloween spirit – and that once you start enjoying some of these hentai, you'll be even more ready to enjoy Halloween this year!
So what do you think? Do you have any suggestions for hentai to check out this Halloween season? Are you itching to watch one of the ones on this list? Please let us know whatever your feelings are in the comments below, we'd love to hear from everyone!
---