Picture this: You're alone in the dark, with only the light coming from your laptop for illumination. The sound is turned down low on the anime you're watching and you can't pry your eyes from the screen. Your breathing has become heavy, your heart is racing and you're starting to sweat in anticipation of what comes next. A girl screams over and over… just what are you watching??
Sounds like either a thriller with a killer on the loose or some sexy time with a passionate lady lover. Then again, it could be both. Hentai has been known to push the envelope when it comes to showing you the sexy and obscene. With some legit fetishes being absolute nightmares for some, it's easy to see how hentai and horror can be mixed whether on purpose or not. Check out our top 10 horror hentai for when you really want to get your blood pumping and you don't care how it happens.
10. Meikoku Gakuen Jutai-hen

Episodes: 2
Aired: April 2017 – May 2017
When 'The Shroud' descends on Asada-sensei's school, all of the female faculty and students are affected. Their mana is continuously drained and in its place grows a powerful sexual urge that if left untreated, will eventually consume their very life. Asada has only one choice if he's going to save everyone from certain death; restore their mana continuously through his semen and alleviate their sexual urges before it leads them to ruin.
This is one of those hentai that make you go 'how convenient'. The main guy happens to be the only one who can save all these sexy women and girls by having sex with them all the time totally guilt-free? You might think there's no horror element and, granted, it's rather tame compared to others on our list. But imagine that you don't just 'get' to have sex with these girls, you HAVE to. You have to or some mysterious force that you're powerless to fight kills them. These people you honestly care about and want to protect will all die if you don't save them but you're continuously at your physical limit. No time for performance anxiety, lives are at stake!!
---
9. Koutetsu no Majo Annerose

Episodes: 4
Aired: July 2012 – November 2014
In the city of Amidahara, humans and demons live amongst each other. Various parties strive for power and control making it a dangerous place with unsavory characters. The Steel Witch Annerose is among the most powerful players and forms a contract to save a dead boy in exchange for his servitude. Things become more complicated when Annerose decides to help a human girl find her brother only for it to come to light his disappearance is part of a much more sinister plan.
For something that seems so humorous and bright at times, there's a lot more to fear from the bad guys than rape. From needles pierced into nipples and bellybuttons to being eaten viciously alive from the inside, things are pretty horrific for our witchy characters. Because the atmosphere is usually light and cheery and consensually sexy, Koutetsu no Majo Annerose is lower on the list because if you were to skip the last two episodes you might still feel good about things.
---
8. Implicity

Episodes: 2+
Aired: September 2017 – ongoing
In a dystopian future, there are no more age of consent laws and medical/scientific advancements have greatly altered society. When two poor children long to reach the surface and live a semi-normal life together, their dreams are crushed when adult men find ways to amuse themselves at the couple's expense. Human-like dolls are used in brothels to attract patrons with more unique tastes, but not everyone is there for innocent fun.
While nothing particularly spooky happens, there is an air of unease as you watch the two episodes that are already out. It's certainly not a show for everyone as there's a lot of child rape which can be horrific enough without the kidnapping and murder. The fear of an unfamiliar setting where pleasant, consensual acts can quickly turn into scenes of fear and suffering make this an unsettling show.
---
7. Residence

Episodes: 2+
Aired: May 2017 - ongoing
There's an abandoned mansion rumored to be haunted, but also to contain incredible treasure. For treasure hunter Bullet, it's the perfect place to score some loot without having to fight others for it. His plans for a quick payout are interrupted when he finds that those rumors are true and a malevolent force is turning the men who enter into sex-crazed women.
The premise may not sound too off-putting but the whole atmosphere is very chilling. Even the sex scenes have a sort of twisted off-ness to them you can probably still get off to but you might feel a little weird about it. The little 'fairy' present in flashbacks is extremely creepy and definitely gives horror vibes making the weight of the mystery of the mansion more frightening.
---
6. Inyouchuu Shoku: Ryoushokutou Taimaroku

Episodes: 2
Aired: April 2008 – August 2008
Mikoto, Takeru, and Sui are off to investigate mysterious disappearances on an island rumored to be inhabited by demonic presences. There's no time to enjoy the beach when they're attacked their first night there! Despite their powers, the girls find they are no match for the horror waiting for them.
While this is more your typical 'warrior girls captured and raped till they like it' type that isn't really scary, they got creative with the formula… bugs. Maggot and worm-like creatures both having sex with and being born from the girls. They're creepily animated and their pulsating bodies really make your skin crawl. Even if you're a fan of tentacle porn, do not take this show lightly.
---
5. Bible Black: New Testament

Episodes: 6
Aired: April 2004 – December 2007
Following the events of the Walpurgis Night that terrorized the school years ago, new murders spring up that hint to the repeating of events that threatened to consume everyone. A group dedicated to stopping the use of the Black Bible called Tokken are called to put a stop to the murders and spread of evil once and for all.
Bible Black is probably an anime you've at least heard of, for better or for worse—it famously has a terrible dub to accompany the crazy and weird sexual acts. Also known for its forced sex and dismemberment in the name of demon-summoning, it doesn't stop at forcing others into their sex cult. The only thing worse than living through such horror is knowing you can't escape your past.
---
4. Shikkoku no Shaga

Episodes: 2+
Aired: February 2017
After killing his father, the young Ushiwaka becomes the next target of the Taira clan so they might 'keep the peace' by removing any threats. After taking off on his own and nearly becoming food for the Taira's spirit hounds, a tengu named Shaga decides to lend him her power. Taking off together, the two unlikely friends encounter both humans and monsters with differing intentions.
There's more of an adventure feel than anything with this horror hentai, but danger lurks around every corner. Both humans and monsters are potential enemies to Ushiwaka and Shaga, and to each other. There's both love making and aggressive gang-banging as well as beheadings and flesh eating but the art sure is beautiful!
---
3. 8-shaku 8-wa Kerakumeguri: Igyou Kaikitan The Animation

Episodes: 2+
Aired: November 2016 - ongoing
On the way back to his grandparents' town, a man tells his taxi driver about a ghost story he heard about the old place. A giantess spirit preys on the children in the town and rumor has it that if you look at her or talk to her, she'll consume you. As they drive further into the night, it seems more that this story has personal meaning to both the driver and the passenger.
This anime is a straight-up ghost story that also has sex in it. It's creepy, it's foreboding, and you don't know where the danger is coming from. There are two scary stories told in the anime and both have occasionally quite frightening images, especially if you're caught off guard with all the sex distracting you. A beautiful giant woman having sex with teen boys might sound like a 'niiiiice' moment to some guys, but that's not all on her mind.
---
2. Hotaruko (Crimson Climax)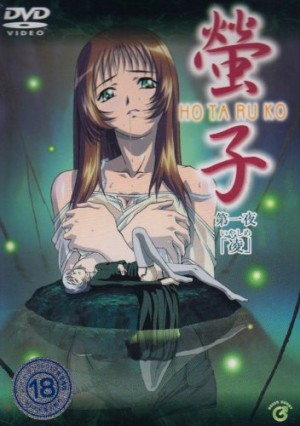 Episodes: 3
Aired: February 2003 – September 2003
After Ryo's mother dies, Ryo returns to the remote island where they used to live, much to her cousin Hotaruko's delight. Things seem a bit rigid between different families, but much as Ryo remembered it. However, there lies an old and sordid secret involving women here. Ryo will soon learn no matter what, everyone returns to the island.
If only the animation were better, this would have taken number 1. While this series is old, it's not terrible, especially for its time. The haunting atmosphere and increasing feeling of danger keep you wondering if the next sex scene is going to be gratuitous or gross. It's not your typical 'sexy women being killed sexily'; mannequins tear off breasts and tendons are ripped out of living girls. When that stuff isn't happening, the sex scenes are pretty nice.
---
1. Euphoria

Episodes: 6
Aired: December 2011 – February 2016
Keisuke and 6 other females from his school all end up in a white room with TV monitors unsure of how they got there. They're shocked when a voice tells them that Keisuke is the key and each of the girls serves as a keyhole and he must 'unlock' them in some horrible sexual way if they ever hope to escape. One of the girls refuses to participate, instantly getting her killed in front of everyone. With no other options, how far will they go to escape?
Euphoria is as visually beautiful as it is repulsive. Sometimes you can laugh your way through scary scenes if the movements are awkward or lines are delivered poorly. You'll find no such reprieve here. Everything is smooth and detailed, from the faces of a dying girl to the poop being swallowed. With all the sex that is happening, they really find ways to make it unappealing for the majority of hentai-watchers, but you may find yourself mesmerized still hoping that everyone can escape these horrors.
---
Final Thoughts
Some of us like to be scared, some of us like to be turned on. Many of us enjoy both; though a much smaller number will like both at the same time. Whether it's morbid curiosity or you enjoy the double thrill, we hope you enjoy these top 10 horror hentai!
---