There are a lot of power fantasy stories in hentai like the alpha male with powerful testosterone that makes every woman cream their panties or someone with great leadership skills that everyone bows down to you. Or just someone who uses pictures of girls doing indecent things in private for blackmail. There are many scenarios to think of, but for now, let's focus on Saimin Hentai –Hentai that revolves around hypnosis.
How can you tell hentai is focused on hypnosis apart from having the word "saimin" –meaning hypnosis– in the title? How can you tell the story is really about hypnosis instead of getting drugged, mind break, or mind control? Keep these questions in mind for the time being, while Honey's Anime is going to list the Top 10 Hypnosis Hentai Anime!
Pay attention because you may find the answers!
10. Saimin Class

Episodes: 2
Aired: December 2016-February 2017
Our hero Daichi has stumbled upon a lighter that can hypnotize anyone to submission. Like any man in his youth, he quickly puts the use of the lighter and hypnotized everyone in the school. And of course, he turned every girl into his personal sex slaves. But where did he get the lighter though? It didn't matter to Daichi because he's living the life of having sex with everyone at school! That's one way of encouraging oneself to attend school every day!
Hypnosis anime tend to be dark, but thankfully Saimin Class is on the lighter side of things and a decent entry point for anyone interested in hentai that involves hypnotism. Saimin Class has a ton of lovely ladies with breasts size larger than their heads, the sex scenes are okay and the overall tone of the hentai is lighthearted.
---
9. Iinari! Saimin Kanojo

Episodes: 2
Aired: February 2015-May 2015
Takumi is a fatass who eats lunch in the bathroom (this guy didn't get the memo saying that bathrooms aren't used for eating lunch) and he stumbles upon a spam message on his phone about an effective hypnosis app. Since he has nothing much else to do and installing apps won't blow up his phone, he decided to test it out on his school crush Megumi. And wouldn't you know it, Megumi became Takumi's sex slave.
The phone app isn't as powerful as other hypnosis devices on this list because the victims remain fully aware of what is happening, the app only controls their body, and must be used every time the wielder wants a new command. But that's not stopping our hero from making full use of the app. Takumi even added his own sister to his personal harem.
---
8. Kyonyuu Kazoku Saimin

Episodes: 1
Aired: April 2014
Mamiya Yuuichi's life as a young man has changed after his father remarried. With his new beautiful mother and two equally beautiful sisters, Yuuichi is very happy to have a family after living alone for most of his life. One day Yuuichi's father, who got recently remarried, went on a business trip leaving him and his new family. Determined to strengthen the bond towards his new mother and sisters, Yuuichi bought a special penlight that hypnotizes its targets almost immediately. Now, what on Earth will a man living together with three women do with a penlight that hypnotizes people?
How does this penlight like work? Just literally aim and shoot and your victim will be 100% under your control.
Be it sexual lust, going out for revenge, or just desperately want a girlfriend, every man has his motives. For Yuuichi, he just wants to get along with his new family, and, well, he decided to hypnotize them into sex slaves instead of, you know, talking to them, helping them out with homework, or be a responsible man of the house while his father is away. But hey, he just bought a hypnotizing penlight (it's probably very expensive), so might as well use it.
---
7. Kyonyuu Hitozuma Onna Kyoushi Saimin

Episodes: 2
Aired: January 2016-February 2016
At the rooftop, during lunch break, our hero Morishita Wataru is having lunch together with his busty teacher. Wataru has a crush on his teacher, and they get along. But things turned sour after his teacher has told him she's getting married. Distraught at the news, Wataru hypnotizes his teacher to become his sex slave using a hypnosis app on his phone he just installed. Talk about perfect timing. With his newfound power, Wataru hypnotizes everyone in school and created a small community of sex slaves.
Kyonyuu Hitozuma Onna Kyoushi Saimin is your run-of-the-mill hypnosis hentai, but with better art and animation. This show is slightly higher on the list because there are some scenes that are so absurd, you'll find them funny and can tell our hero was bored at that time. Also, the show caters to the student-teacher fetish, so if you're one of those folks, you'll have a good time with this one.
---
6. Inmu Gakuen: Inmu ni Torawareta Bijin Shimai

Episodes: 1
Aired: April 2010
Shinji has a crush on his classmate Mayuri, but can't bring himself to confess his feelings, let alone casually talk to her. The school nurse Ryoko took notice of Shinji's lacking social skills and presented him a weird-looking pendant because, apparently, this will solve his problems. The pendant does have some effect for it gave Shinji some good dreams. Too good, in fact, the dreams felt real–He enters the bedroom of his crush Mayuri and proceeds to have sex with her. And it was actually a dream because Mayuri acted normal at school. Shinji soon found out the pendant has a hypnotizing effect that affects any girl he has dreamt of having sex with. With this power, Shinji slowly break the will of the girls by constant hypnotic suggestions that Shinji is their lover and loves having sex with him!
If you're tired of the usual point and shoot tactics of hypnotizing your victims, then Inmu Gakuen offers a slightly different take. Guy wears pendant while sleeping, dreams of him and girl having sex, the dream also affects the girl, repeat dreams to implant suggestions until girl submits to become his slaves for pleasure. This type of implanting suggestions can be used to fewer extremes like dream of having dates with a girl to improve your friendship or even dream of her being a clingy little sister, and so on.
In Shinji's case, he skipped the first few bases and went for the home run. You can't really blame the guy though because if you have something that can change your life, don't hesitate! Go for it!
---
5. Immoral

Episodes: 2
Aired: April 2005-August 2005
The teacher of an all-girls school has enough of getting bullied by his own students and getting accused of being an all-around pervert, so he bought a special spray that makes the girls succumb to sexual desires to exact revenge. Slowly but surely, the teacher wastes no time in hypnotizing every student in the school to build his very own harem of sex-starved slaves.
Under the effects of this scented spray, the girls lose control of their bodies and their minds devolved into that of an animal in heat. Yeah, Immoral is pretty much the same guy hypnotizing girls into sex slaves, but there is one brief subplot involving a girl discovering the effects of the spray and used it on her sister. The subplot was a nice detour after all the typical rape, but unfortunately, this anime is all about a guy getting sex slaves, so...
---
4. Saimin Jutsu Zero

Episodes: 2
Aired: May 2013-September 2013
Murakoshi Shinta happens to be in the best position in an all-girls school –he's the school doctor. Shinta secretly targets specific girls using his hypnosis ability and turn them into, well, sex slaves, obviously. What? You were expecting him to hypnotize people because he wants to have a tea party or something?
It's not clear how the doctor learned hypnosis and unlike the rest of the anime on this list, he's not using any devices or chemicals to hypnotize his victims. Rather the doctor periodically implants suggestions to the girls through school activities, physical exams, counseling, etc. Once the girls are conditioned just right, the doctor utters an activation phrase (specifically for each victim) to induce them into a hypnotic state, so the doctor can do whatever he wants without objection or resistance.
---
3. Gakuen Saimin Reido

Episodes: 3
Aired: April 2010-September 2012
Futoshi Satou is a fat otaku getting teased and bullied by everyone at school. Everyone thinks he's disgusting, a waste of space, and a source of pocket money in case they need it for lunch or on dates. One day Satou got a package from his father and in it is a mobile phone with the power to hypnotize people. With this tool at hand, Satou wastes no time extracting revenge that's been long overdue.
Gakuen Saimin Reido is the same as any hypnosis hentai, but if you set aside the sex, the story is quite decent, albeit a very serious one. An otaku guy, raised from the lower class gets bullied in school and it's only a matter of time he fights back. And fought back he did all thanks to his father, an inventor, who gave him a cellphone that can hypnotize anyone. Satou wasn't content with just making the girls as sex slaves, he goes all out his way to humiliate them by planting hypnotic suggestions to his victims like the girls will get horny, say something they shouldn't, trick them into thinking the one they're having sex with is they're boyfriend and so on. You really don't want to get on this guy's bad side.
---
2. Saimin Ryoujoku Gakuen

Episodes: 3
Aired: December 2008-June 2009
Fujimi Toshikaku is a school counselor with a respectable track record of helping out students in trouble with their studies, love life, phobia, etc.. How does he do it with constant success? Behind closed doors, Dr. Fujimi is adept at hypnosis and is very keen at taking advantage of girls who are under his spell.
The premise is similar to Immoral, but a bit better in terms of storytelling with a bigger cast of characters. Each girl has their own stories and there's a surprisingly decent amount of depth in hentai standards. A student approaches Dr. Fujimi for counseling, say, her problem of hating men. She explains her situation while the doctor genuinely tries to help with adult wisdom, experience, and all that. The doctor lights up a special incense to put the girl in a hypnotic trance.
At this stage, the doctor implants suggestions like in order to like men, she needs to have sex with them. The doctor proceeds to rape the student during this hypnotic state without any resistance. When the effects wear off, the girl will not remember what happened and she eventually got over her hatred of men. Yeah, it's rape, the sex scenes are well-drawn, and at the same time, but it was fascinating to see how the doctor manage to rape everyone while improving their quality of life. "Give and take," as he said.
---
1. Hitoriga The Animation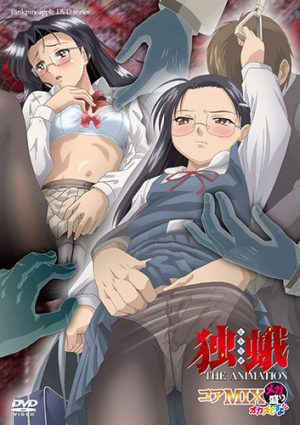 Episodes: 4
Aired: June 2009-September 2010
Shirakawa Sumire is a middle school girl commuting via train with nothing special happening until that is, she was molested by a couple of gropers. Just to be sure the scenario doesn't traumatize her, Sumire went to a counselor for some help. And without noticing it, Sumire wakes up back on the train and getting molested again. And then soon after Sumire wakes up in her classroom getting raped by her classmate. What is happening? These events felt too real but it doesn't make any sense. Is she dreaming? If so, which one was Sumire seeing that was real or which one wasn't?
Hypnosis in hentai is often dark that involves a lot of rape and the girls never recover or getting saved. Hitoriga is the darkest hypnosis hentai on this list because Sumire has been brainwashed to serve as a sex toy for someone who is mentally unstable and extremely obsessed with her. The school counselor Araki hypnotized Sumire to groom her to become a sex slave by implanting dreams until her mind breaks. Dreams of her getting raped by passengers on the train, raped by her own classmates, and raped by her teacher Kurahashi, whom she has a crush on. As soon as Sumire has lost sanity, we then found out it was her teacher Kurahashi who asked Araki to hypnotize her and groomed her to be a sex slave.
To make matters worse for Sumire, Kurahashi erased her memories of getting raped and implanted a new one with her having a healthy relationship with the teacher. Sumire has been living the rest of her life with fake memories with no hope of breaking free from Arashi's hypnotic control. Sumire had it rough, she's been abused since middle school and if the ending is any indication, Sumire will continue living a life of lies.
It was hard to pick which one to put in number one because there are many things to consider like which one has the best sex scenes, which one has the best character designs, or which one has many episodes. For this time around, we're gonna pick which one has a decent story. On the surface level, Hitoriga is just a rape hentai anime that involves hypnosis, but if you take the anime as a whole, it offers the viewers a glimpse that something like teachers brainwashing students is a possibility in real life and it's happening right now.
---
Final Thoughts
Answers time!
Contrary to popular belief, you cannot be hypnotized against your will. The very act of hypnotism requires that you "accept" suggestions and statements that the person gives you. If you actively don't accept or acknowledge these suggestions or statements, you will not be hypnotized. Now when you are under hypnotism, your mind can be controlled by the person hypnotizing you, however strongly held beliefs or principles will not usually be violated. i.e. it's very difficult, if not impossible to tell someone to go out and kill X person, etc.
This could theoretically be accomplished, but only after long sessions of de-programming of the morality of murder, etc.
In hentai, hypnotism is overly fictionalized and exaggerated, so in a sense, it's more mind control. For example, there's a phone app that hypnotizes people into sex slaves by letting the victim read what's on the screen and enact those suggestions. It's not technically hypnotism, it's considered hypnotism in the anime because the core idea of changing the person's mindset is there. In the world of fiction, anything is possible albeit through drugging, casting a spell, or control via device or phone app.
Now then, would you kindly leave a comment down below and tell us what you think of our list of hypnosis anime, and perhaps tell us if you watch this sort of hentai.