In all the hentai that fills the internet, and perhaps our hard drives, we can find many different kinds of situations and types of characters. From vanilla stories of high school romance to kinky sex cults to magical sex powers, there's no telling what you will find. Especially in kinkier hentai with lots of characters, a nice addition to the action will be girl-on-girl scenes. We're pretty sure yuri fans weep at the incredible lack of explicit yuri series when all they want is some cute ladies getting it on. Thankfully, while not as plentiful as straight hentai, we can find a good amount of ladies indulging in the pleasure of other ladies.
While the series below will all be hentai, our scenes will be of a more innocent nature! Kissing is often thought to be a purely romantic gesture, but for some of our ladies, it's a move of power or an attempt to silence any objections. It could be sweet, or it could be sexy. Not content with women grabbing another woman's boobs while she's getting dicked like some sexy-boob-accessory, we're looking for women completely absorbed in the moment with each other.
10. Mika x Kanae from Resort Boin Ep. 3

Episodes: 3
Aired: Dec. 2007 – Apr. 2009
On a tropical island at a certain resort, 6 beautiful women try to seduce the resort owner's grandson. Some are young and timid, others mature and sure of what they want, still others overflowing with desire and excitement! The poor boy in question, Daisuke, has his hands full. But when he's too busy, some of the girls take to amusing themselves. Mika and Kanae, two of the resort's guests, are perfectly content to take matters into their own hands.
Mika is a tanned, masculine hottie and Kanae is her flirty and feminine friend. Not content to let Kanae lead, Mika roughly throws her on the bed and says she will use Kanae to take her mind off things. Far from an unwelcome advance, Kanae smiles happily and the two lock eyes before Mika leans over her and kisses her. They aren't thinking about anyone but each other and their tongues go straight into each others' mouths. It's a rather short kiss, but the moment they share just before their kiss makes this scene stand out.
---
9. Ebi x Himari from Floating Material Ep. 2

Episodes: 2
Aired: Feb. 2011 – Mar. 2011
High school teacher Shun ends up in close contact with two pretty students who he learns, tragically, have no confidence in themselves. He wants to make them feel special and can think of no other way than to shower them with both emotional and physical affection! Slowly, the girls start to come out of their shells and seek that which they desire... even when it comes to desiring each other. Ebi is quite shy at Himari's sudden confidence, even though she herself has to push past her insecurities. Himari ignores Ebi's quiet objections and silences her with a deep kiss. Ebi's words turn into moans in Himari's mouth, and as she pulls away, Himari admits that her body is on fire from watching Ebi and Shun. Embarrassed, but aroused herself, Ebi closes her eyes and kisses Himari back as a silent acceptance of Himari's desires. This may not be the best-animated scene but it is both cute and sexy as the girls lie naked on top of each other, timid yet full of longing.
---
8. Yuruka x Shiina from Implicity Ep. 2

Episodes: 2+
Aired: Sep. 2017 – ongoing
In a dark yet futuristic world, common sex practices are spurned, and that which was once taboo becomes normal. A special facility creates dolls, human-like creations whose purpose is to satisfy the sexual needs of humans. Dolls are to do, speak, and present themselves exactly as the customer requests, and most enjoy doing so. Yuruka desires to be the number one ranked doll and loves having sex and pleasing her customers. She finds herself concerned with Shiina, a quiet and standoffish doll that insists she's human and not cut out for this work.
The scene starts with Yuruka and Shiina making out on the bed in front of the customer with Yuruka's hand grabbing Shiina's breast over her clothes. At first, the camera is away from the girls, as if you're seeing them from the customer's point of view. Then it moves suddenly closer and the guy's penis comes into the shot. Seamlessly, his dick comes between the two girls making out and it turns into a double-fellatio scene. The artwork is detailed and unique though a bit static when it comes to movement, but we like the interesting twist of the dick separating Yuruka and Shiina's kiss.
---
7. Ebihara x Riko from RIN×SEN+Ran→Sem Cross Mix Ep. 1

Episodes: 2
Aired: Jun. 2013 – Aug. 2013
After finding out her beloved fiance has abandoned her, Ebihara gives up on her life and cares only about sex. She still attends her work as a teacher but allows both other teachers and her students to attack her and use her. When she hears she may be able to meet with her fiance again, she arrives at the mysterious Believe Factory, where members are taught special techniques to 'release' their inner demons and attain enlightenment. She agrees to undergo the same training her fiance supposedly went through, but Ebihara is not ready for what she discovers.
Believe Factory is nothing more than a thinly-veiled sex cult, and her first order of business is to enter a closed room with three female members and strip. They tell her she must learn to resist temptation and Riko, one of the members, kisses her forcefully. Ebihara is shocked and tries to keep the women off her, but suddenly she is swarmed and at the mercy of their touch. Seeing Ebihara so against kissing another woman but being overwhelmed by Riko is a sexy sight, especially with another woman's head between her thighs.
---
6. Firika x Nonoha from Nuki Doki Tenshi to Akuma no Sakusei Battle Revolution Ep. 3

Episodes: 4
Aired: Feb. 2017 – Aug. 2017
As the battle for one man rages on between a determined angel and a stubborn succubus, they'll go to great lengths to defeat one another. Firika wishes to amass power (semen) to give birth to a strong demon like herself. She's about to make off with a young and clumsy guy out with his friend, Nonoha, but the angel Sera gets in her way. Firika changes her plan and whisks Nonoha away for some nefarious purpose.
As a newer series, the art is pretty and detailed making this kissing scene particularly nice to look at. There's definitely no love between these ladies but that doesn't mean it's not hot. Nonoha is just finishing her shower, her naked body dripping, as Firika returns from having collected more semen. She then thrusts herself against Nonoha, pinning her to the wall behind her. Nonoha struggles to resist but Firika entwines her tongue around the frightened girl's tongue. Their boobs are pressed against each other with Firika's tongue deep in Nonoha's mouth before Nonoha finally manages to push Firika away in disgust. Just a moment after though, she finds herself under Firika's spell.
---
5. Yui x Shii-chan JK to Ero Konbini Tenchou Ep. 5

Episodes: 5+
Aired: Feb. 2016 - ongoing
Yoshihiro is the manager of a convenience store and wishes he had more control over his life. When two cute part-time girls start working for him, he uses blackmail and fear to get them to submit to his sexual fantasies. The girls are horrified, and at first, can't stand to be used this way; but as time goes by, they find themselves getting used to their treatment and begin enjoying the sexual pleasure of being overpowered. Yui and Shii-chan have no problems having sex in front of each other and when a new person enters the picture they are overcome by an unfamiliar urge.
One day, when Yoshihiro decides he's going to have his way with his bossy sister, the two girls watch as he forces himself on the older one and climaxes inside her. During this time the two girls cling to each other and watch intently, and then their eyes meet. Yui kisses Shii-chan and Shii-chan's eyes shoot open in surprise. At first it's just a peck, but then the two begin moving their tongues and moaning each others' names. They appear lost in the kiss until they both realize what they're doing and pull back slightly as Shii-chan giggles shyly. You get a small view of their tongues but the reaction in their eyes makes the scene much more fun.
---
4. Airi X Sana from Oni Chichi: Refresh Ep. 4

Episodes: 4+
Aired: Aug. 2015 – ongoing
Airi and her step-dad have a very strange bond. Being a man that has no desire to keep it in his pants, Akizuki not only goes after Airi but also her sister and their close friends. Despite being quite the demon, Airi can't help how good she's made to feel and thus tolerates his presence. Her bratty attitude only entices her 'Papa' more and he loves nothing more than putting her into compromising and embarrassing situations.
One night, Airi's friend Sana gets her hands on an incredibly life-like strap-on and uses it on her cute friend. Despite her protests, Airi doesn't put up much of a fight when it comes to Sana! While Sana and Airi are relaxing in a hot tub as Sana is in the midst of post-coital bliss, Airi begrudgingly admits that when it was Sana doing her, she enjoyed it a bit more. Sana is so happy at this tsundere admittance of attraction that she climbs on top of Airi and kisses her mid-sentence. Sana begs to do her again and they entwine their tongues kissing each other deeply. The scene pans down to Sana teasing Airi's nipple with her strap-on and then back on the two girls kissing. Airi's muffled complaint that it's only the drugs from before making her body so hot is barely heard with Sana's mouth firmly over Airi's.
---
3. Mai x Reo from Sono Hanabira ni Kuchizuke wo: Anata to Koibito Tsunagi Ep. 1

Episodes: 1
Aired: Jul. 2010
Mai and Reo are girlfriend and girlfriend enjoying their school days together. Mai loves teasing Reo because the smaller girl's reactions are too cute! She seems to get mad easily but she just can't stay mad at Mai. Despite being the shyer of the two, Reo was the one to confess to Mai. Ever since then, Mai can't keep her hands off her adorable partner, even if Reo tells her to.
Mai and Reo are an adorable couple and the cute factor here is powerful. Reo is sick and Mai goes to nurse her back to health. The scene starts when Mai gently turns Reo's face to her and they share a kiss. After a few seconds, Reo gently pushes Mai away, warning her not to get sick. Unable to clear her head of horny thoughts, Mai tries to step out, which makes Reo be honest about what she wants: Mai. Reo timidly kisses Mai quickly and blushes. She finds the courage to admit she wants Mai to touch her and Mai kisses her forehead gently. Mai warns her that she won't stop this time before kissing her lips again and Reo giggles saying Mai never stops no matter what she says anyway. There's way more atmosphere to this kiss as opposed to the many 5 seconds of tongue action with no build up, and thus, it is a memorable and beautiful scene.
---
2. Shigure x Chizuru from Shoujo Sect Ep. 1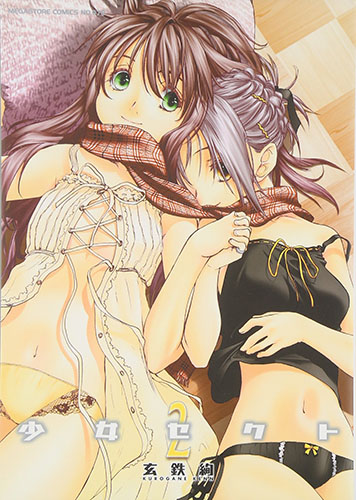 Episodes: 3
Aired: Jul. 2008 – Nov. 208
Shoujo Sect follows the lives of different girls living at their all-girl high school. The main focus is on Shinobu, a lusty, care-free student, and the girl who forgot their childhood kiss, Momoka. Love is not always easy or rational and sometimes calls us to people we shouldn't love. But each of these girls wants to be true to their feelings even if they can't be returned. Some turn to other girls to distract them from their love, and others will face their fears head-on and confess. For Chizuru and Shigure, the only thing scarier than their love is remaining apart.
After both girls go to Shinobu for advice, they are encouraged to admit their unwavering feelings. Seeing her little sister standing in her underwear with tears in her eyes strengthens Shigure's resolve and she kisses Chizuru. It lasts a few seconds and then the girls move to the bed with Shigure on top of Chizuru and they kiss each other deeply. They pull apart slightly and roll their tongues together before moving to finger each other. Both girls are shy yet full of desire, and after a few moments of reassuring the other, they kiss more passionately than before. It's a long scene of kissing that goes from a small first kiss to a deep kiss of desire which makes it so good.
---
1. Mizuki x Karen from Majuu Jouka Shoujo Utea Ep. 3

Episodes: 4
Aired: Dec. 2015 – Jun. 2017
Becoming a magical girl and saving humans from monsters known as Lust Beasts sounds like a good time, right? But what's even better than fighting Lust Beasts as a magical girl? Become a Lust Beast yourself and let the monsters screw you until they run out of energy and can be purified! Lust Beasts love sex, so Mizuki and Karen -also known as Utea Grace and Utea Charm- are quite happy with their jobs for a while. But when Karen learns something disturbing, she wishes to purify Mizuki the only way she knows how; by fulfilling her sexual desires! While most of the sex that happens is tentacle-based, there's a good bit of futanari from our lovely ladies as well. Karen and Mizuki want to purify each other so they won't be Lust Beasts anymore and thus take to screwing; but not before sharing a kiss. The scene starts with the two in bed unmoving but you can hear both kissing sound effects and Karen's inner monologue wondering if Mizuki had wanted to do this before. They open their eyes and begin moving their tongues in and out of each others' mouths. Quite unlike most scenes of recycled tongue movement, their heads move together, twist, pull slightly apart, and the motions of their tongues change every few moments. The scene ends with a close up their tongues rolling around each other, saliva glistening on their pink lips. There's love, sex-appeal, and an absolutely beautiful art style to really make this the number one lesbian kiss in hentai anime!
---
Final Thoughts
With lips being such a sensitive part of the body, it's a shame they don't always get the attention they deserve in hentai. Thankfully, we have this list of lovely ladies giving us kisses we can properly enjoy. Whether you like forced action or a tender moment before your hanky-panky, these kissing scenes between girls are a welcome inclusion. If you think we missed your favorite lesbian kiss, let us know in the comments!
---