Here we are back again with another hentai article that covers yet another fetish. Honey's Anime has continued to push out more and more hentai content for you fine folks. This particular fetish involves females who are dressed in sexy lingerie.
It's easy to find hentai that showcases women in lingerie, but what's not easy is narrowing down ten series that not only feature alluring lingerie, but exhibit high quality animation and scintillating scenarios. The criteria for this countdown were straightforward; we looked at the amount of lingerie h-scenes in a given series, quality of lingerie and animation, as well as how the females were utilized. Now that we got that out of the way, it's time for us to deliver a lingerie-laden countdown of epic proportions.
10. Oni Chichi 2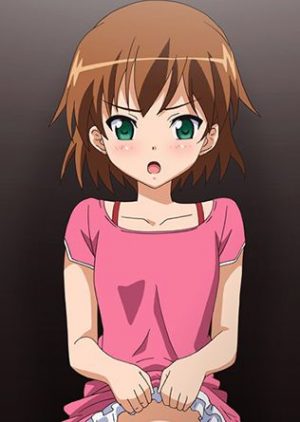 Episodes: 2
Air Date: Oct. 2010 – Nov. 2010
Kenichi Makino is missing his wife immensely one week after her untimely passing. He has four gorgeous daughters to deal with including, a motherly type, an intelligent one, a sickly one and finally a rebellious one. That rebellious one by the name of Natsume, ends up getting in trouble at school. This is where the father Kenichi, starts administering immoral punishment to Natsume. After reveling in her agony, it's not long before he moves onto his other three daughters.
We'd like to start this countdown off with a well-known hentai, Oni Chichi 2. When we looked at this series, we acknowledge that, while it may not showcase some of the sexiest lingerie, it makes up for it with a surplus of h-scenes that involve numerous females in their lingerie. This starts with Akira, then Natsume and continues with Fuyu and Haruka. In fact, Natsume has three h-scenes with Kenichi that showcase her pale blue underwear. That alone, makes this series a favorite to start this list.
---
9. Hyoudou Ibuki: Kanpeki Ibuki Kaichou ga Kousoku Do M!? na Wake

Episodes: 2
Air Date: Jul. 2015 – May 2016
Our next pick is based on the erotic game by Grand Cru Noir. Outside of being a student council president, Ibuki Hyoudou appears to be an everyday high school student. What most people don't know about her is that she's a masochist. Ibuki fantasizes about her fellow student; Hiroto Itono doing all sorts of filthy things to her. In order to push the envelope, Ibuki wears extremely erotic latex underwear to further stimulate herself. It would please Ibuki to no end if she was able to persuade Hiroto to partake in various sexual acts with her.
We come right back to another PoRO release, this time however, it comes in way of a more erotic type of lingerie. This series features a strong emphasis on masochistic desires and bondage. Throughout the entirety of this two episode series, we are witness to the main character, Ibuki, showing off her kinky dark blue latex lingerie, complete with a zipper at the crotch. The only time that Ibuki's dark blue lingerie isn't worn during an h-scene involving her, is when she's sporting these lovely light pink bra and panties. Heck, even the one h-scene not involving Ibuki, has Rie Kirisaki in lavender colored underwear.
---
8. Lingeries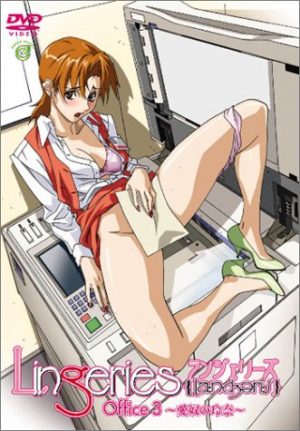 Episodes: 3
Air Date: Jul. 2003 – Feb. 2004
Yusuke Nakonishi starts work at a mid-sized women's lingerie company named Best Beauty Body Inc. He's extremely excited to have the opportunity to work with these beautiful models. What he didn't expect was to find himself in the middle of a business full of sexual intrigue that goes far beyond women's underwear. Tasked with the job of eliminating and disrupting the company's competition, Yusuke is thrown into a whirlwind of sexual drama, that's going to take him on a lust-filled venture.
Without question this is the oldest series to grace us on this countdown, and we have good reason for that. Lingeries' story focuses on a lingerie company, so naturally it made sense to include this hentai. A handful of ladies dressed in sexy lingerie are the focus of the h-scenes and, quite frankly, the driving force of the story. There's a variety of colors and styles of lingerie within this series including, stockings, garters and lace. While Lingeries may not have top notch art and animation, it more than makes up for it with a stimulating fetish hentai.
---
7. Eroge! H mo Game mo Kaihatsu Zanmai

Episodes: 6
Air Date: Aug. 2011 – Mar. 2016
Tomoya is an eroge enthusiast. His dream is to land a job at an eroge studio. After seeing an ad from the eroge studio, Flower, he quickly realizes that his dream could become a reality. Tomoya feels that he could bring a wealth of knowledge and insight into what makes an eroge click. His understanding eventually pays off, as he lands a job as a pseudo-consultant in order to teach them the ins and outs of an effective eroge.
If we were going strictly by an overall rating, Eroge! H mo Game mo Kaihatsu Zanmai would be one of the highest-rated series on this list. However, this is a list about lingerie hentai, and as such, we feel that this fantastic series is rated appropriately. While many episodes do feature lingerie, the prime episode to feature women's underwear takes place in episode four. The threesome between, Tomoya, Kisara and Momoka is memorable for many reasons, but we'd like to highlight the ladies' pink and blue-tinged underwear. These girls go all-out in order to one-up each other.
---
6. Harem Time The Animation

Episodes: 2
Air Date: Oct. 2012 – Jan. 2013
Dropping in with our number six pick is a scintillating story about Satou Reiji who becomes the new master at the Kamiyama House. The reason for this is Satou's lineage that traces back to having a rich father who had recently just passed away. At first everything seemed normal, until he was notified about a certain catch. In order for Satou to legally own the house, he's going to have to provide an heir to his newly found riches. Now Satou is tasked with selecting a wife from the countless number of maids that serve in the Kamiyama House.
Harem Time The Animation brings out some of the most pleasing and sexiest lingerie on this countdown. A plethora of the females featured in this series wear a type of lingerie that brings a little maid appeal to their scenes. It's an explosive combination of revealing pink frilly tops and lacy black underwear. In addition to that, their tops are transparent, complete with black stockings and chokers to inject more eroticism. Between its erotic nature and the situation Satou finds himself in with seven females, it's hard to pass up on this anime.
---
5. Bloods: Inraku no Ketsuzoku 2

Episodes: 2
Air Date: Jul. 2011 – Nov. 2011
Our next pick on this lust-filled countdown brings us some incestuous action. Bloods: Inraku no Ketsuzoku 2 follows the Sagimiya family, which is cursed with receiving sexual arousal when they are around their blood relatives. Both Misaki and her twin brother Shun are repulsed by this and try their best to resist their impulses. Eventually, Shun loses his composure and shows his passion to his other sister Kaguya. After witnessing what her brother and sister have done, Misaki gives into the temptation.
The reason we love Bloods: Inraku no Ketsuzoku 2, and why it's on this countdown, is because it offers up a combination of a couple different selections on this list. For example, there are h-scenes in the first episode that feature a more traditional set of lingerie from both girls of white and pink varieties. However, in episode two, we're treated to a kinkier experience with black crotchless panties from Misaki, a lovely red latex suit that exposes Kaguya's breasts, buttocks and genitalia. It all ends with a stimulating threesome as Kaguya once again brings more exciting lingerie into the mix.
---
4. Stretta The Animation

Episodes: 2
Air Date: May 2009 – Jul. 2009
Stretta The Animation deals with a gorgeous and popular girl by the name of Ruma. She's essentially worshipped by her peers at her school and with good reason; she's friendly and has a hot body to boot. With that high praise from her peers, she is able to do whatever she wants, and that includes having sex with as many male students as she sees fit. This nymphomaniac will never rest. To top it off, she takes candid photos of the couples from the Stringendo & Accelerando series to use for her pleasure.
Moving down this list, it got immensely harder for us to start ranking these series. The reason we have Stretta The Animation at number four is because darn near every h-scene involves some arousing lingerie. The primary focus of this hentai goes to Ruma, who uses her sexuality to persuade guys into having sex with her. She does it well, and one of the reasons why she's successful is because of her attire. In every h-scene, she's showcasing her red bra and panties with black stockings and garter. It's really a sight to see and it's sure to drive your libido up.
---
3. Yakata: Kannou Kitan

Episodes: 2
Aired: Nov. 2014 – Feb. 2015
This next selection is based on the adult game by Bishop. An unusual trainer of carnal desire and his trusty maid are called upon to teach the Zenouji household a thing or two about sex slavery. The man takes it upon himself to organize some erotic disciplining to a wealthy heiress, Ayame and her two daughters, Miki and Ruri. Together, the Zenouji family will be transformed and molded by the sexual desires of their trainer.
Whether you're a fan of PoRO or not, Yakata: Kannou Kitan had to be included on this list, and here's why. Firstly, just like our previous pick, darn near every h-scene features some sort of lingerie. Secondly, we're treated to the Zenouji family that consists of three capable females sporting said lingerie. Finally and most importantly, between the three girls, there were a total of six different variations of lingerie in this two episode series. Just to top it off, the six outfits featured in this series were arguably the hottest sets on this countdown. This hentai is a lingerie lover's dream.
---
2. Mankitsu Happening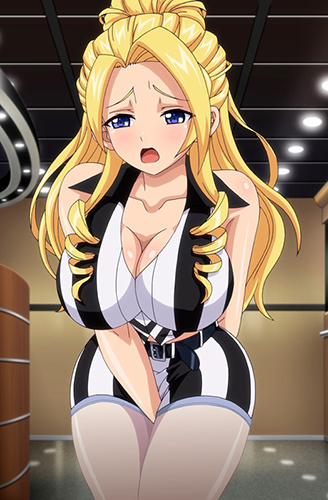 Episodes: 4
Aired: Mar. 2015 – Aug. 2015
After several unsuccessful jobs, Keiichi finally lands a job working under his best friend Rei, who serves as the manager of a manga café. In addition to that, Keiichi also found out that his cute childhood friend Kururu, happens to be a regular customer there. The problem Keiichi is now faced with is the likelihood that he will not be able to restrain himself from the pleasures of being around those lovely females.
We've now reached a favorite of Honey's Anime and we feel Mankitsu Happening rightfully deserves this spot on our countdown. Mankitsu Happening delivers us the goods when it comes to lingerie. The first episode prominently features white and pink underwear on Kururu with various h-scenes including a masturbation scene. Not to be outdone, however, is episode two's h-scene between, Rei, Kururu, Otona and Keiichi. This scene stimulates with Rei's all-black lingerie, while Kururu sports her familiar pink and white bra and panties, and Otona showcases her blue underwear. This h-scene is easily a highlight of this series as it takes up the majority of episode two.
---
1. Stringendo: Angel-tachi no Private Lesson (Stringendo)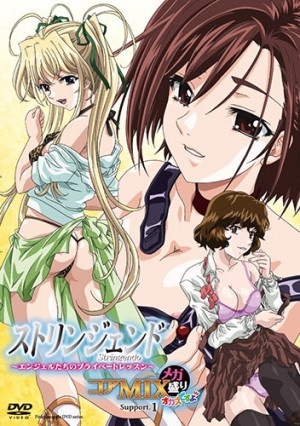 Episodes: 12
Air Date: Jan. 2006 – Apr. 2012
Stringendo is a robust series that spans twelve remarkable episodes. In these episodes, it showcases popular high school girls who aren't able to control their sexual desires. Without a proper way of containing all that lust, they decide the best thing to do is take advantage of their social status and prey on the less popular guys at school, in various alluring settings. These students' lives will never be the same again as the select girls satisfy their own urges, while fulfilling several guys' wildest fantasies.
We've reached the number one spot on the countdown and we find ourselves with a series that's all too familiar at this position; we're talking about Stringendo, of course. Stringendo offers up some of the most stimulating lingerie sequences you will see in hentai. With twelve episodes to choose from, there's a multitude of choices to enjoy. Various episodes feature these girls sporting many different colors and styles of lingerie. Whether they're at a movie theater, school or inside a locker, this anime is not afraid to leave these girls' underwear on while they copulate.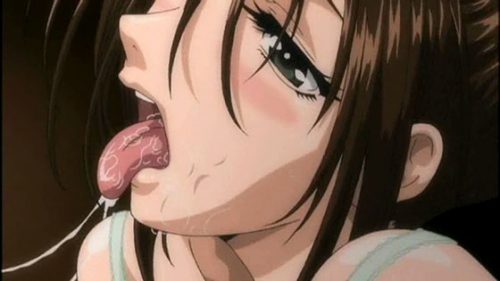 ---
Final Thoughts
This brings us to the conclusion of another stimulating countdown featuring what we believe to be an exceptional list of hentai with heavy lingerie depiction. There are certainly loads of hentai that could land on this list, but we feel confident that you will walk away satisfied with these ten titillating series.
As we mentioned above, there are countless options for this list and we know there are going to be some who disagree with us. Regardless of how you feel, we'd like to hear what you thought of this list. Do you have any favorites? either listed or ones you wished were listed? Give us a shout in the comments section below.