También puedes leer este artículo en:Español
Describing loli can be hard, and surprisingly you can create long debates or discussions on the topic, but to make things easy for you—a loli is essentially a girl with a petite build or a girl with a still-developing body. What this means is if a character is at a certain age range, then she's a loli, but also any girl with a petite body, regardless of age and bust size, is also a loli. And of course, hentai anime revolving around lolis do exist, so if you're into cuddling lolis or patting lolis on the head, then this updated list might satisfy your, well, uh, urges!
This updated Top 10 Loli Hentai Anime List will contain hentai anime featuring a cast of loli characters, or a hentai anime featuring some loli characters. Now, there are a ton of loli-only hentai anime out there, but we think some of them aren't that good. Don't worry though, we'll provide you with some of the best loli-only hentai anime out there, so check your local laws first and then buckle up!
10. A-Size Classmate

Episodes: 2
Aired: February 2016-April 2016
Based on a manga by Okada Kou, A-Size Classmate is a story of a girl getting raped by her 2 classmates during their home study. And… that's about it. It's a little-known fact that story is irrelevant in porn, so the only thing you'll get is a basic scenario and watch how the porn turns out.
For A-Size Classmate's case, the girl was forced to do sexual favors after the 2 guys brought up the topic of sex, and they promised the girl they'll study better after giving them a blowjob. Regardless of whatever decision the girl made, the unfortunate girl was forced to do it, ending up having sex with them. Is this a loli hentai anime? Well, what does "A-Size Classmate" imply? Exactly!
---
9. Seikatsu Shidou!! Anime Edition

Episodes: 2
Aired: October 2016-November 2016
Student guidance counselor Narashi Bouto is doing his best to help the female students of Tsubomi Academy from any troubles they have or fix any misconduct that might affect their grades. For Bouto, the best solution for these troublesome girls is sex! If you've been called by Narashi-sensei, be prepared for a lesson you'll never forget.
Everyone in the anime are one-dimensional and chances are you'll forget the names of the girls after watching, but as we have said before—story doesn't matter. The setup is a perverted teacher raping his students, fooling them into thinking his methods are for their own self-improvement. You can't really blame the guy though because the lolis are, let's be honest here, very dumb. It's understandable since girls in hentai are generally dumb. If you've been watching hentai, you know that's a fact.
---
8. Lo Re: Pako Sukusuku Mizuki-chan The Animation

Episodes: 1
Aired: May 2016
It's summer break and Shiro went home after one year of working in the big city. Shiro didn't hide the fact the reason why he's going back home is to spend intimate time with his cousin-turned-girlfriend Mizuki… who happens to be in her fifth grade. With all the pent up sexual urges, it's a matter of time when Shiro will unleash it upon Mizuki.
Another story-less episode, but that's not always a bad thing, especially in porn. There is no rape here because the two are mutually in love with each other and the entire episode is focused on them having sex. Lo Re: Pako Sukusuku Mizuki-chan The Animation is short, cute, and funny, and it's great for people who don't want cute lolis getting raped just for shock value. Oh and if you weren't uncomfortable watching a teenager bang a fifth grader, then welcome to the club—you're a lolicon, too.
---
7. Kanojo x Kanojo x Kanojo: Sanshimai to no DokiDoki Kyoudou Seikatsu

Episodes: 3
Aired: December 2009-May 2011
Due to a volcanic eruption on an island somewhere in Japan, Shiki Haruomi was forced to move out and is temporarily staying at a relative's house. There he meets the three beautiful sisters Orifushi Natsumi, Akina, and Mafuyu, and as typical harem story goes, Haruomi's life turns into a very kinky one.
Before anything else, Kanojo x Kanojo x Kanojo is not a loli hentai anime, but the reason why this anime made it to the list is the resident goth loli—and the show's best girl—Orifushi Mafuyu. Our lucky hero Haruomi beds a lot of girls from his home and school, but ultimately and arguably the best part of Kanojo x Kanojo x Kanojo is Haruomi bedding Mafuyu. Throughout the series, Mafuyu was elusive and at one point teased Haruomi by giving him a footjob. Since then, Haruomi went on and bed other girls while Mafuyu was still beyond his grasp. But eventually, Haruomi found the opportunity and has the elusive loli within his loving embrace.
---
6. Hitoriga the Animation

Episodes: 4
Aired: June 2009-September 2010
Shirakawa Sumire is a middle school girl commuting via train with nothing special happening until she was molested by a couple of gropers. Just to be sure the scenario doesn't traumatize her, Sumire went to a counselor for some help. And without noticing it, Sumire wakes up back at the train and getting molested again. And then soon after Sumire wakes up in her classroom getting raped by her classmate. What is happening? These events felt too real but it doesn't make any sense. Is she dreaming? If so, was the one Sumire seeing real or not real?
Okay, so, school hentai comedies are fine and good, but you claim to have an iron stomach and want to watch something extreme like the psychological torture of a girl from a young age all the way to her adulthood? Then look no further than Hitoriga the Animation. Sumire was extremely unfortunate when she got handpicked by a wacko and conditioned her to become a mindless sex slave through drugs and hypnotism. Sumire was so drugged, she can no longer tell the difference between reality and dreams, and her traumatic experience carried over to her adulthood. Unfortunate as it may be, Sumire managed to keep what's left of her humanity long enough to survive the endless psychological torture through adulthood. Though no one can tell how long she'll last.
---
5. Imouto Jiru (Younger Sister Juice)

Episodes: 2
Aired: November 2003-March 2004
As you may now have noticed, loli hentai usually revolves around exploiting the naivety of girls. Story structure goes like this—the pervert is of higher age and authority like the big brother, father, or teacher, convinces the oblivious girls that having sex with them achieves a certain goal, and they must listen to the authoritative figure because they have more experience in life.
In Imouto Jiru, the main character Akira was cursed by a goddess he accidentally summoned from an artifact found in his father's room. And in order to lift this curse, Akira must extract love essence from his little sisters and put them in 3 bottles. So like any big brother, he convinces his sisters to have sex with him by exploiting their innocence. Thankfully one his sisters were quick to realize his deception and avoided his sexual advances, and it was this sister's quick thinking stopped Akira from lifting his curse. No, seriously, if your little sister thinks your semen is whip cream, you need to put her in a cooking class.
---
4. Suki de Suki de, Suki de The Animation

Episodes: 2
Aired: June 2012-September 2012
Suki de Suki de, Suki de The Animation is a collection of girls having relationships with their big brothers ranging from funny, romantic to rape. The first arc covers the story of a little sister always barging into her big brother's room. One day she pretends to fall asleep and her brother, thinking it was safe, decided to watch porn. Obviously, you know what will happen when you put a girl in a room with a guy who is already horny.
Loli and incest go hand-in-hand mainly because incest is a more realistic scenario due to the stories often involve an elder brother having sex with his younger sister who is way too innocent to know what sex is and why it's socially forbidden to engage sex with your kin. Plus two forbidden practices makes twice the excitement and Suki de Suki de, Suki de The Animation delivers that will hot and steamy sessions.
---
3. Toshi Densetsu Series

Episodes: 4
Aired: January 2016-January 2017
Toshi Densetsu Series is a collection of stories of urban legends with a sexual twist. Out of 4 available episodes, 3 of which involve loli ghosts having sex with their supposed victims and the last one is purely shota.
This could've have been a perfect loli hentai that involves ghosts like Toilet Hanako or Sadako, but it was tainted by the giantess Hachishakusama and her shota victim. But thankfully each episode are self-contained and you can skip the last episode with no problems. And overall, the first 3 episodes are better thanks to, well, the lolis and the stories have a pinch of humor to keep you laughing while getting aroused at the same time.
---
2. Oni Chichi

Episodes: 2
Aired: October 2009-May 2010
Oni Chichi has a ton of sequels and spin-offs that you wonder what makes the series popular. Regardless, the first Oni Chichi series introduces the viewers a story of a stepfather named Atsuki raping his new stepdaughters and eventually every girl he comes across by drugging them with a special aphrodisiac spray that no girl couldn't control her bodily fluids.
The cutesy art made the girls look younger than they should, but they still fall within the loli category. And yes, lolis can have massive boobs too. It's all about the build, for this instance. While the girls are subjected to getting raped through drugs, they eventually give in to their desires and end up willfully having sex with their new stepfather. One of the daughters Airi got so infatuated with Atsuki, she ended up obsessing over him to the point of not letting anyone but her have sex with him.
---
1. Shoujo Ramune

Episodes: 4
Aired: October 2016-March 2018
Another typical setup of a guy in his late 20s or early 30s teaching the young girls life experiences—Oi-chan is a candy shop owner in a remote town and the local girls like him because, other than selling sweets, Oi-chan consoles the girls using his experience as an elder. While the guy-sharing-life-experience a cliche, it's a proven loli hentai staple, and, let's not forget what we said earlier that girls in hentai are usually dumb. No offense to the girls everywhere, but it's a fact in hentai. Like, sex cannot happen if the girl was smart enough to avoid traps.
But anyway, Shoujo Ramune is a vanilla experience packed with a good cast of lolis, great art and animation, and hot sex scenes without the excess baggage. Sure, Oi-chan is an ugly bastard for deceiving little girls by rewarding them candy and sex improves one's appeal, but the end result is we get to see a genuine loli hentai experience that features true lolis. Vanilla, lolis, cute lolis, well-drawn sex scenes, there's a bit of yuri too… what more could you ask for?
---
Final Thoughts
And this concludes our updated Top 10 Loli Hentai Anime! Truth be told, loli is a very sensitive subject and it's completely understandable a lot of people are uncomfortable with this sort of stuff, but unfortunately to them, loli hentai exists and a lot of people watch them. And for those people, this is the best list we can come up with. Of course, new lolis will show up in the future and we may update this list again. But for now, these are the at least 10 of best loli hentai out there.
Did you enjoy the list? We sure hope you did. Now then, why don't you take a seat right over there?
---
---
---
Loli hentai is a very sensitive subject in the world of anime. It's one of the most controversial sub-genres in existence and understandably so. Beyond just the h-scenes it does showcase a reasonable amount of bonding between the characters. Like almost all hentai, it's not going to set the screen on fire with its articulate storytelling, but the genre shouldn't be disregarded completely.
It's true that loli hentai is tough to come by nowadays. Some groups in Japan have been adamant about getting rid of it. It seems to be working, as less and less anime has been produced in such capacity. With that being said, we wanted to bring you a countdown worth checking out for the people who do appreciate this kind of work. We're now ready to serve up a compelling, yet somewhat contentious list of the top 10 loli hentai.
10. My Imouto: Koakuma na A-Cup

Episodes: 2
Aired: Jul. 2012 – Sep. 2012
The story of My Imouto: Koakuma na A-Cup is a classic case of the younger step-sister Miyu, not accepting her new step-brother Mitsuru. Miyu may look like an angel but when their parents aren't around, she turns into an extremely mean spirited individual. Mitsuru is the one who takes the brunt of her ill-will. One day, Mitsuru realizes that his step-sister has a complex about her bust-size and brings it up to her. Needless to say, she lashes out on him and they end up in a compromising situation…
This anime delivered an exceptional story, a feat that's something of a rarity in most hentai. The characters had some development with Miyu completely despising Mitsuru to eventually becoming one with him, so to speak. This drastic change occurred mostly due to her breast complex. Miyu was never satisfied with her cup size and took that pent up frustration out on her older brother. Mitsuru remained kind and caring towards her as crazy as that sounds. He even told her that her small breasts were cute. As the story continues on, we're treated to passionate love-making that seems fitting for the first episode. Things ramp up in the finale which includes cross-dressing and public sex.
---
9. Lo Re: Pako Sukusuku Mizuki-chan The Animation

Episodes: 1
Aired: May 2016
The next addition to this list is about a guy named Shirayama who had finished up with work and after one year decided to come back to his hometown during the summer to visit his relatives. Those relatives included his aunt and his younger cousin Mizuki, who he has a fondness for. Shirayama's aunt allows him to stay at their house under the condition that he takes care of Mizuki when she is away at work. Needless to say, Shirayama makes sure she is taken care of in her aunt's absence.
This is one of two hentai on this list that was released earlier this year. Unlike the previous selection, this anime spares no expense and delivers a lengthy h-scene. There is very little in the way of character development and it just shoots (no pun intended) for the incest loli angle. The cousin x cousin combination brings forth only one scene, but the romp lasts for about ten minutes. If you're a hentai fan that prefers not to have your viewing experience deviate from the h-scenes, you won't be disappointed. Lo Re: Pako Sukusuku Mizuki-chan The Animation does what it was set out to do, satisfy loli enthusiasts.
---
8. Choisuji

Episodes: 1
Aired: Jun. 2007 – Nov. 2007
Our number eight choice delivers two completely different stories but with the same loli theme. The first story introduces a teacher and student meeting where the teacher takes advantage of the student's appreciation for gardening and hand puppets. In the other story, two females are due for a checkup from the doctor and they decide to go together to get it done. The doctor has no problem with it, but before they can finish the checkup he has other 'tests' to run by them.
The first story in the two episode series immediately sets it apart from most of these anime on this list. Aikawa, a female student at the school is very enthused about planting sunflowers at the school. The teacher, who doesn't feel gets enough attention from his student devises a plan to fool the young student into seeing how human seeds work. Thus the hand puppet named Moriske is born. The overall effectiveness of his method is questionable to some viewers but some should get a kick out of Moriske. The second episode delivers a threesome between two female students and a doctor. Although the addition of another body is welcomed, the h-scenes aren't particularly as long. We'll leave it up to you to decide which is best.
---
7. Girl's Education (Shoujo Kyouiku)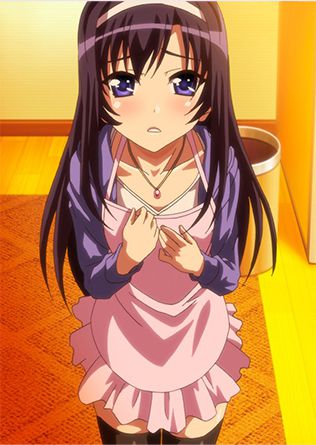 Episodes: 2
Aired: May. 2015 – Jul. 2015
This hentai follows a teacher well into his thirties who has been longing for love and romance. It was something that Youichi Shiraishi missed greatly in his earlier years and now he finds a spark between him and one of his students. Sae Inagaki is intelligent and devoted to her school work. As Youichi's younger student, it is considered to be forbidden for them to have any kind of relationship. It first just started out as Sae cooking for her teacher but then it quickly turned into something that has avoided Youichi his entire life…
Girl's Education is a rather peculiar hentai in that it has several oddities or intrigues depending how you look at it. First, it randomly introduces a spirit girl named Hana who essentially lives in Youichi's toilet. Sae and Youichi are the only two who can see her. Hana enjoys drinking urine and sucks it out of Youichi and even Sae, on a routine basis. The next thing to note is how this series covers a wide variety of fetishes/cosplays including, BDSM, schoolgirl, maid, swimwear, and glasses. Finally, during the second episode we see Youichi with another girl, a photography student named Asami. The action between those two is a little more intense and Asami has much larger breasts. If that's something you prefer then the second episode is the way to go.
---
6. Imouto Paradise!

Episodes: 2
Aired: Dec. 2011 – Apr. 2012
Imouto Paradise! is yet another combination of an incest and loli hentai that has already been covered previously on this list. This time, however, it involves one perverted male by the name of Aniki and five of his sisters. Aniki loves to please himself to his favorite eroge in the confines of his room. When his parents are gone, however, anything goes and his sisters proceed to relieve some of Aniki's tension. This would be the dawning of his younger sister paradise!
Imouto Paradise! is littered with fast-paced camera work that amplifies the h-scenes in this hentai. It's in your face and unrelenting, which brings an excellent dynamic to the overall tone. Keeping with the frantic pace of the anime, there is a ton of fellatio scenes to further emphasize the POV camera work. On top of its blowjob scenes, which are top notch we might add, this anime delivers group scenes, unique art-style and finally loads of bodily fluids. The five sisters all engage themselves with their brother in some form or another. Imouto Paradise! easily has the most lolis involved in h-scenes on this list, so we strongly recommend you check this one out.
---
5. Wizard Girl Ambitious

Episodes: 1
Aired: Aug. 2011
Our next pick removes itself from the incest-laden nature of things and strides towards a fantasy depiction. Kei is an apprentice knight who decides to pick up and go on an adventure after having his heart broken. He does so while meeting two girls during his journey who he agrees to protect. What initially started out as a jaunt eventually spawns into one that could shape the very foundation of the whole world.
Wizard Girl Ambitious is brought to us by PoRO, who are undeniably one of the top hentai producers today. They specialize in vanilla acts and can be considered kings of the NTR (Netorare) movement. As expected this hentai has top notch animation and both girls are extremely sexy. Asuka is a pink-haired wizard with blue eyes and Rafaero is a pale-blue haired love rival with pink eyes. They both envelop themselves with Kei but Asuka is the only one that really gets any action with him. We feel there was a missed opportunity with all three of them, but despite that, this anime is splendid. The way Asuka takes control of Kei at the end is pleasing. If only there was one more episode…
---
4. Tsugou no Yoi Sexfriend?

Episodes: 4
Aired: Nov. 2014 – Jan. 2015
Yuu Arahama seems to have everything going for him. He has a beautiful girlfriend who has a great personality and is an incredibly passionate lover. Despite all that, Yuu declines her marriage proposal because he's not ready for marriage. Yuu reveals that he is juggling between five stunning girls who all have great benefits. The five females compete for Yuu's affection by throwing their bodies at him and hoping that he chooses them. The problem is, Yuu has already gotten used to all the attention and doesn't know how he could possibly only pick one of them.
We know what some of you are thinking, "It's not a true loli hentai." While that is generally accepted to be the case, we felt there was enough Kotori Hoshino displayed in this four-episode anime to crack the list. Kotori is one of the five females that Yuu mingles with throughout the hentai. She's very much a loli character and is well-deserving to be on this list for her h-scenes alone. When you present the intrigue of five beautiful girls trying to outdo the other in order to win someone's affection, it really brings the best out of all of them. With all that being said, it's hard to complain about this choice. Kotori is featured in every single episode and sometimes more than one h-scene.
---
3. Suki de Suki de, Suki de The Animation

Episodes: 2
Aired: Jun. 2012 – Sep. 2012
This hentai produces three different stories spread out between two episodes. The first one is about a brother who drugs his younger sister and watches her as she sleeps, until one night he can't take it anymore. The second story involves a boy returning to the country to visit his mom and little sister. One night, while he's sleeping she confesses his love to him. Finally, the third story busts out the NTR with some guy blackmailing a girl with a photo of her and her brother kissing. In order for the photo not to materialize amongst the public, she will have to make the best decision possible.
The second half story of episode two is a continuation of the second half story of episode one. It's a little shocking that they continued with that story, not because it wasn't good, but strictly because it would've seemed more likely that they would have created a fourth story. Nevertheless, that story with Aki and her older brother is the highlight of the series. It's cute and oddly funny in some cases. The other two series are comprised less about love and more about rape and NTR. There's no question that these stories will divide the fanbase, however, there's enough in this hentai to satisfy one need or another.
---
2. Oni Chichi 2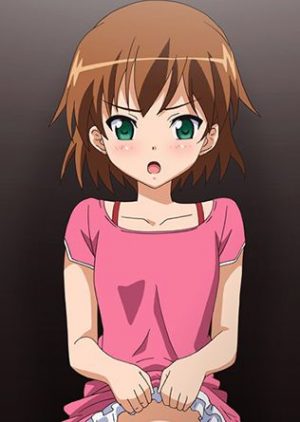 Episodes: 2
Aired: Oct. 2010 – Nov. 2010
Kenichi Makino is missing his wife immensely one week after her untimely passing. He has four gorgeous daughters to deal with including, a motherly type, an intelligent one, a sickly one and finally a rebellious one. That rebellious one by the name of Natsume, ends up getting in trouble at school. This is where the father Kenichi, starts administering immoral punishment to Natsume. After reveling in her agony, it's not long before he moves onto his other three daughters.
The reason we went with Oni Chichi 2 instead of the original series Oni Chichi, is because we felt that we needed to bring light to the often looked over alternate. The father has four daughters in this one but we wanted to focus more so on the loli character, Natsume. She is the second oldest of the sisters despite her youthful appearance. She is rambunctious, disobedient and very spiteful to her father Kenichi. He takes it upon himself to teach her some obedience through sexual acts. She eventually cracks in order to make sure he doesn't have his way with the rest of her sisters. Unfortunately for Natsume, Kenichi has also been aiming his discipline at Akira, Fuyu and Haruka.
---
1. Toshi Densetsu Series

Episodes: ?
Aired: Jan. 2016 – Ongoing
This is the moment you've all been waiting for; here is our number one pick for the best loli hentai out there. Toshi Densetsu Series is one of the newest anime on this list and has been successful only two episodes in. The story revolves around a female student who was raped by her teacher one night after school. She eventually succumbed to her injuries and died during the act. She returns to the school as a ghost and meets a lovely teacher. In order to transcend into heaven, she needs to seek out his help in more ways than one…
The opening act is sinister and for the average person unappealing. However, it's not all gloom and we want to highlight the cohesive story and hot h-scenes. Hanako Hasegawa is a rather cheerful spirit, which is surprising based on what she went through. This pick is a bit more complex due to its supernatural elements. Several times throughout the anime, it's shown that Hanako can transform into an older version of herself, much to the delight of the teacher she craves. This hentai bounces from a loli to a voluptuous mature female throughout the series adding a welcomed twist for all fans of hentai to enjoy. That reasoning mixed with the story, animation and characters make this the best loli hentai out there.
---
Final Thoughts
That will conclude another list from Honey's Anime. If this subject matter is something that interests you and you haven't seen most of these, then there should be enough for you to start on.
We hope you enjoyed this list of loli hentai. If there was any anime that we missed please give us a shout in the comments section below!
by
---