Have you ever heard of a girl being described as 'cute' instead of 'beautiful'? This is because sometimes, our eyes are stolen not by a sultry seductress radiating sex-appeal but some adorable girl that manages to warm our heart. Standing in the opposite corner to sexy man-eaters that know what they want are the sweet adorable kind, and each type is simply equally attractive.
Lolis in hentai are often sweetly coaxed into sex, with their innocence forcefully stolen, but when your weary soul is tired, this genre can be an oasis that rehabilitates your being with strength... or fills your body with lust, depending of what you are looking for.
With our point more or less explained, prepare your mind and body for our Top 10 Loli Hentai Manga list!
10. Marble Cake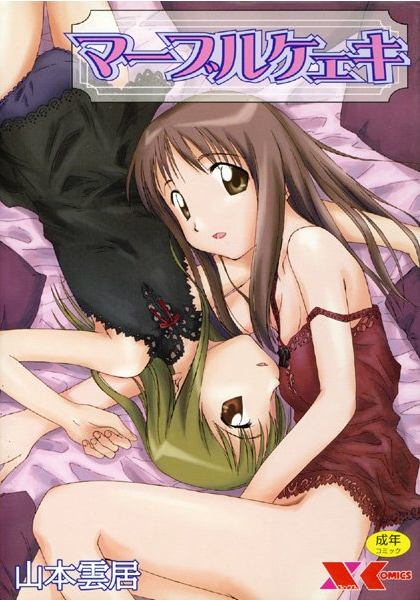 Mangaka: Kumoi Yamamoto
Genre: Hentai, Romance
Volumes: 1
Published Date: July 2003
Marble Cake is a collection of very short but infinitely dark stories depicting young girls being taken in all manners, holes, and forms. Not for the faint of heart, but in the end, fantasies exist for a reason, and is perfectly normal for stress relieving to be fairly dark—is not as if we had unicorns peacefully grazing on our heads, after all. The downside is that each story is so pitifully short that it leaves an impression as if you watched a porn in x4 speed.
So, if you got this little devil-you whispering things in your ear who you cannot seem to shut up, and feel this tiny little bit of an itch that you cannot scratch off, know that suppressing your desires just make them grow bigger and more explosive with time! Look no further, we think this series is just the right one for you.
---
9. Chippai wa Seikou no Moto

Mangaka: Seihoukei
Genre: Hentai
Volumes: 1
Published Date: December 2011 - January 2015
When looking for hentai manga or doujinshi, it's very common to find them in anthology format, as we saw in the previous entry. Chippai wa Seikou no Moto is also a group of non-related narratives, but, in this case, a very vanilla work showcasing little girls—especially little sisters.
Plotless and divided into ten tales as it is, this manga can be taken as some kind of tea-time snack. Not exactly food, but with enough substance to get some flavor and much needed calories. As a side note, we would like to mention that some of the stories are so good that people have asked for sequels, which speaks volumes of the quality.
---
8. Chou-Manzoku Delivery (Super Satisfaction Delivery)

Mangaka: Homing
Genre: Hentai
Volumes: 1
Published Date: March 2010
One day, our main character calls a pleasure agency, and at his doorstep arrives a small girl. He is not very convinced with the agency's choice, but as the self-doubting crying loli asks if he wants to replace her with another girl, he finds himself obviously captivated with her cuteness, so they proceed to sweetly make love. Certainly, upturned teary eyes of adorable younger girls are the weapons of the next generation. Tsar bombs and mechas be damned!
After that, we are treated to many sessions of our protagonist calling the agency for more. The twist? Each and every time is the same girl spicily playing different roles: little sister, random young girl helplessly defiled, etc… almost like a one-person harem! So, in case this description did not state it clearly, be warned, because you will fall in love with this adorable young waifu as our lucky main character did.
---
7. Ojousama no Himitsu (The Secret of the Young Lady)

Mangaka: Yuki Shiraishi
Genre: Hentai, Comedy, School, Shoujo
Volumes: 1
Published Date: June 2007 – June 2008
This work is a mostly-wholesome romantic collection of short stories with an interconnected cast. In other words, several characters from each narration, especially heroines, are related or know each other, leaving it as a little-bit more cohesive anthology. Moreover, it also includes an insert chapter of an overarching loli mahou shoujo series. Speaking of its graphic quality, the drawings are nothing to brag about but solid enough to not distract you from the storyline.
Its main focus is—of course—little girls, but also, many of the stories target an specific niche in the genre, the young rich ladies (ojou-sama, as said in Japanese), and their secret sex lives they maintain given the suffocating environment they live in. The taboo is great enough to get your heart racing as the manga progresses, and overall, it's a great guilty pleasure that will leave you with warm feelings.
---
6. Ano Ko wa Toshi Densetsu (That Girl Is an Urban Legend)

Mangaka: Gomennasai
Genre: Hentai, Doujinshi
Volumes: 1
Published Date: February 2013
The story starts when our protagonist, a self-proclaimed pure-hearted lolicon who would be content just with watching little girls from afar, fulfilling his delusions without harassing them, encounters Zangyaku-san. She's something like an urban legend, a lolicon-slayer that has made her job to purge this "species" even if that's the last thing she does. Obviously, their encounter ends with our protagonist at the hospital, humiliated and nursing his bruised dick after the nightmarish swing of Zangyaku's golf club.
Despite what someone might initially think, this series has it all to be great. Outstanding comedy that will make you hurt your insides from laughing, a very plot-driven story, likeable characters and a mysterious aura that leaves you wondering how this could end.
---
5. Oniichan ga, Suki (I Love You Bro)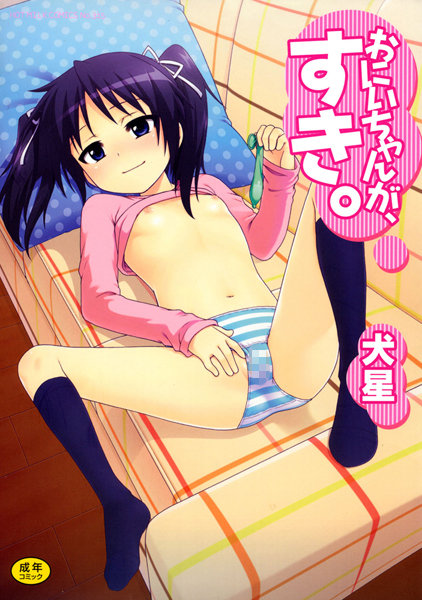 Mangaka: Inuboshi
Genre: Hentai
Volumes: 1
Published Date: August 2005 – November 2009
As per the set theory in mathematics, not all imoutos are lolis, but all lolis are imoutos… or not… but we wish they were. This anthology just serves all the more to strengthen this desire; after all, the little sister archetype needs no introductions, as it has been with anime almost since its inception. So, it stands to reason that this collection of short stories dedicated not simply to little girls but to little sister lolis has an amazing popularity. That's probably because the more taboo it is, the most exciting it becomes.
If you enjoy incest, this enticing entry can lead you to breeze through this manga as if you were a dehydrated man in the desert, offered a couple liters of water. Just try to be sparing with your enthusiasm, as side-effects of the distraction factor include the possibility of academic failure and misusing scientific theories and facts... according to anonymous sources, of course.
---
4. Kodomo datte Ecchi Nano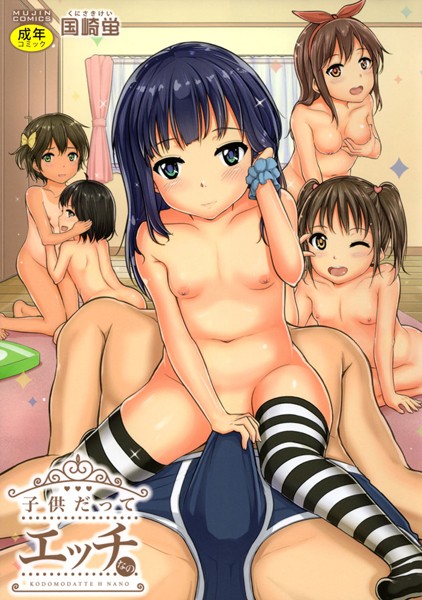 Mangaka: Kei Kunisaki
Genre: Hentai
Volumes: 1
Published Date: January 2014 – November 2015
Contrary to many entries on this list, this manga is not exactly a single-story nor a collection of short stories. Instead, it settles in a comfortable middle ground, with a main and bigger tale spanning three chapters, while the remaining two are used for a couple of independent storylines. If choosing between those two types of narration was an issue for you, the way Kodomo date Ecchi Nano manages things is at the very least a safe shot that encompasses the best of both worlds.
But we're not here merely for an average manga; when you also take into account the delightful story weaving and the great scenes of the heroines hogging the center stage as they proactively squeeze dry our protagonists' penises without rest as if they were nuclear-powered, you know you got not a safe shot but a wonderful piece, very much deserving of mention on any setting involving little girls manga.
---
3. Konna Imouto (What a Little Sister)

Mangaka: Juuzou Minazuki
Genre: Hentai
Volumes: 1
Published Date: May 2012
Have you ever, at any point in your life, eagerly awaited for a moment when your parents would leave the house to go batshit crazy doing things like jumping on all beds or walking around naked? Well, Erica, a very energetic little girl, settled on seizing the chance to fuck her older brother as if there was no tomorrow as soon as their parents went away.
This story about an almost-dominant loli whose pent-up sexual frustrations are addressed through vigorous fraternal intercourse with her beloved big brother, is as well-rounded as it can get, and so good that it only burns deeper when you realize the sad fact that it's a one-shot...
---
2. Tsukimi-sou no Akari (The Light of Tsukimi Manor)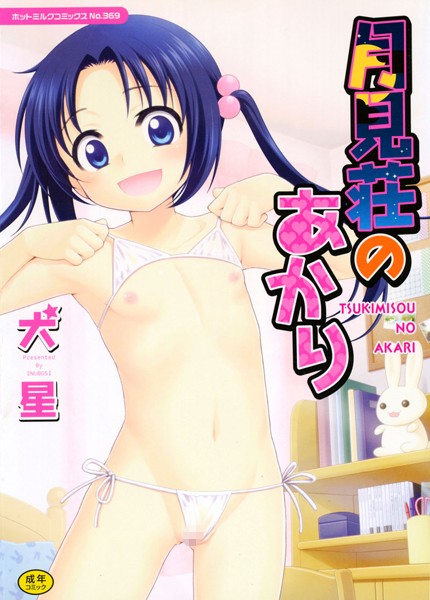 Mangaka: Inuboshi
Genre: Hentai, Comedy
Volumes: 1
Published Date: January 2010 – December 2011
Well, we have come a long way through this list, but now is time for you to prepare yourself, because even some fans of the genre couldn't avoid calling it quits on the very first chapter. Tsukimi-sou no Akari, another entry by manga artist Inuboshi, can be separated into two parts: the main storyline, which bears the aforementioned title, and three bonus non-related extra stories.
The main focus of the manga is loli gangbang, as Akari, the heroine of this work, takes on the mission of sexually comforting all three tenants of the Tsukimi manor. Strangely enough, despite what this description may indicate, in reality this manga is a vanilla... written in a very quirky way that ends up making it a happy sex work whose darkness is swept into the fridge, so to speak.
---
1. Tiny Evil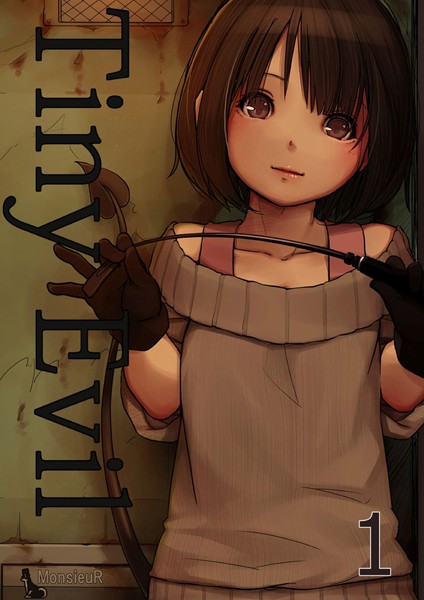 Mangaka: MUK
Genre: Hentai, Supernatural, Doujinshi
Volumes: Unknown
Published Date: July 2015 – Ongoing
Miyu is a petite succubus summoned by the hands of our main character in a stroke of luck. The protagonist, mainly surprised that the magic circle he drew was effective, is immediately promised by the little demon that she will suck him dry, killing him in the process, casting a magic spell on him that will allow him to ejaculate without regards to his body's limits. All in all, an exciting premise, and it only picks up as we are treated to the sight of the very powerful gap-moe of Miyu, who despite appearing to be all in control is in fact a virgin...
Was this enough to get you on board? Okay. What if we told you that this amazing story, great enough to merit at least a whole series, is just one of similarly themed stories compiled under this title? Each chapter of this beautifully drawn, fully colored, plot-driven collection is great enough to deserve at the very least several positions on this list. And, don't forget the cherry on top: it even has an animated hentai adaptation!
---
Final Thoughts
In the end, sex is a necessity, just like water, oxygen or food. Sex is hard-wired into our reptilian brain. But if you enjoy little girls yet you want to be the true gentleman we can all aspire to be, just leaving your fantasies in your head, don't let anyone dissuade you from enjoying!
That being said, this case has been won, the truth has been engraved upon the world, loli are justice, and dissidents are just yet-to-be believers of the loli dogma. Period.
Did you enjoy our list about loli hentai manga? Do you have some other recommendations? Don't be shy and leave us a comment!
by Gabriel D.
---