También puedes leer este artículo en:Español
Mary Jane is arguably best known for the quality effort that they put into loli hentai. It's hard not to overlook that they have some of the best loli hentai on the market; having said that, we don't want to label them as an exclusive producer of that kind of material. They certainly have more to offer than that, in their library of content.
With the assistance of Studio Eromatick, Mary Jane went on to release their first series titled Watashi no Shiranai Mesu no Kao in January of 2010. It wasn't until their fourth series, Hitou Meguri Kakure Yu did they get the lone-billing as a producer. Mary Jane continues on strong to this day. They released four different series in 2016, with three of them cracking our top 10 hentai of 2016 list. Without further ado, let us bring you, fine folks, this spicy countdown!
10. Toriko no Chigiri

Episodes: 2
Aired:Dec. 2013 – Mar. 2014
At the start of the countdown, we come across a beautiful purple-haired girl by the name of Rio Yakumo. She and her sister Miyu, get thrust into a sticky situation, to say the least. Their grandfather heads a Yakuza group and he suddenly falls ill. During this time another group proposes a potential takeover that could be crippling for many involved. In order for the Yakumo family to thrive, they will need to make a deal with a rival group for their support; however it's going to cost them a female or two.
This hentai offers a lot in terms of using and abusing the main characters. Its exploitive natures make for an interesting scenario. Rio will do everything it takes to keep her family safe and compensated. Things escalate further when Miyu gets herself involved physically and they're both pressured into participating in a vile competition. Despite its dire tone, Toriko no Chigiri brings something abnormal to the table. That is, it's ending of course. Watch past the credits to see what we mean.
---
9. Spocon!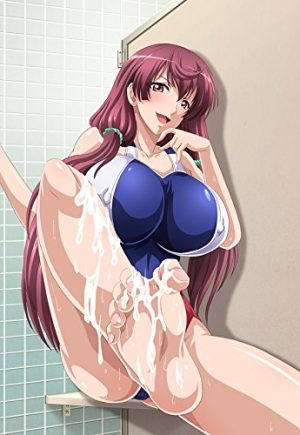 Episodes: 2
Aired:Sep. 2014 – Oct. 2014
Coming in at number nine is a lovely little hentai piece that adds a sports element to it. The story follows Tatsuya, a well-versed athlete who excelled in sports when he was younger. As Tatsuya matured he decided to become a coach at his former school instead of following a career in athletics. With his prolific background in sports, he has had numerous ladies come up to him and ask to train them. However, what he doesn't expect is that they are willing to do anything to improve their skills.
What struck us right out of the gate was how sexy these girls look. The animation for this hentai was done remarkably well. This series screams vanilla harem; with a handful of gorgeous girls with over exaggerated proportions. The main kink presented in Spocon! is athletics. Each and every one of these girls belongs to an athletics club and their club attire is typically worn during the h-scenes. It's spicy and appropriate because all five girls are trying to persuade Tatsuya to coach their respected club.
---
8. Imouto Paradise! 2

Episodes: 2
Aired:Aug. 2013 – Oct. 2013
As you might have expected based on the title of this hentai, it's indeed the sequel to Imouto Paradise! With that being said, Imouto Paradise! 2 is the only sequel to crack this countdown. In this hentai the story revolves around Keiichi and his younger sisters, Ririna and Momoka. During the summer their parents take a trip overseas and leave the three of them to fend for themselves. It's not a big deal for older brother Keiichi until both sisters decide to aggressively pursue him for sexual desires.
The main reason as to why we selected the sequel over the original is because Imouto Paradise! wasn't produced by Mary Jane. You can immediately see the difference in the art style. The colors are vibrant and the details on these females really stand out. The theme of this series remains the same, however; an incestuous relationship between brother and sisters. Each girl exhibits a very different personality. Momoka is the motherly figure, while Ririna is more of the disciplinary of the family. One of these girls is sure to whet your appetite.
---
7. Imakara Atashi......

Episodes: 2
Aired:Sep. 2016 – Dec. 2016
Yayoi Takatsuki has always had a thing for her older brother, Ryousuke. When Yayoi was younger she reminded her childhood friend that she had aspirations of marrying Ryousuke when they were old enough to do so. Despite its taboo nature, Yayoi and Ryousuke share an incestuous relationship with each other. One day, the two have a sexual encounter at school, unaware that somebody recorded every minute of their ecstasy. Now Yayoi has to deal with the consequences of her actions, as the one who recorded it is about to take charge.
Upon first view, Imakara Atashi...... may not seem like much more than your typical NTR anime. It follows that same formula of the blackmailing antagonist that eventually gets the girl to do whatever he pleases. After several attempts and group scenes later, he successfully breaks her mind. What makes this one stand out from others in the genre, is that the girl not only goes back to her brother on several different occasions (both pre and post mind break) but the ending is done in such a unique manner that it will leave its mark on you.
---
6. Amakano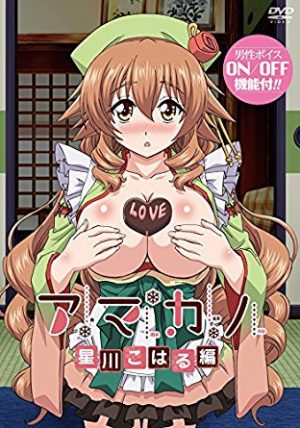 Episodes: 4 (as of Jan. 12)
Aired:Feb. 2016 – ?
Our next selection is the second of four series that started in 2016. Yuuki, a kind spirited individual moved to the snowy hot springs town of Yomase-machi to assist his grandparents with shoveling snow. During the course of his time there, he met many wonderful people, including a shrine maiden named Sayuki, an exuberant housemate, Mizuki and a café mascot named Koharu. After seeing these three beautiful girls, his grandfather suggests he finds love while he still can. Now Yuuki has to decide which girl is best suited for him.
One of the reasons why we love Amakano so much is because of the captivating setting. The snowy euphoric town of Yomase-machi is a sight to see and adds another layer to the h-scenes. The hentai is able to set a sensual mood and let the characters ride it out in the snowy, candle-lit environment. Let's be clear, this is not a rape anime and that's refreshing. The fourth episode distinguishes itself by having Sayuki perform a hair-job, something that is remarkably rare in hentai.
---
5. Shoujo Ramune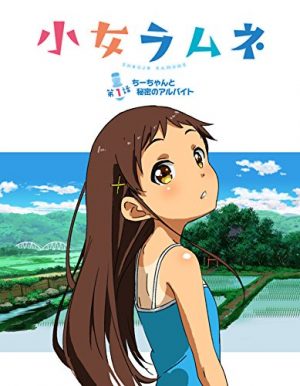 Episodes: 2
Aired:Oct. 2016 – Feb. 2017
The midway point of the list brings us the loli hentai, Shoujo Ramune. Kiyoshi had a dream to run his very own candy store. After quitting his job, he was able to accomplish that dream by creating his very own candy shop in the outskirts of Tokyo. During the summer months, a girl named Chie came to his store and was caught stealing some candies. From there, she offered to help work part-time in order to resolve the situation. Kiyoshi accepted her proposal and things drastically changed from there.
Shoujo Ramune comes equipped with an abundance of loli treats (pun intended.) It introduces three energetic girls who have a love for candy and it's exploited throughout the first episode. As you might expect, there is some fun with food moments; particularly with yogurt and lollipops. This hentai teases the audience early on with sexual suggestions that set the stage for the main course. The art and animation is top-notch. There aren't any glaring negatives about the first episode. Shoujo Ramune is a must watch for any loli fanatic out there.
---
4. Ane Yome Quartet

Episodes: 2
Aired:Oct. 2015 – Mar. 2016
The Hanabishi family and Hidaka family are next door neighbors to one another. The Hidaka family has one son and the Hanabishi family has four lovely daughters. After the parents of each household decide to go on an overseas trip, Kouki announces that he will watch over the quartet of sisters. In addition to that, the families have arranged for Kouki to marry one of the girls. All summer long Kouki gets an extended look at what all four females have to offer. Each girl has their own motivations and they aren't afraid to tempt Kouki into sexual relations.
The characters are crisp and very clean looking. With such detail, it makes the h-scenes more engaging. What we like about this is the genuine love that comes from these sisters. They're enamored with Kouki and would do absolutely anything for him. Each girl shows off different maneuvers and sets the tone based on their age and personality. For example, the youngest one comes off as cute and innocent, while the oldest one is mature and takes control. It's not just their appearance, but how they interact with Kouki that really makes this a wonderful series.
---
3. HHH Triple Ecchi

Episodes: 4
Aired:Nov. 2010 – Feb. 2012
Studio Eromatick and Marvelous Entertainment assisted Mary Jane with the production. HHH Triple Ecchi showcases a series of sexcapades containing one short story per episode. Episode one and four exhibits a beautiful girl who has an insatiable sex drive. It ultimately gets the best of her and she gets caught by a classmate pleasuring herself in her classroom. The second story revolves around two neighbors who can no longer resist their urges and lust overtakes them. Finally, episode three plays out in a bathroom between a daughter and father who partake in more than just a bath together.
One of the great things about HHH Triple Ecchi is that it doesn't take itself too seriously. It's able to walk a fine line between comedy and sexy. There are various moments throughout where you might find yourself cracking a smile. Then you get hit with over exaggerated breasts, which may or may not get a rise out of you. Suffice it to say, if you yearn for super-sized breasts in hentai, this will fill that need. Also, we couldn't help but take notice that the female in the second episode was named Konami. It's comical because several of us at Honey's Anime are video game fans.
---
2. Toshi Densetsu Series

Episodes: 3 (as of Jan. 17)
Aired:Jan. 2016 – ?
Next up is an already wildly popular hentai to feature loli and shota content. It has been featured on several top 10's on this website. The first episode involves a female student who was raped by her teacher one night after school. She eventually succumbed to her injuries and died during the act. She returns to the school as a ghost and meets a lovely teacher. In order to transcend into heaven, she needs to seek out his help in more ways than one…
Toshi Densetsu Series splashes horror into its story and characters. The first two episodes have females who are able to transform their bodies to become either youthful or mature. The supernatural element gives you the best of both worlds and it becomes even more stimulating. The versatility that those powers offer is a welcomed addition to this series. In the second episode, there's a girl that comes out of the television who's aptly named, Sadako. That's sure to trigger any horror fans out there (like myself). The third episode continues with its horror themes and pulls no punches with some heated shota action.
---
1. Joshikousei no Koshitsuki

Episodes: 6
Aired:Aug. 2013 – Apr. 2015
Here we are bringing you our number one Mary Jane produced hentai. Episodes two, three, four and six have mostly large fornication scenes taking place between the all-girls billiards club, the manga club, the photography club and finally the drama organization. Episodes one and five feature a story that includes sisters Saori and Sawa Kiryuu, who desire their volleyball coach. Saori asks for special training and she receives more than what she bargained for. Jealousy erupts after Sawa witnesses her sister and sensei having intercourse.
It's a no brainer for us when it came to selecting this as our number one pick. The animation is outstanding. There is a large cast of females in different environments and a plethora of sex positions shown. With six episodes, Joshikousei no Koshitsuki is able to put us viewers in several different stimulating scenarios. If you're a fan of group scenes, this will be a euphoric experience for you. Five episodes feature at least one group scene. There are countless fetishes covered including, maid, swimwear, and tennis and cheerleader attire. This is all-around one of the best hentai, period.
---
Final Thoughts
That will bring us to the end of another pleasuring countdown. As you might have gathered from this list, Mary Jane offers quite a bit, in terms of variety in their work. This list is a strong example of that, as we were treated to many different styles and genres.
It's now time for you readers to have your opinion heard. What anime do you like best from Mary Jane? Did the rankings meet your expectations? As always drop a line in the comments section below!
---